Mosaic is a complex art form dating back more than 20 centuries. It involves assembling thousands of small pieces of pebble, stone, shell, tile, glass or other material together to form a pattern. Unlike other artists who spent plenty of time searching for the "right material" for their mosaics, American artist Kevin Champeny uses tiny hand cast components to produce his gorgeous works that fuse aspects of sculpture, mosaics and painting. Upon closer examination of his artworks, you will find hundreds of thousands of adorable sweet treats such as gummy bears and candies, as well as minute cars, flowers, and animals.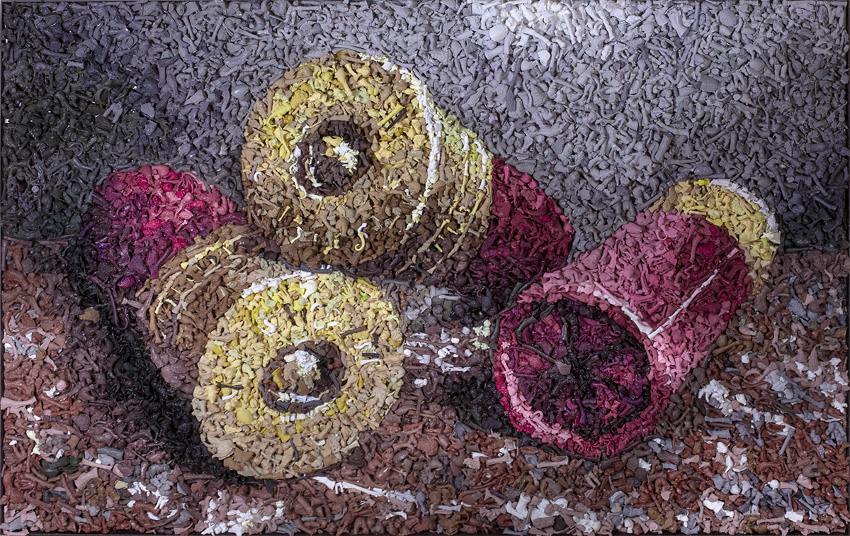 Process of Work
The process of making Champeny's pieces can take several months and many long workdays. Depending on the size of the final artwork, he creates up to 50,000 tiny objects by hand. He begins making mosaics by building silicone molds of the original works and then casts them using differently colored polyurethane resins, so nothing is painted. The resulting objects are then cautiously glued to a surface piece by piece creating stunning flowers, flags, and Easter eggs, among others. If you look at his piece What Remain from a distance, you will see an astonishing image of the skull, however if you move closer, you'll understand that it is not just a single, over-sized picture but a collection of more than 35,000 small handmade flowers.
Depending on the size of the final artwork, the artist creates up to 50,000 tiny objects by hand
Background
Kevin Champeny discovered his love for creating mosaics while he was on his studies at Beloit College, where he obtained a BA in Studio Art with a focus in Education and Art History. More than fifteen years, Champeny worked for such companies as Warner Brothers, Patron, and Disney, among others. For the past several years, he has worked as a production manager for Jelio – a company that produces childhood-themed home furnishings – where he designed numerous prototypes and production pieces. His work has been included in numerous exhibitions throughout the United States and overseas as well as in many TV shows. Today, he is maybe best known for his piece entitled Candelier which is made of 5,000 acrylic gummy bears.
Champeny's most famous piece Candelier is composed of 5,000 acrylic gummy bears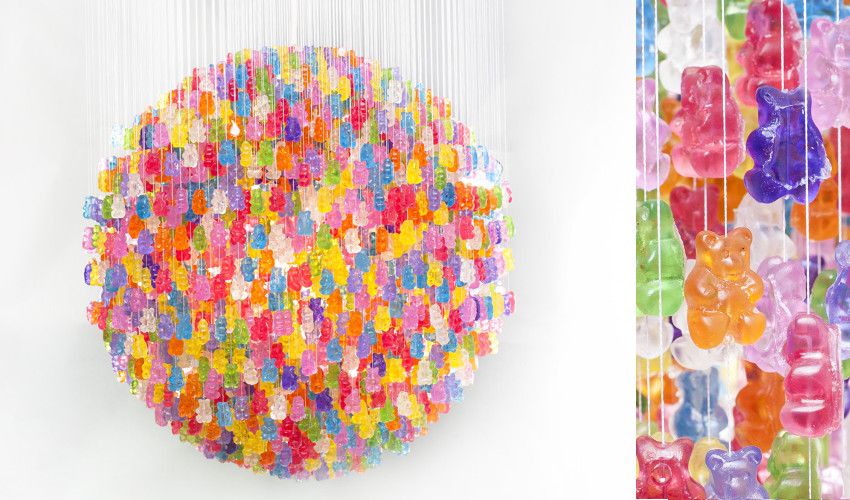 Unexpected Mosaics by Champeny
Creating mosaics that depict skulls composed of flowers, flags composed of armed men, or shotgun shells composed of dismembered pieces of animals, Champeny combines unexpected and seemingly opposite things creating highly intricate pieces that provoke thoughts, as well as invoke emotions. One part mosaic the other part sculpture, his impressive pieces resonate with both young and old. Champeny's undoubted talent for creating art is abundantly clear in every piece, from rose made by candy replicas to the portrait of Derek Jeter made of tiny baseballs.
The artist is represented by Azart Gallery.
Kevin Champeny lives and works in New York, NY.
Featured image: the artist in front of one of his pieces
All images © the artist