Considered as one of the most recognizable graffiti artists from the Lower East Side in the 80's, LA II is also known as LA2, LA Rock, Little Angel or by his real name, Angel Ortiz. Beginning his career as a 13 years old boy, of the crucial importance was his acquaintance with Keith Haring with whom he collaborated on a number of projects. This six years long partnership out of Haring's decade-long career, had a great influence on the work of both artists, although the older Haring took most of the credits leaving the LA II in the shadow.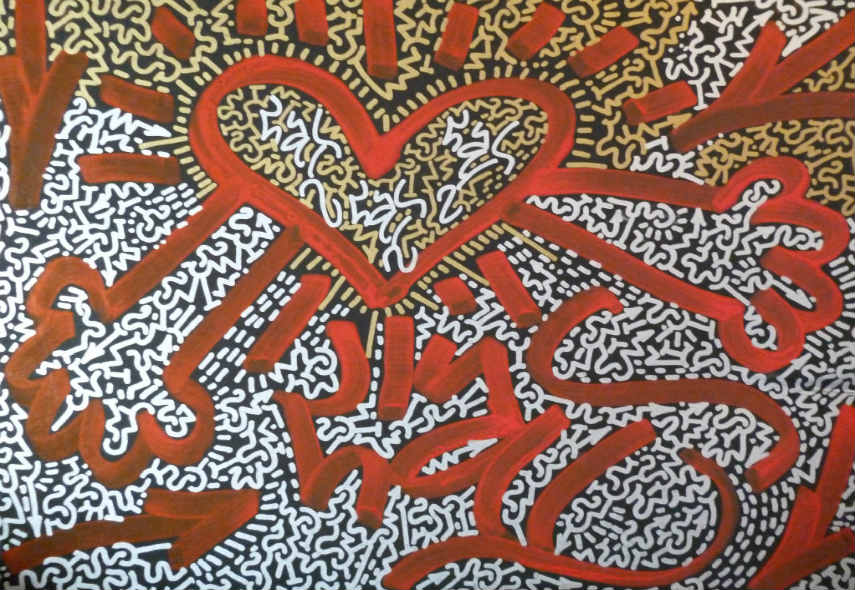 Business or Friendship
Leaving his High School, LA II travelled around the world working with Haring. His role in the artistic development of his famous companion is marked with peculiarity and original look of their co-produced works. He was for Haring what Jean-Michel Basquiat had been for Andy Warhol. Their partnership was mutually complementary which is evident in the patterns, the consistency of line, the spacing, but also in the technique. These two artists produced hundreds of valuable works, which were exhibited and sold from New York to Tokyo and Europe. Interlacing their styles, LA II complemented Haring's "empty spaces". Covering the surfaces of different common objects, they transformed them into the art pieces. Using the Day-Glo paint, they covered sculptures and real things, making installations with graffiti inscriptions with the mixture of contemporary and ancient symbols.
Covering the surfaces of different objects, they transformed them into the art pieces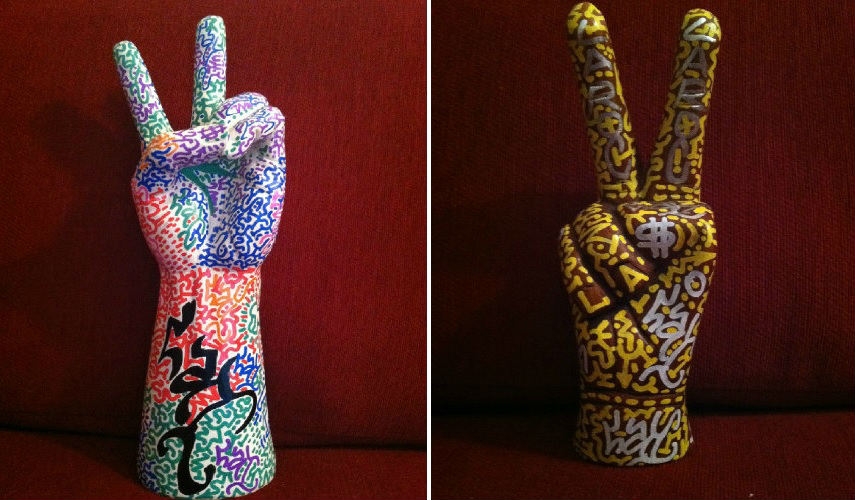 Living in a Shadow
The collaboration between Haring and LA II seems like the relationship that Picasso has had with Braque, except that LA II did not get the recognition he deserved. After Haring's death, his foundation took over the care of his works, including the ones he produced with LA II. Constantly avoided by the art world, LA II' s work is featured in museums collections and privately held without attribution. His images are used for commercial purpose often out of his knowledge. His tags LA II or La Rock are seen on many pieces that are attributed to Haring only.
LA II' s work is featured in museums collections and privately held without attribution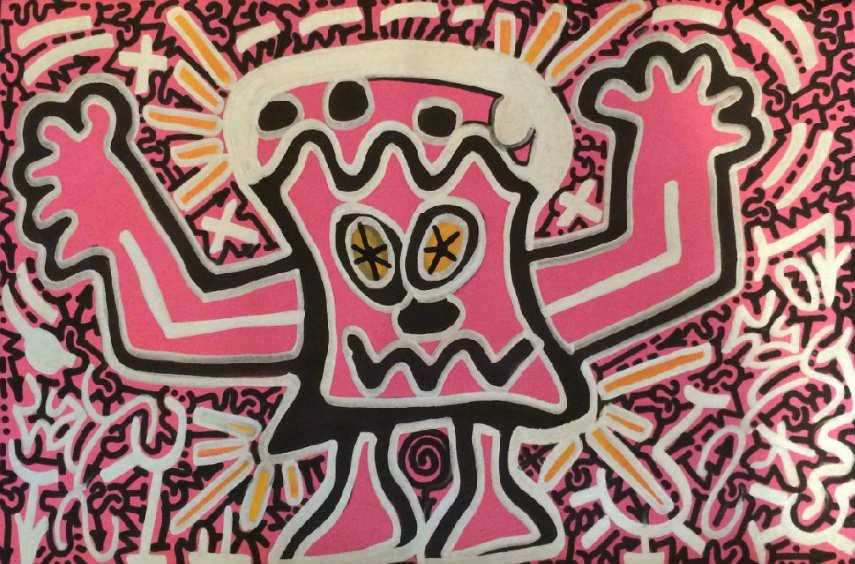 The Struggle for Recognition
LA II'a collaborative nature connected him with many prominent artistic names, as Richard Hamilton and street artists like Delta 2, Ero, LES or Cindy Shaoul. His influence over Keith Haring developed by integration of two creative spirits produced some of the most notable works of art that exist in the art market. After the end of Haring/LA II collaboration, LA II started his fight for recognition, creating his own impressive pieces in his distinctive style. His name was in the focus of a scandal in 2008 when he was caught tagging his name in a restored Haring's mural. It seems that LA II suffered injustice and that critics and public overlooked his important role in Keith Haring's body of work.
LA II is represented by Woodward Gallery, New York and Galerie Brugier-Rigail, Paris.
The artist lives and works in New York.
Featured image: Artist portrait, 2012, photo via thetelegram.com
All images © artist
| Year | Exhibition title | Gallery/Museum | Solo/Group |
| --- | --- | --- | --- |
| 2015 | Altogether different | The Manny Center | Group |
| 2015 | Unknown | The Hampton art fair, New York | Group |
| 2014 | Keith Haring LA II collaborations | Les Musee de Villa de Paris | Duo |
| 2013 | LA II | Lawrence Fine Arts, New York | Solo |
| 2013 | LA II | Leila Heller Gallery, New York | Solo |
| 2012 | LA II | The Children's Museum of the Arts | Solo |
| 2012 | Unknown | Dorian Gray Gallery | Group |
| 2011 | LA II | Dorian Grey Gallery, New York, NY | Solo |
| 2011 | B.I.G.S. Art Fiar | Beirut, International Graffiti Street Art Fair, Beirut | Group |
| 2009 | Keith Haring and LA II | Bentley Gallery, Scottsdale, AZ | Duo |
| 2009 | LA II | Woodward Gallery: Project Space, New York City | Solo |
| 2009 | LA II | Follin Gallery at 45 Bleecker, New York City | Solo |
| 2005 | LA II | Galleria Leonardo Galerie, Bolzano, Italy | Solo |
| 2005 | LA II | Galleria Leonardo Galerie, Bolzano | Solo |
| 2005 | LA II | Galleria Leonardo Galerie, Bolzano | Solo |
| 2004 | LA II | Scope Art Fair, Los Angeles, CA | Solo |
| 2003 | LA II & Keith Haring, Due Amici a New York Negli Anni '80 | Putignano Arte, NOCI, Bari | Duo |
| 2002 | LA II | Kitting Factory, Los Angeles, CA | Solo |
| 2002 | LA II | Pino Pascali Museum, in Polignano a Mare, Bari | Solo |
| 2002 | LA II | Clayton Patterson Outlaw Museum, New York City | Solo |
| 2002 | LA II | Marco Art, New York City | Solo |
| 2002 | LA II | Clayton Patterson Outlaw Museum, New York City | Solo |
| 2001 | LA II | Follin Gallery, New York City | Solo |
| 2001 | LA II with Keith Haring | Jeffrey Deitch, New York City | Duo |
| 2001 | LA II | Max Fish, New York City | Solo |
| 2001 | LA II with Keith Haring | Jeffrey Deitch, New York City | Duo |
| 2001 | LA II | Max Fish, New York City | Solo |
| 1990 | LA II with Keith Haring | University Galleries, Illinois State University, Normal, IL | Duo |
| 1990 | LA II with Keith Haring | Tampa Museum of Art, Tampa, FL | Duo |
| 1990 | LA II with Keith Haring | Future Primeval Queens Museum, Flushing Meadows Corona Park, New York | Duo |
| 1990 | LA II with Keith Haring | University Galleries, Illinois State University, Normal, IL | Duo |
| 1990 | LA II with Keith Haring | Tampa Museum of Art, Tampa, FL | Duo |
| 1984 | LA II with Keith Haring | Salvatore Ala Gallery, Milan, Italy | Duo |
| 1983 | LA II with Keith Haring | Fun Gallery, New York City | Duo |
| 1983 | LA II with Keith Haring | Galerie Watari, Tokyo, Japan | Duo |
| 1983 | LA II with Keith Haring | Robert Fraser Gallery, London, United Kingdom | Duo |
| 1983 | LA II with Keith Haring | Fiorucci, Milan, Italy | Duo |
| 1983 | LA II with Keith Haring | Paint Building in Tokyo, Japan | Duo |
| 1983 | LA II with Keith Haring | Pittsburgh Center For the Arts, Pittsburgh, Pennsylvania | Duo |
| 1983 | LA II with Keith Haring | Galerie Watari, Tokyo, Japan | Duo |
| 1983 | LA II with Keith Haring | Robert Fraser Gallery, London, United Kingdom | Duo |
| 1983 | LA II with Keith Haring | Fiorucci, Milan, Italy, with Keith Haring | Duo |
| 1983 | LA II with Keith Haring | Paint Building in Tokyo, Japan | Duo |
| 1983 | LA II with Keith Haring | Pittsburgh Center For the Arts, Pittsburgh, Pennsylvania | Duo |
| 1982 | LA II with Keith Haring | Tony Shafrazi Gallery, New York City | Duo |