The enticing perspective on thinking architecture differently for Lebbeus Woods was more than just a mere case of coincidence, rather it was his quest for a lifetime. He was enchanted by the unconventional ideas based on examining new horizons of the relationship between human beings and space and exporting it through several different medias in highly imaginative manner. Although almost none of Woods's projects were built, he left a large body of theoretical writings, drawings, paintings and models behind himself. The architect was prone to the visions and firm about his standpoints which made him perhaps one of the last representatives of experimental architecture.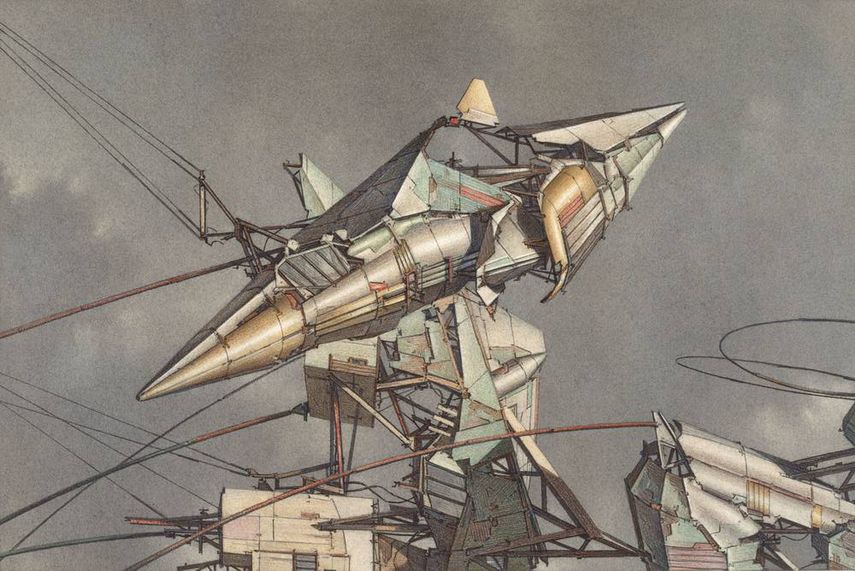 Devotion To Experimentation
Lebbeus Woods was born in Lansing, Michigan, in 1940. His father was a military engineer, so Woods followed his steps and maintained his education at the Purdue University School of Engineering (1958–60) and the University of Illinois School of Architecture (1960–64). Woods was employed at Eero Saarinen and Associates together with renowned architect Kevin Roche. Woods felt free to use the word architect in order to describe himself albeit he never obtained architectural degree nor was ever licensed to practice architecture. In the mid 70's, he decided to become solely independent researcher and artist dedicated to conceptual work staged through drawings, models, and installations. Later on, in 1988 he became one of the founders of the project of nonprofit institution devoted to the advancement of experimental architectural called The Research Institute for Experimental Architecture.
Conceptual and radical approach to architecture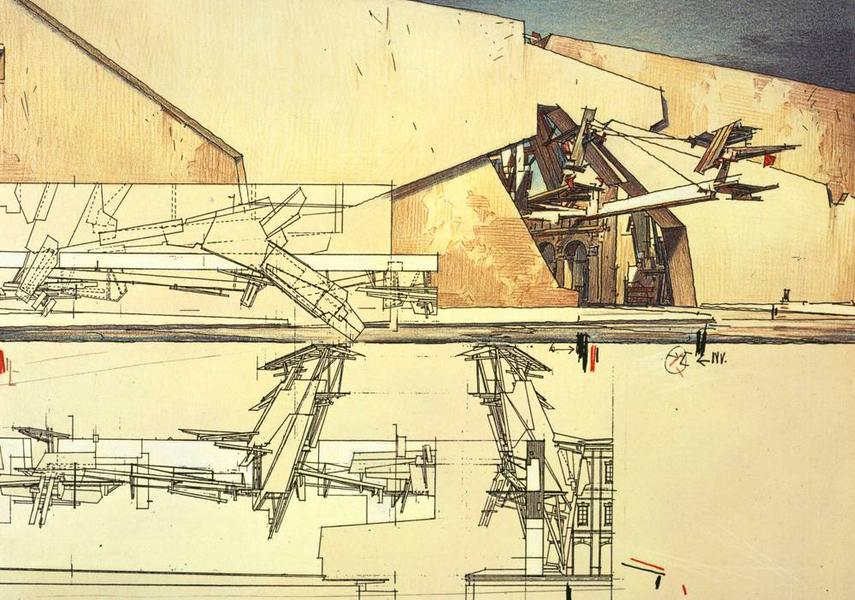 Visionary Architecture
Within the history of architecture there were present from period to period great minds prone to their imagination which then led to some the most impressive buildings. Nevertheless, few of them even went further and were considered eccentric even to the point of being shunned away from official social currents of their time. Similar to the case of Italian architect Piranesi, who was focused on images of decaying dungeons or grand halls, or the futuristic sketches of French Etienne-Louis Boullee, Woods raised his visions of the city albeit the common notion of architecture should be reasonable and useful practice.
Futuristic and completely eerie objects of Lebbeus Woods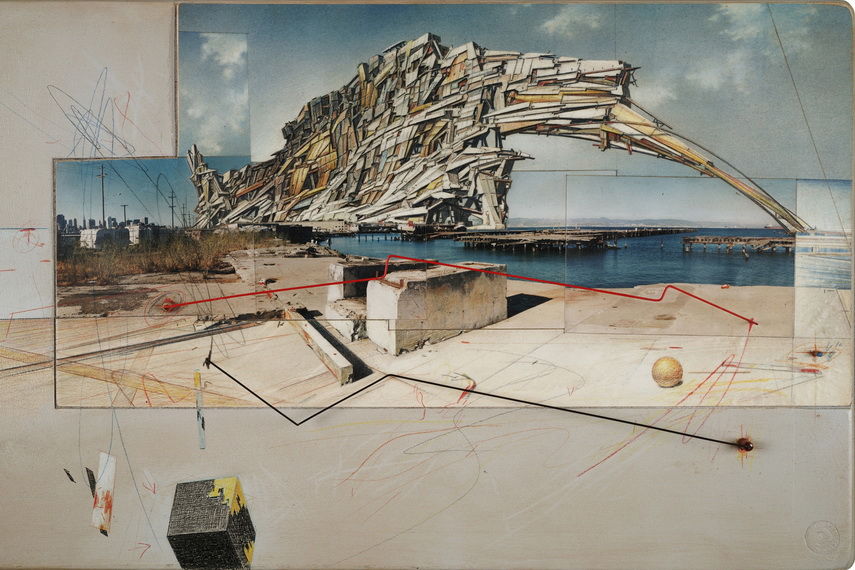 Post-apocalyptic Constructions
In order to analyze properly the astonishing work of Leebeus Woods it is important to bear in mind the context of the time. In between 60's and 70's the new current of experimental architectural approaches has emerged embodied in the studios such were Superstudio and Archigram. It was more than just concrete measures, statics, materials, rather they were searching for new solutions throughout conjuncture of art and science. So, it is no wonder that Woods envisioned underground cities, floating buildings and an eternal space tomb for Albert Einstein worthy of the great physicist's expansive intellect. With controversial creations, he was trying to distance himself not only from the rules of society but nature as well.
Vision of inhabiting urban spaces in post-apocalyptic world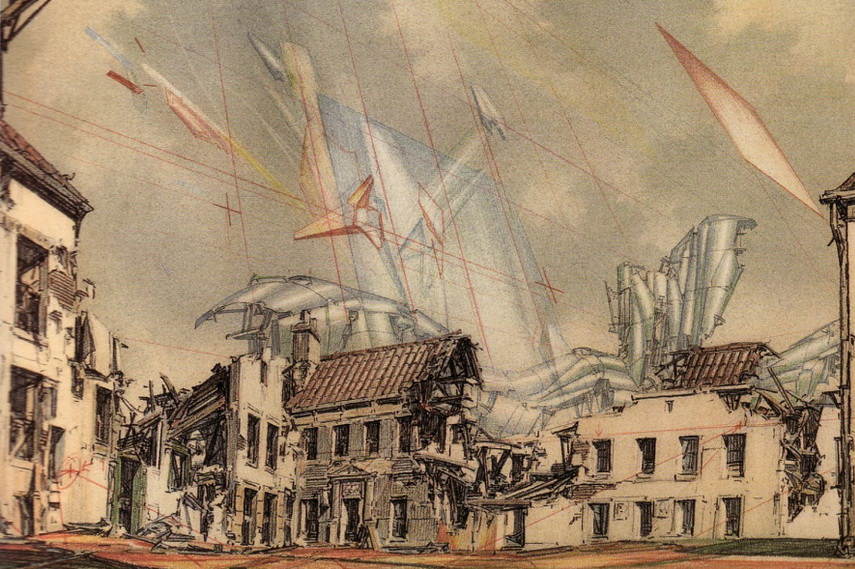 Author and Philosopher
The almost whole oeuvre of Lebbeus Woods is dedicated to the design of systems in crisis. The very need to articulate the post-apocalyptic state of the societies can be seen in the light of his awareness of ongoing warfares, economic disruptions and ecological catastrophes. This politically charged position of a visionary in the case of this radical architect was deeply inscribed in a vast number of immaculately concise manuscripts and enticing sketches he has produced throughout the years. Lebbeus Woods was a lecturer at the Cooper Union in New York City and at the European Graduate School in Saas-Fee, Switzerland, and largely influenced generations of students and other academics by the broadening of scientific discourse. Proposals for the architecture of San Francisco, Havana, and Sarajevo that were included in the publication of Radical Reconstruction in 1997.
Woods was honored with the Chrysler Design Award for his achievements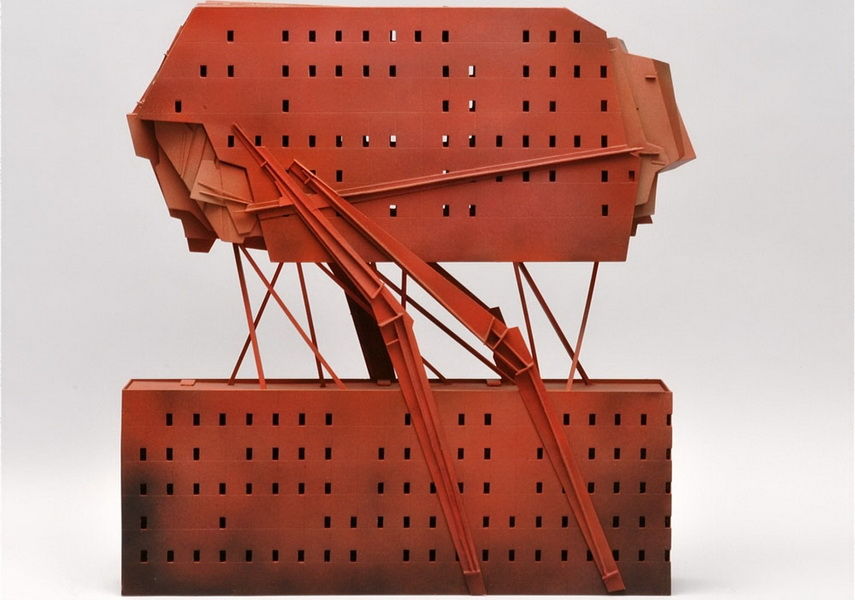 The Importance of Woods's Radical Legacy
Models and drawings of Lebbeus Woods are included in numerous public collections like in MOMA, New York, The Cooper-Hewitt National Design Museum and the Whitney Museum of American Art, just to name the few. Some of his sketches were even used for the Terry Gilliam's 1995 SF movie 12 Monkeys, without Woods's confirmation. In 2012 San Francisco museum of Modern Art was preparing a huge retrospective of Woods's work, when the architect has passed away suddenly in the midst of Hurricane Sandy stroke on New York. [1]Unbelievably, his death coincided with topics that occupied him the most. In his last years, Woods conducted an impressive blog which represented outstanding and critical agenda of this visionary architect till the very end of his life.
Lebbeus Woods died on October 30, 2012, at the age of 72.
References:
(2013): In memoriam: Lebbeus Woods one year after his death, The Charnel House [November 22, 2016]
Featured image: Lebbeus Woods – Terrain, 1999, detail, image via Pinterest
All other images for illustrative purposes only