When you walk the streets of your city, do you notice homeless people? How often do you take a moment of your time and give them some change your pockets hold? And even when you do that, do you look them in the eyes, do you wonder who they are, how did they end up living in the streets? What is their story? Lee Jeffries, a self-taught British photographer, has taken upon himself to tell the rest of us who the homeless really are. Through a life-changing event that included taking a photograph of a young girl huddled in her sleeping bag, she noticing him, and he apologizing to her, talking and getting to know her, we now have an opportunity to finally break the misconceptions we've had about the people living in the streets and see them for who they truly are – the human beings, and not some boogeyman we've grown to be afraid of.
The artist is telling us a story about the people who live on the streets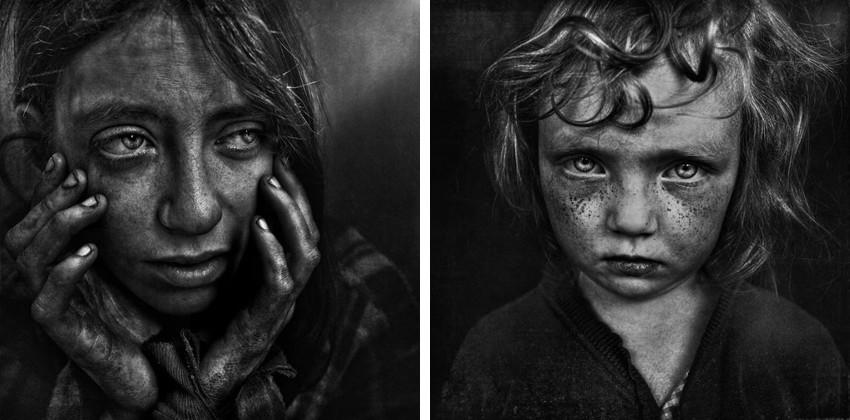 Intimacy
You could categorize Lee's work as taking portraits, but it is so much more. The most of his work in black and white, and shot from the point blank, because the artist doesn't want anything to get in the way of what he's trying to say. There is an amount of intimacy that is only matched by his respect for the people he's photographing and the level of the emotions captured in the artworks. Don't make a mistake of labeling Jeffries' work as a reportage photography, which's often documented in texts, or photojournalism, whose aim is to cover the news. Instead, look at it as art, and the kind that awakens the viewers in a moral sense. If you think about the pieces, they seem almost timeless as the people portrayed could have lived centuries ago.
The pieces seem timeless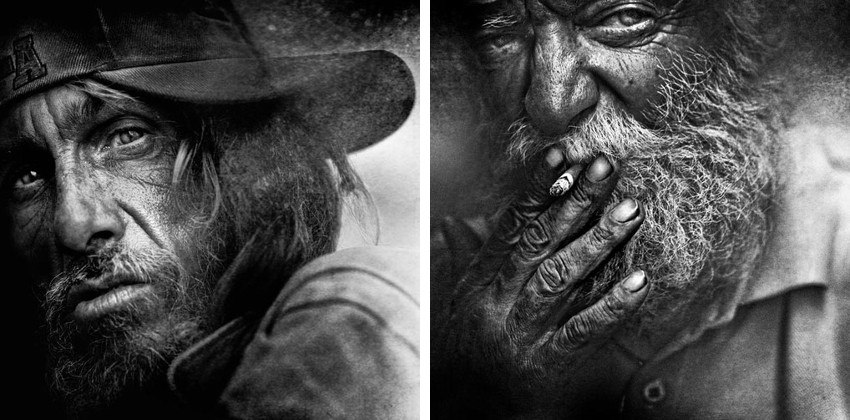 Look Into Their Eyes
I've talked about intimacy, and that just may be the most important feature of Lee's work. It started with him going to London to run the half-marathon, and the day before, as he was walking the streets, he noticed a girl sleeping in her bag. He 'stole' a picture before she noticed him and made a big fuss about it, at which point, he walked away. But, as with all the great stories, the big moment happened. He decided to turn back and apologize to the girl. The subsequent talk they had and the photographs he took after that changed his life and pointed his career towards the homeless people. Since then, he first approached every single person he's photographed and talked to them. In that talk, he always manages to capture their essence, even before taking their picture. By looking in their eyes, he simply feels he's found the person he wants to make a connection with. It was never about photography, but rather about forming the relationships with the people. Lee sees that moment of recognition in the stranger's eyes and believes he's accepted by them because they see the identical emotion in him.
The essense is captured before taking the picture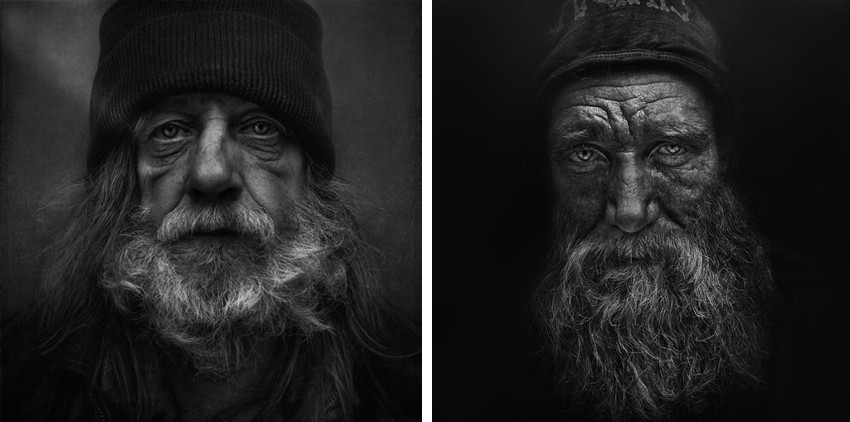 The Synergy
In the last couple of years, since early 2014 to be precise, Lee has been working with Jef Aérosol, a famous stencil artist. Jef saw some of Lee's work, contacted him, and they almost immediately decided to combine their work, as they felt the need to explore and share with the public their own vision of the universal issue. The depth, stillness and gravity of Jeffries' work are complemented by the movement sparkling from Jef's stencil pieces. An incredible harmony is the result of their collaboration as Aérosol reinterprets Jeffries' powerful yet delicate portraits. All of that culminated in their exhibition, symbolically titled Synergy, which took place at the Mathgoth Gallery.
The depth, stillness and gravity of Jeffries' work are complemented by the movement sparkling from Aérosol's stencil pieces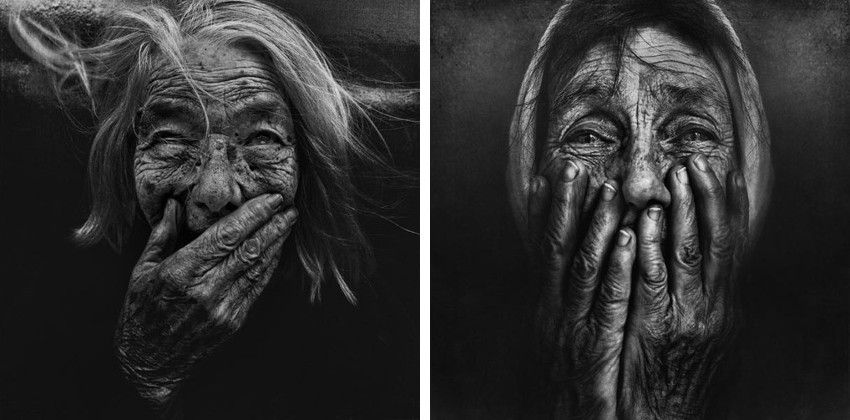 Charity Work
Walking the streets and getting to know all the homeless people before taking their pictures has truly opened Jeffries' eyes. In an artistic sense, of course, but also in a noble, humane way. He's realized, as his pieces started to sell, that he could actually do something for the homeless. So he started working with YellowKorner, and that allowed them to hold charity auctions, the last of which gathered more than 25 000 euros for a Paris-based homeless charity. Also, the gallery representing Lee, the Mathgoth Gallery, in agreement with Jeffries and Aérosol, have donated 10% of each sale made during their exhibition to non-profit association AURORE.
The artist has organized charity auctions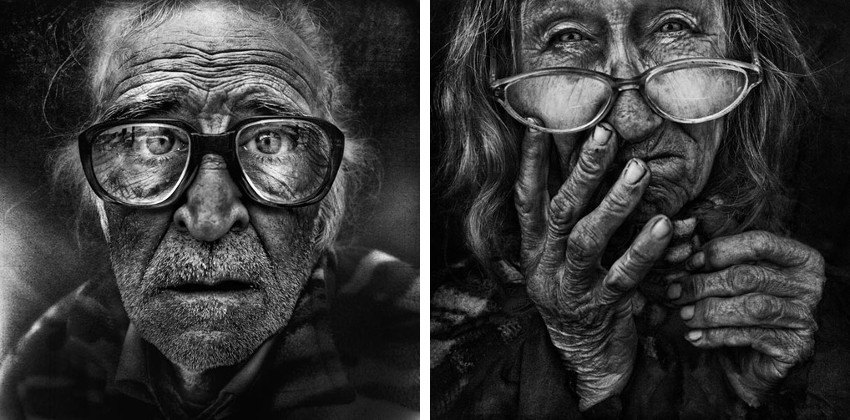 What Really Matters Are the People
You may have noticed we haven't talked about Lee's process, about what he does after the image has been taken, and that's for a reason. The artist doesn't like to talk about it since he considers that shifts the attention from what truly matters, and that is people in the photographs. It is amazing that all of this has been done by a self-taught artist and the one who works a full-time job as an accountant. This tale of his started as self-funded quest to raise awareness and the level of donations to the homeless people, but also to show the general population that there is absolutely no reason to be afraid of the people living in the streets, and that they all have their own stories to tell, but only if you are brave enough to look into their eyes and talk to them.
He is represented by Galerie Mathgoth in Paris.
Lee Jeffries lives and works in Manchester, UK.
All images courtesy of the Galerie Mathgoth.