Born and raised in Chicago, Lefty (aka Lefty Out There) was drawing lines since he was a child. At first, everyone believed it was just a phase young children have to go through, but he continued to express himself through his abstract creations. Lefty was influenced by music, and there is a parallel analogy between soundwaves and his drawn lines. He does not believe in the existence of unchangeable and strictly defined notions in life. Quite the opposite, he believes in the ever-changing power of natural force. Since objects are in motion, he paints them combining lines, outlines, and color. Underneath the sea of lines, there is a whole new world there, faces, people, objects, just like in life – underneath the surface hides the essence.
Lefty believes in the ever-changing power of natural force
Seeing is Believing
What we see is what is out there, but the energy that drives the world exists only in the realm of the sublime. Looking at things with the inner eye, Lefty tries to show how the actual physical world is shaped and changed by the forces unavailable to human perception. Introspective as he can be, this young man expresses himself through numerous types of lines, patterns, and colors. He is a nonconformist and amazingly talented artist who successfully preserves his unique style. Driven by emotion, he tries to make art that is completely open to interpretation. Viewers can stare in front of his painted walls for hours and still not get every little detail.
Lefty makes art that is completely open to interpretation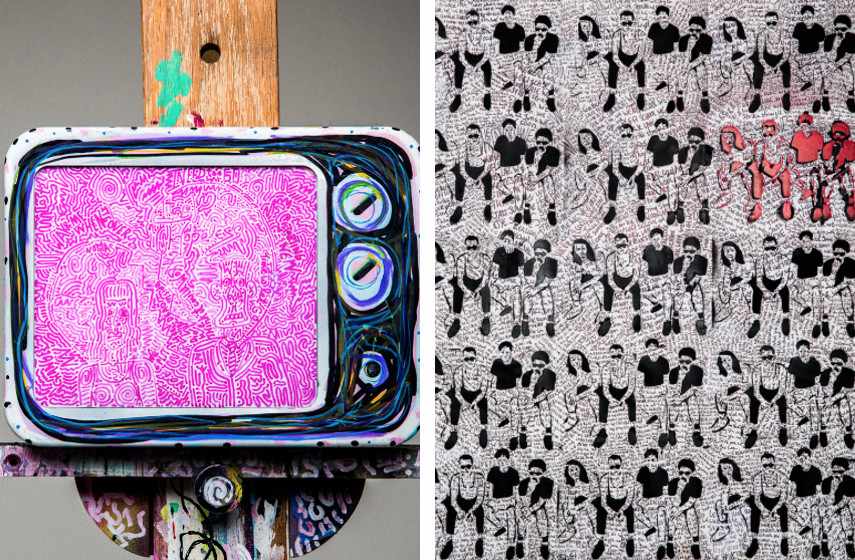 Read Between the Lines
There are traces of biographical stories in his designs. Events from the past, the relationship he creates and people he meets, they are all caught somewhere in a drawing, during the lengthy process of creation. He leaves pieces of himself all over Chicago. City walls are pages of his personal journal. His design found its place on clothes, walls, and furniture. Lefty stays close to other artists from his neighborhood and continuously grows as a person and craftsmen. Dabbling in wheatpaste stickers he is spreading his art around the globe and shows no objection to the idea of traveling to share his art. He keeps his eyes open to new inspiration, whether that is music or just an interesting pattern in a brick wall.
City walls are pages of his personal journal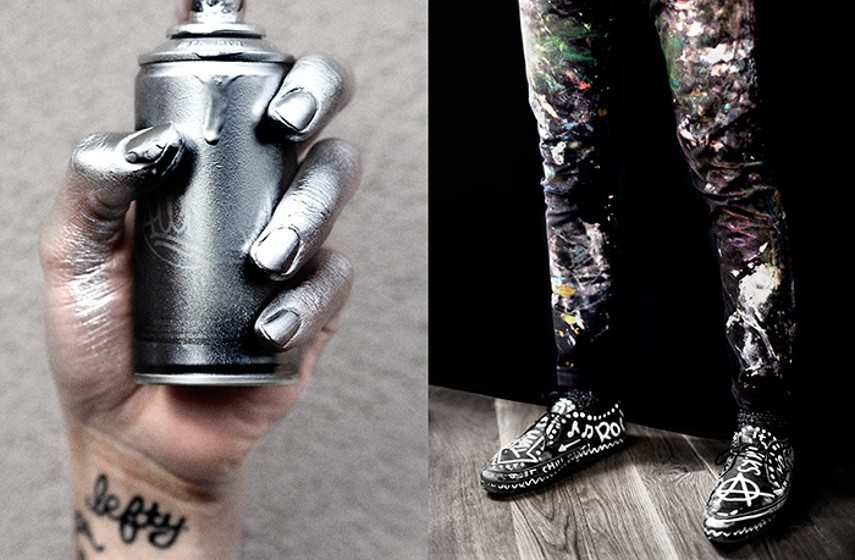 What is Beneath the Surface
Not selling out as an artist, Lefty quite made it in the creative world. Nowadays, he works in various fields of design, such as fashion, interior decoration, furniture design. He also does installations and for over a decade decorates Chicago walls. He has a vision of showing what's beneath the surface, and that is why he covers the exterior with systemic looking lines. The viewer has to be moved, to be inspired, to accept Lefty's suggestion to look deeper, more carefully and to never stop seeking for meaning in small details. Inspiration is not only to be found in galleries, but it is also present in the restaurants, boutiques, pop-ups. It can find us anywhere, we just need to keep an open eye.
The artist lives and works in Chicago, US.
Featured image © Cory Vanderploeg, photo credits www.coryvanderploeg.com