Life has a strange sense of humor. Sometimes you'll get professionally stranded, in search for a job, and you'll maybe start painting as a hobby, nothing more than a way to fill all that free time. Luke Chueh had a promising career as a designer when he decided to move to Los Angeles. However, he failed to get a job there and started painting instead. He was invited to show his works at Cannibal Flower, an LA based underground art show. Now he's an established artist, who bases his work on his own personal experiences.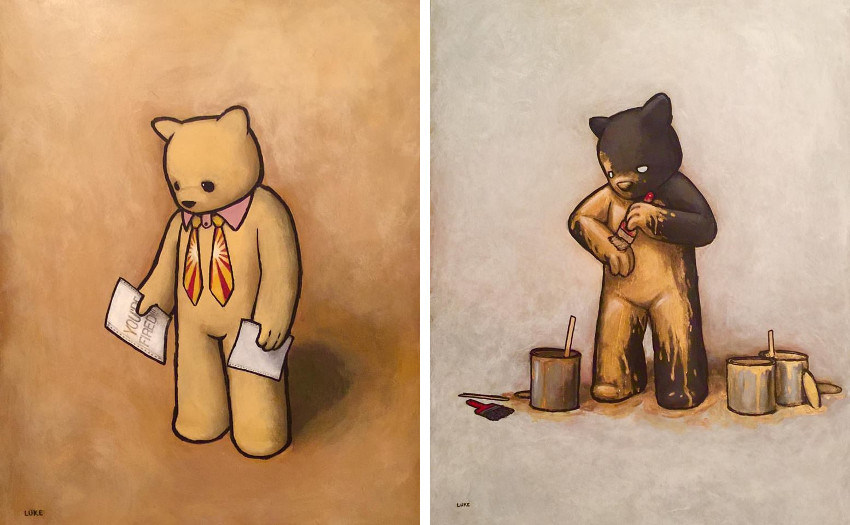 Post-Brow
The best way to describe Chueh's art is to say it causes mixed feelings, as the viewers are undoubtedly amused but also feel bad for the characters. A minimal color scheme, a simple animal character, and an endless list of ridiculous and ill-fated situations – that is something the artist is famous for. He describes his style as Post-Brow, admitting that it has some similarities with Low-Brow, such as illustrative qualities, a sense of humor, and counter-culture attitude, but it lacks that distinctive white trash factor, the element that makes the Low-Brow low. The artist is inspired by the work of Mark Ryden and Gary Baseman.
A minimal color scheme, simple animal characters and an endless list of ill-fated situations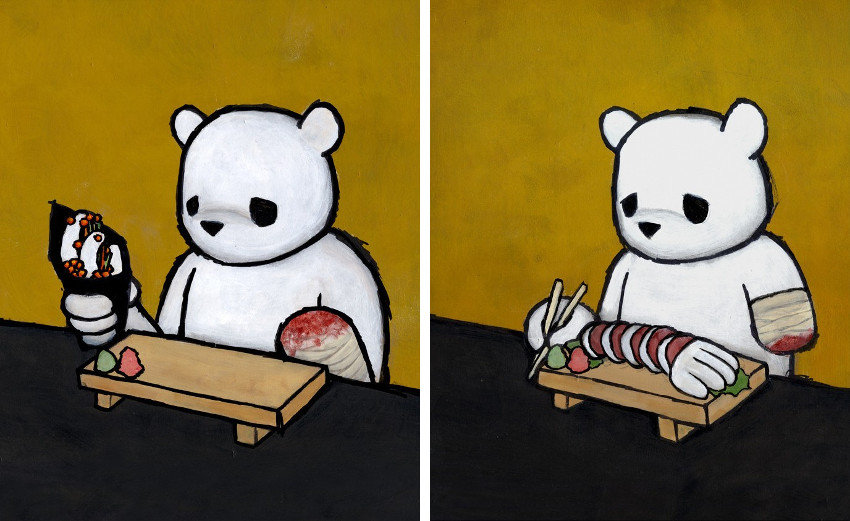 Between Tragedy and Comedy
The process begins with a sketch. He uses animals because he feels that if he used humans as characters for his stories, it would draw some people and alienate others. Chueh wants for his art to be relatable to all. Brute and cute, tragedy and comedy – these contrasts are important as they create a compelling narrative that people can empathize with. His Bear and the scenarios he's been in are widely known and popular. Recently, the artist had hidden other characters inside the Bear costume, and the entire Headspace series is actually his attempt to give credit to everything he loves and holds dear, ranging from pop culture icons, other artists he's inspired by, to his understanding of the contemporary art.
The artist gives credit to everything he loves and holds dear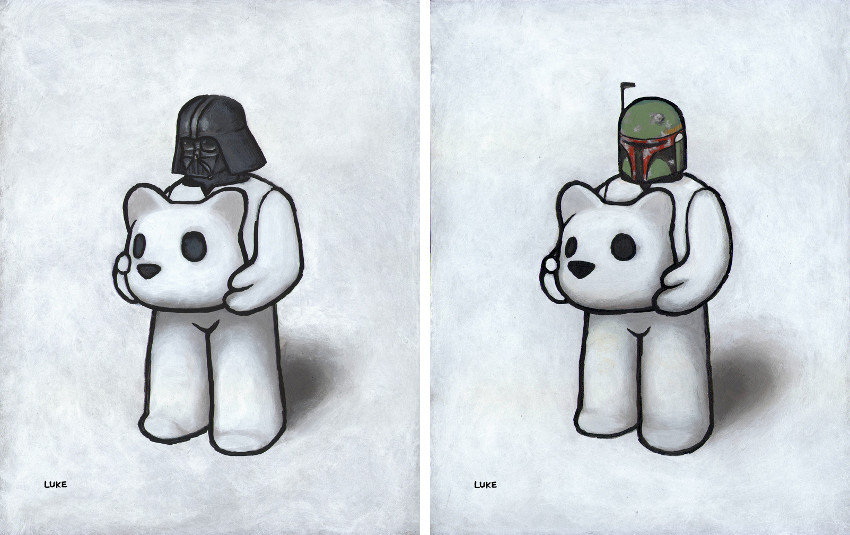 It Was Not an Easy Life
He was born in Philadelphia and raised in Fresno. Chueh earned his BS in Art and Design (focus was on the Graphic Design) from the California Polytechnic State University in San Luis Obispo. While working as an in-house designer/illustrator at the Ernie Ball Company, he created several award winning designs. It was the move to LA and the lack of job opportunities that pushed him in the direction of art, but the crucial thing was the viewers' positive response to his work, so he turned the hobby into his occupation. The themes come easily to Chueh, as he admits he hadn't had the easiest life. Between sabotaging his own life and being put down by others, it certainly wasn't easy.
He created several award winning designs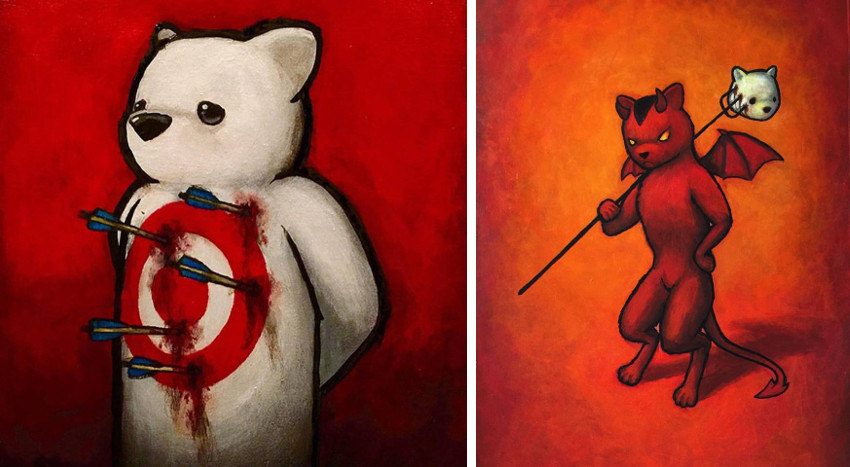 Turning the Bad into Good
It is always amazing how the plans we made for ourselves could be distorted by life and some choices that we make. The decision to move to LA seemed all wrong in the beginning, but it all turned out great for Chueh. One day you think of yourself as a designer, and the next people tell you they like your free-time made paintings, and you devote yourself to art. The change of jobs can be extremely stressful, but Luke Chueh simply painted all the bad things that happened to him and used them to make his life better.
He is represented by Corey Helford Gallery in Los Angeles.
Luke Chueh lives and works in Monterey Park, California.
Featured image: Luke Chueh – portrait, photo credits Arrested Motion
All images © Luke Chueh