Dutch artist Luuk de Haan makes photographs derived from a unique method that combines contemporary technologies like digital graphics software with historic photographic techniques. Such a method results in pieces with strong shapes and an obvious visual note that pays homage to Minimalism. Luuk de Haan's work offers a glimpse into an unfamiliar and obscure area, a persuasive and clear parallel universe otherwise unavailable to us. Make no mistake – a quiet and personal world, deep and as sober as colorful, the creative universe of Luuk de Haan is truly one of a kind.

The Road to His Unique Method
Luuk de Haan was born in Vlaardingen, South Holland, Netherlands. He studied at the HKU University of the Arts Utrecht (Hoge School voor de Kunsten HKU), in Utrecht, Netherlands, an institution which allowed the aspiring artist to develop both his skill and the overall understanding of art. Ever since his student days, Luuk's inspiration could be traced to a same source – he was and still is influenced mainly by minimalist aesthetics, something that is fairly obvious to anyone observing his mature work. He is also inspired by music and a sense of poetic openness. Luuk de Haan likes comparing this artistic mix of concrete and abstract influences to architecture – in other words, he likes to view his work as a kind that is defined as much by solid forms as by the space and silence within it.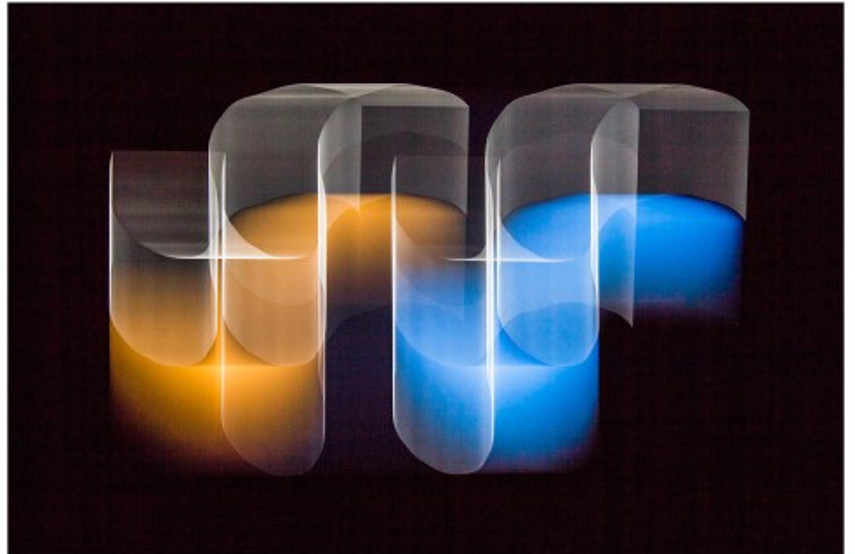 The Technique of Luuk de Haan
As it was clued at earlier in this text, Luuk de Haan's visual art relies on the mediums of photography, drawing and digital tools in order to create organic, geometric abstract compositions. The creative process begins when Luuk uses digital software to generate a geometric composition of some sort. He then photographs that composition directly from the screen. By adjusting the conditions under which the photograph is taken, the artist allows the analog photographic process to interact with the digital image in ways that are often unpredictable, introducing an element of surprise to the final result. Sometimes De Haan will perform various gestures with his hands while exposing the photograph, giving an active quality to the image and adding another conceptual level to his work. The resulting images can simultaneously be read as naturally expressive as well as graphic and stern explorations of shape, color, geometry and line.
Luuk de Haan relies on a combination of digital processes and historic photographic techniques that allow him to create fascinating minimalistic compositions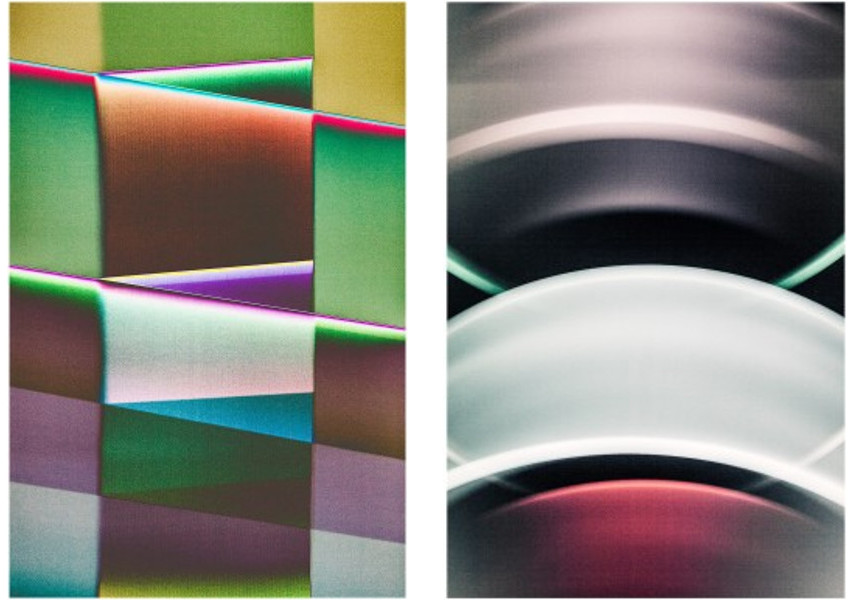 The Successes Within the Art World
Luuk de Haan has exhibited extensively in a variety of galleries and museums throughout the Netherlands and Germany so far, as well as appearing at international fairs like Art New York, EXPO Chicago and Art Miami. And, to put it bluntly, we are not surprised by the amount of interest people display towards this man's work – Luuk de Haan uses an intriguing combination of contemporary tools and human processes that attracts attention due to both its uniqueness and visual experience. In other words, he provides something original and exciting, a combination that will never let you down in the art world.
This artist is represented by IdeelArt.
Luuk de Haan lives and works in Bergen, North Holland, Netherlands.
Featured image: Luuk de Haan – Photo of the artist in front of his work – Image courtesy of IdeelArt
All images courtesy of IdeelArt.