Macha Poynder is a Russian-born, Paris-based artist whose multi-disciplinary oeuvre is inspired by the philosophies and aesthetic principles of Abstract Expressionism. Poynder moved permanently from Moscow to Paris in 1982. In 1983, she studied at the Nationale Supérieure des Beaux-Arts and in 1986 earned her degree from the Ecole Nationale Supérieure des Arts Décoratifs.
Technique
Though Poynder works in many mediums, including painting, drawing, photography, film, and performance, the heart of her practice has always been drawing and painting. Her method emphasizes gesture, line, color, and space. Physicality and action are key to her technique. To create her drawings and paintings she expands on the methods of the Abstract Expressionists, blending automatic drawing, performative gestures, and intuitive color choices to express the depths of her unconscious.
She works with multiple layers and colors, creating works that are defined by their complexity and depth. Her textured and painterly surfaces blend areas of apparent randomness where the paint has been splashed or dripped with areas of precision, where the paint has been applied with a deliberate, trained hand.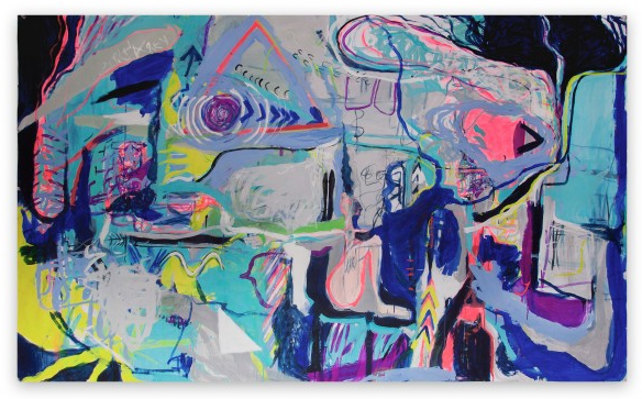 Inspiration
Poynder likens her painting process to the creation of music. She considers colors to be sounds, which can form the visual equivalent of chords when placed together in a composition. She seeks rhythm in her compositions, and strives to create a sense of structure. When she first discovered the work of the Abstract Expressionists like Cy Twombly, Joan Mitchell, and Willem de Kooning, she found a kindred spirit in herself.
She is inspired by the emotive and performative aspect of how those artists worked. She paints sometimes as if she is dancing, with her lines recording the trajectory of her body and her mind.
Most importantly, she is inspired by the quest to forget what she knows, so she can become liberated from her own rules, and let intuition and instinct guide her while she paints.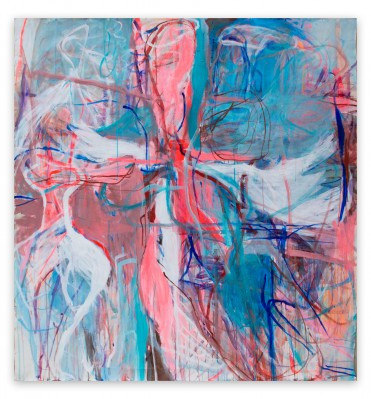 Artist Statement
I am arriving at a point, a threshold, where accumulated knowledge finally leaves, liberated from its control and domination. It turns into pure perception, when the link with the invisible, the unknown, and the infinite becomes clear. The painting can finally spring from its own source. Many things thus become possible. The broadening of perception causes the visual field to broaden, so the territory of a painting grows larger. And so on and so on, like a spiral with no end. Painting is one of the instruments for penetrating the mysteries of the world. Canvas, paper, surface are all windows where the visible and the invisible touch, come together, where the mystery is half open, and where the invisible is revealed.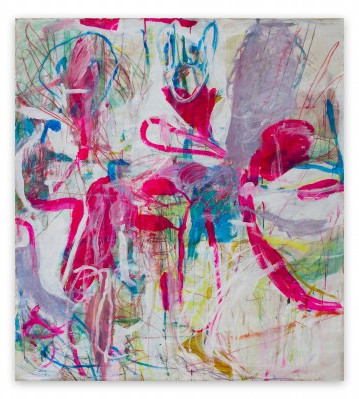 Exhibitions and Collections
Poynder has exhibited internationally. Recent solo exhibitions include Buci Gallery, Paris, T1 + 2 Gallery, London, and Modernism, San Francisco. Her work is in the permanent collections of the Musée d'Art Moderne de la Ville de Paris, Centre Georges Pompidou in Paris, the Fine Arts Museums of San Francisco, the New York Public Library, and the Rijksmuseum, among others.
Featured image: Macha Poynder – portait
All images courtesy of the artist and IdeelArt