Relying on an interesting visual vocabulary based on geometric shapes and variations, Macyn Bolt is an American abstract painter. By creating his pieces, this painter desired to explore how color and form, if used properly, create shifts in visual perception. His fascinating painting and installation work mirror the balance between boldness and delicacy, a commonly found feature within this painter's compositions. Macyn Bolt spends his time between Brooklyn and upstate Pennsylvania.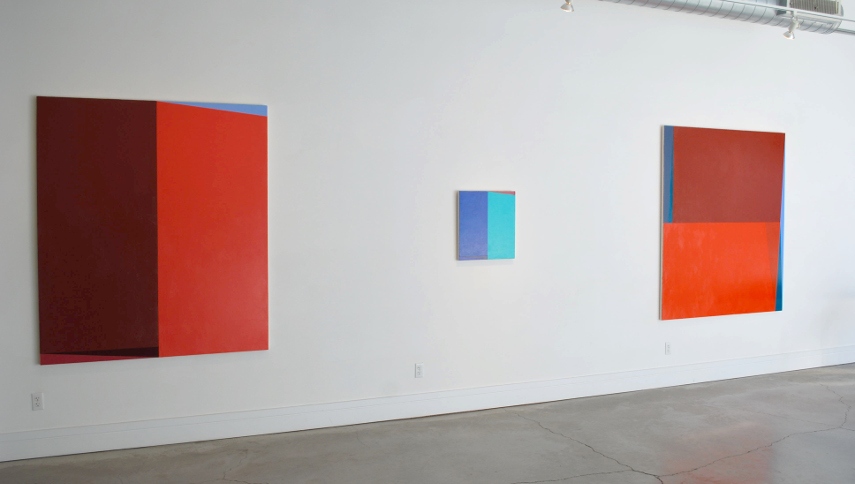 Macyn Bolt and His Concepts
Macyn Bolt earned his education by studying at Calvin College, in Grand Rapids, where he received a BGA after graduating in the year of 1979. Furthermore, he obtained his Masters of Fine Arts from Syracuse University in two years later. Ever since then, Bolt has been working with on developing his artistic style. He uses acrylic paint as a constant material, but his choices of surfaces do vary – Macyn utilizes canvas, wood panel, vinyl and paper, depending on the situation at hand. He creates layers of paint which result in a canvas surface that seems both polished and hand made. Additionally, Bolt also strives to achieve heightened areas via the effect of contrast. Because of such characteristics, his acrylic work has often been regarded as the work of exploring relationships between the painterly and the flat. Another important aspect of his work is scale and the size of the work holds a lot of its identity within. Macyn's smaller works, which start around 16 x 15 inches in size, create opportunities for intimate and private interactions. However, his larger works which have been known to range up to 84 x 180 inches, encompass viewers in a contemplative aesthetic space. That way, Bolt is able to change the audience's perceptual experiences which are an integral part of his pieces and the meaning behind them. In his own words, he desires to unveil the qualities of reflection and mirroring that are unique to the space of the abstract painting. Macyn Bolt has exhibited in multiple solo and group exhibitions throughout the United States, never failing to attract attention wherever he and his work went. Furthermore, Macyn's pieces have managed to find their way into many corporate and institutional collections, including those of the Newark Museum, Grand Rapids Museum, the Blanton Museum, the Boca Raton Museum, Progressive Companies, the Janet Turner Print Museum, Deutsche Bank, JPMorgan Chase and TIAA-CREF. This kind of recognition only further solidifies Bolt's significance to the contemporary scene.
Macyn Bolt's paintings represent a visual foundation which utilizes a symmetrically divided composition to set open and closed forms, interlocking shapes and illusionary spaces for the viewers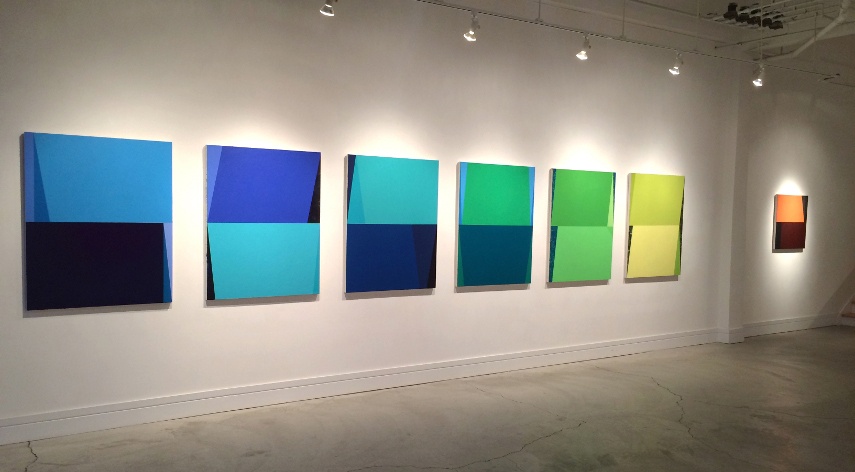 Seeing the Shifts
Macyn's greatest inspiration comes from the visual riddle that can be evoked by spatial relationships between elements of the composition. Bolt's reductive and monochromatic works are impressive to behold and offer fascinating shifts in visual perception which can be both dramatic and nuanced. Furthermore, this painter invites the audience along on a ride as he explores his concepts, allowing the viewers to interact with the fluctuating polarities of concrete and illusionary space.
This artist is represented by IdeelArt.
Macyn Bolt lives and works in New York and Pennsylvania, United States.
Featured image: Macyn Bolt – Installation at the Grand Rapids Museum, in Gand Rapids, MI, 2010
All images courtesy of IdeelArt.
| Year | Exhibition Title | Gallery/Museum | Solo/Group |
| --- | --- | --- | --- |
| 2016 | Macyn Bolt | Simon Gallery, Morristown, NJ | Solo |
| 2016 | About Painting | Simone DeSousa Gallery, Detroit, MI | Group |
| 2015 | 40 - The Anniversary Exhibition | Hal Bromm Gallery, New York, NY | Group |
| 2015 | The Circle-Square Game | Strohl Art Center, Chautauqua Institution, Chautauqua, NY | Group |
| 2015 | The Lightness of Being: Part II | Allyn Gallup Contemporary Art, Sarasota, FL | Group |
| 2015 | Satellite | Pop-up exhibit in NYC, Chandra Cerrito Gallery, Oakland, CA | Group |
| 2014 | Macyn Bolt | Kim Foster Gallery, New York, NY | Solo |
| 2014 | Macyn Bolt | Simon Gallery, Morristown, NJ | Solo |
| 2014 | Sequential Abstraction | Kim Foster Gallery, New York, NY | Group |
| 2013 | Constructed Space | Kim Foster Gallery, New York, NY | Group |
| 2012 | Unknown | Kim Foster Gallery, New York, NY | Group |
| 2010 | Macyn Bolt | Heidi Cho Gallery, New York, NY | Solo |
| 2010 | Stratigraphic | Chandra Cerrito Contemporary, Oakland, CA | Group |
| 2010 | Unknown | Grand Rapids Art Museum, Grand Rapids, MI | Group |
| 2007 | Doupolis | Chandra Cerrito Contemporary, Oakland, CA | Group |
| 2006 | Macyn Bolt | Kim Foster Gallery, New York, NY | Solo |
| 2006 | Unknown | Perimeter Gallery, Chicago, IL | Group |
| 2006 | Unknown | Allyn Gallup Contemporary Art, Sarasota, FL | Group |
| 2005 | Macyn Bolt | Flaten Art Museum, St. Olaf College, Northfield, MN | Solo |
| 2004 | Unknown | Morgan Lehman Gallery, Lakeville CT | Group |
| 2003 | Macyn Bolt | Kim Foster Gallery, New York, NY | Solo |
| 2002 | Macyn Bolt | I space, Chicago, IL | Solo |
| 2002 | Unknown | Kim Foster Gallery, New York, NY | Group |
| 2001 | Macyn Bolt | Kim Foster Gallery, New York, NY | Solo |
| 2001 | Macyn Bolt | Signal 66 Gallery, Washington D.C. | Solo |
| 1998 | Macyn Bolt | Kim Foster Gallery, New York, NY | Solo |
| 1996 | Essence | Radix Gallery, New York, NY | Group |
| 1995 | Under Glass | Charles Cowles Gallery, New York,NY | Group |
| 1995 | Unknown | Elizabeth Harris Gallery, New York, NY | Group |
| 1994 | About Color | Charles Cowles Gallery, New York, NY | Group |
| 1991 | Macyn Bolt | Hal Bromm Gallery, New York, NY | Solo |
| 1988 | Macyn Bolt | Grand Rapids Art Museum, Grand Rapids, MI | Solo |
| 1988 | Macyn Bolt | Hal Bromm Gallery, New York, NY | Solo |
| 1987 | Macyn Bolt | San Antonio Art Institute, San Antonio, TX | Solo |
| 1987 | The Fictional Figure | Caroline Lee Gallery, Houston, TX | Group |
| 1986 | Macyn Bolt | Hal Bromm Gallery, New York, NY | Solo |
| 1986 | Unknown | Matthew Scott Gallery, Miami, FL | Group |
| 1986 | TEN | Hal Bromm Gallery, New York, NY | Group |
| 1985 | Unknown | Marianne Deson Gallery, Chicago, IL1 | Group |
| 1985 | Stigmata | Bond Gallery, New York | Group |
| 1985 | Unknown | Minnesota Museum of Art, St. Paul, MN | Group |
| 1985 | The 39th Biennial Exhibition of Contemporary American Painting | The Corcoran Gallery of Art, Washington, D.C. | Group |
| 1984 | Unknown | Bonnier Gallery, New York, NY | Group |
| 1984 | Totem | Bonnier Gallery, New York, NY | Group |