There is no denying the fact that street art scene is mostly dominated by males. Without getting into the discussion why that is the case, it should be noted that every once in a while we get the privilege of witnessing female street artists popping up and making us wonder why there ain't more girls in this medium. One such artist is the famous Madame (also known as Madame Moustache, if you prefer that nickname), a woman veiled in mystery and responsible for covering urban surfaces of Paris with clippings from old newspapers and magazines. Yes, you read it correctly – Madame managed to blend the aspects of two fundamentally uncombinable mediums, graffiti and collage.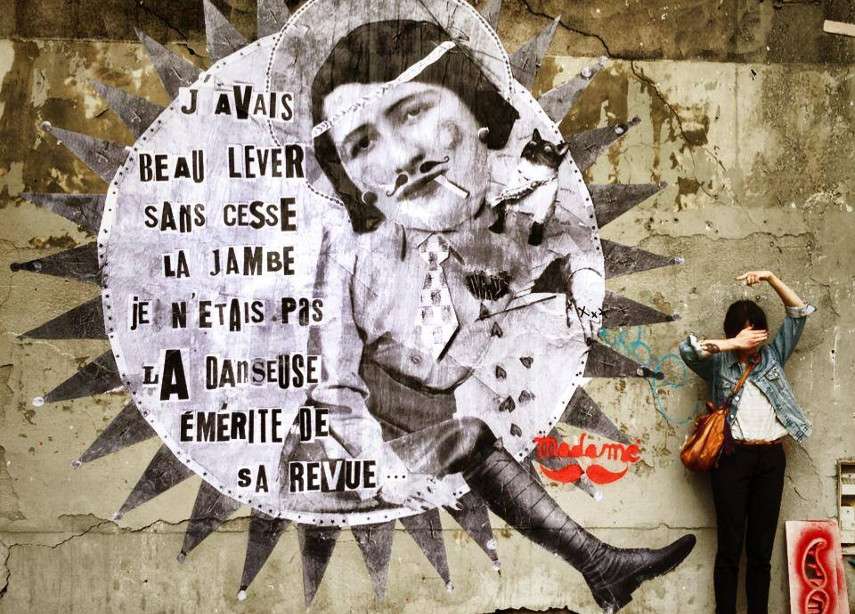 From A Broken Heart To A Successful Career
Madame Moustache was born in a small town outside Tours in the year of 1982. Her entire family was interested in art, so Madame turned out to be a real chip off the old block – both her father and grandfather were painters. Although she was receiving a certain amount of pressure from her folks to continue the family tradition and pursue a painter's career, Madame ultimately decided this was not her cup of tea. She went abroad to learn about theatre as she was always passionate towards acting. It's fair to say that Madame gave all she had to this profession – she spent over eight years trying to find her place in the relentlessly brutal business of acting. In the end, she deemed herself not good enough and eventually the passion she had for acting faded away. Disappointed and discouraged, Madame went on a trip around the world to try and find some sort of inspiration, something new to completely devote herself to. As a calming technique during these journeys, she made a number of travel books, on which she glued different things she cut out of local newspapers and magazines. At the time, she had no idea of how important this will turn out to be. After visiting all the places she planned, Madame returned to France. One day, while she was taking photos of her graffiti artist friend in action, he made a suggestion to paste some of her clippings on one of the graffiti. And thus, Madame Moustache was born.
Madame developed a unique style by combining collage and street art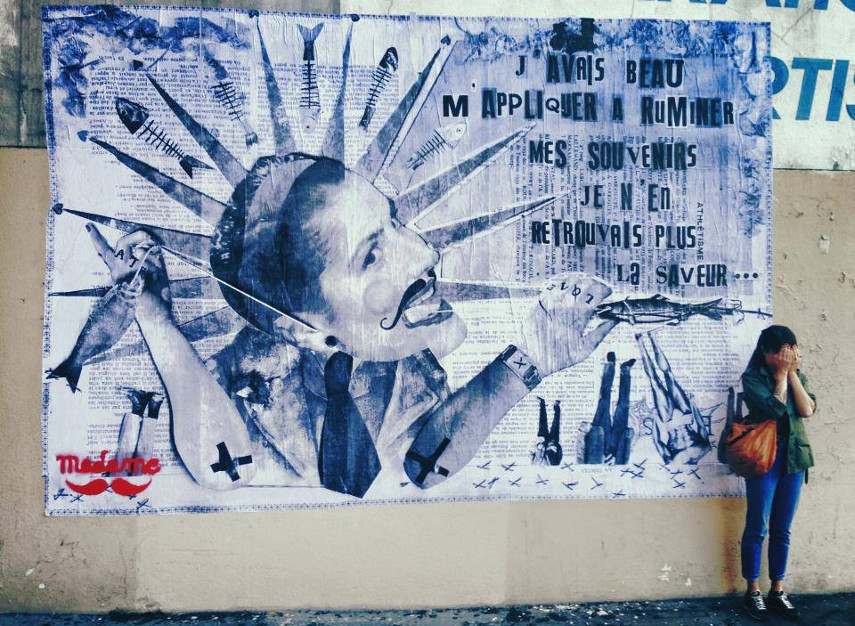 Paste-Up Of Street Art
Madame's paste-up pieces are among the most instantly recognisable works of the street art scene that's literally booming in Paris right now. This is down to her characteristic use of collage which is very rare in street art, but the clever usage of humorous statements and her playful style also helped quite a bit when she was building a name for herself. With an eye for issues such as gender identity and a tendency for ridiculing stereotypes, Madame developed a retro aesthetic by mixing old materials like paper, cardboard, engravings, drawings, pictures, fabric, metal, and wood, making her pieces look a lot like the 1950s and 1960s advertising billboards. It's not that obvious when looking at her pieces, but Madame finds much inspiration in the likes of André Robillard, Joel-Peter Witkin, Frida Kahlo, José Clemente Orozco, Diego Rivera, and Robert Frank. These have served as nothing more then mere guidelines, but they are nevertheless rather important when analysing the work of Madame Moustache. Her pieces are characterised by a fantastical, irreverent imagery in which the misappropriation of the pictures takes centre stage. In order to highlight human values such as tolerance, sharing, solidarity, acceptance, empathy, compassion, and love, Madame managed to create a whimsical world populated by women with moustaches, cats with fishlike characteristics and housewives with bodies of male athletes. All she creates is based on strong humor – very logical when you consider the fact that much of her art and technique was influenced by the infamous Dada – but also has a deeper meaning and a direct critique of society.
It all comes down to humor in Madame Moustache's work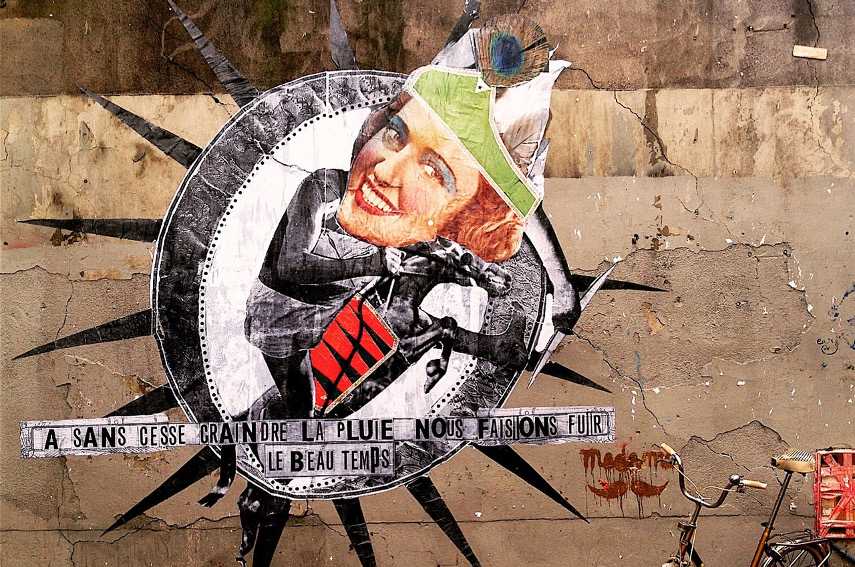 Remember The Moustache
With goals of amusing and making accidental bypassers smile, Madame Moustache places her massive artworks on the walls, streets and buildings of the City of Light. She created an amusing, rich, endearing and complex universe of black and white collages full of details and subtle references throughout. As if her graffiti were not recognizable enough on their own, Madame puts little red moustache tags underneath all her pieces. This signature became a real trademark and we are sincerely hoping we will get to see a lot more artworks with small reddish moustachios painter under them.
The artist is represented by Open Walls Gallery in Berlin, Germany.
Madame lives and works in Paris, France.
Featured Image: Madame – Untitled piece in Paris – Photo Credits Madame
All Images Photo Credits Madame