Marcel Thelen is a Dutch artist, known for his work with wood and abstract paintings. He explores deconstructing, installation, layers, powerful compositions and fresh color schemes.
Thelen's Layering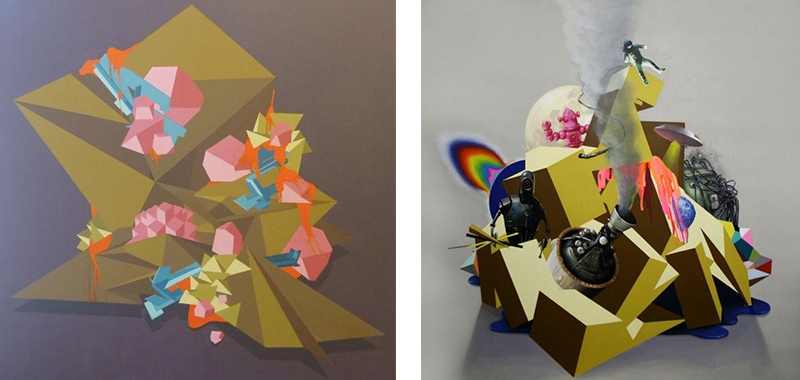 Thelen was born in Goes, a city in the southwestern Netherlands on Zuid-Beveland, in the province of Zeeland, Netherlands. His upbringing was a creative one as he lived with his multi-talented family. Marcel's brother is Collin van der Sluijs, and the two of them used to draw together from the very early age, inspiring and motivating one another then and now as well, when both of them have a successful artistic careers.
It wasn't before early 90s that Marcel discovered graffiti, at one trip on train with his friends. He immediately fell in love with street style aesthetics. Many years from the beginning of his artistic adventure Thelen focused on other art disciplines. Besides his passion for typography, Marcel created a training cabinetmaker where he introduced the concept of 3d. By discovering other materials and forms, this artist created his name through his contemporary paintings and architectural aspects with some bold and vivid colors.
Marcel Thelen's Collages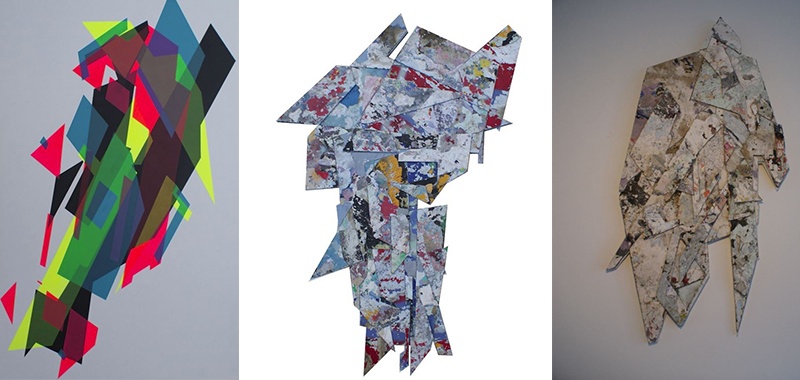 The majority of Thelen's works are a collision between analogue and digital technology. He cuts up a hand-drawn patterns and composes them until they found a right place to be. In 2014, Marcel held an exhibition, together with his brother Collin, Super A and Rutger Termohlen. The show was held at Partisan Creative Corner and curated by Art is Just a Four Letter Word. A theme of this exhibition was to present one common thing among these four Dutch artist and that is layering to show what can be found under the shiny layer of today's society.
The artist is represented by Art is Just a Four Letter Word.
Marcel Thelen lives in Amsterdam, Netherlands.
All images copyright © the artist
| Year | Exhibition Title | Museum/Gallery | Solo/Group |
| --- | --- | --- | --- |
| 2015 | Wonder World | Art is Just a Four Letter Word, in Soest, Germany | Group |
| 2015 | Festival and exhibition Mural Goes & Mural Goes Pop Up Show | GOES, The Netherlands | Group |
| 2015 | Play | Kunstinzigt | Group |
| 2014 | Layers, a show by Collin van der Sluijs, Marcel Thelen, Super A & Rutger Termohlen | Partisan Creative Corner | Group |
| 2013 | Alles Goes | Van Berkei Art Gallery | Group |
| 2013 | Alias | Kopse Kant Electron Breda | Group |