In his stunning series of work entitled Art Pop Classic, Italian artist Marco Battaglini brings classical paintings into the modern era. Hailing from Verona, a city in Italy best known for the tragic love story of Romeo and Juliet, but also for its rich history, art, and culture, Battaglini's work is reminiscent of a Renaissance composition with classical figures and subjects blended into the contemporary cityscape. His dramatic pieces – which wonderfully fuse together a wide range of genres, styles and references – combine classical beauty with anti-aesthetic, celestial with the vulgar, medieval heroines and modern superheroes.
Battaglini's pieces combine classical beauty with anti-aesthetic, celestial with the vulgar, medieval
heroines and modern superheroes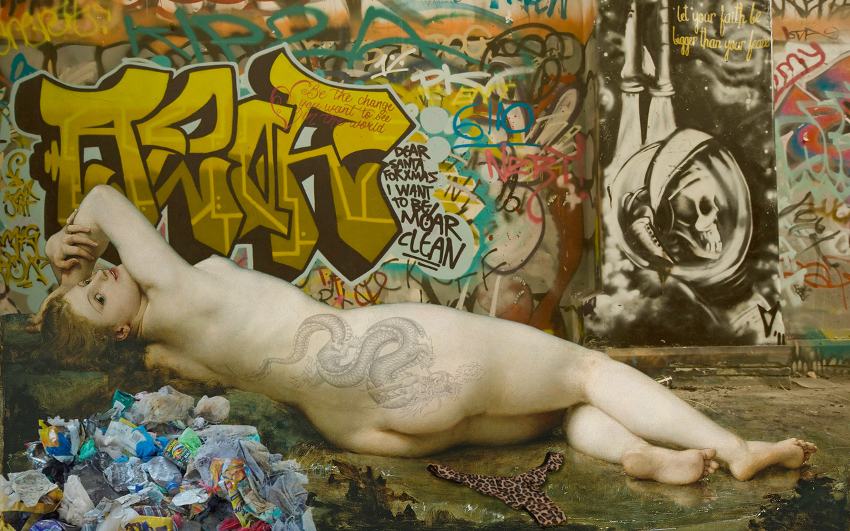 Art Pop Classic
At first sight, compositions in Battaglini's paintings seem 'logicals', but after closer inspection, the viewer realizes that they are packed with time and space contradictions that are a result of the interplay of different realities. Classic paintings are combined with elements of pop culture and urban art – the artist conjoins the classically portrayed central motifs with a modern street art background. Classicist figures – goddesses, muses, angels, and royals – are often depicted with tattooed bodies and placed in front of the facades covered with graffiti art. Symbols related to Western civilization, and elements of pop art – especially those referring to the works of Warhol and Lichtenstein – build a harmonic mixture that forces the observers to reconsider corresponding values and our modern reality.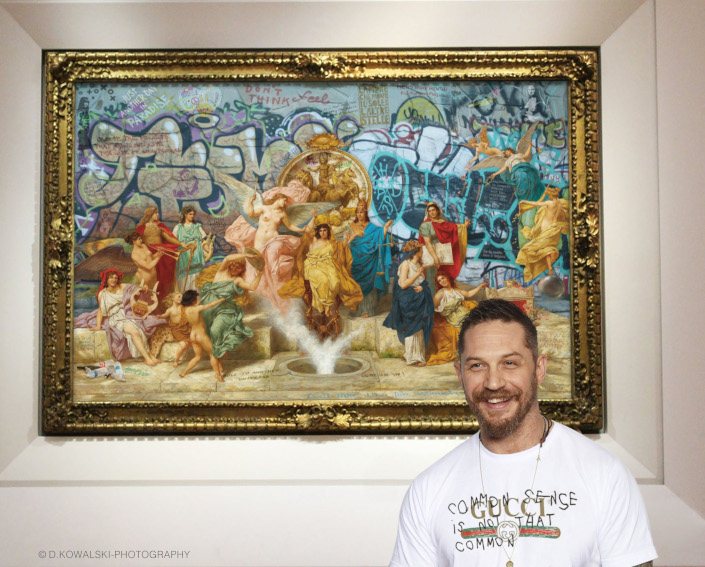 Recontextualization of Classical Art
Marco Battaglini removes the original imagery of Renaissance pieces from the original scene and inserts it into urban settings bringing new life and intensity to the paintings. Renaissance angels cling to each other in front of a graffitied wall, or muses confronted to the eroticism of Marilyn Monroe, are just some of Battaglini's fusions of classical art with Pop art. Each of his paintings offers a series of details that allow the observer to gradually discover secret meanings with a meticulous reading and a reflection on the dissolution by art of the barriers of time and space.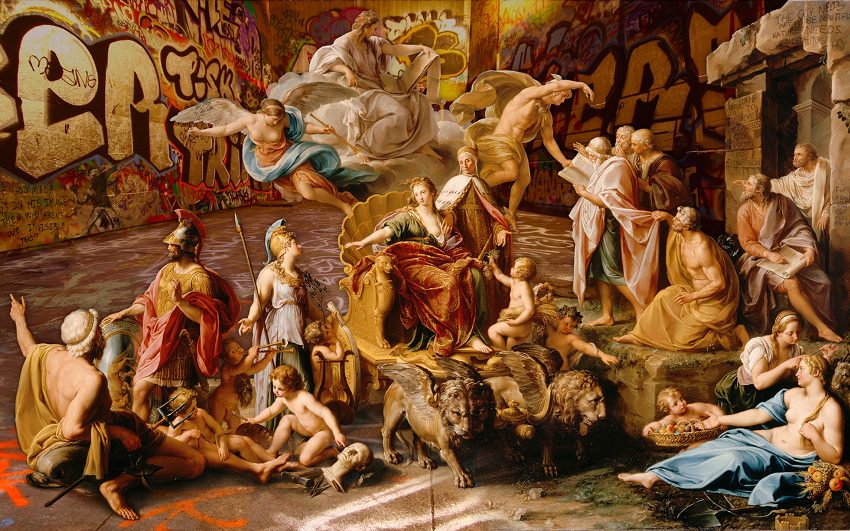 Blurring the Line between High and Mass Culture
Born in 1969, Marco Battaglini graduated from the Accademia di Belle Arti, Venezia in 1994, and from the Universita di Venezia, I.U.A.V. in 1993. During his art studies, Battaglini developed a special interest in the avant-garde movements of the twentieth century, especially surrealism, which is reflected in his work. In his practice, Battaglini removes the boundaries between classic art – with its general connotation of elitist superiority – and popular, between fine art and mass culture.
The artist is represented by Ministry of Walls.
Marco Battaglini lives and works in Costa Rica.
Featured image: Marco Battaglini – Immortality (detail)
All images courtesy © Marco Battaglini