Abstract art is often misunderstood as it is most often non-representational and the viewers don't quite know what is in front of them. At first glance, the work of Margaret Neill is simply an exploration of the possibilities of the line, but, when given a second or a third look, it is clearly an entire world described through those exact lines. The viewers are invited to join in her expedition as she discovers and portrays her relationship with time and space. She observes the patterns, both natural phenomena and human-made, such as weather patterns, maps or buildings, and transforms them into artworks that are complex, but also serene and in the state of constant flux.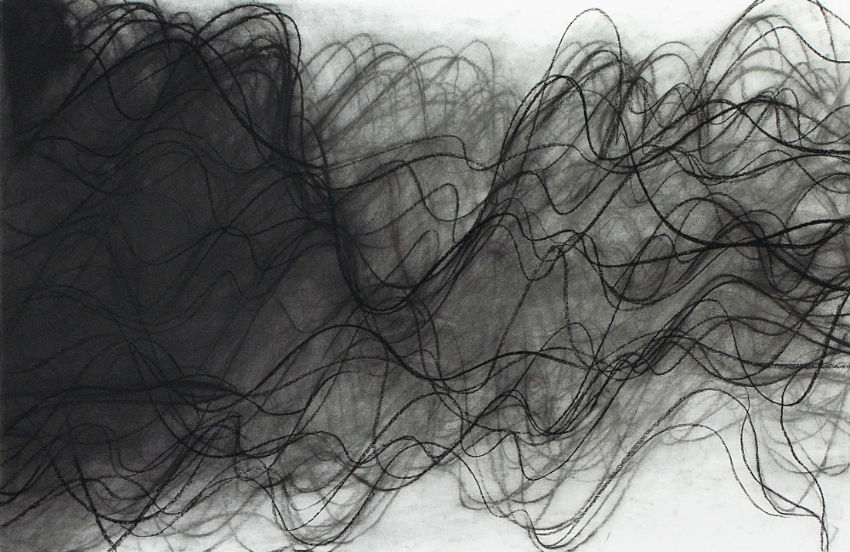 Drawing
The drawing was the starting point and still is the main part of Neill's work. Black and white introduced her into the world of art. Surroundings are transformed onto the paper and canvases as the viewers clearly feel all of the artist's past experiences and sense the never-ending passing of time. The most important things for an artist are to have a lot of curiosity and to find a vision, no matter how much time it takes. Paper, linen, and canvas serve as a surface for Neill as she applies various mediums, such as colored pencil, charcoal, paint, and graphite. The whole process relies on intuition and is embedded in the artist's personal experience, which is sublimated and appears through drawing and painting. She simply let the forms arrive.
The whole process relies on intuition and is embedded in the artist's personal experience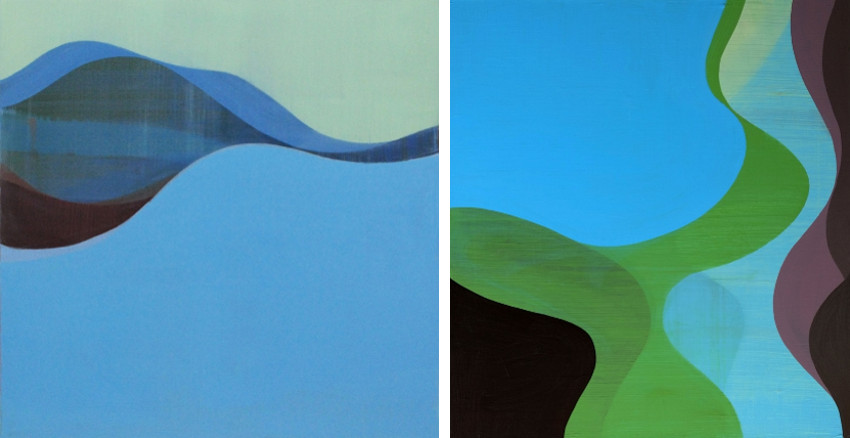 Instinct
Margaret Neill received her BA from Hiram College, Hiram, OH, in 1978, and her MFA in Painting from Brooklyn College, New York, in 1984. She relies on instinct when creating art. It was the long rides in Ohio while she was a child, observing contours of the car and watching landscapes as they turn into something blurry that first gave Neill the idea that she could be an artist. Since then, art has become the best way to communicate with people around her. Also, it is a perfect way to really know yourself, to understand all the feelings and thoughts. Her artworks are included in many prestigious collections: Yale University Art Gallery, Chicago Museum of Contemporary Art, The New York Public Library, and many more, as well in numerous private collections.
Art is the best way to communicate with people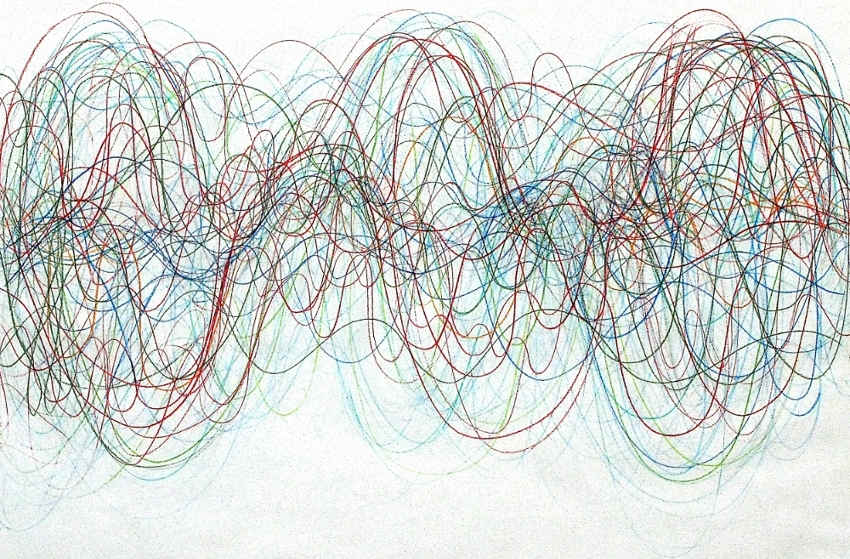 Communication
Neill relies on instinct and intuition and communicates with those around her in a way that she thinks is the most honest of them all – her art. From the childhood memories to the patterns only observable when a viewer reaches a certain age, her artworks are a summarization of her personal experiences that reach sublimation through the processes of painting, and especially drawing. Neill's art dances on the delicate line that separates the 'detective' that carefully investigates forms of her surroundings and the artist with primal urges to express herself through the best means possible, combining the two to create amazing artworks.
She is represented by IdeelArt gallery in London, UK.
Margaret Neill lives and works in Brooklyn, New York.
Featured image: Margaret Neill – portrait, courtesy of IdeelArt
All images © Margaret Neill
| Year | Exhibition Title | Gallery/Museum | Solo/Group |
| --- | --- | --- | --- |
| 2016 | Pigment and Paper | Kenise Barnes Fine Art, NY | Group |
| 2016 | Big Small Show | Drawing Rooms, Jersey City | Group |
| 2015 | Anniversary Show | Kenlter International Drawing Center, NY | Group |
| 2015 | Season X | Osilas Gallery, Concordia College, NY | Group |
| 2015 | Back Room | Kenise Barnes Fine Art, NY | Group |
| 2014 | Undulation | Kenise Barnes Fine Art, NY | Group |
| 2014 | New Work by Gallery Artists | Kenise Barnes Fine Art, NY | Group |
| 2014 | Walk the Line | M & E Gallery, NYC | Group |
| 2014 | American Abstract Artstist | Side Show Gallery, Brooklyn, NY | Group |
| 2014 | 21st Anniversary show | Painting Center | Group |
| 2013 | Aligned | DM Contemporary, NYC | Group |
| 2013 | Summer Show | DM Contemporary, NYC | Group |
| 2013 | Drawn to Beauty | Kenise Barnes Fine Art, NY | Group |
| 2012 | San Francisco Fine Art Fair | K. Imperial Fine Art, CA | Group |
| 2012 | Lois Dodd: My Students | The Firehouse Center, Damariscotta, ME | Group |
| 2012 | Drawing the Mind | Concordia College, Wall Drawing, NY | Group |
| 2012 | Icing on the Cake | Kenise Barnes Fine Art, NY | Group |
| 2011 | A Field Guide to Getting Lost | Masters & Pelavin, NY | Group |
| 2011 | Black & White: Extreme Value | NYIT Gallery 61, NY | Group |
| 2011 | Drawing and Cognition | Columbia University, Macy Gallery | Group |
| 2010 | United States Arts in Embassies Program | Republic of Panama, US Dept. of State | Group |
| 2010 | Small Works Invitational | The Painting Center, NY | Group |
| 2010 | Twelve Rooms with a view | Nu Hotel, Pelavin Fine Art, NY | Group |
| 2010 | Black and White | Metaphor Contemporary Art, NY | Group |
| 2010 | Prints and Drawings | Cheryl Pelavin Fine Art, NY | Group |
| 2009 | Renewable Flow, Charcoal Drawings | Pelavin Projects, NY | Solo |
| 2009 | Partners in Life and Art | Brooklyn Public Library, NY | Group |
| 2009 | Staying Alive | Metaphor Contemporary Art, NY | Group |
| 2009 | Sharazade | Metaphor Contemporary Art, NY | Group |
| 2008 | Margaret Neill | Gelbke Fine Arts Center, Hiram College, OH | Solo |
| 2008 | Margaret Neill | Simon Gallery, Morristown, NJ | Solo |
| 2008 | No Chromophobia | OK Harris, NY | Group |
| 2008 | Friends | Cheryl Pelavin Fine Art, NY | Group |
| 2008 | Color Key | Painting Center, Patrick Webb, curator, NY | Group |
| 2008 | Eye for the Here and Now | Colby College Museum of Art, ME | Group |
| 2008 | Peace | Sideshow Gallery, NY | Group |
| 2008 | Spectrum | Metaphor Contemporary Art, NY | Group |
| 2007 | Circuit | Cheryl Pelavin Fine Art, New York, NY | Solo |
| 2007 | Punch Bowl | Metaphor Contemporary Art, NY | Group |
| 2007 | Pelavin Editions | Cheryl Pelavin Fine Art, NY | Group |
| 2007 | 25th Anniversary Show | Cheryl Pelavin Fine Art, NY | Group |
| 2007 | Pink | Soho Myriad, Atlanta, GA | Group |
| 2006 | Mischief | Metaphor Contemporary Art, Brooklyn, NY | Group |
| 2006 | War Is Over | Side Show Gallery, Brooklyn, NY | Group |
| 2006 | Anniversary Show | Painting Center, NY | Group |
| 2005 | Margaret Neill | Metaphor Contemporary Art, Brooklyn, NY | Solo |
| 2005 | Brooklyn College 75th Anniversary Exhibit | Brooklyn, NY | Group |
| 2005 | Scope Hamptons | Metaphor Contemporary Art, East Hampton, NY | Group |
| 2005 | Three-Person Show | Soho Myriad, Atlanta, GA | Group |
| 2005 | The Road So Far | Metaphor Contemporary Art, Brooklyn, NY | Group |
| 2004 | New Prints 2004-Spring | International Print Center, NY | Group |
| 2004 | Abstract Identity | Pelham Art Center, NY | Group |
| 2004 | Where the Island Begins | Hofstra Museum, Hofstra University, NY | Group |
| 2004 | The Baltimore Fair of Contemporary Prints | Baltimore Museum of Art, MD | Group |
| 2004 | Contemporary Art Fair, Pier 92 | Cheryl Pelavin Fine Arts, NY | Group |
| 2004 | Benefit Show | Lower Manhattan Cultural Council, World Financial Center, NY | Group |
| 2004 | Print National | Lancaster Museum of Art, PA | Group |
| 2004 | Nature Abstracted | Painting Center, NY | Group |
| 2004 | Peace | Sideshow Gallery, NY | Group |
| 2003 | Margaret Neill | Metaphor Contemporary Art, Brooklyn, NY | Solo |
| 2003 | Clean Slate | Prater Rouse Gallery, Norfolk, Virginia | Group |
| 2003 | Affordable Art Fair, Pier 92 | Cheryl Pelavin Fine Arts, NY | Group |
| 2002 | Representing Nature | Chicago Museum of Contemporary Art, IL | Group |
| 2002 | Affordable Art Fair, Pier 92 | Metaphor Contemporary Art, NY | Group |
| 2002 | Contemporary Works on Paper | Colby College Museum of Art, ME | Group |
| 2002 | Touch | Metaphor Contemporary Art, NY | Group |
| 2002 | Paper | Metaphor Contemporary Art, NY | Group |
| 2002 | 4Sight, From Realism to Abstraction | Kentler International Drawing Space, NY | Group |
| 2002 | Collage | Frothing Art Center, Hiram College, OH | Group |
| 2002 | Red Hook | 450 Broadway, NY | Group |
| 2001 | Taking Notes, Installation, drawing, video, and talk | Brooklyn Public Library, NY | Solo |
| 2001 | Daily Drawings | Kentler International Drawing Space, Brooklyn, NY | Group |
| 2001 | The Codes and the Signs | Monastery Plazy, Czech Republic | Group |
| 2000 | Works on Paper | Frohring Art Center, Hiram College, OH | Solo |
| 2000 | Red Hook 8 | Kentler Gallery, NY | Group |
| 1999 | Unknown | Leroy Neiman Center for Print Studies, Columbia University, NY | Group |
| 1999 | Brooklyn Impressions | Small Press Print Studios, Brooklyn, NY | Group |
| 1998 | Works on Paper | John Ittmann, juror, Perkins Center for the Arts, NJ | Group |
| 1997 | Paintings From Brooklyn | 350 Third Ave, NY | Solo |
| 1996 | 3 Artists From Brooklyn | Studio 600-Hermit, Praha, Czech Republic | Group |
| 1996 | Small Works Exhibition | Schoharie County Arts Council, NY | Group |
| 1996 | About Time | Works on Paper, Kent State University, OH | Group |
| 1996 | Connections, Exhibition of Prints | Kendal at Oberlin Gallery, OH | Group |
| 1995 | Works on consignment | Cleveland Center for Contemporary Art, OH | Group |
| 1995 | Page-22, Artists Books | 540 Broadway Gallery, NY | Group |
| 1994 | Fixed in Time, Wall Drawings | Kentler International Drawing Space, Brooklyn, NY | Solo |
| 1993 | To Be | Kentler International Drawing Space, Brooklyn, NY | Group |
| 1992 | Margaret Neill | Kent State University, Trumbull Branch, OH | Solo |
| 1986 | Hiram College Alumni Invitational | Hiram, OH | Group |
| 1985 | Invitational | Hunterdon Art Center, Sinikka Lane, NJ | Group |
| 1985 | Small Works | Washington Sq. East Galleries, NY | Group |
| 1984 | Margaret Neill | Frohring Art Center, Hiram College, OH | Solo |
| 1984 | 4th Annual Miniature Competition | BACA, NY | Group |
| 1984 | Paintings and Pastels, Thirty-First Annual Juried Exhibition | Hunterdon Art Center,NJ | Group |