Mark Dean Veca made a career for himself by fusing art historical and pop cultural references in his loud, large-scale murals, ink and acrylic paintings on canvas, and drawings. Often relying on 18th-century French toile-style patterns to produce organic shapes, psychedelic landscapes and surreal cartoons, Mark Dean Veca's forms resemble brains, intestine and other visceral anatomical references that usually dominate the artist's visuals. He also uses a lot of cartoon characters such as Popeye and the Kellogg's Tony the Tiger, giving his entire body of work a unique sense of playfulness and humor.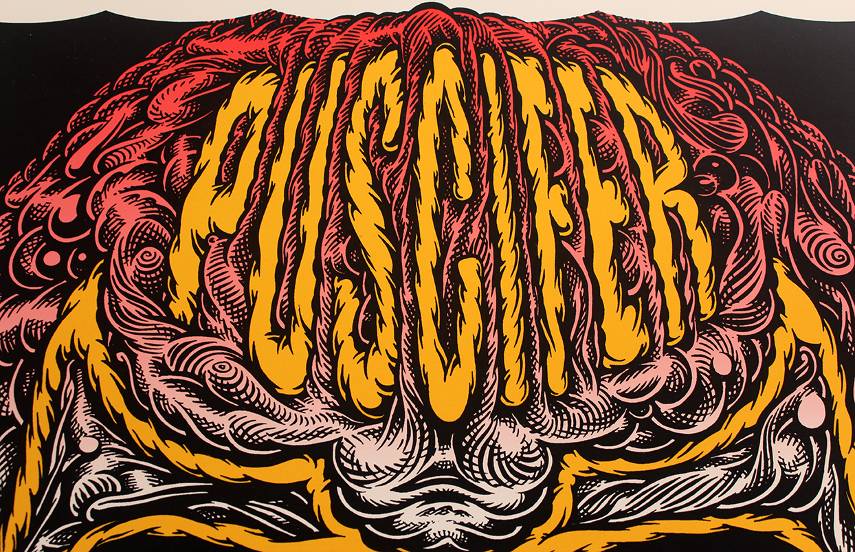 His Journey Through the World of Art
Mark Dean Veca was born in Shreveport, Louisiana, during the year of 1963. He acquired his artistic education by studying at the Otis College of Art and Design in Los Angeles, an institution that gave Mark a Bachelor of Fine Arts in 1985. Interestingly, this was not the end of the relationship between Veca and this faculty as Mark conducted many one-on-one master critiques with undergraduate and graduate Fine Arts students as part of the Jennifer Howard Coleman Distinguished Lectureship and Residency project. Now based in Los Angeles, Mark Dean Veca is renowned for creating paintings, drawings and installations that portray surreal cartoons, psychedelic landscapes and pop culture iconography while also being inspired by traditional decorative motifs.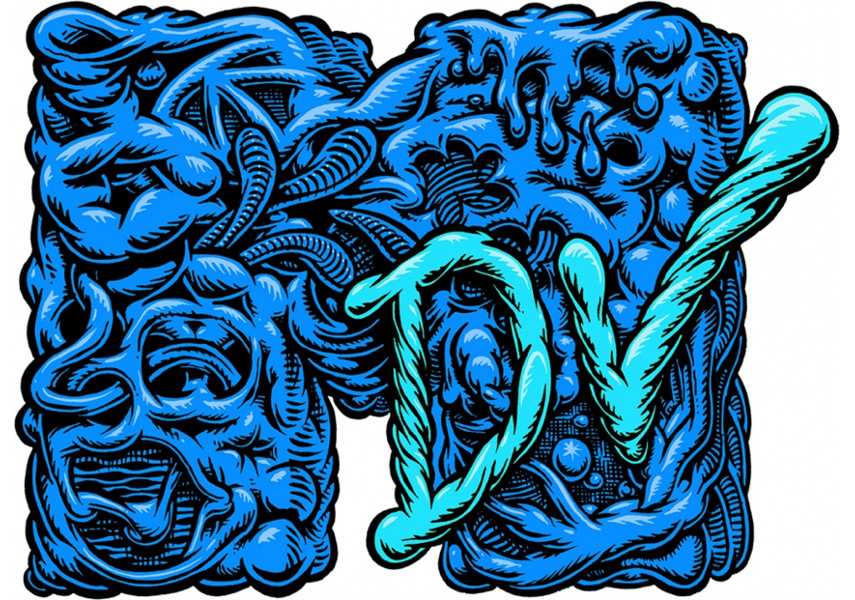 Characteristics of Mark Dean Veca's Art
Mark Dean Veca is widely recognized for his all-encompassing installations that surround the viewer and easily incite a sense of awe. Utilizing fantastical, humorous, aggressive and sexual imagery, the artist displays a pattern-like precision thanks to which his works are often identified as a modernized type of toile painting. According to Steve Mitchell, Mark Dean Veca works in the meticulous tradition of the fresco painter to produce an image that paradoxically evokes the immediacy of the graffiti artist. Veca has exhibited his unique art throughout the United States and Europe at institutions such as the Aldrich Contemporary Art Museum, PS 1 Contemporary Art Center, the Brooklyn Museum, the Bronx Museum of the Arts and the Yerba Buena Center for the Arts. Furthermore, his work has been reviewed in numerous publications including the likes of The New York Times, Artforum, Art in America, Art Review, Juxtapoz and Flash Art.
The work of Mark Dean Veca is the sum of its paradoxical parts and Veca established himself as a leading artist by making sense of the visual absurdities he utilizes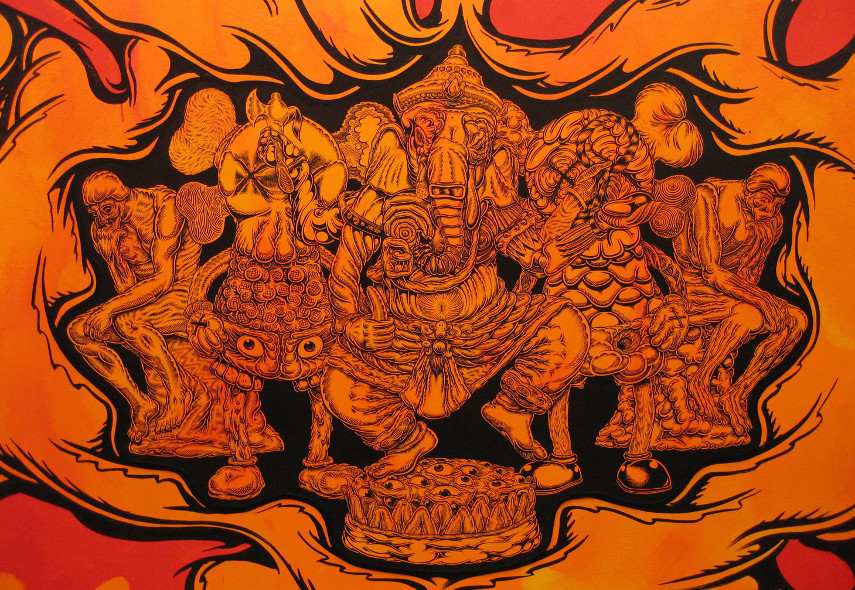 An Impressive Portfolio
The imagery that emerges in my work seems to happen on a subconscious level – I just start improvising and that's what comes out. Mark Dean Veca stated this during an interview, giving us a strong indicator of what his relatively improvisational artistic process looks like and the manner through which he breathes life into his diverse work. Mark spent the last 30 years of his life making murals, paintings, drawings, installations, sculptures, prints, designs and other inventions – as a result of such versatility and dedication, we are now blessed with having an opportunity to enjoy Veca's diverse body of work which does not have a true worthy parallel in contemporary art.
This artist is represented by Fabien Castanier Galleries.
Mark Dean Veca lives and works in Miami, Florida, the United States.
Featured image: Mark Dean Veca – Photo of the artist in front of his work – Image via arrestedmotion.com
All images courtesy of Fabien Castanier Galleries.
| Year | Exhibition Title | Gallery/Museum | Solo/Group |
| --- | --- | --- | --- |
| 2016 | Kiel Johnson and Mark Dean Veca | JAUS, Los Angeles, CA | Group |
| 2016 | Turn the Page: The First Ten Years of Hi-Fructose | Virginia Museum of Contemporary Art (MOCA), Virginia Beach, VA | Group |
| 2014 | Thinkspace Presents | Hashimoto Contemporary, San Francisco, CA | Group |
| 2014 | The Meaning of Life | Geoffrey Young Gallery, Great Barrington, MA | Group |
| 2013 | Buddy System Invitational | Breeze Block Gallery, Portland, OR | Group |
| 2013 | 2013 California-Pacific Triennial | Orange County Museum of Art, Newport Beach | Group |
| 2012 | Mark Dean Veca: Raging Opulence | San Jose Museum of Art, San Jose, CA | Solo |
| 2012 | Under The Influence: The Comics | Lehman College Art Gallery, New York City, NY | Group |
| 2011 | On the Wall | Arena 1 Gallery, Santa Monica, CA | Group |
| 2010 | Mark Dean Veca: When The Shit Hits The Fan | Western Project, Culver City, CA | Solo |
| 2010 | Never Judge...? | Dray Walk, The Old Truman Brewery, London | Group |
| 2010 | DRAW | Museo de la Ciudad de Mexico, Mexico City | Group |
| 2010 | Five Year Anniversary | Jonathan LeVine Gallery, New York City, NY | Group |
| 2010 | Cherry Pie | Western Project, Culver City, CA | Group |
| 2009 | As Cold As They Come | Jonathan LeVine Gallery, New York City, NY | Solo |
| 2009 | Mark Dean Veca: Paintings, Wall Drawings and Collaborations | University Art Gallery, UCSD, La Jolla, CA | Solo |
| 2009 | Western Project : The First Six Years | Western Project, Culver City, CA | Group |
| 2009 | The Art of Rebellion | At Bergamot Station Arts Center, Santa Monica, CA | Group |
| 2008 | Mark Dean Veca | Bolsky Gallery at Otis College for Art and Design, Los Angeles, CA | Solo |
| 2008 | Mark Dean Veca | Otis College of Art and Design, Los Angeles, CA | Solo |
| 2008 | Mark Dean Veca | Milieu, Bern | Solo |
| 2008 | In the Land of Retinal Delights: The Juxtapoz Factor | Laguna Art Museum, Laguna Beach, CA | Group |
| 2008 | Locked & Loaded | Joshua Liner Gallery, New York City, NY | Group |
| 2008 | Hef | Jail Gallery, Los Angeles, CA | Group |
| 2007 | Imbroglio | Jonathan LeVine Gallery, New York City, NY | Solo |
| 2007 | 16th Annual Swap Meet | Jonathan LeVine Gallery, New York City, NY | Group |
| 2007 | SITEings | Southeastern Center for Contemporary Art (SECCA), Winston-Salem, NC | Group |
| 2006 | Draw Tour | Fuse Gallery, New York City, NY | Group |
| 2006 | addict | Addict Galerie, Paris | Group |
| 2005 | Picturing Florida | Florida Atlantic University School of the Arts , Boca Raton, FL | Group |
| 2005 | Contemporary Erotic Drawing | The Aldrich Contemporary Art Museum, Ridgefield, CT | Group |
| 2004 | The Ludovico Treatment | magnus müller, Berlin | Group |
| 2004 | Impact: New Mural Projects | PPOW, New York City, NY | Group |
| 2003 | Pavillion | Bloomberg Space, London | Group |
| 2001 | Katia Santibanez & Mark Dean Veca | g-module, Paris | Group |
| 2000 | Mark Dean Veca: Magnificent Compulsion | Mark Moore Gallery, Santa Monica, CA | Solo |
| 2000 | Greater New York: New Art in New York Now | MoMA PS1, New York City, NY | Group |
| 1999 | Mark Dean Veca | Wehby Gallery, New York City, NY | Solo |
| 1999 | Monumental Drawings | Exit Art, New York City, NY | Group |
| 1998 | Mark Dean Veca: El Gloominator | UB Art Galleries, Buffalo, NY | Solo |
| 1998 | Mark Dean Veca | Wehby Gallery, New York City, NY | Solo |
| 1998 | Pop Surrealism | The Aldrich Contemporary Art Museum, Ridgefield, CT | Group |
| 1998 | Relay: Drawn To Readymade | Hallwalls at The Church, Buffalo, NY | Group |
| 1998 | Only Child (Wanna Come Out and Play?) | BRIC Rotunda Gallery, New York City, NY | Group |