The largest country in South America and one of the largest countries in the world, Brazil has a natural beauty unlike else in the globe. However, the growth of the Brazilian economy that has begun in the second half of the 20th century has encouraged millions of people to move from rural areas into the big cities. Realizing that people who live and work in the concrete jungles lost their contact and connection with nature, Brazilian street artist Mateus Bailon decided to bring it into the cities. His vibrant and colorful murals featuring birds, plants, and fishes, have been popping up around Brazil and beyond for the past several years. Bailon's art is intended to brighten up urban areas and bring a smile to the faces of passers-by.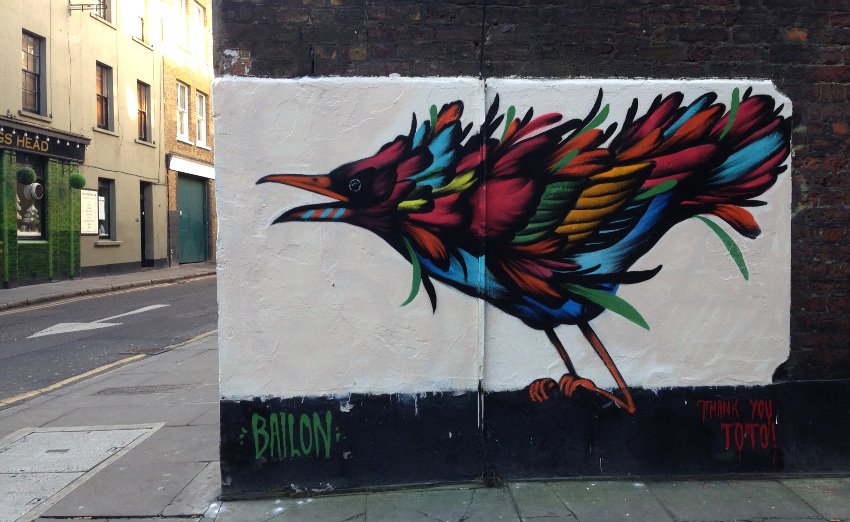 Birds and Fishes Trapped on the Walls
Born in Itajaí, a municipality on the north coast of Santa Catarina State in the south of Brazil, Mateus Bailon grew up enjoying the beauty of the natural world surrounding this seaside town. Being interested in painting and drawing from a very early age, he has created his own universe inhabited by the astonishing birds and fishes who are trapped on the walls, yet appearing free and independent within the confines of the cities. Amongst nature, Bailon draws inspiration from ancient Japanese art, myths, worldly folklore, street art, and comics and seeks to give life to imagination using his incredible artistic skills.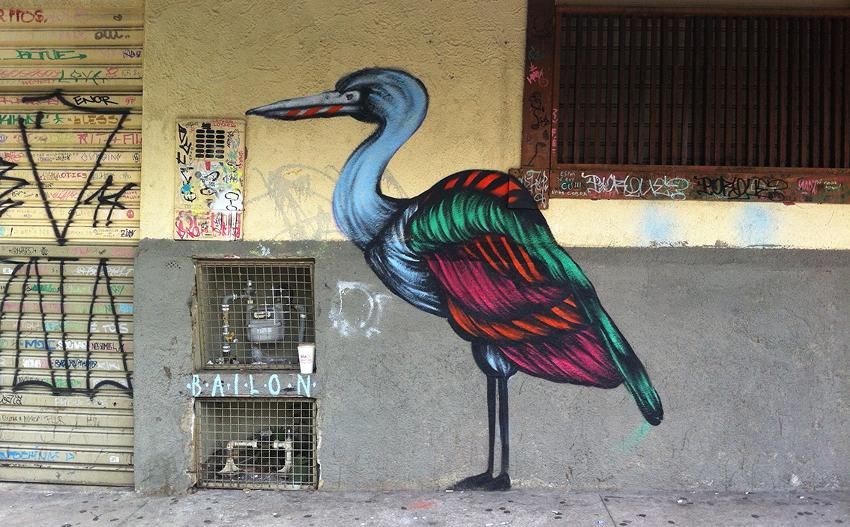 Gallery Work and Other Projects
After gaining plenty of experience as a street artist in both Brazil and Europe, Bailon started painting canvases, yet no less striking and unique. His work has been exhibited in the group shows and art fairs throughout the world as well as in solo shows in such galleries as Voga Galeria in Sao Paulo and Fousion Gallery in Barcelona. In 2013, Bailon participated in Love Is in My Blood – a campaign by agency Mother launched to heighten global conversation that reminds the world the fight against AIDS is winnable. For this occasion, the artist created a stunning piece in his signature style printed on a very exclusive silk scarf. He has also been involved in projects like The White Canvas Project and Propa Stuff, both in England.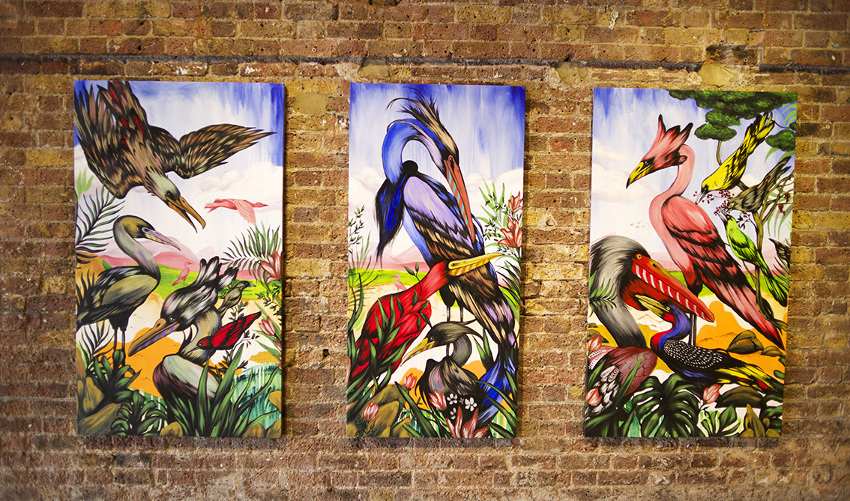 Art that Make Life Prettier
Hailing from the country that has had a flourishing urban art scene, Mateus Bailon is renowned for his creative, colorful approach. Self-taught, the artist creates vibrant, detailed pieces that beautify the urban environment and burst with energy. In the today's busy world in which life became so fast, so busy, and so pressured, Bailon's outstanding murals remind us that we should slow down, stop rushing, and enjoy life and all the beauties it brings.
The artist is represented by Dope! Gallery.
Mateus Bailon lives and works in São Paulo.
Featured image: Mateus Bailon with one of his pieces in São Paulo
All images copyright of the artist
| Year | Exhibition Title | Gallery/Museum | Solo/Group |
| --- | --- | --- | --- |
| 2016 | Mateus Bailon | Centre Artasia Paris, France | Solo |
| 2015 | Cartograffiti - Legalidade e Legitimidade | Sao Paulo, Brazil | Group |
| 2015 | Art Basel | Wynwood Lab, Wynwood, FL | Group |
| 2015 | Mediterranean Salt | Urban Spree, Berlin, Germany | Group |
| 2015 | Confluir | Verve Galeria, Sao Paulo, Brazil | Group |
| 2015 | Recortes das Ruas Oníricas | Galeria Crivo, Sao Paulo, Brazil | Group |
| 2015 | Stroke - Urban Art Fair Munich 2015 | Munich, Berlin, Germany | Group |
| 2014 | 50/50 | Visiva – La Citta dell'Immagine, Rome, Italy | Group |
| 2013 | The Line in Between | Fousion Gallery, Barcelona, Spain | Solo |
| 2013 | Stroke Art Fair | Berlin, Germany | Group |
| 2013 | Commissioned Work : London Mania Collection | Printemps Stores, France | Solo |
| 2013 | Propa Stuff Painting Event | Cambridgeshire Countryside, UK | Group |
| 2012 | Commissioned work: Segredos Abissais | Sulamerica Center, Rio, Brazil | Solo |
| 2012 | Facade design by Bailon | El Cabriton, Rua Augusta, Sao Paulo, Brazil | Solo |
| 2011 | Projeto Rabbit | Jardins - Sao Paulo | Group |
| 2011 | De Anima | Voga Galeria, Sao Paulo, Brazil | Solo |
| 2011 | Live Painting Event | Praia Brava, Brazil | Group |
| 2011 | Monochrome: An Art In Mind Exhibition | The Brick Lane Gallery, UK | Group |
| 2011 | London Art Fair | London, UK | Group |
| 2010 | Live Painting | Zicatela Cafe, Paris, France | Solo |
| 2009 | Stick me Hard Exhibition | Musma Gallery, Brussels, Belgium | Group |
| 2008 | Os Brasileiros: Part 2 | Carmichael Gallery of Contemporary Art, Culver City, CA | Group |
| 2008 | Os Brsileiros: Part I | Carmichael Gallery of Contemporary Art, Culver City, CA | Group |