For British artist, Mathew Hale art is about making things awkward and foreign.[1] His work consists of dismembered images, mind-bending hybrids and impossible juxtapositions that can satisfy the most unusual desire. The UK-born Berlin-based artist employs book pages, graphic structures, and ink figures to create an array of visual structures including provocative collages of varying dimensions, wall installations, and videos. His body of work encompasses different layers of reality that question the historical construction as well as modern societal structures.[2]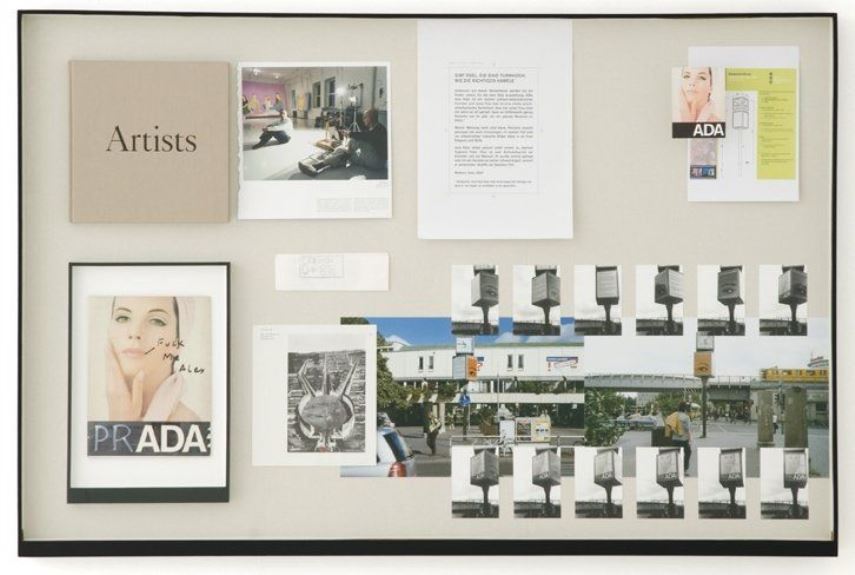 Mathew Hale Biography
Mathew Hale was born in 1962. He attended Winchester School of Art and Goldsmiths, University of London before moving to Berlin in the year of 2000. The artist starts his creative process by sitting at a table with a clear mind trying to come up with something fresh. He uses paper clippings and advertising to create unusual juxtapositions that represent a flammable mixture that never fails to blow the mind of the people who view it. Deeply rooted in the tradition of Dadaist collage, political photomontage and the art of surrealism, the subject matter of Mathew Hale's work is versatile but never easy, as he tackles the topics of politics, philosophy, history, sex, religion and popular culture. In the style of true surrealists, Mathew Hale uses mixed media collages to highlight unconscious desires or repressed historical traumas. The press photos of the suicide of the wife of German chancellor Helmut Kohl and tragically deceased princess Diana are strangely juxtaposed with nudity and the inevitable swastika.[3]
Mathew Hale uses collages to highlight unconscious desires or repressed historical traumas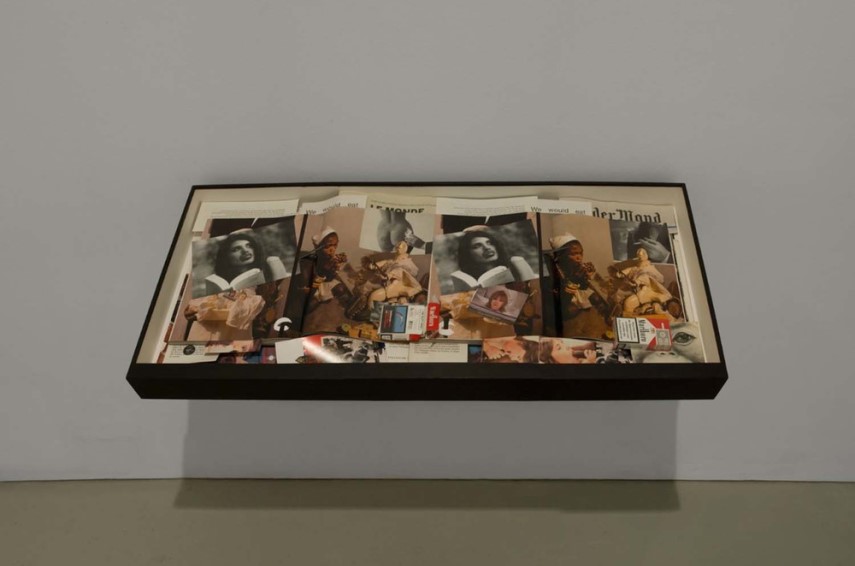 Miriam – a Child of Innocence, Pornography and Popular Culture
In his mixed media pieces, the artist employs an array of characters from the field of politic, popular culture and members of British royal family but also invent an array of characters of his own. Miriam is a character that stayed with the artist for years as he created a whole series of collages dealing with her imaginary life. Miriam series began in 2000 and has continued till today. The series juxtaposes the cut-out symbols of maternity with erotic and at times pornographic images. The topic of birth itself is connected with the creation of the colleges that allow found objects to start a new life and experience a unique type of re-birth.
The artist uses a variety of tools and materials to create provocative collages, wall installations, and video art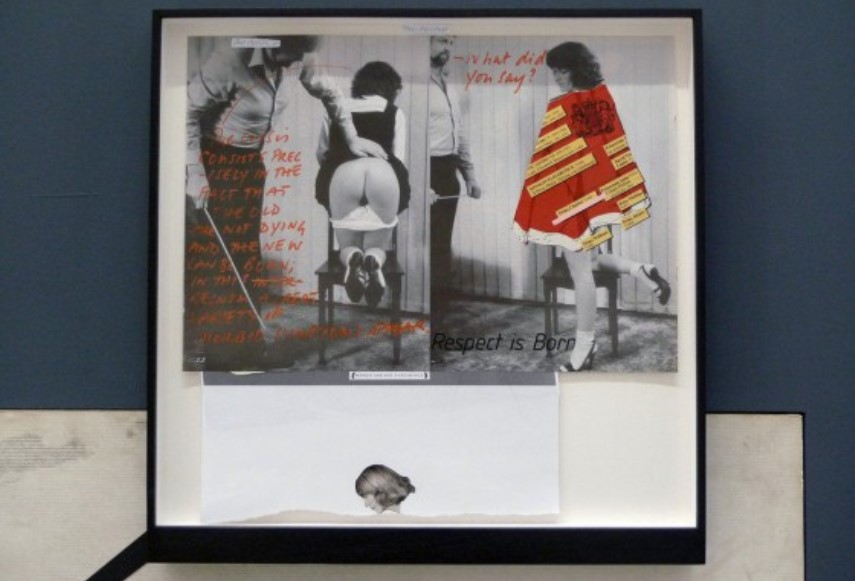 Video Works and Publications
Though his most famous for his collages Mathew Hale is a multimedia artist whose works spans to a variety of genres. His photographs reveal the birth of his art by featuring images of collages in the process of their making including the materials used such as rolls of tape, magazines or notes. One of Mathew Hale's most recognizable video works DIE MUNZE (the Coin) is done in collaboration with Astrid Proll a former member of Red Army Faction. The video that represents an image of the modern money-obsessed world also tackles the issue of new economy of digital images and the uncertain place of painting and photography within it. The slides in this video showed the reverse side of Mathew Hales paintings, that contain the information about their commercial value, and pinpoint the role that money has in the art of today. In 2013 the artist published an art book Cut in Cannes featuring his best works to date. Selected exhibitions include Fax show at Carpenter Center, Harvard University, Boston,2012, In the Cut, Australian Centre for Contemporary Art, Melbourne, Australia 2013, 5TH HELENA, P!, New York, NY, 2015, Miriam stealing and Miriam & William, Mobile Home gallery, London, 2001 and JOURNAL MURAL, Galerie Jan Wentrup, Berlin, 2008.
The artist lives and works in Berlin.
References:
Williams S., DeCordova Sculpture Park and Museum to Present Gary Webb's First US Museum Exhibition, , All Art News – Art News for Art Lovers, [March 4, 2017]
Hale M., Cut In Cannes, Publisher Pambook (2003)
Sharp C., Mathew Hale, FlashArt, [March 4, 2017]
Featured image: Mathew Hale – Page 96 of MILK MIRIAM, 2010
Images via michelrein.com
| Year | Exhibition Title | Gallery/Museum | Solo/Group |
| --- | --- | --- | --- |
| 2016 | L'image volée, | Fondazione Prada, Milan, Italy | Group |
| 2016 | Mathew Hale, | José Garcia Gallery, Mexico | Solo |
| 2016t | 3rd Istanbul Design Biennial, | Istanbul, Turkey | Group |
| 2015 | A Man Walks Into a Bar – Jokes & Postcards, | Me Collectors Room, Berlin, Germany | Group |
| 2014 | ALONE, LES VOICI À PARLER, CCA, | Center for Contemporary Art, Kitakyushu, Japan | Solo |
| 2014t | The Elephant Test, Lothringer 13 Halle, | Munich, Germany | Group |
| 2013 | In the Cut, ACCA, | Australian Centre for Contemporary Art, Melbourne, Australia | Group |
| 2013 | MA THE WHALE, | Ratio 3, San Francisco | Solo |
| 2013 | ABC, art berlin contemporary, | Berlin, Germany | Solo |
| 2013t | Talkie Walkie, Michel Rein Gallery, | Paris, France | Group |
| 2012 | The Poster Show, | Carlier Gebauer, Berlin | Group |
| 2012 | Mathew Hale, Collages, (cur. Fabienne Fulchéri), Espace de l'Art Concret | Centre d'Art contemporain, Mouans-Sartoux, France | Group |
| 2012 | Mathew Hale, | Galerie Michel Rein, Paris | Solo |
| 2012t | Mathew Hale – THE WELCOME STRANGER, | Wentrup, Berlin | Solo |
| 2011 | Modern Monday: Screening of "Die Münze", | Museum of Modern Art, New York | Solo |
| 2011 | Fax, Carpenter Center, | Harvard University, Boston | Group |
| 2010 | A moving plan B – Chapter ONE | The Drawing | Group |
| 2010 | 2. UM-Festival für Zeitgenössische Kunst, | Musik und Literatur in der Uckermark | Group |
| 2010 | Alles Berliner, | Niels Borch Jensen Galerie, Berlin | Group |
| 2010 | Fischgrätenmelkstand | Temporäre Kunsthalle, Berlin | Group |
| 2010 | There's a tear in my beer, | West Germany, Berlin | Group |
| 2010 | Friday 13th, | Forgotten Bar, Berlin | Group |
| 2010 | Panorama, | Galerie Michel Rein, Paris | Group |
| 2010 | Frau Münze und Frau Münz, | Münzsalon, Berlin | Solo |
| 2010 | WACHT SCHATZ, | Wentrup, Berlin | Solo |
| 2010 | Berlin Box, | Kunsthalle Andratx, Mallorca, Spain | Group |
| 2010 | Katarina Burin, Mathew Hale, Matt Saunders, | Ratio 3, San Francisco | Group |
| 2010 | Berlin – Paris, | Michel Rein, Paris | Group |
| 2010 | Art, (curated by Michael Craig-Martin), | Haas & Fuchs, Berlin | Group |
| 2009 | Wallis dies and goes to heaven…and the dark show returns as a ghost, | Paradise Row, London. | Group |
| 2009 | Roots, | Wentrup, Berlin | Group |
| 2009 | Free Association, | Gallery AREA 53, Vienna | Group |
| 2009 | Drawing 2009, | The Drawing Room, London | Group |
| 2009 | Maison pour Monsieur X, | FormContent, London | Group |
| 2009 | Appaloosa, | The Forgotten Bar Project, Berlin (with Ulrich Hakel) | Group |
| 2009 | Statement, | Art 40 Basel, (with Wentrup) | Solo |
| 2009 | LE MONDE v DER MOND, | The Narrows, Melbourne | Solo |
| 2009 | DER MOND v LE MONDE, | Peer, London (cat.) | Solo |
| 2009 | Prose pour des Esseintes, | Karma International, Zurich | Group |
| 2008 | 18 | Center, Berlin | Group |
| 2008 | Phoenix vs. Babel (curated by Patrice Joly), | Fondation d'Entreprise Ricard,Paris | Group |
| 2008 | PAST-FORWARD | Project Space 176 Zabludowicz Art Projects, London (cat.) | Group |
| 2008 | UNDERWOOD | Ballhaus Ost, Berlin | Group |
| 2008 | The Dark Show | The Wallis Gallery, London | Group |
| 2008 | JOURNAL MURAL, | Galerie Jan Wentrup, Berlin | Solo |
| 2008 | Honey Honig | Auto Italia, London | Group |
| 2008 | Taxi Stop FIJI, | Institut im Glaspavilion, Berlin | Solo |
| 2008 | London Calling, | Galerie Jan Wentrup Temporary Space, London | Group |
| 2008 | With Love Dieter Rot, Viennabiennale 08 | Offspace am Hundsturm, Vienna (Austria) | Group |
| 2008 | Pleinairism | i8 gallery, Reykjavik (Island) | Group |
| 2007 | Our Period, Mathew Hale and Susan Morris, | Five Years, London | Group |
| 2007 | TASUK! TSUKKU-SAN!, | Galerie Michel Rein, Paris | Solo |
| 2006 | BerlinFluorescent, | Galerie Jan Wentrup, Berlin | Solo |
| 2005 | 36 x 27 x 10, | White Cube Berlin, Palast der Republik, Berlin | Group |
| 2005 | Very early pictures, | Luckmann Gallery, Los Angeles | Group |
| 2005 | Pale Raman, | Analix Forever, Geneva (curated by Matt Saunders) | Group |
| 2004 | 40 Pages from the Miriam Books by Mathew Hale, | Walther Koenig Books,London, Rheinschau Köln | Solo |
| 2004 | Make Me Mare, | Mobile Home, London | Solo |
| 2004 | Chaim Soutine, | The Happy Sailor, London | Group |
| 2003 | addiction, | 15 Micawber Street, London | Group |
| 2003 | Bonobos, | Niels Borch Jensen Galerie, Berlin | Group |
| 2003 | Biennale Venedig, | Utopia Station, Venedig | Group |
| 2003 | DIE STADT – LA CITTA' – THE MOTHER, | DAAD Galerie, Berlin (cat.) | Solo |
| 2002 | PizzaExpress Prospects, | Essor Gallery, London | Group |
| 2002 | Biennale | Montréal 2002 | Group |
| 2001 | My Friends, | Tromsø Kunstforening, Tromsø | Group |
| 2001 | Miriam stealing and Miriam & William, | Mobile Home, London | Solo |
| 2001 | The difference between You and Us, | Five Years, London | Group |
| 2000 | John, I'm only dancing, | The Margaret Harvey Gallery, University of Hertfordshire, St. Albans | Group |
| 2000 | Sleight of Hand, | Five Years, London | Group |
| 1999 | Sublime: The Darkness and the Light, | Hayward Gallery, National Touring Exhibition of Arts Council Collection, John Hansard Gallery, Southampton and seven further venues in the UK | Group |
| 1999 | Itinerants, | The View Gallery, Liverpool | Group |
| 1998 | United in Death, | Cambridge Darkroom Gallery, Cambridge | Group |
| 1992 | Let Me Look, | San Miniato | Group |
| 1990 | Now for the Future, The Arts Council Collection, Recent Acquisitions, | Hayward Gallery, London | Group |
| 1989 | Trigon '89, "Aktuelle Kunst", | Neue Galerie & Künstlerhaus, Graz | Group |
| 1988 | Mathew Hale: Recent Work, | Whitechapel Art Gallery, London | Solo |
| 1985 | 85° Show, Serpentine Gallery, | London | Group |
| 1984 | New Contemporaries, | I.C.A. London | Group |