If you look at any of Matt Small's amazingly colorful portraits, you'll understand what means to combine abstract and realistic while getting the best of both realms. A British artist who became famous for his unique paintings of anonymous people made on discarded pieces of metal is reconciling order and chaos in his artworks. Underneath the image is structure and definition, and over the picture is the madness of chaos. A bit like life I suppose, says Small. While strolling the streets of London, Small chooses random people as his models and turns them into exquisite portraits, something like urban heroes.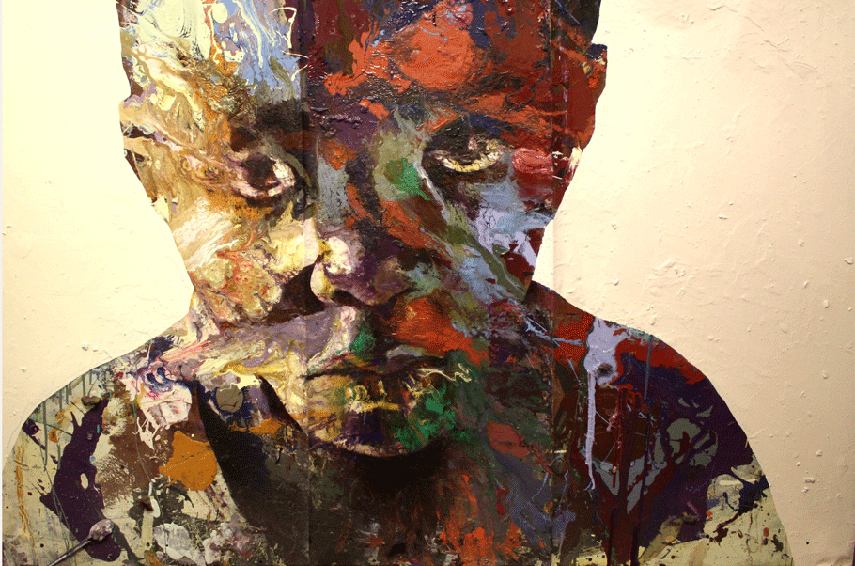 Inspirational Randomness
Matt Small is a highly educated artist who decided to develop his own, unique style once he was done with his formal art education. Small is not only a brilliant artist nowadays  but he was also a great student.  He obtained the first class honors degree in illustration and afterward he earned his MFA at the Royal College of Art. He also won Villiers David Art Prize in 2001 and he was a BP Portrait Prize nominee in 2001. However, for Small, art is primarily a source of joy, a game he can play endlessly, like a child without  getting tired. He loves to splash the paint around and he doesn't stick to any particular technique. He is always curious to see the results of mixing oil and water based colors and he uses a plenty of brushes and rollers.
The idea of randomness appeals to Small a lot.  The reason why he's using found metal objects as the canvas for his painting is that they  offer him  a great level of unpredictability and hence the excitement. Some of the found objects he used in his work were combi-boiler covers, cabinets, rack shelving, road signs and discarded pieces of old cars. The same goes for choosing random people on streets – rather than having  a clear plan on whom to paint, Small takes photos of the random strangers (of course, with their permission) and later on makes sketches for his painting based on the photographs he took.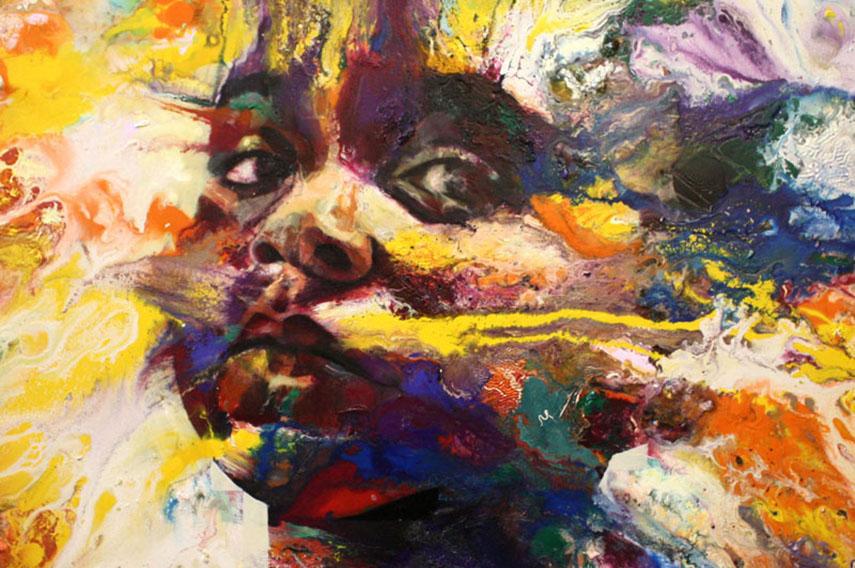 Fireworks of Colors
Art critiques compare Small's work to Damien Hirst, who often has a motif of saturated color radiating from the center of the painting, even though Small's paintings are more dramatics when it comes to colors. Even Small himself likes to talk about the artists he esteems and also mentions Marlene Dumas and Lucian Freud as his references.  Yet, what is really unique about Small's work is the way he turns a raw urban decay and people who belong there into real artworks. He pays a lot of attention to people's eyes and in the midst of his fireworks of colors, eyes are still clearly visible and seem to be on a separate plane, no matter how overpowering is the multitude of colors. Smalls knows that the eyes are the single most important detail on people's faces and they can tell a story on their own, which contributes to the drama of the whole image.
Subjects of Small's paintings are mostly poor and socially excluded young people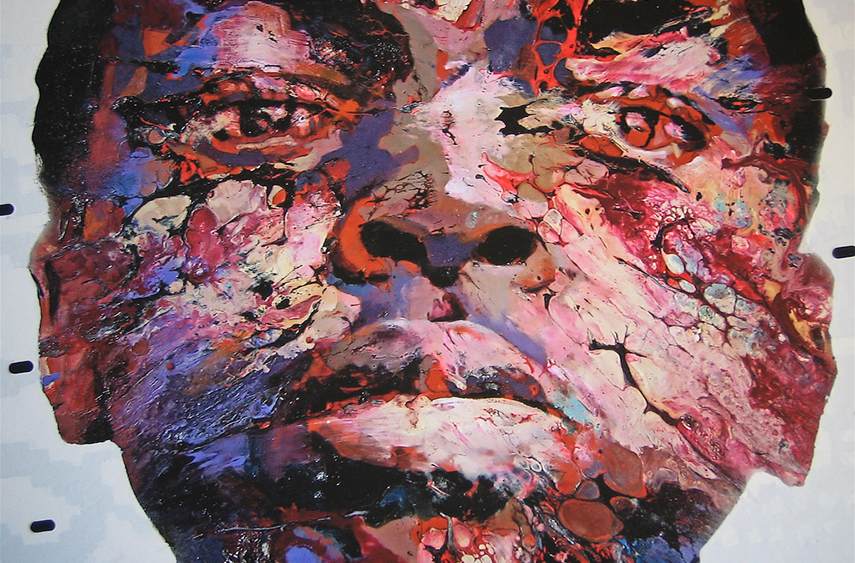 Urban Storyteller
Small had his first solo exhibition in 2002 and since then has been a very prolific artist, with eleven solo and ten group exhibitions. Because of his unconventional portraiture skills combined with his urban approach and the ability to tame even most unfriendly  pieces of metal, Small is appreciated and welcomed by both galleries and urban art enthusiasts all over the world. When it comes to subjects of his paintings, who are often poor and socially excluded young people,  Small is, through his powerful art, making their faces and stories stand out.
The artist is represented by Vroom & Varossieau in Amsterdam.
Matt Small lives and works in London.
Featured image: Artist's portrait with one of his works.
All images courtesy of the artist.