Matthew Langley is an American contemporary artist born in Alexandria, Virginia, in 1963. He is well known for his abstract paintings.
Art by Matthew Langley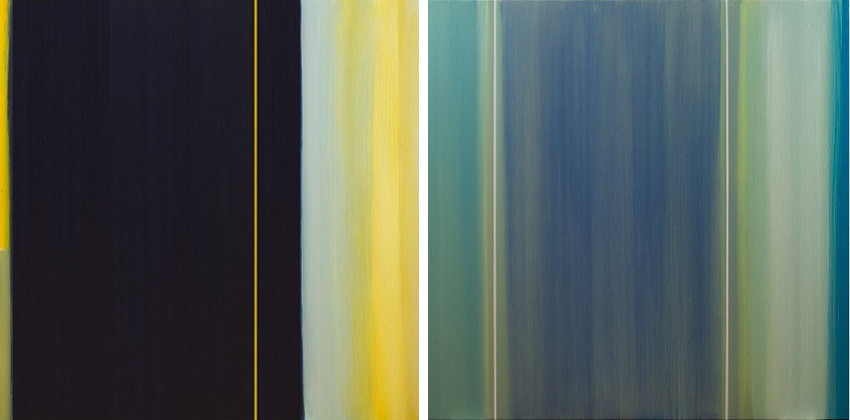 He studied at Virginia Commonwealth University, and received his BFA from Corcoran School of Art, Washington DC, in 1985. Titles of the pieces are almost as important as the paintings themselves, for their purpose is to forge connections between the viewers and artworks. The idea is to prepare the viewers and open them to thoughts that could somewhat influence the understanding of the paintings. Inspiration goes from Color Field paining and the works of Morris Louis and Gene Davis, abstraction of Mark Rothko, Richard Diebenkorn, to physical paint-handling of Gerhard Richter. After all the years of being an artist, everyday life is almost enough to drive his work forward.
Art by Matthew Langley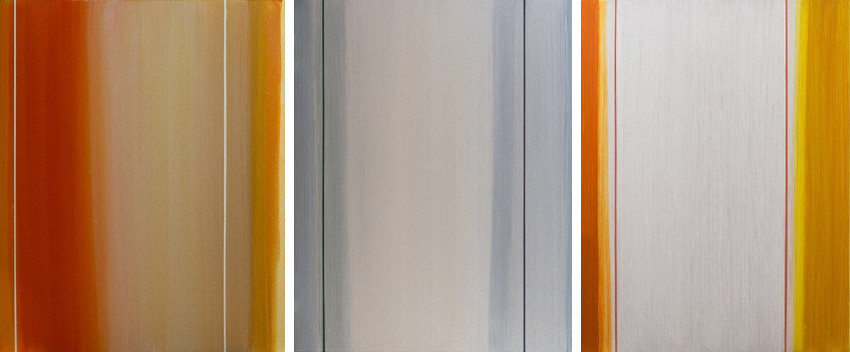 Langley uses drywall taping knives to create powerful underpainting, which always end up covered with more elegant, but lesser expressive layer. Recently, he is interested in the balance between colors and processes, mark makings and fields, scales and relationships, between what is planned and what is improvised. Because of that, the artist is able to create pieces which are interesting on both intellectual and visual level.
His works are included in several public collections, e.g. Ernst and Young, The International Museum of Collage, Assemblage and Construction, the Doris Patz Collection at University of Maryland University College, PNC Bank University of Baltimore, and many more.
Art by Matthew Langley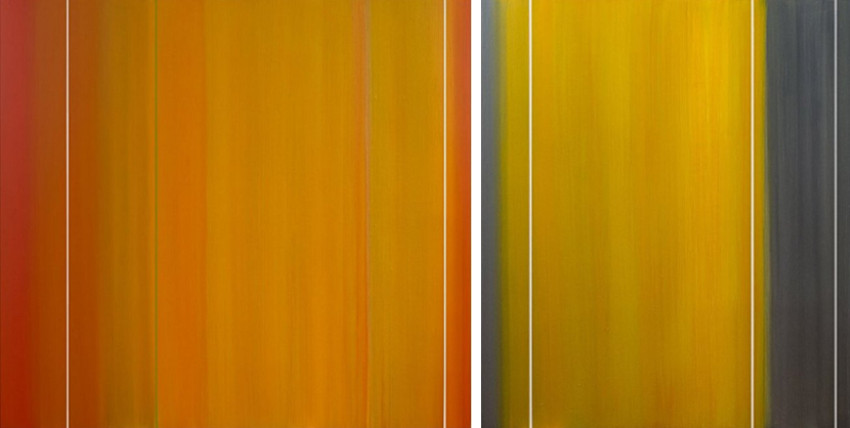 He is represented by IdeelArt gallery in London, UK.
Matthew Langley lives and works in New York, USA.
All images courtesy of the artist.
| Year | Exhibition Title | Gallery/Museum | Solo/Group |
| --- | --- | --- | --- |
| 2015 | The New Paintings | Blank Space, New York, NY | Solo |
| 2015 | These Go To Eleven: Small Works Group Exhibition | Artists and Makers, Bethesda, MD | Group |
| 2015 | The Summer Show | DM Contemporary, New York | Group |
| 2015 | Art Miami, New York | Blank Space, NY, NY | Group |
| 2015 | Full Spectrum | Susan Calloway Fine Arts, Washington DC | Group |
| 2015 | A Few Conversations About Color | DM Contemporary, New York | Group |
| 2014 | Looking In: New Paintings | Axom Gallery, Rochester, NY | Solo |
| 2014 | Fiction | Neon Heater, Finlay, OH | Group |
| 2014 | g/s (grams per second) | No Future Projects, Dayton, Ohio | Group |
| 2014 | Summer Exhibition | Blank Space, NY, NY | Group |
| 2013 | Place and Process | Susan Calloway Fine Arts, Washington DC | Solo |
| 2013 | The 25 Project | District of Columbia Arts Center, Washington, DC | Group |
| 2013 | Sketchbook | School 33 Art Center, Baltimore, MD | Group |
| 2013 | Back to Mine | Neon Heater, Finlay OH | Group |
| 2013 | Right and Other Angles | SoftSpot, online at: http://www.soft-spot.net | Group |
| 2012 | Atlas | Blank Space, NY, NY | Solo |
| 2012 | Arcades | Warm Springs Gallery, Charlottesville, VA | Solo |
| 2012 | The Expanded Field | Delaplaine Arts Center, Frederick, MD | Solo |
| 2012 | STROKE: Gesture, Mark, Muscle. | School 33 Art Center, Baltimore MD | Group |
| 2012 | Summer Exhibition | Blank Space, NY, NY | Group |
| 2012 | Affordable Fine Art for Young Collectors | Susan Calloway Gallery, Washington DC. | Group |
| 2012 | As Far As The Eye Can See | Adam Lister Gallery, Fairfax, VA | Group |
| 2011 | Atmospheres & Imaginary Soundtracks | Susan Calloway Fine Arts, Washington DC | Solo |
| 2011 | Life Of The World To Come: Darkness Falls Upon Us | NIAD Art Center, CA, Richmond, CA | Group |
| 2011 | Material World | Art DC, Hyattsville, MD | Group |
| 2011 | New Year, New Work, New Faces | Storefront, Brooklyn NY | Group |
| 2011 | Beyond Measure | C2 Fine Art, St. Petersburg, FL | Group |
| 2011 | Faction | University of Dayton, Dayton, OH | Group |
| 2011 | Printed, Painted, Pressed | C2 Fine Art, St. Petersburg, FL | Group |
| 2010 | Matthew Langley / Heejo Kim | Blank Space, NY, NY | Solo |
| 2010 | Color Autonomy | University of Maryland University College | Solo |
| 2010 | Angel Dust : Matthew Langley + Douglas Witmer | No Future Projects, Dayton Ohio | Solo |
| 2010 | Blank Space Pop Up Gallery | Blank Space, Seoul, Korea | Group |
| 2010 | Six Months Twelve Artists: Paintings | Susan Maasch Fine Art, Portland ME | Group |
| 2010 | Informal Relations | Indianapolis Museum of Contemporary Art, Indianapolis IN | Group |
| 2009 | Simple, Difficult. | University of Baltimore, Baltimore MD | Solo |
| 2009 | Business Edition | Pocket Utopia, Brooklyn, NY | Group |
| 2009 | Touch Faith | Semantics, Cincinnati OH | Group |
| 2009 | 12 Angry Women | The Soundry, Vienna, VA | Group |
| 2009 | Art-0-matic | Washington DC | Group |
| 2009 | Avant Fairfax | Town Hall Gallery, Fairfax, VA | Group |
| 2009 | The Sketchbook Project | Art House Gallery, Atlanta, GA | Group |
| 2009 | The Sketchbook Project | Museum of Contempory Art DC, Washington DC | Group |
| 2009 | The Sketchbook Project | Laconia Gallery, Boston, MA | Group |
| 2009 | The Sketchbook Project | Antena Gallery, Chicago, IL | Group |
| 2009 | The Sketchbook Project | Soulard Art Market, St. Louis, MO | Group |
| 2009 | The Sketchbook Project | 3rd Ward Gallery, Brooklyn, NY | Group |
| 2009 | The Sketchbook Project | Museum of Design Atlanta (MODA), Atlanta, GA | Group |
| 2009 | The Sketchbook Project | Chicago Art Source Gallery, Chicago, IL | Group |
| 2008 | Paintings + Paperworks | DCAC (District of Columbia Arts Center), Washington DC | Solo |
| 2008 | New Paperworks | Green Line Projects, Philadelphia PA | Solo |
| 2008 | Art-0-matic | Washington DC | Group |
| 2007 | White on White | Fort Worth Art Center, Fort Worth TX | Group |
| 2007 | Twelve By Twelve | Chop Suey, Richmond, VA | Group |
| 2007 | Art-0-matic | Crystal City, VA | Group |
| 2006 | Hon Fest / After Hours | Smith Content, Baltimore MD | Group |
| 2006 | MOCA DC at 15 | MOCA DC, Washington DC | Group |
| 2006 | Close to Solitude | Current Gallery, Baltimore, MD | Group |
| 2005 | Frederick 19th Annual Photographic Competition | Mary Condon Hodgson Art Gallery, Frederick MD | Group |
| 2005 | 1460 Wall Mountables | DCAC, Washington DC | Group |
| 2005 | Twelve By Twelve | ADA Gallery, Richmond VA | Group |
| 2005 | MMAS | Florida International University, Miami FL | Group |
| 2005 | After Hours | Smith Content, Baltimore MD | Group |
| 2003 | The Future That Wasn't | Common Grounds, Arlington VA | Group |
| 1995 | New Paintings | Kramerbooks, Washington DC | Solo |
| 1995 | Hemicycle Exhibition | Corcoran Gallery of Art, Washington DC | Group |
| 1995 | Summer | Foundry Gallery, Washington DC | Group |
| 1995 | Summer Paintings | Eclipse Art Center, Arlington VA | Group |
| 1995 | WPA Salon / Open Studios | Washington Project for the Arts, Washington DC | Group |
| 1995 | Paper | The Athenaeum, Alexandria VA | Group |
| 1994 | New Paperworks | GO! Gallery, Arlington VA | Solo |
| 1993 | Channel Surfing and Blueprints (Drawings, 1993) | GO! Gallery, Arlington VA | Solo |