Melissa Farlow is a documentary freelance photographer whose work most often focuses on people and culture. More than twenty years, Farlow has traveled the world for assignments for National Geographic magazine. Most recently, Melissa's work has expanded to include landscape and environmental issues, such as mountaintop removal mining in West Virginia and mustangs in the American West. Born in Paoli, Indiana, Melissa Farlow earned her B.A. in journalism from Indiana University and her M.A. from the University of Missouri where she also taught photojournalism. Melissa's mother, Gertrude Farlow, by going to nursing school, gave her daughter the example and courage to believe in herself. Melissa was inspired by high school English teacher and 1999 Indiana Hall of Journalism inductee Ruth Uyesugi. She worked on the yearbook and followed her sister Janet Farlow Perry to IU to study journalism.
Melissa Farlow Won Pulitzer Prize for Feature Photography
Melissa Farlow worked as a staff photographer for newspapers including The Pittsburgh Press and the Courier-Journal and Louisville Times. While in Louisville, she was part of a team that won a Pulitzer Prize in 1976 for photographic coverage of public school desegregation. Twice a finalist for the W. Eugene Smith grant for humanistic photography, Farlow's artwork has won several awards including a portfolio honour in the National Press Photographers' Association Pictures of the Year competition. For two years Melissa Farlow chronicled the changing face of Pittsburgh for The Heinz Endowments.
Melissa Farlow on National Geographic
Melissa Farlow is currently a freelance photographer contributing to National Geographic magazine for which she has worked extensively in the American West – driving 20,000 miles for a magazine story and book on public lands, and more recently, photographing mustang herds. Other National Geographic magazine stories feature varied subjects—culture and climate change in the Alps and West Virginia's mountaintop removal mining.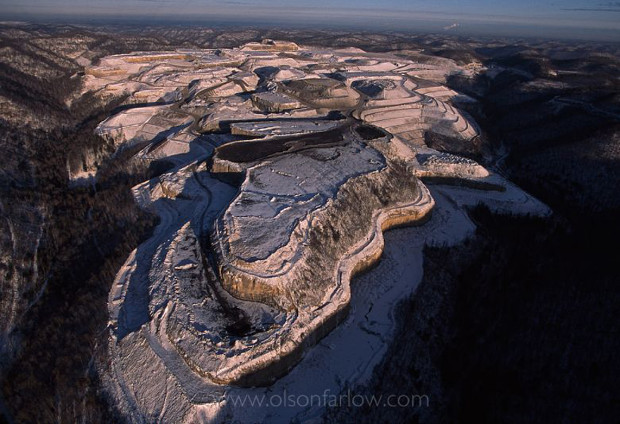 Themes of land and people in Melissa Farlow's ouevre are chronicled in Alaska's Tongass forest, Okefenokee Swamp, Hudson Valley, Meadowlands, National Road, Kentucky horse country, Olympic National Park, invasive species, and a photo-biography of landscape designer Frederick Law Olmsted.
Farlow's images have been included in The Photographs, Best 100 Wildlife Photographs selected by National Geographic magazine and in Women Photographers at National Geographic.
Melissa Farlow's Photographs in National Geographic Books
One driving trip took Melissa Farlow through South America to chronicle life along the Pan American highway for a National Geographic book titled The Long Road South. A myriad of countries and cultural experiences are connected along the 10,000 mile portion of the highway that stretches through Latin America. There Melissa Farlow took many images of rural life in desolate areas, as well as in the bustling, sophisticated cities such as Monterrey, Mexico, known as Sultan of the North, and Santiago, Chile.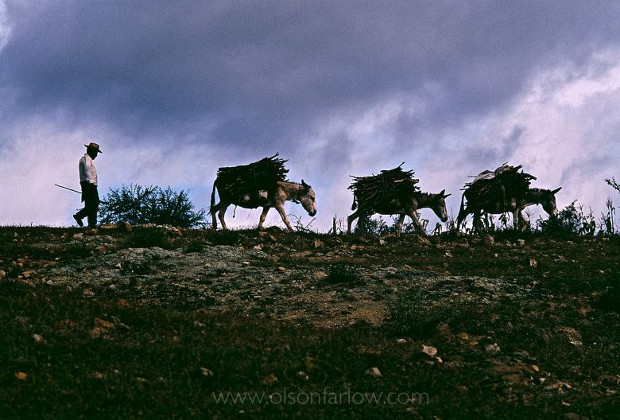 Melissa Farlow also photographed for a National Geographic book about the Bureau of Land Management, titled Wild Lands of the West, and she worked in three African countries for Women in the Material World, a book comparing women's roles in different cultures. It portrays the striking similarities and profound differences in women's lives on the eve of the twenty-first century.
Melissa Farlow's Photographs of Mustangs for National Geographic
When Melissa Farlow was just a girl she got a pony as a present from her father. She learned to ride and was never afraid of horses. The pony turned out to be excellent preparation for two of Melissa's assignments with National Geographic – one on Kentucky thoroughbred country and the other on mustangs of the American West. Farlow never wanted to be a wildlife photographer, but she was intrigued by wild horses. She traveled across the American West capturing the majestic beauty of those animals.
The lead picture featured in a story published on Bluegrass Country in National Geographic magazine, Melissa Farlow made with remote camera placed under the rail on the first turn of Churchill Downs racetrack in Louisville, Kentucky.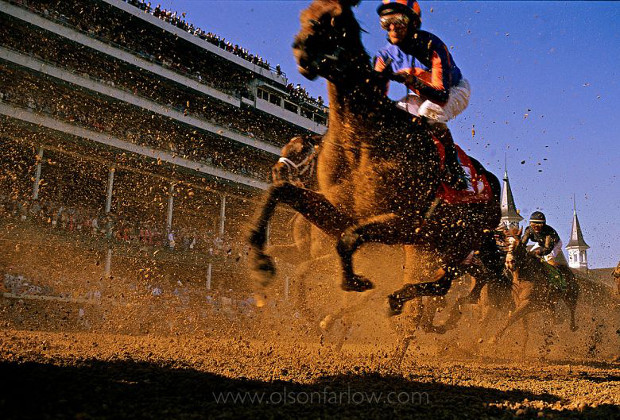 Wild at Heart
Wild at Heart: Mustangs and the Young People Fighting to Save Them is a forthcoming story of America's wild horses photographed by Melissa Farlow and written by Terri Farley, the author of the Phantom Stallion book series. Melissa met Terri Farley during an assignment for National Geographic magazine in Nevada at a Wild Horse Expo. Both fascinated with wild horses, they decided to collaborate on a book about them. With eye witness accounts, cutting-edge science, and full-color photographs, Terri Farley and Melissa Farlow take readers into the wonderful world of mustangs in all its beauty, and profile the young people to save wild horses and keep them free. Realized by Houghton Mifflin Harcourt, Wild at Heart will be available in September 2015.
Melissa Farlow and Randy Olson
Melissa Farlow often collaborates with her husband, National Geographic photographer Randy Olson. During the past twenty years they have co-produced National Geographic magazine stories on northern California, national parks, and the Alps. Farlow and Olson photographed the southern United States for a book by Collins Publishing and have collaborated on over 70 books with other photographers that are published by Collins Publishers, National Geographic and others. Amongst National Geographic magazine, their photos have been published in LIFE, GEO, Smithsonian and other magazines.
As the economics of print dwindles Melissa Farlow and Randy Olson have continued to support their documentary interests by doing advertising campaigns and corporate work. The two have done ad work for Becton, Dickinson and Company, HSBC Bank, Audi, Northrup Grumman, and The Cleveland Clinic, to name a few.
Melissa Farlow and Randy Olson live and work between Pittsburgh, Pennsylvania and Portland, Oregon.