The exquisite body of work which is in general based on the post-colonial critique of contemporary world positions Meschac Gaba as one of the most established African artists. His staggering installations are a result of ongoing activity to introduce a different kind of a discourse in regards to the notion and perception of what African art is. Concisely and with a dose of wit, Gaba conducts vast research and provides a selection of layers in order to achieve an effect of the collections referring to the everlasting western cannon of exoticising view upon the others. With proficiency and great effort, the artist managed to rose himself above the common perspective of his work connoted to be only politically charged and stayed loyal to maintaining the agenda of contemporaneity.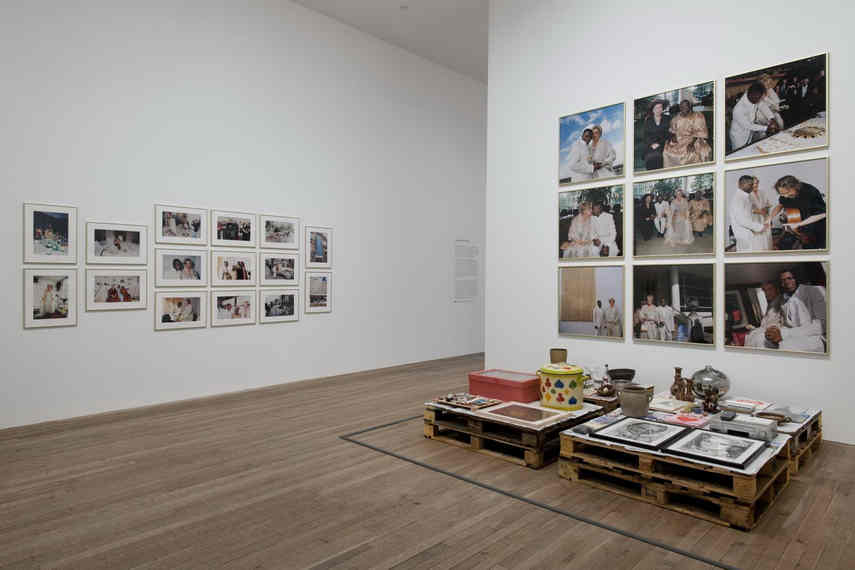 Out of The Cannons
Ekué Woekedje Meschac Gaba was born 1961, in Benin. It was in the year after the country gained independence from France which makes the artist part of a generation of African contemporary artists aware of the hazardous impact of colonialism. The beginnings of his art practice were difficult since the are artist was an autodidact, but after he attended the workshop of the painter Zossou Gratien things started to change. His work became noted after the first solo exhibition in Benin and he was shortly after invited by a French foundation in 1990 which was followed by the journey to Senegal and the Ivory Coast. In 1996, Gaba moved to Amsterdam after being accepted at the Rijksakademie van Beeldende kunsten. His career starts to develop really fast – his works become included not only in the group exhibitions , rather they become part of various collections on the international scale.
The complexity of cultural divides expressed throughout installation art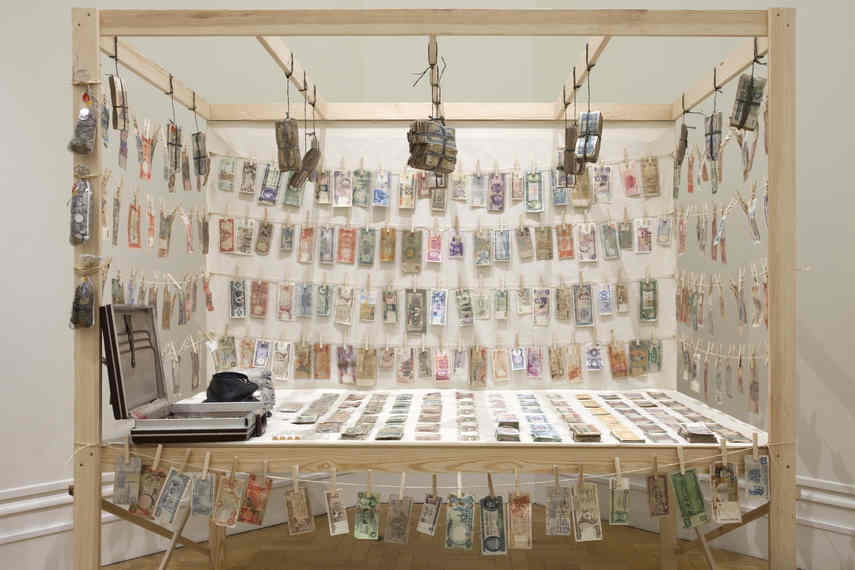 Articulating Heritage Differently
His innovative approach becomes formed after Gaba saw grand collections of several European museums. He was not able to connect neither his identity nor his perception of art to that heritage which was usually a consequence of various combats and conquests. Therefore, it can be said that his production is an ironical hybrid of local ancestry and European aesthetical models and their inner relation in regards to Africa's oppressive history and current poverty. Gaba's work is focused on the devastating effects of raging globalization which goes hand in hand with the before mentioned colonization. That agenda is embedded in deep understanding and awareness of complex relations between culture, society, and economy.[1]
Representing African heritage in contemporary context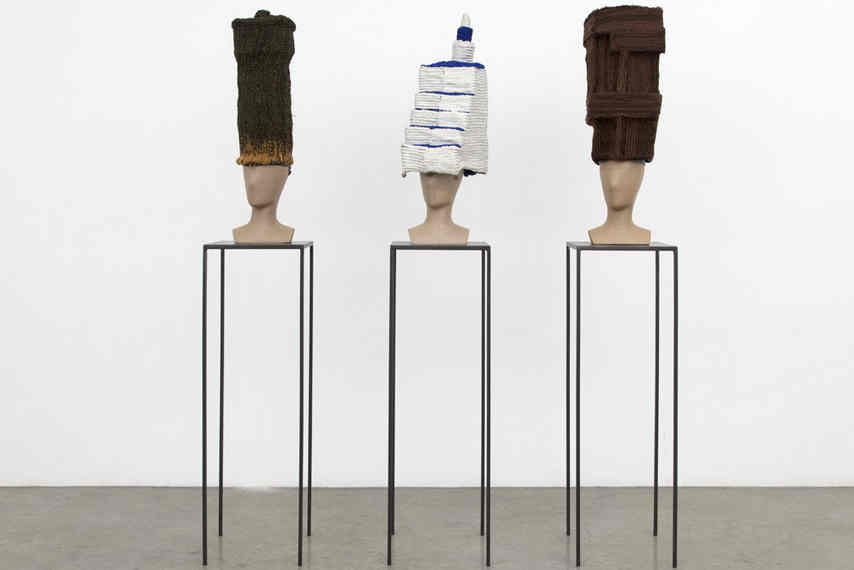 Money Talks
Mostly all of Gaba's works are rotating around the motif of money bills. Whether used as the constitutive or additional element, they apparently represent pillars of the world market and politics which is a common place. Nevertheless, the way the artist manipulates with banknotes, how they become re-contextualized and reveal the new meaning of what art is today, is what makes them political signifiers of contemporary society. Perhaps the finest example is the installation called Money Tree made out of bills printed with portraits of famous European artists such as Picasso, who was associated with the movement of primitivism, or banknotes with portrayals of artists depicted as national heroes.
The focus on the unbreakable relation between money and politics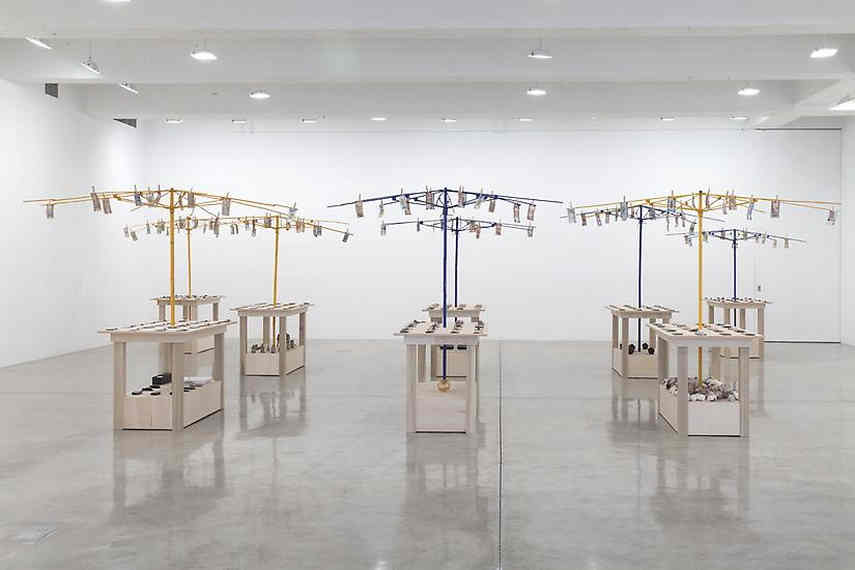 The Earned Success
After realizing huge ongoing project titled The Museum of Contemporary African Art[2], which consisted out of twelve editions , his position as a notable and recognized contemporary artist was sealed. Even before that he participated in numerous exhibitions around the world and certainly among most important ones are Mirror's Edge 1999-2001 at Documenta11, Netherlands pavilion at the Venice Biennale in 2003 and in 2006 the 9th Havana Biennial in Cuba. Interestingly, the line between private and professional art became crossed after Gaba married the Dutch curator Alexandra van Dongen during the exhibition For Real at the Stedelijk Museum in Amsterdam and was also documented as a performance. His practice seems to be the fine example of hard, well thought and precise work based as politically challenging observations and arguments.
Meschac Gaba lives and works in Rotterdam.
References:
(2008): Meschac Gaba: Perruques voitures & Archéologie contemporaine, The archaeology of the future, Njami.S, In Situ Paris, 2008
(2013): The art of Meschac Gaba: Making space, The Economist, 2013
Featured image: Portrait of Meschac Gaba within his work Museum of Contemporary African Art & More, at Kunsthalle Fridericianum – photo credit Essen Taste
All other images for illustrative purposes only
| Year | Exhibition Title | Gallery/Museum | Solo/Group | |
| --- | --- | --- | --- | --- |
| | | | | |
| 2016 | Afrika 010 | Wereldmuseum, Rotterdam, Netherlands | Solo | |
| 2015-2016 | Making Africa, A Continent of Contemporary Design | Guggenheim Bilbao,Bilbao, Spain | Group | |
| 2015 | Salon Style | The Studio Museum in Harlem, New York, NY | Group | |
| 2015 | Making Africa: AContinent of Contemporary Design | Vitra Design Museum,Weil am Rhein, Germany | Group | |
| 2015 | Field, Road, Cloud: Art and Africa | Des Moines Art Center, Des Moines, IA Atopolis, Manège de Sury, Mons, Belgium | Group | |
| 2014 | n _ We Trust: Art and Money | Columbus Museum of Art, Columbus, Ohio | Group | |
| 2014 | Meschac Gaba: Exchange Market | Tanya Bonakdar Gallery, New York, USA | Solo | |
| 2014 | Citoyen du Monde, Socrates Sculpture Park Broadway Billboard | Long Island City, New York | Solo | |
| 2014 | Meschac Gaba: The Museum of Contemporary African Art | Deutsche Bank KunstHalle, Berlin, Germany | Solo | |
| 2014 | How Far How Near | Stedelijk Musueum, Amsterdam, Netherland | Group | |
| 2014 | The Invisible Hand: Curating as Gesture | The 2nd CAFAM Biennale, CAFA Art Museum, Beijing, China | Group | |
| 2014 | Between the lines | Tanya Bonakdar Gallery, New York, NY | Group | |
| 2014 | El Teatro del Mundo (The Theatre of the World), curated by Andrea Torreblanca | Museo Tamayo Arte Contemporaneo, Bosque de Chapultepec, Mexico | Group | |
| 2013 | Meschac Gaba: exposition personelle | Vieile Charite, Marseille, France | Solo | |
| 2013 | Museum of Contemporary African Art 1997- 2002 | Tate Modern, London, England | Solo | |
| 2013 | Meschac Gaba: Le Monde | Stevenson, Cape Town, South Africa | Solo | |
| 2013 | Geestverwanten (Kindred Spirits) | Rabo Art Collection, Utrecht, The Netherlands | Group | |
| 2013 | Station to Station, public art project organized by Doug Aitken, traveling from train from New York City | NY to San Francisco, CA | Group | |
| 2012 | Perruques Voitures & Archéologie contemporain | Galerie In Situ, Fabienne Leclerc, Paris, France | Solo | |
| 2012 | Biennale Bénin 2012 – Inventing the Word: The Artist as Citizen | Cotonou, Benin | Group | |
| 2012 | When Attitudes Became Form Become Attitudes: A Restoration- A Remake - A Rejuvenation - A Rebellion | CCA Wattis Institute for Contemporary Arts, San Francisco, USA; Museum of Contemporary Art, Detroit, USA | Group | |
| 2012 | La Triennale 2012 – Intense Proximity | Palais de Tokyo, Paris, France | Group | |
| 2011 | The Global Contemporary: Art worlds after 1989 | ZKM Center for Art and Media Technology Karlsruhe, Germany | Group | |
| 2011 | Geography of Somewhere | Brodie-Stevenson, Johannesburg, South Africa | Group | |
| 2010 | Perruques-Architecture | CeSAC Centro Sperimentale per le Arti Contemporanee, il Filatoio di Caraglio, Caraglio, Italy | Solo | |
| 2010 | The Global Africa Project | Museum of Arts and Design, New York, USA | Group | |
| 2009 | Museum for Contemporary African Art & More | Museum de Paviljoens, Almere, The Netherlands | Solo | |
| 2009 | Esposizione Universale | GAMeC, Bergamo, Italy | Group | |
| 2007 | Tresses | Michael Stevenson, Cape Town, South Africa | Solo | |
| 2007 | Africa Remix | Johannesburg Art Gallery, Johannesburg, South Africa | Group | |
| 2006 | Défilé de perruques (wig parade, street performance) | Paris, France | Solo | |
| 2006 | Glue Me Peace | Nobel Peace Center, Oslo, Norway | Solo | |
| 2006 | Respect! Formes de cohabitation: Peace Maker | Musée Dar Si Saïd, Marrakech, Morocco | Group | |
| 2005 | Meschac Gaba: Tresses | The Studio Museum, Harlem, New York, USA | Solo | |
| 2005 | Trace of a Structure of Ideas: Archaeology of a Utopia in the Hardau | Zurich, Switzerland: Embassy, competition project proposal | Group | |
| 2005 | Africa Remix: Boulangerie Africaine | Centre Georges Pompidou, Paris, France | Group | |
| 2004 | Peace Maker | Ernest G. Welch School of Arts & Design, Gallery of the Georgia State University, Atlanta, USA | Solo | |
| 2004 | Contemporary Archeology: The Fiction of Authenticity | Miller Gallery of the Carnegie Mellon University, Pittsburgh, USA | Group | |
| 2003 | Democracy Game, Exhibition of Exhibitions, curated by Jens Hoffmann | Casey Kaplan Gallery, New York, USA | Group | |
| 2002 | Le Salon du Musée – Museum of Contemporary African Art | Palais de Tokyo, Paris, France | Solo | |
| 2002 | Library of the Museum | Museum Shop and Humanist Space, documenta 11, Kassel, Germany | Group | |
| 2001 | Democracy Game | Helsinki, Finland | Group | |
| 2000 | Meschac Gaba: Salle de Jeux – Museum of Contemporary African Art | S.M.A.K. (Stedelijk Museum voor Actuele Kunst) Gent, Belgium | Solo | |
| 2000 | Spielregeln - Rules of the Game | Galerie Gebauer, Berlin, Germany | Solo | |
| 2000 | Continental Shift. A voyage between cultures | Le Discothèque du Musée – Museum of Contemporary African Art, Bonnefantenmuseum, Maastricht, The Netherlands | Group | |
| 2000 | The sky is the limit, Meschac Gaba Made in Taiwan | Fine Arts Museum, Taipei Biennale, Taiwan | Solo | |
| 1999 | South Meets West: Museum Shop – Museum of Contemporary African Art | National Museum of Ghana, Accra | Solo | |
| 1998 | Architecture of the Museum – Museum of Contemporary African Art | Gate Foundation, Amsterdam, The Netherlands | Solo | |
| 1998 | Copy Culture. 40 Jaar Amsterdams Grafisch Atelier | Arti et Amicitiae, Amsterdam, The Netherlands | Group | |
| 1997 | Bazar Bizar | Tropenmuseum, Amsterdam, The Netherlands | Solo | |
| 1997 | Virtual exhibition | at africaserver.nl | Group | |
| 1996 | Open Ateliers | Rijksakademie van beeldende kunsten, Amsterdam, The Netherlands | Group | |
| 1995 | Ewole | Lomé, Togo | Solo | |
| 1994 | Biennale d'Abidjan 1994 | Abidjan, Republic Côte d'Ivoire | Group | |
| 1993 | Biennale de Dakar | Galerie Ife, Dakar, Senegal | Solo | |
| 1993 | American Cultural Center | Cotonou, Benin | Group | |
| 1992 | Arts sur 7. S.O.S. Artistes | Halle des Sports, Cotonou, Benin | Group | |
| 1991 | Meschac Gaba | Centre Culturel Français de Cotonou, Benin | Solo | |