Michael Rodriguez is an American artist, best known for his abstract expressionist paintings. Originally from Miami, Florida, Rodriguez moved to New York to pursue a career in art in the 90s. In 1992, the artist earned his MFA degree from the Skowhegan School of Painting and Sculpture, a department at Brooklyn College.
Rodriguez's Abstract Expressionism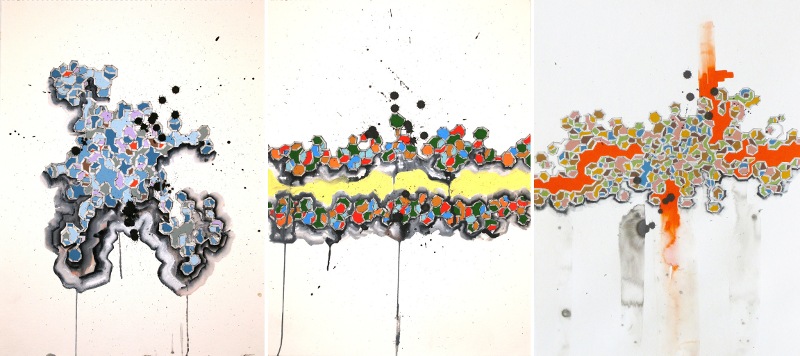 Michael manages to fuse together elements of Geometric Abstraction, Hard-edge painting and grids. His multi-media paintings are realized primarily in acrylic paint, exploring such themes as depth of space and its texture. Essentially, his art is the representation of the artist's desires and background, the influences of kitsch and psychedelic art. As main sources of inspiration, the American cites Warhol, Pollock and Reinhardt.
Via his signature orbs of acrylic paint and ink on paper and canvas, Michael methodically processes his environment. These orbs or "molecules" are the main motif in Rodriguez's paintings and they refer to a larger, predetermined structure beyond our senses and comprehension. He wants to ground us to the present while signaling a more complex and convoluted multi-dimensional reality.
Gauche and Ink on Paper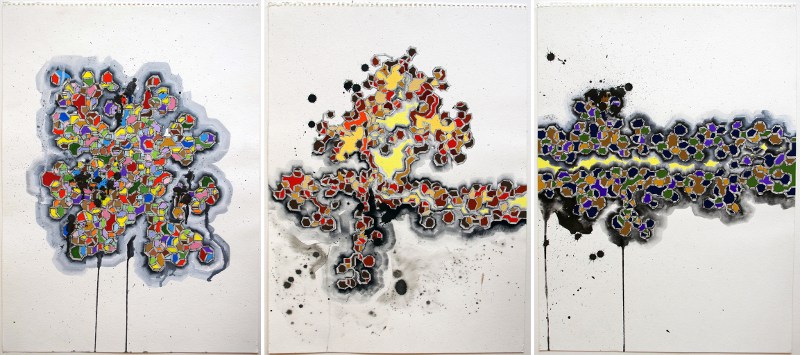 Highly praised, his paintings have been mounted in numerous galleries in France, Canada and the US. He participated in many group and one-person shows, such as Pop Science in 2001, a group exhibition organized by g-module, an art space in Paris, which operated from 2001 to 2008. His most notable solo exhibition, titled In the Paint, took place in 2004-05, at the New York gallery Oliver Kamm/5BE. The artist's works are in MoMA's permanent collection, as well as in the collection of General Dynamics, Capital Bank, Michael Bloomberg's collection and AOL Paris. He is also a recipient of many grants and fellowships, such as the grant given by Pollack-Krasner Foundation; the New York Foundation for Arts Fellowship, which he received in 2002 for Painting; and more recently, Joan Mitchell Grant in 2011. He is represented by Vertical Gallery from Chicago.
Michael Rodriguez currently resides and works between New York and Miami.
Featured image: Michael Rodriguez – Untitled, 2007
All images are courtesy of Vertical Gallery