Myung Hwang is a young Korean artist, educated at Fine Arts of Dijon school, in the class of professor Yan Pei Ming. He makes detailed, precise and explicit portraits of anonymous people. Hwang's intent is to provoke his models in order to induce the emotional reaction, whether that is a silly face or a concerned expression. After taking photographs of the models, he paints in his studio. He uses photographs as a reference and inspiration. The artist uses oil on canvas technique and his works are full of vibrant colors that emphasize the facial features of the models.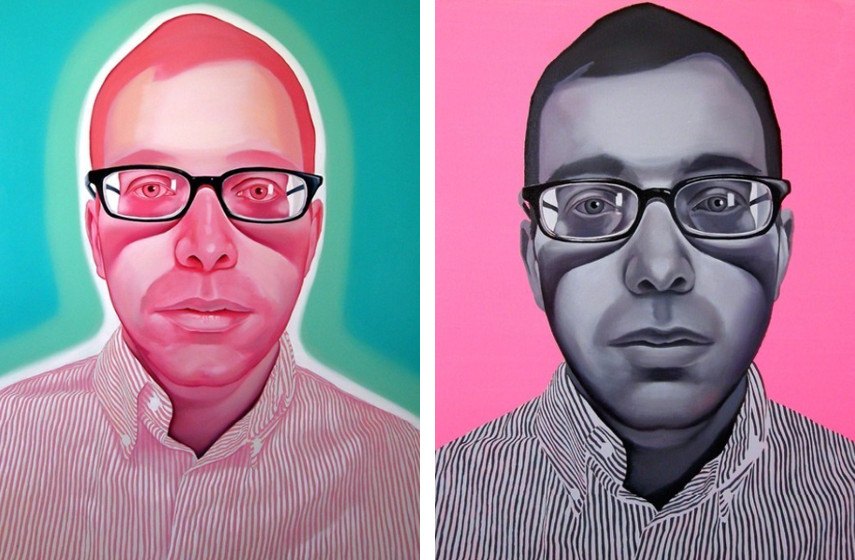 Obsession with Idolization
Hwang uses high saturation and intensity of colors to stress out the artificiality of his subject. He subjects his models to subtle deformities in order to bring out the specific features without the emotion that should follow. The faces look blank, silly and empty. Their eyes are wide open, hairlines are over realistically painted, and everything is done with the intention of showing how adoring the celebrity idols in our society leads to emptiness. Pink faces under the blue light shine with delusion and it is this misconception that should lead the viewer to the conclusion that modern society is obsessed with the shallow idolization of famous faces. That is the main reason he paints anonymous, ordinary people.
Hwang subjects his models to subtle deformities emphasize the artificiality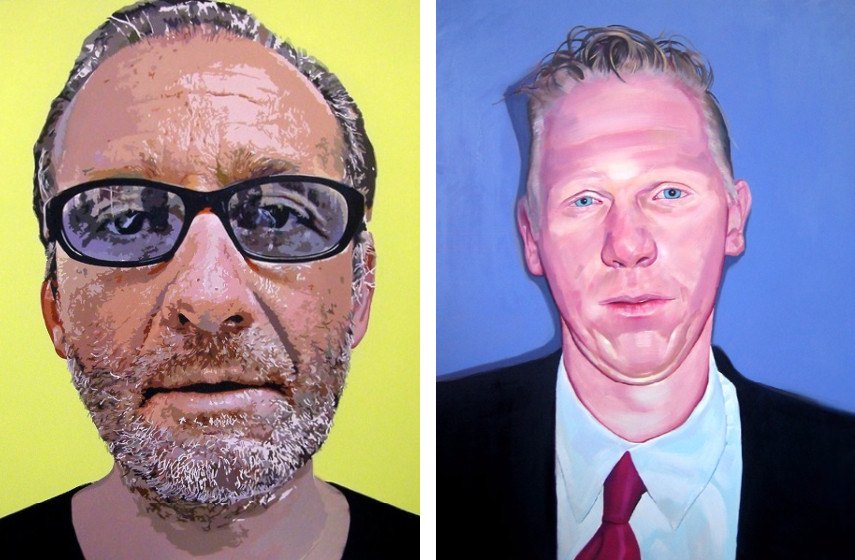 Dissapearnce of Noble Values
Myung Hwang plays with widespread human ignorance and mocks the modern desire for identification with famous people. There are standardizes rules of attractiveness and defined parameters of body image appeal, and everything that does not fit into the picture becomes irrelevant and repugnant. Behind the false imagery disappears the world of noble values, where people become so self-obsessed and self-involved that they forget what really makes us human. Hwang's advance method transcends the Korean school rules of painting. Caucasian men are painted with pink skin and the variations in tones underlines the uniformity of the society.
Behind the false imagery disappears the world of noble values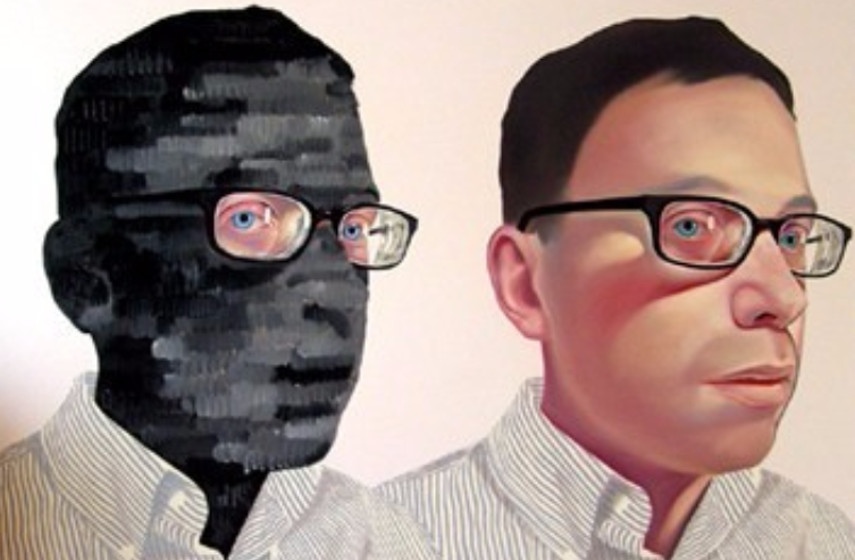 Standardizes Rules of Beauty
The artist does not aim to humiliate or mock. His work is deeply political, and the message he is sending should make the audience reevaluate their beliefs, not put them to shame. In standardized contemporary society, everyone tries to stand out, but when his models are caught in random, ordinary poses and highlighted with intense coloring, it becomes truly visible that we are all the same. We all have dull facial expressions and that is perfectly fine. To be comfortable in our own skin should be something of great importance for us. The artist states out that after all attempts to fit in, our genuine appeal is being left out, alone, on the cemetery of beauty, and we should aim to bring it back out front, where it belongs.
The artist is represented by Galerie Jacob Paulett.
Myung Hwang lives and works in France.
All images used for illustrative purpose only, courtesy of Galerie Jacob Paulett
Featured image – Myung Hwang – Two Outsiders, 2008 (detail)
| Year | Exhibition Title | Gallery/Museum | Solo/Group |
| --- | --- | --- | --- |
| 2009 | Faceless | Addict Galerie, 14-16 rue de Thorigny, Paris | Solo |