Equality between the sexes has always been a troublesome topic. Many may say that females are finally equal to men in regards to everything, but there are some women that deeply believe the fairer sex is still being oppressed to this day. One such person is Natalia Fabia, a painter from the city of Los Angeles. She creates a colorful world that battles for the rights of women, celebrating the vibrant diversity and beauty of the life they lead. By depicting photorealistic images in oil, Fabia sees herself as responsible for defending the choices some of the members of her gender chose, no matter what they've decided, sending a loud and clear message – they will not be judged.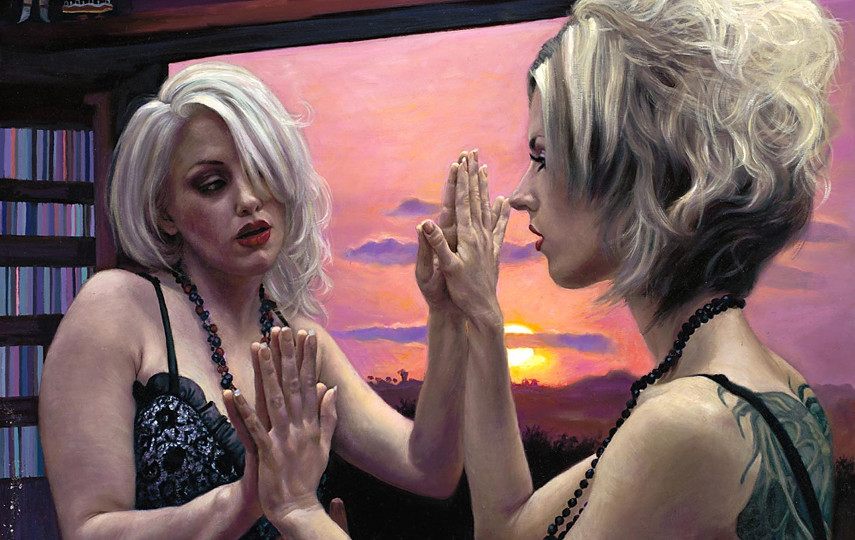 Before She Became Famous
Natalia Fabia is of Polish descent but was raised in The States, amongst the searing lands of Southern California. Fate will see fit that she never leaves this area as Natalia to this day lives and works in Los Angeles. Before she ended up in LA, however, Fabia attended a school in Pasadena where she graduated from the Art Center College of Design. It was here that she got familiar with all sorts of artistic mediums – including oil painting, which will prove to be her profession in the future. She began her career modestly and very down to earth, creating compositions for her personal satisfaction and seldom exhibiting them in collective shows around Los Angeles. Natalia was creating colorful, sultry scenes filled with people and lush environments, with a strong note of subcultures like rock 'n' roll. It only took her a couple of years before she started to be one of the leading contenders in the figurative painting arena of California. She started painting portraits of women around her that were looked down upon, depicting them with all their realness and imperfections. Instead of judging her subjects, she embraced them and glorified their individuality and unique aspects through their figures. Shortly put, Fabia started to be fascinated and creatively fueled by the strength of the women everyone saw as weak. The artist also found plenty of inspiration within the works of Henri de Toulouse-Lautrec, ornate interiors, wild animals, voyeurism, and – last but not least – punk rock, an influence that will prove to be a key element of Natalia's career.
Fabia was noticed for her depictions of women that society looked down upon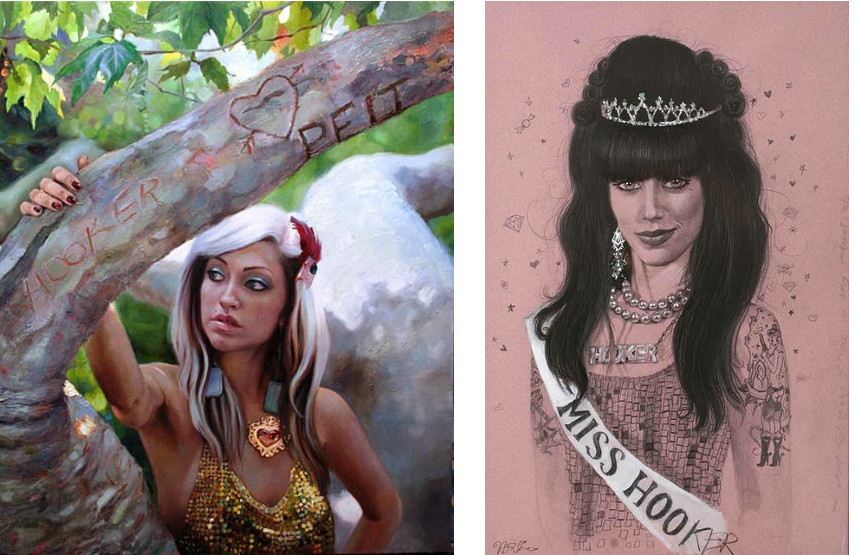 Fabia's Distinctive Style
Natalia Fabia's work can be interpreted as a voice of the Los Angeles's progressive women of the 21st century. The artist imagines her paintings to be the next step for women after the dependent working class of ladies emerged from the Industrial Revolution in the 1920s. Fabia's girls are unabashed, aggressive and confident. She documents the sorts of influences their lifestyle is having on the world around them. Ironically disrespecting them by calling them hookers in a way men like calling each other dude and displaying them in various immoral situations, Natalia sends a clear message in what state she believes the current equality between the sexes is. Placing Fabia's opinions aside, her illustrated women are full of vividness and they literally sparkling, drowning in the sea of color. This may very be the strongest feature Natalia Fabia as an artist is able to achieve, as finding a perfect balance between placing all the colors she wants in her compositions and making sure she does not suffocate the painting from within is not an easily achievable feat. Infused with Fabia's signature style, vividly saturated candy color palettes and a dazzling spectrum of light, her work is a combination of fantasy narratives and actual moments captured from the artist's life. Natalia Fabia's rise to fame was marked by numerous exhibitions as she was featured in many magazines (Juxtapoz, New York Arts magazine, Hi Fructose, Art Ltd. and Angeleno Magazine) and galleries (Corey Helford Gallery, Jonathan Levine Gallery, The Shooting Gallery, etc.). She was even given appearances in Miami Ink, KNBC News, Fox 11 News, and was interviewed by Steve Jones of the Sex Pistols on Los Angeles' Indie 103.1.
Whether you agree with her themes or not, there is no denying that Fabia is one very talented oil painter
Punk Forever
As was mentioned before, punk rock really played an important role in Natalia Fabia's art. That influence reached a peak during the 2010 series Punk Rock Rainbow Sparkle, based on staged photo shoots of girls that captured a raw yet decadent sensibility. In the artist's words: Punk rock is one of my true loves. Punk to me is an attitude, a lifestyle. Punk is a middle finger, punk is do-it-yourself, do what you want. It's a kind of freedom. I'm attracted to my subjects for having that quality. This attitude is what I wanted to convey in this series. My models (many of which are friends) are all tough, independent, strong, fun, hard working, talented, tattooed and stylishly dressed. I look at punk rock as being dirty and rough, yet sparkly and enticing at the same time, and that's the theme of my paintings. In that regard, it is not hard to see the similarities between Natalia and her LA fellow painter, Che Smith, who has also based a lot of her work on the concept of punk. All in all, Punk Rock Rainbow Sparkle remains as one of the most provocative projects Fabia managed to put together. Other notable projects of her portfolio are Fashionable Aftertaste Without End, Hooker Dreamscape, Hooker Safari, Hook Manor, Powder Room and Cocktail Face Portraits. Although very provocative, all of these projects can be described as successful.
The punk subculture was an important component of Fabia's later work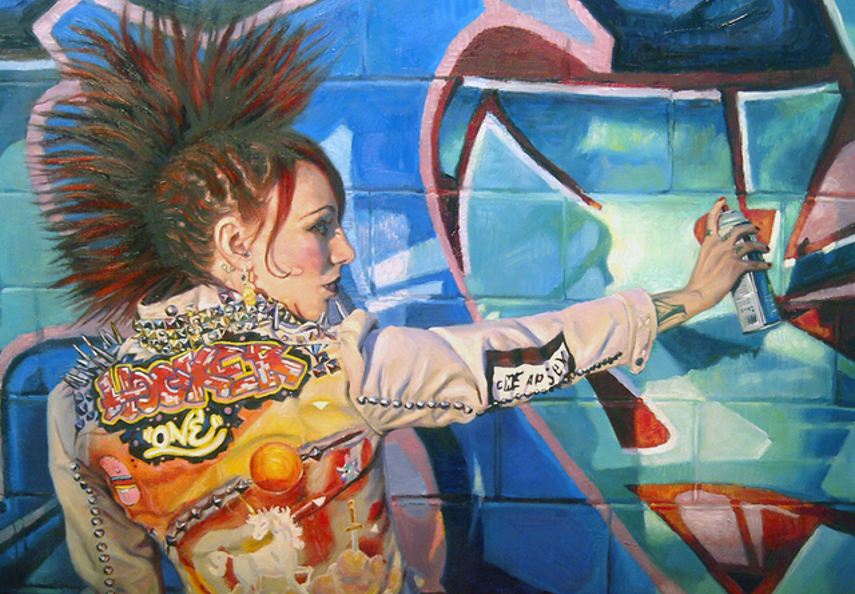 Provoking And Achieving Goals
It is fair to say that Natalia Fabia is the type of artist that loves provoking audiences. She even went as far as to organize a Miss Hooker Beauty Pageant and establishing a jewelry line titled Hookerfeathers. Sure, there is a justified reason for Natalia's use of the work hooker, but every single viewer will first notice the name before being given an explanation why Fabia calls things as she does. For that reason, incitement plays a big role in this artist's work. This kind of approach has been known to anger viewers and lower interest, but that definitely should not be the case here. Even if you do not agree with Fabia's ideas and beliefs, you can still be able to enjoy her work as a purely visual experience and you will not regret it. Whatever some may say about Natalia Fabia, one thing no one can deny is the fact she is one remarkably talented painter.
The artist is represented by Corey Helford Gallery in Culver City, California.
Natalia Fabia lives and works in Los Angeles, United States.
Featured Image: Natalia Fabia – Dream Escape 15 – Photo Credits Natalia Fabia
All Images Photo Credits Natalia Fabia