Neve is an Italian artist best known for his monumental murals, wall paintings, urban design and paintings.
Neve's Background
Danilo Pistone aka Neve (Italian word for snow) was born in Turin where he began his adventure with art by spraying the street walls in 1995. What began as fun, turned Neve into one of the most promising and prominent European street artist today. His work is instantly recognizable because Neve insists on the value of the message he intends to transmit, so it could echo on and on and find the way to the public. His goal is to leave the viewer with an open question, or at least a reflection. This artist is so persistent in that mission that he never misses a chance to leave his mark – to paint, to seek his style or refine his techniques. Neve painted in Italy, Spain, France, England, Greece, Switzerland, and Germany… The list is growing by the day.
Neve's Figurative Art on Leoncavallo Walls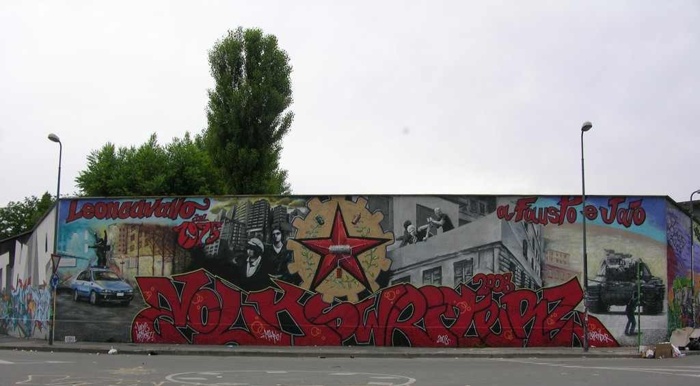 In the beginning of his career, Neve was experimenting with 3D letters. After that, his passion for art grew really quickly and soon he startied to master the spray with the same ease as brush or pencil. The strength of his message always breaks through whatever medium he chooses, often attaining a poetic clarity. Neve's love for aesthetics and classicism urged him to combine urban with classic art through the figurative art as a mean of expression.
In 2006, Neve's figurative art becomes his leitmotif and it directs his interest towards artistic performances and installations, many edited by Marco Scotini and Marcello Maloberti. In 2008 Neve accepts the commission to paint the wall on the Leoncavallo, a Milan cultural center which building is lining the run-down road and is covered in amazing art by epic artists and upcoming writers. Neve also did some other political graffiti together with the Volks writers when together they produced a series of stencils and posters containing a strong social-political denunciation. A cycle of protest, with a strong socio-political message, culminated in June 2008 with an exhibition (with Ozmo, with whom he also showed at MiArt 2008) at the Magrorocca Gallery in Milan.
Scala Mercalli Show and Walls of Fame Project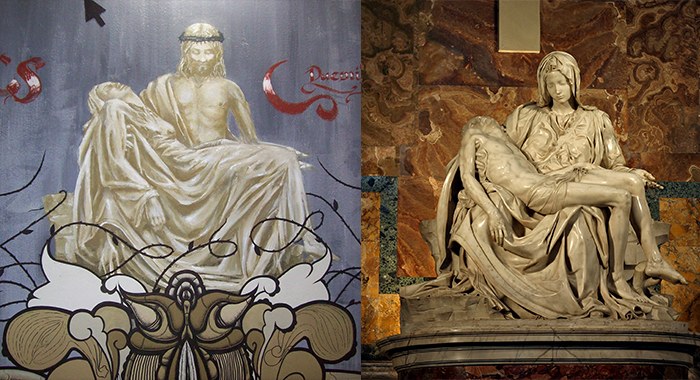 Also, in 2008, Neve began experimenting with urban installations: spreading around the city fake bombs and artifacts of war made in cardboard that attracted much media attention. Some of his panels have been "removed" from the walls and "taken home" by passer byes.
He participates in the Scala Mercalli show – Il terremoto creativo della Street Art Italiana (the creative earthquake of Italian Street Art) held at Rome Auditorium and curated by Gianluca Marziani, art critic and independent curator. Neve showed a piece where he represents the silent protest of the Myanmar's monk and another titled Pieta where he reverses the roles of Michelangelo's Pietà by creating a painting which is a symbol of the female condition. In 2010 he was a part of Walls of Fame Project in Milan.
Mural for ENI enters a Guinness World Record Book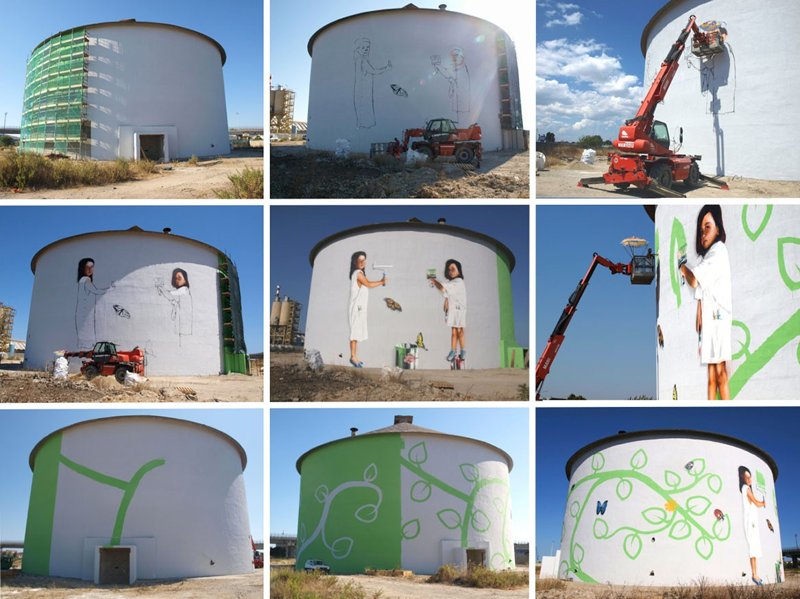 Neve had and still has many murals commissioned all over Italy, where the mythological grandeur of his characters – partisans, boxers, adolescents, mermaids, children watering diamonds are coming to life. During Neve's career many large brands and corporations, such as Campari, Fabiani, ENI Syndial, commission him to create large murals. For example, for ENI, a major integrated energy company, he painted an area of 2000 m² for the advertising campaign in 2011. It was a large-scale mural in Crotone, Southern Italy, and Neve spent 5 weeks planning and painting the artwork on Crotone's disused gas tower. Upon completion, the mammoth-scale production became a Guinness World Record contender for the largest mural painting, scaling at 56 meters high. The Crotone Mural began with a series of initial sketches on paper. Models were then chosen, photographed, and placed within a rough layout. Once approved, NEVE travelled to Crotone and proceeded with rendering the final artwork onto the gas tower.
Neve just keeps managing, with the same intensity on both walls and canvas, to presents real events or aspects from his own life – from fresh letters to the visionary refinement of his latest series of colored pencil drawings, in which he depicts only "light", with a clear connection to Caravaggio's style. In those, Neve shows a better attention for details and a higher, more mature sensitivity that deeply touches the observer who is stimulated to perceive the artist's hidden message. Neve intends to combine the internal life with the world surrounding him in a delicate expression of figurative art, on numerous canvases and walls.
Danilo Pistone aka Neve lives in Milan, Italy.