No Survivors are a Chinese contemporary art duo, known for their investigations of modern day commercial art practice – through their art, they are exploring the internal conflicts that arise in the artist himself in relation to self-discovery and the quest for fame and acceptance in the contemporary art world. The No Survivors artist group was founded in 2012, by Wang Yang, born in 1982, and Zong Ning, born in 1984. Both of the group members graduated from the Central Academy of Fine Arts in Beijing, in 2007.
No Survivors at the Venice Biennale
During the 55th Venice Biennale in 2013, the artists group No Survivors created their made-up video titled No Survivors was interviewed while participating in the Venice Biennale. This scripted video work, which screened at the very same 2013 Venice Biennale, features foreign journalists posing meaningless questions to which the members of the duo, acting out the roles of famous artists, respond with vague, unclear and lofty answers. No Survivors acted like artists trying to humble themselves, and displayed their admiration and respect for other "famous artists" using exaggerated mannerism and over-the-top language.
The idea behind this project was to mock famous contemporary artists, and also to imagine how their own fame might one day look, uncertain whether "being famous" will resemble in the future what they portray in the video.
Art's Lucky Dice
No Survivors' cynicism toward the commercial art world is exemplified in their clever and amusing board game, titled Art's Lucky Dice. The game is presenting hypothetical situations in which a young and uprising artist can find himself in, on his way towards critical acclaim and fame. It questions the situations in which an expression and aspiration of an artist become replaced by purely commercial concerns about fame and comfort. Art's Lucky Dice is also implicating that stepping into the commercial art world can actively distort the process of self-discovery and engagement – ingredients that should be the basis of art.
Rules are simple – you roll the dice and move forward. Lucky or not, you may land on variety of spots on the board – from a spot where your scooter gets stolen and now you have no inexpensive way to travel around the city on your limited budget, to a spot that allows you to work as an apprentice to a well-known and established artist who has been churning out the same product for 20 years. Another space on the board brings you an experience where your entire studio gets dismantled by the police in the middle of the night, a nod to the experience of fellow Chinese artist Ai Weiwei, after which he gained international stature.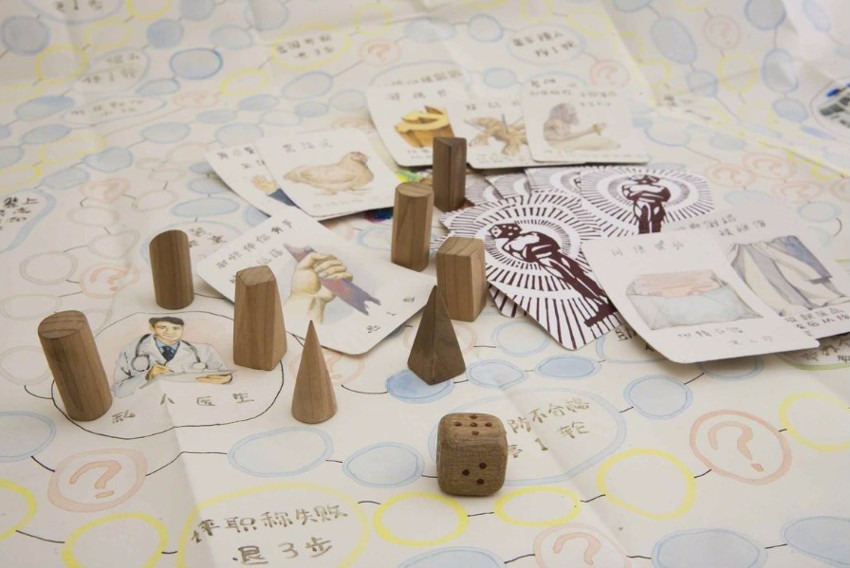 No Survivors' Red Series at Simple Life is Interesting! Exhibition
Held in 2015, Simple life is interesting! was a group exhibition which featured six contemporary Chinese artists, all born after the Cultural Revolution. Through video and audio installations, sculpture, painting, and photography, all of the participating artist were exploring the irony of the complexities that accompany any understanding of what constitutes a "simple life". With a goal to overthrow an audience's preconceived ideas of life in modern China, the show presented simple life as an entry point and a different perspective through which they may experience fast-changing contemporary Chinese society.
For this exhibition the No Survivors duo embody the exhibition's message, revealing an interrupted and complicated understanding of "simple life". Through the acrylic paintings and photographs found in their Red Series, the artists use the color red to attack and invade harmonious and repetitious patterns, shattering an otherwise peaceful scene. Featuring swatches of wallpaper and floor tile patterns, Red Series portrays the individuals who define the color as blood, leaving emotional memories against the backdrop of a sterile pattern and an over-simplified world, violently disrupted by red paint.
Wang Yang and Zong Ning, members of No Survivors, are living and working in Beijing.