Orestes Hernández is a massively talented artist who belongs to the aspiring generation of young Cuban artists regarded as a future backbone of this nation's art scene. He is known for his expressive and cartoon-like representations that allow him to unite colorful aesthetics with current social affairs and politics, effectively placing a finger on the pulse of the Cuban island, a place known for its politically charged circumstances that never seem to calm down.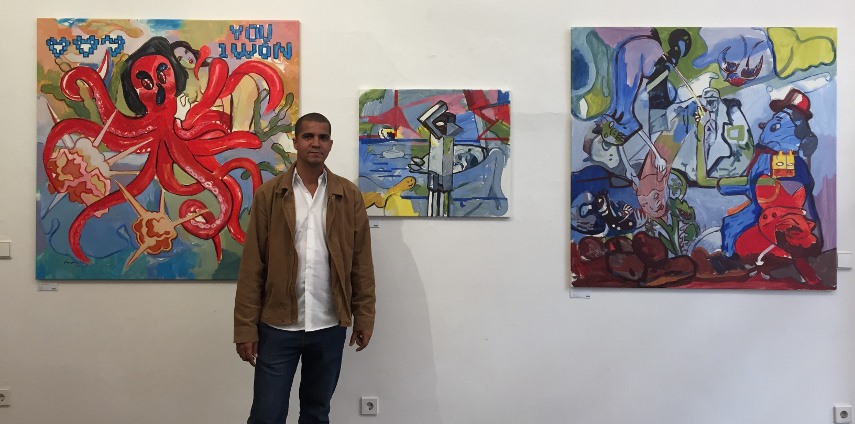 A Unique Art Style
The work of Orestes Hernandez is hard to describe with words. Within them, realism bounces off science fiction fantasies, there is a presence of strict rules that are simultaneously completely absent. It should be noted that the homages to and explorations of pop culture and abstract expressionism are clearly visible in his color-intensive paintings. The ever-present characteristic of Hernandez's drawings and paintings is the combination of graphic images with text fragments that usually give direct insights into the meaning of the piece. He explains his work with the following statement: The attitude I take as a painter is similar to that of a postman who throws the newspapers from his wheel in front of the doors, I am a picture distributor. I am throwing these pictures to the viewers. The thrown message embodies the versatility of the representation.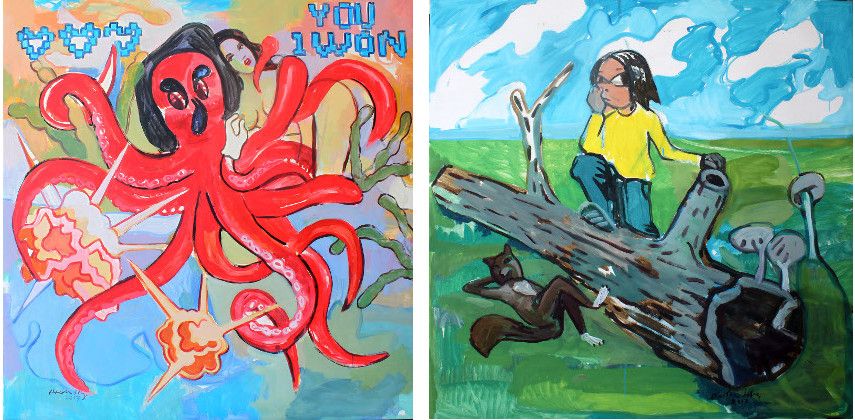 A Further Look At The Work of Orestes Hernandez
The amount of humor and irony present in Orestes' pieces may resemble the works of Marcel Duchamp, the avant-garde legend that played a major role in establishing contemporary art's standards. Furthermore, Hernandez cites that he is a big fan of the American artist Matthew Barney. However, it should be noted that this Cuban artist never relied on or was directly influenced by neither his contemporaries or forebears as Orestes Hernandez was always unable to come into direct contact with their work. He explained this very directly with the following statement that also serves as an insight of how his creative mind functions: Aside from Cuban painters I haven't seen anything, so for me, art is something that has to be invented, like a lie. I have to invent myself, build myself out of what's available to me.
Orestes Hernandez makes paintings that are technically virtuosic, visually magnificent and allow us to measure the pulse of the politically charged island of Cuba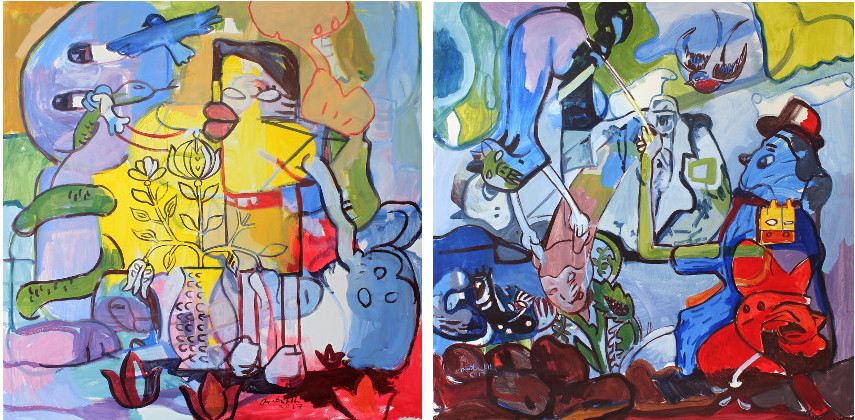 All About the Stories
I don't think I'm very interested in the act of painting, the sentimental or the gestural aspects do not really matter to me. It just provides a frame for my stories, that's exactly what I like. Despite the obvious talent for painting and drawing, Orestes Hernandez stated that in order to allow us to fully understand his work, so we can realize how much more he desires to send a message than to simply be perceived as a talented painter. Nevertheless, Orestes Hernandez's work is perfectly executed and visually spectacular, so we expect big things from this Cuban painter in the future.
This artist is represented by LKB/G Gallery.
Orestes Hernandez lives and works in Havana, Cuba.
Featured image: Orestes Hernandez – Photo of the artist – Image via s3-eu-west-1.amazonaws.com
All images courtesy of LKB/G Gallery.
| Year | Exhibition Title | Gallery/Museum | Solo/Group |
| --- | --- | --- | --- |
| 2017 | Fantasía Cubana – Feliz, Feroz, Amén! | LKB/G, Hamburg, Germany | Group |
| 2017 | Nature is Worth a thousand Thoughts | Center for the Development of Visual Arts (CDAV), Havana, Cuba | Group |
| 2016 | Fantasía | Galería Servando, Havana, Cuba | Solo |
| 2016 | La pala (a la corta o a la larga) | Centro de Desarrollo de las Artes Visuales, Havana, Cuba | Group |
| 2015 | Ya no pienso en ti | Galería Reino de este Mundo, Biblioteca Nacional de Cuba, Havana, Cuba | Solo |
| 2015 | Sin oficio ni beneficio | Galería La Moderna, Colateral a la X. Bienal de La Habana, Havana, Cuba | Group |
| 2014 | La primera Aventura | Galerie knoerle & baettig, Winterthur, Switzerland | Solo |
| 2014 | Para quebrar los muros | Museo Nacional de Bellas Artes, Havana, Cuba | Group |
| 2013 | Gulliver | Freies Museum Berlin, Berlin, Germany | Group |
| 2012 | Llegó el malhechor | Galería Servando, Havana, Cuba | Solo |
| 2011 | Alta fidelidad | Galería Cristo Salvador, Havana, Cuba | Solo |
| 2010 | Bomba (Bomb) | Centro de Arte Contemporáneo Wilfredo Lam, Havana, Cuba | Group |
| 2009 | Que salga el sol por donde salga | Galería 23 y 12, XII. Bienal de La Habana, Havana, Cuba | Solo |
| 2008 | Far Far Away | Lab Gallery, Copenhagen, Denmark | Group |
| 2007 | Se acabó la Salsa | Instituto Cubano de la Música, Havana, Cuba | Solo |
| 2007 | Built Situation | Instituto Superior de Arte ISA, Havana, Cuba | Group |
| 2006 | Cambiando de Tema | Instituto Superior de Arte, Havana, Cuba | Solo |
| 2005 | El rabo del ojo | Galería Casa de Cultura de Plaza, Havana, Cuba | Solo |
| 2005 | Selección Natural (Natural Selection) | Galería Servando Cabrera, Havana, Cuba | Group |
| 2004 | Cuba the Next Generation | Centre of Cuban Art, New York, USA | Group |
| 2003 | Sentido Común (Common Sense) | Galería Habana, Havana, Cuba | Group |