Paola Ricci is an interdisciplinary artist with a degree in graphic design. Besides being an innovative artist, Paola is great at teaching. Through poetry and art, channeled by her teachings at more than one University, she activates artistic fantasy. She has several essays published, on how to play with pursuing words, colors, and shapes both in art and poetry, one of which is entitled "Let the Artichokes Blossom". At the University of Trento, Italy, she conducted a lecture under the title "When the Mirror Hides the Form", and she held a Master Class in Visual Arts and Design at the Venice Biennale. Paola is a keen researcher, so while she was in Arteles Center in Finland as a resident artist, she researched on borderline between drawing and sculpture. Besides being a resident at many prominent galleries, Paola proves the artist can be an active scholar, outside the box, we might say – continuing the legacy of traditional Italian artist, whose artworks were, in fact, a matter of philosophy.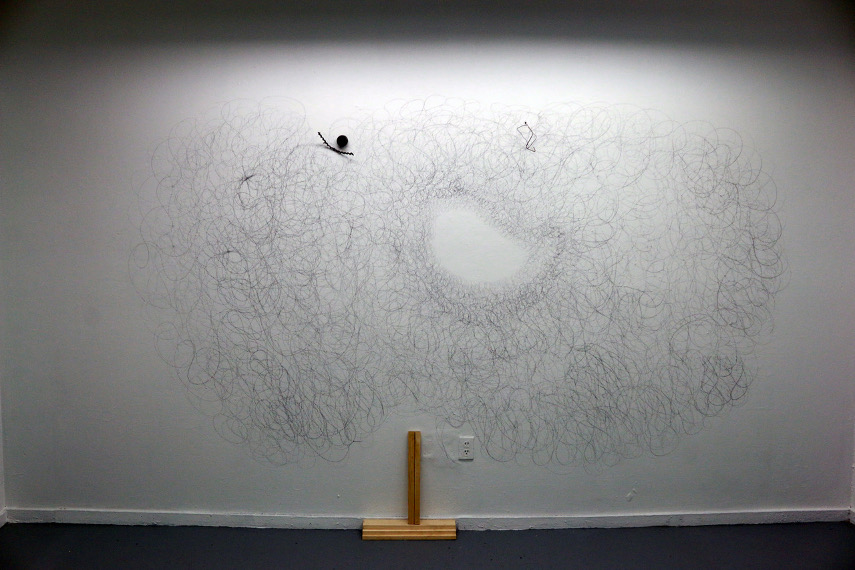 Sensitive Space
One of the last exhibitions the artist has done, or as she refers to them – experiences was at the Vermont Studio Center during October and November 2016. The upper image shows her work there, which was done directly on the wall, hence the title of the artwork, once more merging lines and space, redifing our notions. There is something special in the concept of borderline that Paola is so curious to investigate. The drawings are constituted of lines which by themselves are not drawings, but merely a definition. It is the line which marks the boundary between significance and meaning, seen and unseen, territory and that which surpasses it. This marvelous entanglement maintains unrevealed and yet it illuminates the blinding darkness of the artist's sketches. Paola creates artworks that are full, but there is some space left, and that is what we perceive as sensitive space, she says.
The entanglement in Paola's work illuminates the darkness.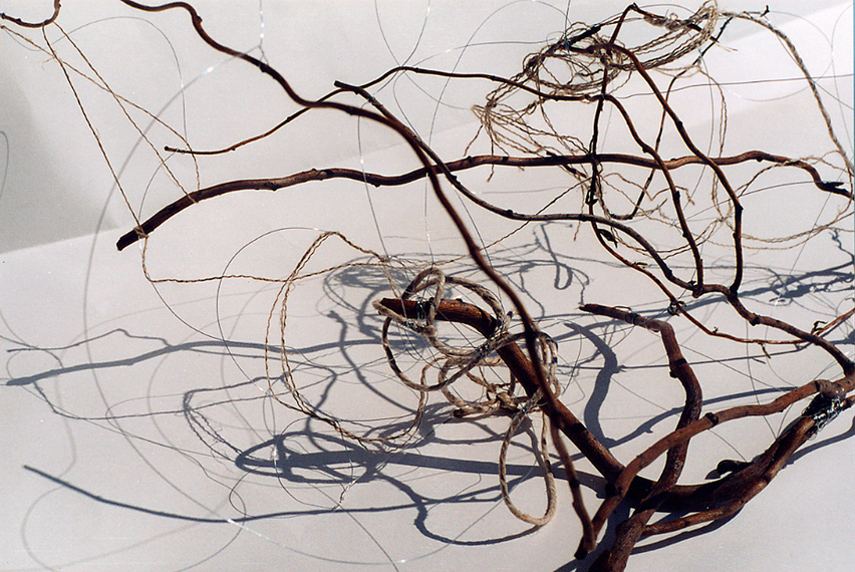 The Intra Vision
Ricci puts great emphasis on seeing-in, on the intro vision. Imagining depth had become her mental pathway and had marked most of her artistic and personal life. Suddenly, the Universe discourse takes another turn, as we ask ourselves – is the inner space that of which Paola's art talks about. Are the interweaving lines those disturbing connections of neurons we find within ourselves, those that even when just given a glance, face us with a life of fragility. So, what is the space Paola's work creates? It is both spaces for action, as she says, and mental space, the ability to absorb oneself in total existentialism.
Paola puts great emphasis on seeing-in, on the intra vision.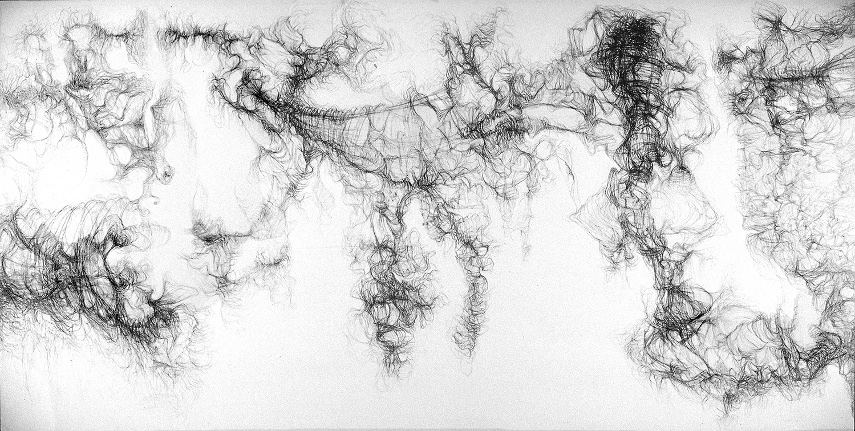 Movements of the Air
Working in forms of sculpture, installation, and drawings, Paola conveys a sense of the meaning of the Universe, as her artworks hold the space and are space themselves, just as the Universe in never-ending, and holding the space it has created. Her fascination with the Greek philosophy shows in her art as she draws and builds air, similar to the pre-Socrates concept of humans' soul to be as ethereal as the air. In her art, Paola reinvents this Greek-like triad of air, void, and infinite. It is as if her art was a puzzle, where the artist is merely trying to work out which piece goes where, giving everybody else a chance to solve the mystery. In Paola's understanding, art is still occupying the edges of space, and by leaning towards the eccentric, it supplies clues to what is hidden. Paola has done exhibitions in SACI Florence, CCA Andrax Museum in Maiorca, the aforementioned Vermont Studio Center,and the permanent work in Ireland Tralee ITT.
Paola Ricci lives and works in Venice, Italy.
Featured image: Paola Ricci – Portrait – photo courtesy of the artist
All images are courtesy of the artist