Working in various mediums, Peter Gronquist sincerely enjoys creating his art pieces and it is a feeling present in any of them. Whether it's a painting, abstract three-dimensional artwork or sculpture, this American artist was always trying to bring changes and represent something new. His hybrid sculptures made of stuffed animals reflect our revolution of desire through consumerism, with the helping of humor. One of Gronquist's particularity is just taxidermy. Always loving this technique, he started to use it for the first time in 2005, when he realized that he could do a better job with the old stuffed antelope that was hanging in his studio.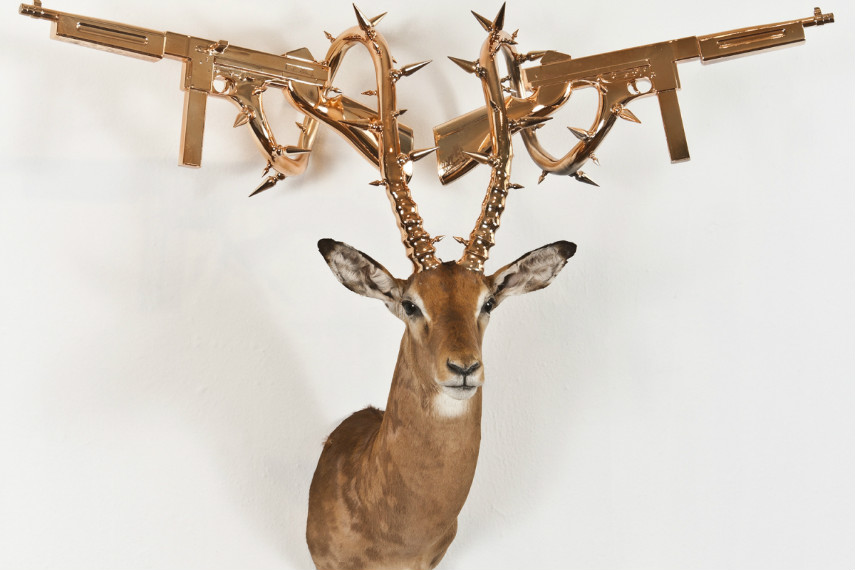 Louis Vuitton, Guns & Gold
In the same year, Gronquist was using iconic brands in his work, with special sympathy for Louis Vuitton. So, the antelope with iconic LV antlers was his first sculpture of that kind. Questioning the American culture that puts money and violence on a very high level of social scale and consumerism that manages our lives, he juxtaposes the beauty of nature with man's material wealth. Stuffed animals have their antlers decorated with replica weaponry or brand logos, which are usually painted in gold. The magnificence of this animals is as opposed to cold, shiny metal. With the guns in their antlers, this hunted prays indicate different future for themselves where they have evolved to return fire.
Paintings indicate the third dimension behind the surface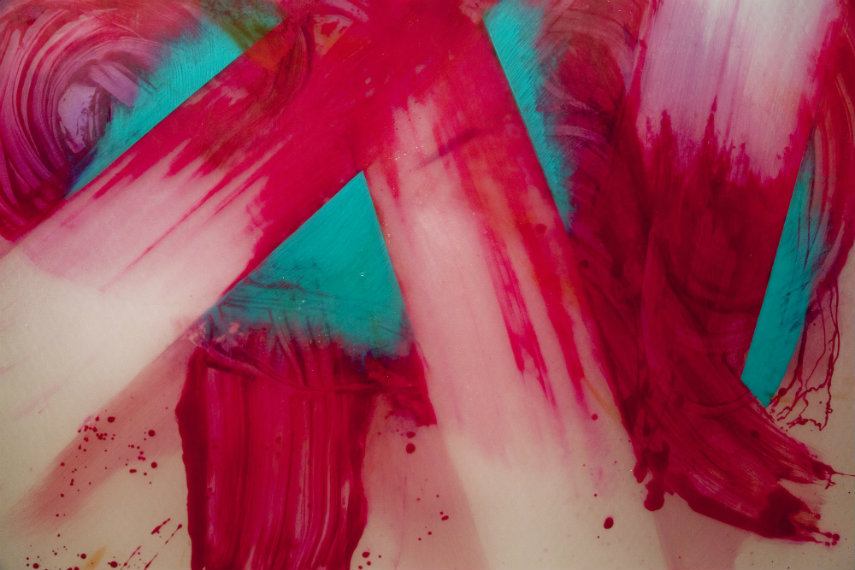 Painting as a Favorite Way of Expression
Always considering himself primary as a painter, Gronquist used to hate color field and expressive abstract painting, but during the time, it became his favorite way of expression. He finds his paintings very emotional and more personal than any other works. With gestural brushstrokes, he creates the conceptual background that goes beyond form and meaning. Playing with the perception his paintings indicate the third dimension behind the surface. That effect is also seen in his infinity boxes that are pronounced with the LED lighting, which is created from his urge to experiment with mediums. He felt the need to move from earlier representational works and their high production value. This American born artist attended the School of Visual Art in New York and 2001. received a BA in painting from San Francisco Art Institute. His work is collected internationally and it has exhibited at the Pittsfield Museum of Art, Scope New York and Miami.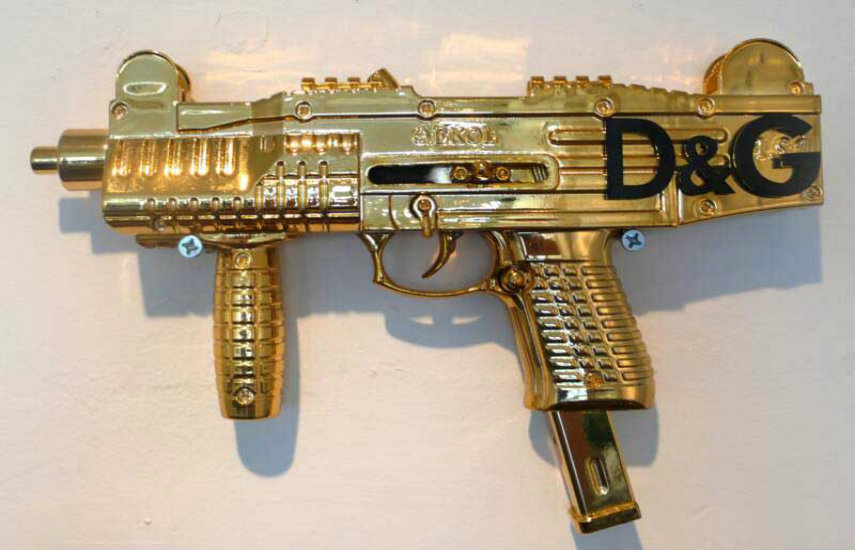 Parody of Hyper-American Culture
Directly related to his passion for art and his subjective experience of reality, Peter Gronquist work is constantly changing. His primary aim is to turn into perceivable object something imagined in his head. By manipulating matter itself, he creates alternate realities. Dealing with the glorification of violence and wealth in American culture, Gronquist work abounds with heightened motifs of guns, expensive brand logos and golden paint. Sometimes it is a consumerist satire, but he finds that his art pieces are often a parody of himself.
Peter Gronquist is represented by Stephanie Chefas Project.
Peter Gronquist lives and works in Portland, USA.
Featured image: Peter Gronquist portrait, photo via artist's Facebook page