Peter Regli is a Swiss multi-medium urban artist best known for his Reality Hacking project, that's been ongoing for over 20 years and has expanded to several continents.
Born in 1959 in Andermatt, Regli studied at the Zurich University of the Arts.
Reality Hacking
Starting 1995, Peter Regli has invented his own kind of art of anonymous intervention in the landscape and other public spaces which he entitled Reality Hacking. The main goal of the project is to challenge the pre-established perception of particular systems by performing a series of bright and uncommon interventions. Working in a various mediums including sculptures, photographs and spatial installations, Regli's artworks are characterised by a keen observational talent and striking wit. Exploring the poetics of predictability and the obviousness of everyday objects, Peter finds inspiration in external space, so his interventions can take many forms spanning from subtle alterations to the surrealistic confrontation.
Some of his works feature objects set up in removed places including deserts or lakes where they may be seen only by rare passersby. Others are located in the crowded urban areas, but all of the Regli's pieces briefly award a sacred status to selected, unusual sites.
Reality Hacking project consists more than 320 installations to date, located all over Europe, Asia, North America and Africa, and recorded on Peter Regli's site. Some of them include RH No. 200 (2002), an artificial island in the shape of donuts, built at the delta of a river in Switzerland using rocks and earth from the construction materials of a tunnel located nearby, RH No. 202 (2002–2003), a composition performed by the Ensemble for New Music Zurich based on a recorded soundscape the artist made of a glass shelf filled with crystal objects crashing down a flight of stairs, and played for the first time live for an audience at the Centre d'Art Contemporain in Geneva on July 2011. RH No. 222 (2005) is installation made of a tree and 5 Buddhas carved in white marble in the courtyard of the PricewaterhouseCoopers office building in Zurich with each figure connected to a hidden loudspeaker set on a timer producing laughter for two minutes.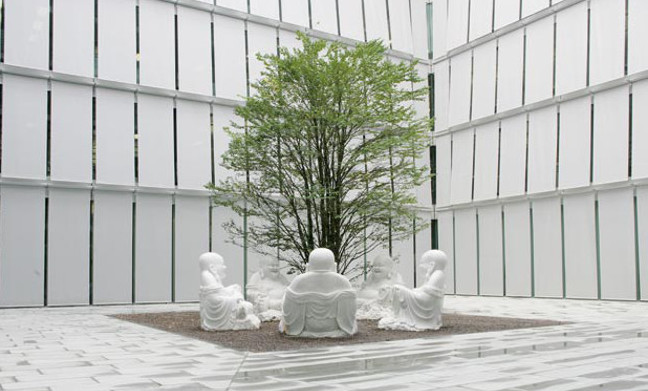 Snow Monsters
One of Peter Regli's latest works is RH No. 320, also known as Snow Monsters, a constellation of twelve human-size marble sculptures shaped like snowmen in various stages of melting that occupied the plaza outside of the Flatiron Building, located at 175 Fifth Avenue the heart of Manhattan, in March 2015.
All of the sculptures were made in Da Nang, a coastal city in central Vietnam, where its fabricators, the Hánh family, took a break from crafting traditional statues for Buddhist temples to sculpt these stunning creatures.
The extension of the Reality Hacking series, Snow Monsters was the artist's first large-scale sculptural installation in New York City.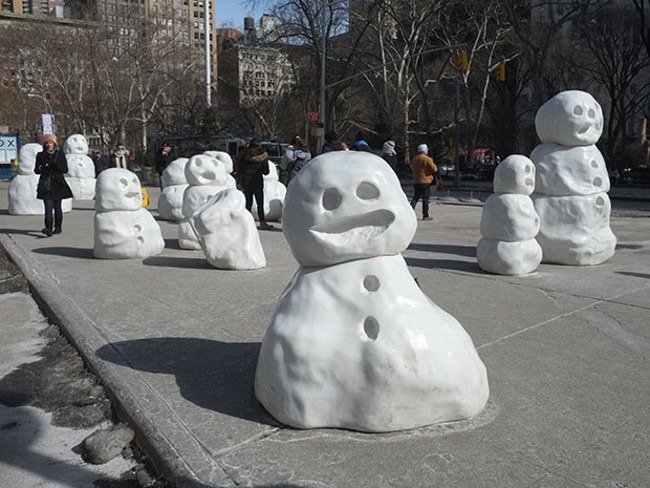 One Sun – One Moon – Peter Regli at Dominique Lévy
Reality Hacking No. 240 is a collection of Peter Rengli's skillfully crafted, marble sculptures placed in pairs or groups which is ongoing since 2007 and currently is on view at the One Sun – One Moon exhibition at Dominique Lévy gallery in New York.
It contain Peter Regli's trademark Buddha figures and snowmen, as well as a series of photographs taken by the artist during his project. The images serve both as records of completed projects but also as the only permanent documentation of his temporary alterations to the everyday landscape.
Accompanied by a 272-page catalogue published by the gallery and designed by An Art Service, the show One Sun – One Moon will be on view at Dominique Lévy Gallery until August 15, 2015.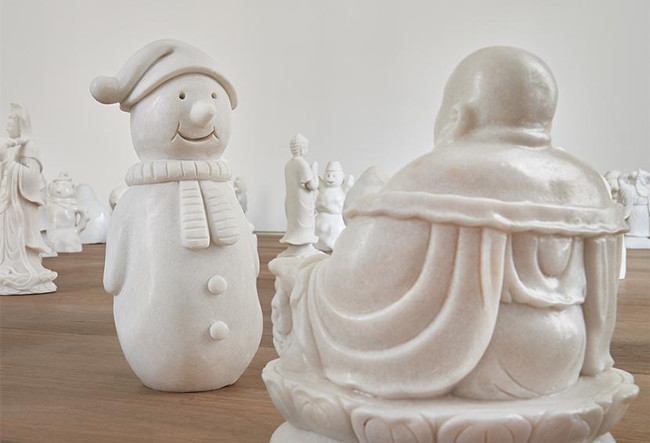 Peter Regli has participated in numerous solo and group exhibitions worldwide, including Museum Bellpark, Kriens, Katz Contemporary, Zurich, CAN, Neuchâtel, Helmhaus Zurich, Blank Projects, Cape Town, Centre d'art Contemporain, Geneva, Museo de Arte Contemporáneo, Santiago de Chile, Centre Culturel Suisse, Paris, and Museum of Modern Art, New York, amongst others.
Reality Hacking 256-001
Peter Regli published his first book Reality Hacking Nr. 222: PricewaterhouseCoopers AG, Birchstrasse 160, 8050 Zürich in 2006. One year later he published his second book Reality Hacking 256-001. It features all interventions the artist made during the eleven years, since 1996 to 2007, around the world.
Regli's work is included in many notable international public and private collections, including the Kunsthaus Zurich, the Fotomuseum Winterthur, Federal Office of Culture, Bern, and the Migros Museum fur Gegenwartskunst, Zurich.
Peter Regli lives between Switzerland and the USA.