Sometimes success and recognition aren't enough. When your work seems predictable, easy or obvious, it's time to move forward. Peter Soriano was already famous for his sculptures when he started to feel this way. The artworks were defined as childlike and with a pop sensibility, and they took an almost absurd amount of time to be finished. The artist just didn't find himself in the world of sculpture anymore. The change was a necessity, and it was a radical change indeed. He now works in wall drawings, which he specialize for the exhibitions, and also in drawing on paper, which is much more intimate.
Soriano creates indoor murals and drawings on paper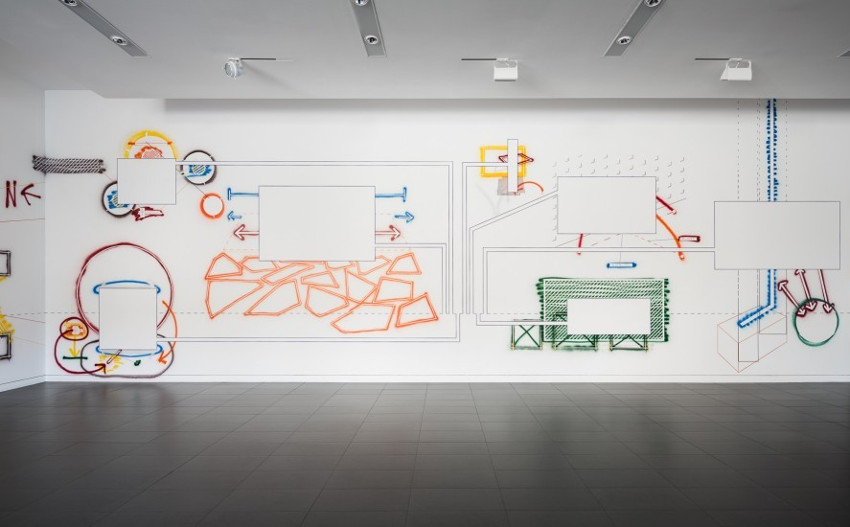 From Sculpture to Drawing on Walls
By the mid 90's, Soriano was famous for his biomorphic and deceptively playful, fiberglass made sculptures. After the residency at the Atelier Calder in France, in 2004, the artist started making wall-based sculptures by combining spray paint with pipes and steel cables. These structural elements were later abandoned, and the artist found his field of work – wall drawings, or murals. The only thing he carried from his past are the abstract elements, but when closer looked, his new creations, consisted of lines, boxes, notations and spray-painted arrows are the artist's response to his surroundings.
He enjoys working in spaces imposed on him, and that makes his exhibiting pieces even better and the constant process of adapting gives them a personal note. In addition to the wall drawings, Soriano also creates on paper, and this line of work is inspired by the same subject matters. He uses watercolor, spray paint, colored inks and pencils to draw on the sheets of Japanese paper, which are then folded over and over again, until the drawings become almost structural. The process includes reworking, and the finished pieces are the result of the constant heightening and repositioning the relationship between forms.
The drawings are almost structural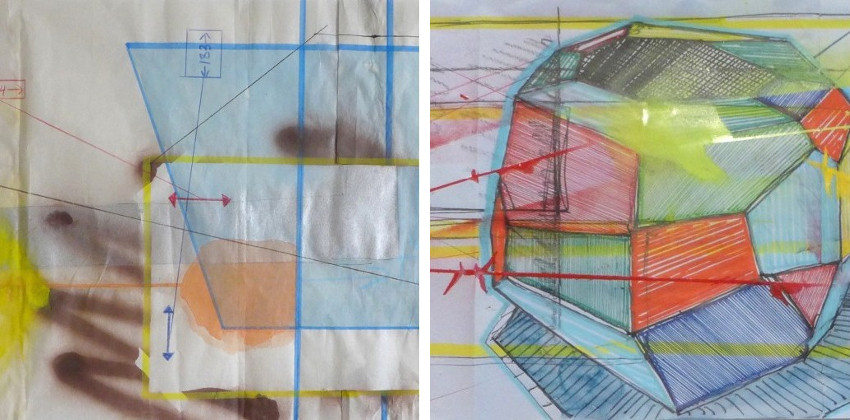 Lessons on Drawing Came from Fernando Zobel
Peter was born in the Philippines and has French-American origins. He was artistically educated from an early age by his uncle, Fernando Zobel, who was famous in the field of abstraction. It was Zobel who insisted that the drawing is the basis of artistic development. Soriano spent hours in museums where he drew human figures and landscapes. It was these teachings of his uncle that led to where he is now. He considers drawing as a vehicle he uses to locate himself in various physical, metaphorical and psychological spaces. The paper is used to show how these places intersect, but also so the artist could clarify and understand them.
The artist earned a Bachelor of Arts from Harvard College in Cambridge, Massachusetts, in 1981 and later that year, completed a residency at the Skowhegan School of Painting and Sculpture in Maine.
Drawing is a vehicle the artist uses to locate himself in various places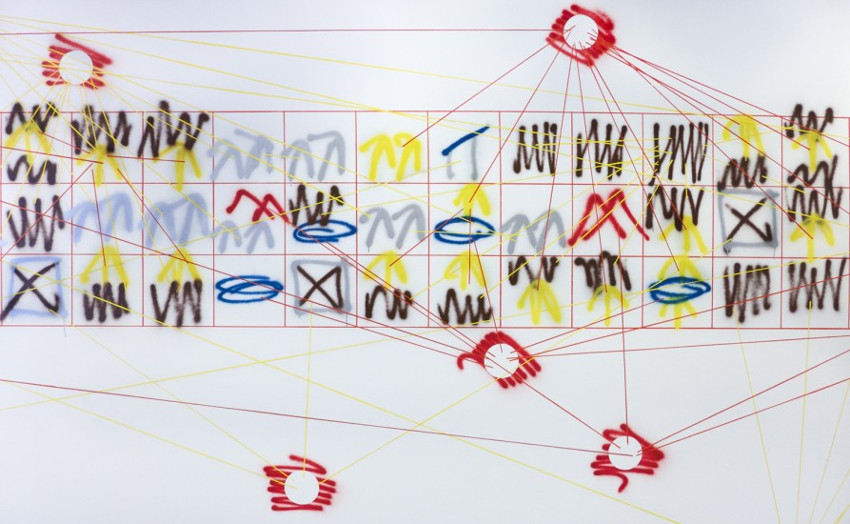 Putting the Past into the Garbage
Making a fresh start isn't easy. Before leaving for the Calder residency, Soriano gave up the lease on his studio in Williamsburg in which he worked for more than a decade. Much of his unfinished work ended up in the garbage, and the sight of all that work being trashed only made him more determined to use that change in his physical place to change his work to, by force, if necessary. That decision, in combination with the early lessons on drawing led to his new approach to art, and finding a place where he once again enjoys creating.
He is represented by the IdeelArt gallery in London, UK.
Peter Soriano lives and works in New York.
Featured image courtesy of IdeelArt.
All images copyright © Peter Soriano.
| Year | Exhibition Title | Gallery/Museum | Solo/Group |
| --- | --- | --- | --- |
| 2015 | Permanent Maintenance | Colby College Museum of Art, Waterville, ME | Solo |
| 2015 | Drawing Now Paris: Le Salon Du Dessin Contemporain | Galerie Jean Fournier, Paris, France | Solo |
| 2014 | La chaleur de l'usure | De Markten, Brussels, Belgium | Group |
| 2014 | Busan Biennalle | Busan Museum of Art, Busan, South Korea | Group |
| 2014 | Inhabiting Ten Eyck | Storefront Ten Eyck, Brooklyn, NY | Group |
| 2014 | Real Estate | Ventana 244, Brooklyn, NY | Group |
| 2013 | Panorama | Galerie Jean Fournier, Paris, France | Solo |
| 2013 | Bagaduce ->()<- East 19thStreet. | Center for Maine Contemporary Art, Rockport, ME | Solo |
| 2013 | New Work | Lennon Weinberg, Inc., New York, NY | Solo |
| 2013 | L'artiste collectionneur | Dix 291, Paris, France | Group |
| 2012 | Other Side and what follows | Domaine de Kerguehennec, Bignan, France | Solo |
| 2012 | Autre Pareil 2, le retour | Galerie Une Poussiere Dans L'Oeil, Villeneuve d'Ascq, France | Group |
| 2012 | Break / Step | Radiator Arts, Long Island City, NY | Group |
| 2012 | La Fureur de L'eturnuement | Galerie Marcel Duchamp, Yvetot, France | Group |
| 2012 | Les pélagiques #2: La mesure des choses | Musee des Beaux Arts, Dunkerque, France | Group |
| 2011 | Other Side -> (NUM)BERS <- + Dessins | Galerie Jean Fournier, Paris, France | Solo |
| 2011 | Autre pareil | Musee des Beaux Arts, Dunkerque, France | Group |
| 2011 | Provisional Painting | Modern Art Gallery, London, UK | Group |
| 2010 | Dimensions Variable | Frederico Seve Gallery, New York, NY | Solo |
| 2010 | Points Touching/Spaces Defined | Galerie Bernard Jordan, Zurich, Switzerland | Solo |
| 2010 | It's the uncertainty | THEODORE:Art, Brooklyn, NY | Group |
| 2010 | Ebullitions | Artais, CEPF BNP Paribas, Paris, France | Group |
| 2010 | Geometric Illusion | Frederico Seve Gallery, New York, NY | Group |
| 2010 | Ends and Means | Lennon Weinberg, Inc., New York, NY | Group |
| 2010 | L'Arabesque | Bleu Acier, Inc., Tampa Florida | Group |
| 2009 | The Line is a Sign | Frederico Seve Gallery/latincollector, New York, NY | Group |
| 2009 | Emmenagement | Galerie Jean Fournier, Paris, France | Group |
| 2008 | Other Side..(...IDOL, AJAC, IONA, EMEU...).. | Galerie Jean Fournier, Paris, France | Solo |
| 2008 | Oeuvres abstraites extraites des collections | Artotheque du Limousin, Limoges, France | Group |
| 2008 | Flow Chart | Lennon Weinberg, Inc., New York, NY | Group |
| 2007 | New Sculpture & Drawing | Lennon Weinberg, Inc., New York, NY | Solo |
| 2007 | Running Fix | Fonds Regional d'Art Contemporain (Frac) Auvergne, Clermont-Ferrand, France | Solo |
| 2007 | L'art dans les chapelles | Chapelle Saint-Fiacre, Melrand, France | Group |
| 2007 | La couleur toujours recommencee: Hommage a Jean Fournier | Musee Fabre, Montpellier, France | Group |
| 2007 | Taking Shape | Lennon Weinberg, Inc., New York | Group |
| 2006 | Oeuvres recentes realisees a l'atelier Calder | Galerie Jean Fournier, Paris, France | Solo |
| 2006 | La Force de l'Art | Grand-Palais, Paris, France | Group |
| 2006 | Jean Fournier: Un choix d'oeuvres sur papier | Le Ring, Artotheque de Nantes, Nantes, France | Group |
| 2006 | Synthetic Aesthetic | Roger Smith Lab Gallery, New York, NY | Group |
| 2006 | Artists Curating Artists: Plastic Fantastic | The Shore Instutute of the Contemporary Arts (SICA), Long Branch, NJ | Group |
| 2005 | Kittyfat/Sache Workday Drawings | Ecole Regionale des Beaux-Arts, Caen, France | Solo |
| 2005 | Non compatibles, une peinture sans qualites | Villa Tamaris Centre d'art, Toulon | Group |
| 2005 | Gallery Artists | Lennon Weinberg, Inc., New York, NY | Group |
| 2005 | Works on Paper 2005 | Schmidt Contemporary Art, Saint Louis, MO | Group |
| 2005 | Maine Connections: The Obscure and the Celebrated Artists of Maine, 1920-2005 | Blue Hill Public Library, Blue Hill, ME | Group |
| 2004 | Oeuvres recentes | Atelier Calder, Sache, France | Solo |
| 2004 | Pose sur le papier, dessine sur le mur, carnet et une sculpture | galerie Bernard Jordan, Paris, France | Group |
| 2004 | Toys in the Attic | Lennon Weinberg, Inc., New York | Group |
| 2004 | Le Syndrome de Babylone | Villa du Parc, Annemasse, France | Group |
| 2004 | Il y a autant de raisons que de facons de dessiner | Nouveau Theatre, Angers, France | Group |
| 2003 | New Sculpture & Drawing | Lennon Weinberg, Inc., New York, NY | Solo |
| 2003 | Corporal Identity–Body Language, 9th Triennial for Form and Content | Museum of Art and Design, New York, NY | Group |
| 2003 | Corporal Identity–Body Language, 9th Triennial for Form and Content | Museum fur Angewandte Kunst, Frankfurt, Germany | Group |
| 2003 | Corporal Identity–Body Language, 9th Triennial for Form and Content | Klingspor Museum, Offenbach, Germany | Group |
| 2003 | Quatuor Plastique | Ecole des Beaux-Arts, Valence, France | Group |
| 2002 | Sculpteur | Ecole national superieure d'art (ENAD), Limoges, France | Solo |
| 2002 | Peter Soriano | Espace d'art contemporain Camille Lambert, Juvisy-sur-Orge, France | Solo |
| 2002 | Juste pour voir—dessin(s) | Ecole national superieure d'art (ENAD), Limoges, France | Solo |
| 2002 | Archipelago | Museum of Contemporary Art, Denver, CO | Group |
| 2002 | Points, Lignes, Plans | Galerie Les Filles du Calvaire, Brussels, Belgium | Group |
| 2002 | Made in Brooklyn | Wythe Studio, Brooklyn | Group |
| 2002 | Drawn from a Collection | Colby College Museum of Art, Waterville, ME | Group |
| 2002 | New Year New York New Work | Lennon Weinberg, Inc., New York, NY | Group |
| 2001 | Peter Soriano | Galerie Bernard Jordan, Paris, France | Solo |
| 2001 | Avatars du papier | Galerie Jean Fournier, Paris, France | Group |
| 2001 | FIAC 2001 | Galerie Bernard Jordan et Eric Seydoux editions, Paris, France | Group |
| 2001 | Mir2 | Smack Mellon, Brooklyn, NY | Group |
| 2001 | Figstract Explosionism | Bridgewater/Lustberg & Blumenfeld Gallery, New York, NY | Group |
| 2000 | Philippe Richard-Peter Soriano: peintures, sculptures 1990-2000 | Musee des Beaux-Arts, Tourcoing, France | Solo |
| 2000 | Snapshot : An Exhibition of 1,000 Artists | The Contemporary Museum, Baltmore, MD | Group |
| 2000 | New Acquisitions : A Decade of Collecting | Fogg Art Museum, Harvard University, Cambridge, MA | Group |
| 2000 | Simple Statements | Fine Arts Center Gallery, University of Rhode Island, Kingston, RI | Group |
| 2000 | Almost Something: Deceptive Abstraction | Catherine Moore Fine Art, New York, NY | Group |
| 2000 | Made On Mars | Glassbox, Paris, France | Group |
| 2000 | Luscious | Elizabeth Harris, New York, NY | Group |
| 1999 | New Sculpture | Lennon Weinberg, Inc., New York, NY | Solo |
| 1999 | Peter Soriano | Interface 4, Marseille, France | Solo |
| 1999 | Peter Soriano | Le 19 Centre regional d'art contemporain (CRAC), Montbeliard, France | Solo |
| 1999 | Peter Soriano | Villa Steinbach, Musee des Beaux Arts, Mulhouse | Solo |
| 1999 | Peter Soriano | Ancien college des Jesuites, Reims, France | Solo |
| 1999 | Skulpturen | Renate Schroder Galerie, Koln, Germany | Solo |
| 1999 | Carte Blanche a Jean Fournier | Galerie du Jour Agnes B, Paris, France | Group |
| 1999 | Ecole regionale des Beaux-Arts | Rouen, France | Group |
| 1999 | Luscious | Elizabeth Harris Gallery, New York, NY | Group |
| 1999 | Art Berlin | Galerie Rothamel, Berlin, Germany | Group |
| 1999 | Photographs by Painters, Photographers, Sculptors | Lennon Weinberg, Inc., New York, NY | Group |
| 1998 | Peter Soriano | MK Expositieruimte, Rotterdam, Netherlands | Solo |
| 1998 | Peter Soriano | La Maison d'Art Contemporain (MACC), Chailloux de Fresnes, France | Solo |
| 1998 | Peter Soriano | Galerie Bernard Jordan, Paris, France | Solo |
| 1998 | 22/21 Vision | Emily Lowe Gallery, Hofstra University Museum, Hempstead, NY | Group |
| 1998 | L'abstractions et ses territoires | Le 19 CRAC: Centre regional d'art contemporain, Montbeliard, France | Group |
| 1998 | Southern Exposure | Ambrosino Gallery, Miami, FL | Group |
| 1998 | Nine International Artsists at Wanas 1998 | Wanas Foundation, Knislinge, Sweden | Group |
| 1998 | Rencontres 11 | La Vigie Art Contemporain, Nimes, France | Group |
| 1998 | Pop Abstraction | Museum of American Art, Pennsylvania Academy of the Fine Arts, Philadelphia, PA | Group |
| 1998 | Anne et les garcons | Galerie Athanor, Marseille, France | Group |
| 1998 | Utz | Lennon Weinberg, Inc., New York, NY | Group |
| 1998 | Art Cologne 98 | Renate Schroder Galerie, Koln, Germany | Group |
| 1997 | Peter Soriano | Schmidt Contemporary Art, Saint Louis, MO | Solo |
| 1997 | Sculpture | James Graham & Sons, New York, NY | Group |
| 1997 | Just what do you think you are doing Dave? | Willamsburg Art and Historical Center, Brooklyn, NY | Group |
| 1997 | Couleurs couleurs | Galerie Bernard Jordan, Paris, France | Group |
| 1997 | La Collection | Fondation Cartier pour l'art contemporain, Paris, France | Group |
| 1997 | The 33rd Annual Exhibition of Art on Paper | Weatherspoon Art Museum, University of North Carolina, Greensboro, NC | Group |
| 1997 | The Enduring Presence: New York Abstraction | Roland Gibson Gallery, Art Museum at SUNY Potsdam, NY | Group |
| 1997 | Buttered Side Up | Koffler Gallery, Toronto, Canada | Group |
| 1996 | New Sculpture 1995-1996 | Lennon Weinberg, Inc., New York, NY | Solo |
| 1996 | Sculptures, ouevres sur papier | Galerie Jean Fournier, Paris | Solo |
| 1996 | Un oeil americain | Galerie Le Carre, Lille, France | Group |
| 1996 | The Enduring Presence: New York Abstraction | Ewing Gallery of Art & Architecture, University of Tennessee, Knoxville, TN | Group |
| 1996 | The Enduring Presence: New York Abstraction | Biggen Gallery, Auburn University, Auburn, AL | Group |
| 1996 | Thing | Deven Golden Fine Art, New York | Group |
| 1996 | Buttered Side Up | Hallwalls Contemporary Arts Center, Buffalo, NY | Group |
| 1996 | Hothouse | The Work Space, New York, NY | Group |
| 1996 | Skowhegan at Fifty: The Maine Legacy | Maine College of Art, Portland, ME | Group |
| 1996 | Skowhegan at Fifty: The Maine Legacy | Maine Coast Artists (now CMCA), Rockport, ME | Group |
| 1996 | Salon des Tree | New York, NY | Group |
| 1995 | Gallery Artists | Lennon Weinberg Gallery, New York | Group |
| 1995 | Chess & Checkers | Exit Art/The First World, New York, NY | Group |
| 1995 | Maux Faux | Ronald Feldman Fine Arts, Inc., New York, NY | Group |
| 1994 | Sculpture | Lennon Weinberg Gallery, New York, NY | Solo |
| 1994 | …It's How You Play the Game | Exit Art, New York, NY | Group |
| 1993 | Faux | Ronald Feldman Fine Arts, Inc., New York, NY | Group |
| 1993 | A6° | Galerie Le Carre, Lille | Group |
| 1993 | Dix aventures a vivre | Galerie Jean Fournier, Paris, France | Group |
| 1993 | Fantastic Wanderings | Cummings Art Center, Connecticut College, New London, CT | Group |
| 1993 | Works on Paper | Lennon Weinberg, Inc., New York, NY | Group |
| 1993 | Outside Possibilities '93 | The Rushmore festival, Woodbury, NY | Group |
| 1993 | Sculpture | Lennon Weinberg, Inc., New York, NY | Group |
| 1992 | Recent acquisitions | Fogg Art Museum, Harvard University, Cambridge, MA | Group |
| 1991 | Burning in Hell | Franklin Furnace, New York, NY | Group |
| 1991 | Three Artists | Elaine Benson Gallery, Bridgehampton, NY | Group |
| 1986 | Bodies and Dreams | White Columns, New York, NY | Group |