Phil Borges is an American documentary filmmaker and photographer, whose work is aimed towards social justice and preservation of different cultural heritages. His images vary from portraits of exiled Tibetan monks to many of the world's embattled tribal and indigenous cultures. Through interviews and portraiture, Borges examines his subjects' valuable beliefs and stories and documents their tribulations with dignity, and with each image, he is striving to capture portraits of individuals, not just as representatives of that ethnic group. Born in 1942, Phil Borges abandoned his orthodontic practice in 1987 to pursue his first love, photography.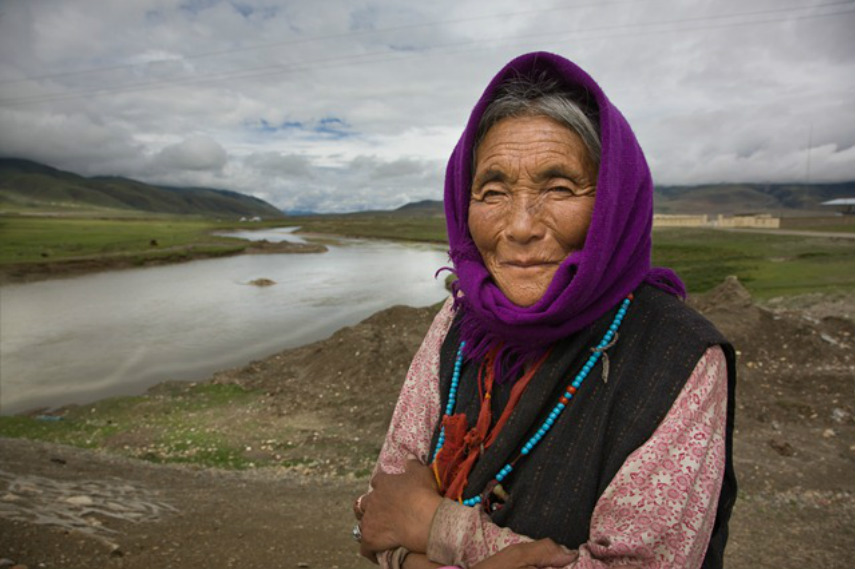 Tibet – Cultures on the Edge
The invasion by the Chinese Communists in 1949 led to massive destruction and repression, and to the occupation of Tibet, which continues to this day. Beginning in 1994 Phil traveled to Tibet as well as northern India and Nepal to interview and photograph Tibetans and Tibetan refugees in an effort to understand what had happened to them, to their country and their culture. From this travels, the Tibetan Portrait exhibit and book were created. This series was created with a goal to bring attention to the repeating pattern of cultural genocide against indigenous people, often seen in the society. Phil Borges, with his gracious and elegant touch with the people he photographs – everyone from the nomads of the remote Himalayas to the Dalai Lama himself – brings attention to the oppression of this deeply spiritual culture, and to the aggressive occupation of their homeland by a more powerful nation state.
A series reminding us of a pattern of cultural genocide often overlooked in the society and media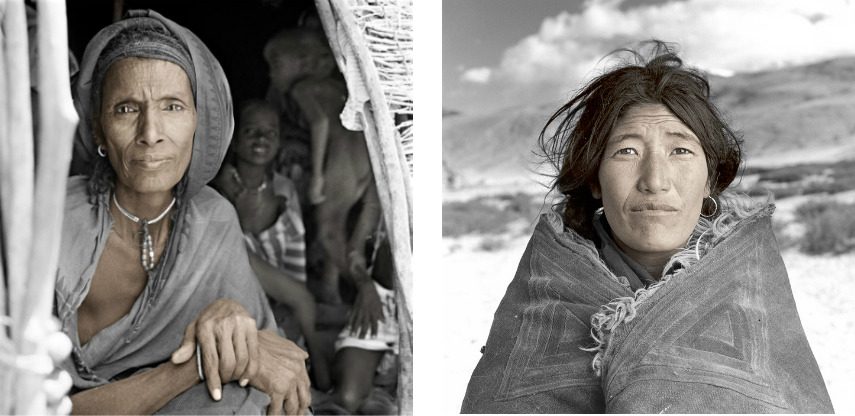 Celebrating the Universal Declaration of Human Rights – the Enduring Spirit Series
In 1998, Phil Borges was contracted by Amnesty International to photograph members of endangered cultures and tribal people from Indonesia, Irian Jaya, Kenya, Ethiopia, Thailand, Peru, Mexico, Tibet and North America, individuals around the world who are struggling to survive in countries where basic human rights are not necessarily guaranteed. Two things originated from this conjunction – the Enduring Spirit exhibit and book. The root of this collaboration was Amnesty International's celebration of the 50th anniversary of the Universal Declaration of Human Rights, a revolutionary document governing human rights that cut across all geographic, political and religious lines, adopted by all the nations. The purpose behind the work was multiple – apart from book and exhibition, it also gained money for Amnesty International.
Bringing out importance of people whose culture is still not disturbed by industrial exploitation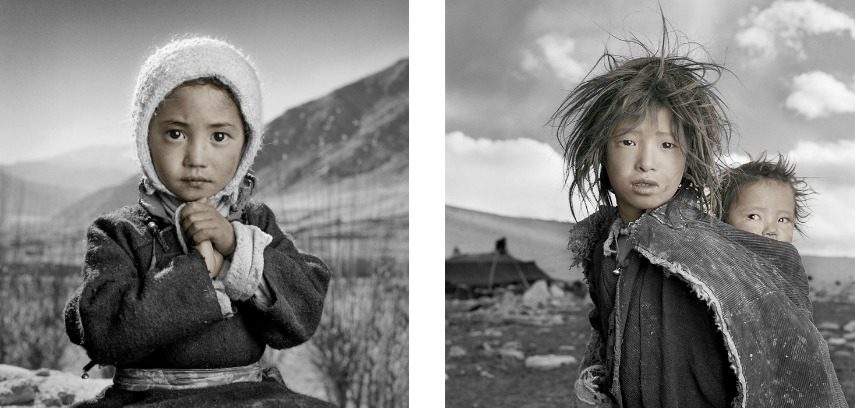 The Process and Approach in Borges' Photography
Borges tends to work very closely with his subjects, using a small lens aperture to ensure that every detail of the subject is sharp, where the background is seamless, thrown out of focus and farther away, becoming a secondary object. Inspired by Irving Penn's classic portraits of native people, in his images Borges uses the sharp/unsharp effect and strong studio lighting, to make the portrayed person the center of viewer's attention. His famous square portraits are made with a Hasselblad 6x6cm single-lens reflex and a 50mm or 80mm lens, and panoramas with a V-Pan 6×17-cm view camera and a 90mm, 120mm, or 210mm lens. In a process of printing, Borges selectively tones the prints with Sepia Toner, in order to emphasize the distinction between subject and background.
Working intimately and closely with his respected subjects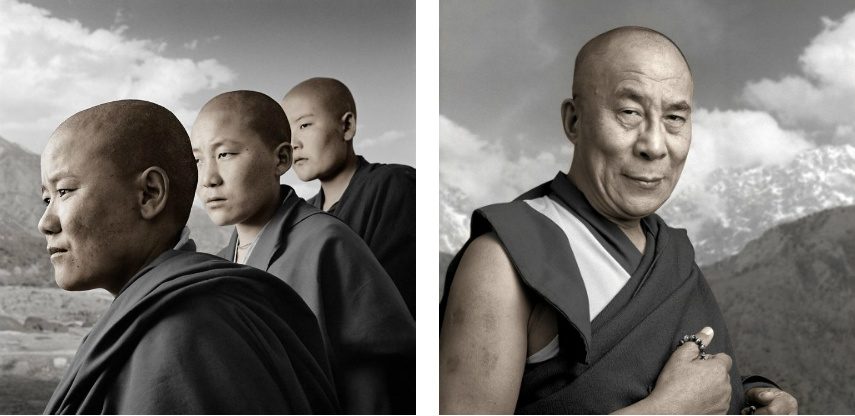 Borges' Project Bridges to Understanding
BRIDGES to Understanding is an extensive international project and website created by Phil Borges, which started in 2000. Project's purpose is exploring and preserving cultural diversity, by connecting children from indigenous and tribal cultures with their contemporaries in North America. The BRIDGES program started by connecting a middle school classroom on the Navajo Reservation with a middle school classroom in Seattle. Since that, the project added schools in Artic Village Alaska, Peru, Guatemala, Cambodia, India, Kenya, South Africa, Lithuania and Azerbaijan. These diverse children are communicating, comparing and learning about each other's cultures and lifestyles through digital storytelling. By teaching teenagers how to share stories through digital filmmaking, Borges hopes they'll develop the mental flexibility and sensitivity to understand and appreciate belief systems outside their own.
Working on empowering women and children in tribes and cultures all over the world

Borges' Photography Awards and Recognitions
Phil Borges' work is exhibited in museums and galleries worldwide. His award winning books include Tibetan Portrait, Enduring Spirit, Women Empowered (Inspiring Change in the Emerging World) and Tibet: Culture on the Edge. Phil Borges graduated from University of California as a Regents Scholar in 1969 and was honored with their prestigious University of California Medal in 2004. In 2004 Phil was honored with a Lucie at the International Photography Awards for his humanitarian work. In 2007 he was named by American Photo magazine as one of "10 photographers that inspire us." Phil also lectures and teaches internationally, and he has hosted television documentaries on indigenous cultures, women, and children for various channels, including Discovery and National Geographic.
Phil Borges lives and works in Seattle.
Featured image: Phil Borges – Selfportrait
All images courtesy of the artist and his website