Philippe Herard is a versatile French artist, who became famous after creating a number of urban interventions in a Parisian neighborhood called Menilmontant.  His main goal is to upgrade and aestheticize the urban landscape of Paris – with his interesting characters, Philippe Herard writes stories and real urban poems. Tender and funny or sad and unpleasant, his installations are the mirror of our souls and the reflection of a changing society. In addition to creating his outdoors works, Herard is a painter whose pieces are exhibited in France and abroad.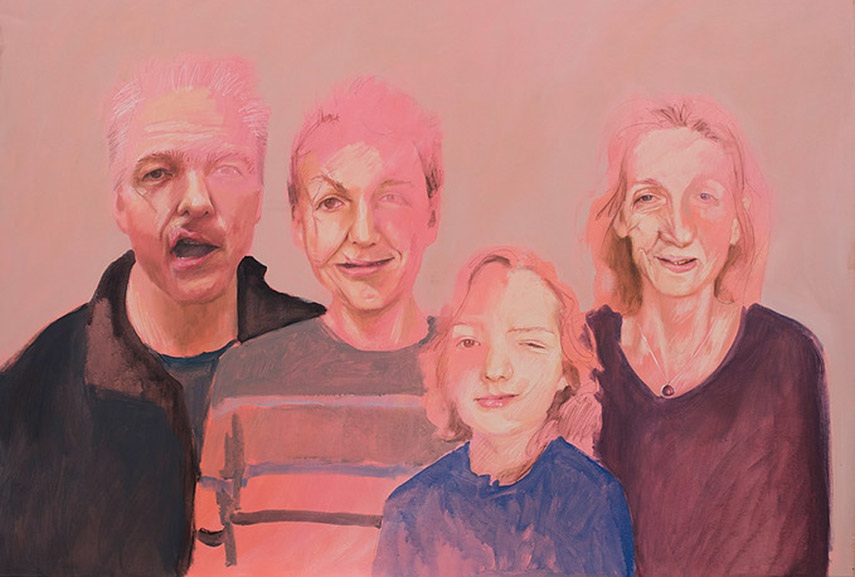 Power of Urban Interventions
Philippe Herard was born in Chalons-en-Champagne in the mid-60s and he became dedicated to visual arts already as a teenager. His earlier work was mainly acrylic on canvas but since 2009 Herard decided to make a radical change – he challenged himself and switched to creating street art. It took him some time to get used to city walls, which became his new, large-scale canvases. Nevertheless, his goal was clear – he wanted to start working on urban interventions in various Parisian neighborhoods. His current interventions are located in a triangle that goes from Oberkampf Menilmontant until Quai de Jemmapes including Belleville. Since Herard is an experienced painter, he wasn't afraid to take an experimental approach when it comes to his street art. He uses a lot of recycled materials, in addition to charcoal and paint. His most recent works are composed of paper overlays – newspapers glued together and painted so that the text and images of the articles create a strong texture and cast shadows.
Herard's urban interventions are located in a Parisian triangle that goes from Oberkampf Menilmontant until Quai de Jemmapes including Belleville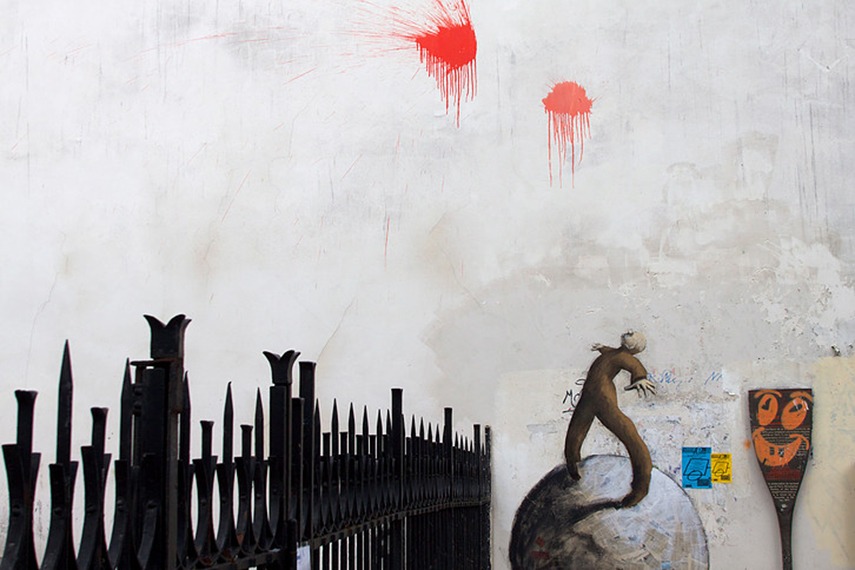 Empathy-Arousing Puppets
The characters that Herard paints are puppets, or perhaps clowns with expressionless faces, barely sketched.  They are placed in grotesque situations to arouse empathy,  since they symbolize the absurdity of the human condition. The artist uses the color palette already found in urban landscapes –  the apparent fragility of his subjects is emphasized by neutral colors such as beige and gray. The artist makes fun of his creatures by placing them in uncomfortable situations or by using black humor. His characters also reflect the profound solitude of the contemporary society – even when there are multiple puppets in Herard's pieces, they are identical, disturbing and depressive clones.
The characters Herard paints are puppets and clowns with expressionless faces, barely sketched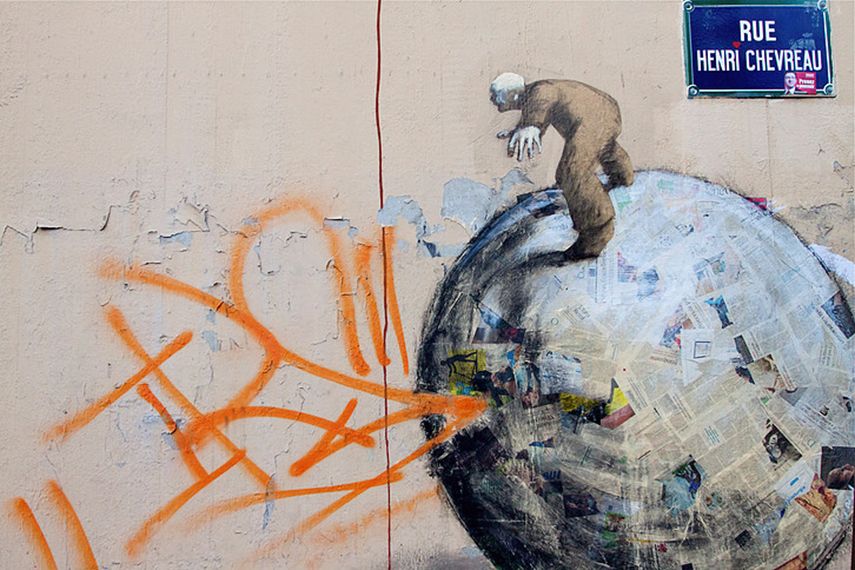 Modern Fears
The work of Herard is a unique and perhaps a  little bit disturbing story about the human condition. The artist finds his own way of expression to tell stories about the modern loneliness and fear, destruction and absurdity. He develops a peculiar vocabulary of isolation and fragmentation, through his creatures which hide their faces and struggle to keep their balance. To sum up, Herard's work is representing, poetically yet painfully, our darkest fears, uncertainties, and struggles related to the ever-changing world we live in.
The artist is represented by Joël Knafo Art.
Philippe Herard lives and works in Paris, France.
Featured image: Philippe Herard – Untitled, 2015 – image via clementcharleux.com
All other images courtesy of the artist.