The oeuvre of Pierre Riba represents distinct practice embedded in contemplation, mysticism, and profound simplicity. His works are reminiscent of the tradition of pagan idolatry, yet their almost archaic forms at the same time seem to look rather futuristic, so they can be perceived as some form of cryogenic or alien modules. Those peculiar shapes suggest much about Riba's craftsmanship and the way the artist is dedicated to shaping and polishing the form. In addition to that is his fascination with plastic possibilities of cardboard which is the main material of Riba's choice.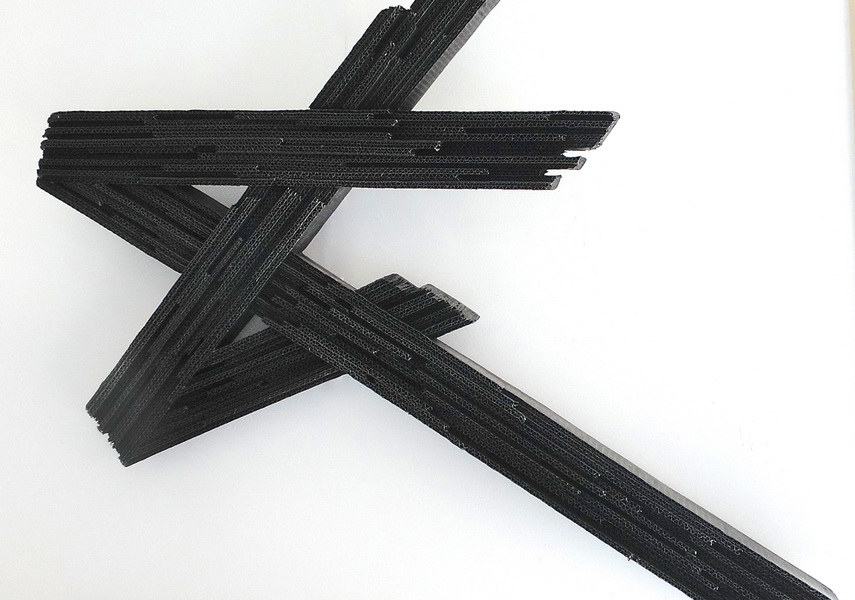 Carving The Artist Out of Himself
Pierre Riba was born in 1934, in Ardech, France. He studied at the Beaux-Arts in Lyon and Paris and initially worked as a painter in the 60s and 70s. Then became a draftsman, landscape designer, architect, illustrator, restorer of old stones, as many crafts that nourished the soul of the artist. The works of Pierre Riba can be found in numerous public and private collections in Switzerland, France, Germany, England, Belgium, Spain, Portugal, USA. For many years, the work has been constructed through daily work and over the years the artist became completely entangled with various materials, yet became interested in sculpture and soon devoted himself to a material that seduces him the most – fluted cardboard.
Archaic forms transformed in contemporary terms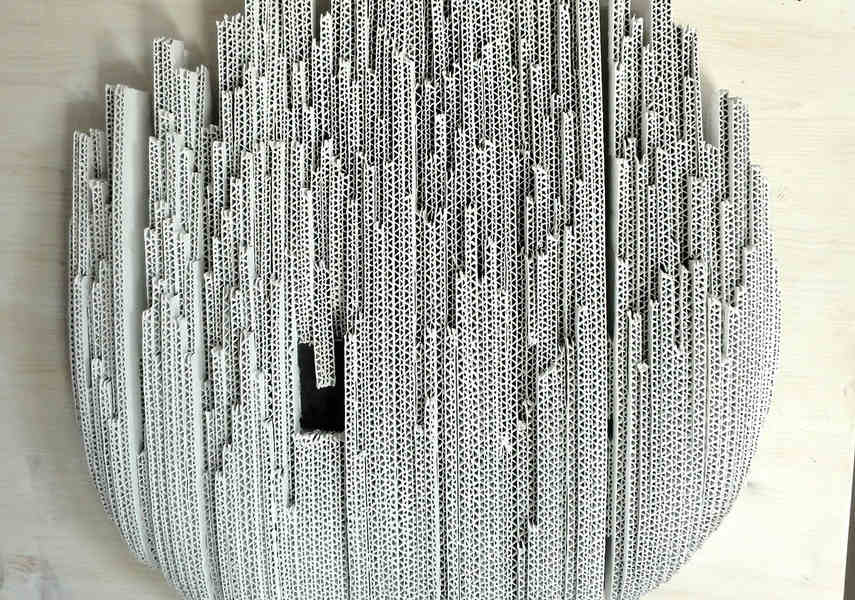 Constructing Authentic Vision
Pierre Riba is using rather simple tools in a sophisticated manner and slow elaboration he cuts, assembles, paints, coats, waxes, lustrates the material to transform it into a work of art. The work is then soaked in the resin that hardens the material and then it is covered with graphite. Besides working with cardboard, he is using wood and stone as well and creates streamlined and monochrome forms that are primarily echoing tribal and African art. Stones, traces, fossils, dolmens, caves, primitive rather than classical works of art are his inspirations. Riba's works can even be related to the black relief paintings of Frenk Stella or phenomenon of Minimal art in general. They are suffocated with dense and coagulated entanglements and therefore possess the certain organic characteristic, while on the other hand, the stiffness suggests a need to concentrate or contemplate.
Riba's monochromes employing primitive abstraction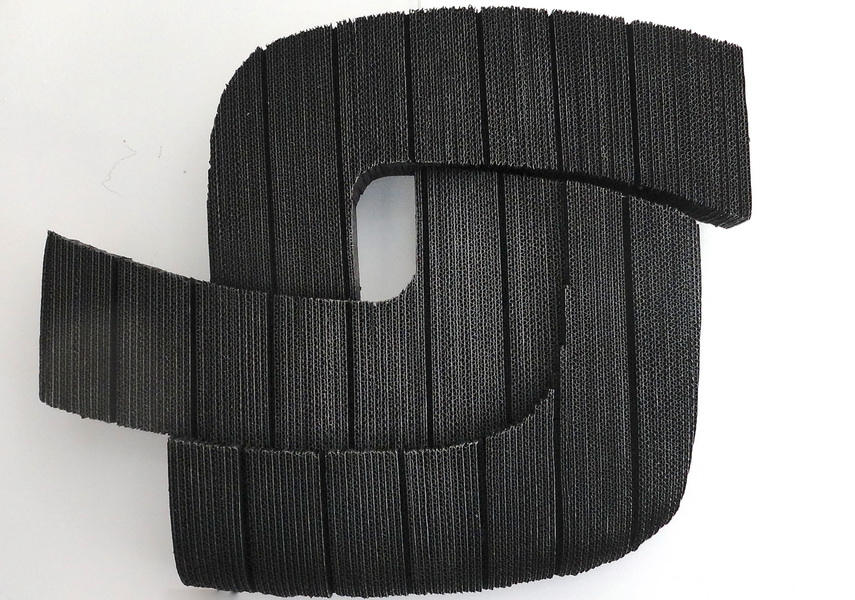 The Beauty of Simplicity
Nevertheless, the reliefs and sculptures of Pierre Riba are in step with contemporaneity. It is staggering how he constantly reinvents himself in regards to the transformation of his ideas and their execution. Working with the same material can be rather limiting, yet Riba threats undulating cardboard as if it is alive, with all due respect to it as a person. The constant and focused quest for the essential form leads him to sublimate each of his works into an art that is both raw and noble. That is accentuated with monochromes painted in deep and enigmatic black and velvety tones. As a matter of fact, Pierre Riba is producing works that are simple and profound, mystical and genuine, intermediate between man and the archaic forces. The artist seems to be inhabited by thousands of years of stories, tales and legends, and the works are a result of the ultimate and poetical synthesis interwoven with philosophy and wisdom.
Pierre Riba lives and works in the south of France and Spain.
Featured image: Pierre Riba – Artwork – image courtesy of Quinquabelle2008
All other images courtesy of Galerie 22