Polit-Sheer-Form is a Chinese art group which consists of artists Hong Hao, Xiao Yu, Song Dong, Liu Jianhua, and curator and critic Leng Lin. These five individuals formed the Polit-Sheer-Form collective in 2005, with an idea of creating an interesting conversation with the modern dynamic world in an attempt to transform political, cultural and spiritual life. Over the course of their ongoing practice, they crafted an insignia, composite portraits, propaganda posters, and their own fake library with 10,000 carefully numbered books painted in blue, but without content.
Shared Experiences
As children during the mid-1960s, all members of Polit-Sheer-Form experienced the consequences of late Cultural Revolution, in which Communist ideology consumed China's way of life after Mao Zedong reasserted his power over the government. This period of Communist ideological orthodoxy powerfully affected the preceding generation, shaping China ever since. Drawing on this personal experience, PSF's artistic practice attempts to create a collective way of life while removing the political content historically associated with it. By eating, drinking and playing together, the PSF members are trying through their multi-disciplinary projects to revive a collective way of life associated with the Communist era of their youth, reawakening a long-lost state of being, by which they oppose with contemporary China's ideology of consumerism brought from the West. For a society that has moved far away from communal ideals, PSF envisions a new Socialism based on the expansive possibilities of shared experiences. The group's various projects address the idea of "we" in a "me" world while their activities together form the foundation to their practice. Their first projects were discussions about these subjects held in famous, historical sites – Chinese civil war battlegrounds, factories, farms, schools, and recreational centers.
Individualism Cast Aside
Each member of the Polit-Sheer-Form has experienced success in solo careers, and the PSF union represents an opportunity for them to experiment with another way of making art over an extended period of time. The PSF collective functions is a highly adaptable organism – when each of the five members come together, they adjust their roles, fitting into the collective through their greatest strengths to become units in a greater whole. According to them, members enjoy absolute equality, and derive derives its creativity from this equality and adaptability. Fellow artists are willing to set aside the self as the condition for fusion onto the collective, in which the roles and responsibilities of the group's members can change to fit the situation.
Mr. Zheng
In their piece titled Mr. Zheng, all members of the Polit-Sheer-Form group sacrifice their individual identity in order to compose a new single entity, straightforwardly embodying the union of the group's five members. Portrait of Mr. Zheng is a digital amalgam of the faces of the five members in the form of a generic identification photo, similar to ones used in passports. During a different exhibitions, the portrait of this virtual identity has been hanged above entrances to galleries and museums, and therefore served as a nod to the so-called "leader portraits" of Chairman Mao that were hung over buildings in China during the Socialist era. By no longer being a portrait of authoritarianism, the portrait represents a paradox of individuality and collectivism.
Polit-Sheer-Form-16
In a series of oil paintings, such as Polit-Sheer-Form-16, the art group borrows the style of propaganda posters that occurred during the Cultural Revolution and inserts the content of their daily collective life. This propaganda posters, common during the Cultural Revolution, were generally sunny and bright, incorporated with elements of the collective way of life, filled with smiling people surrounding Chairman Mao, and often saturated with shades of red, an auspicious color in Chinese culture and the symbolic color of the international Communist revolution. Instead, Polit-Sheer-Form has opted for blue tones in the series that depicts the collective lives of people without a central figure, decentralizing the overall composition.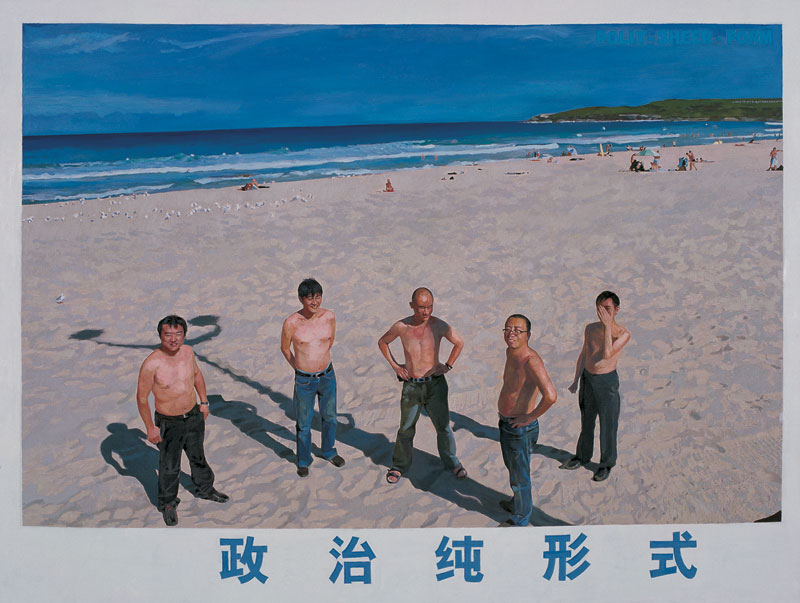 The Necessity of Collectivism
In American culture, individualism is a core value, yet a new understanding of the need for the collective has emerged. Similarly, while collectivism has been a core Chinese value, there has been increasing interest in individual pursuits. In 2014, Polit-Sheer-Form took on the West with their first solo exhibition outside China, an exhibition held at the Queens Museum in New York, with accompanying performance Do the Same Good Deed held in Times Square. In the epicenter of consumerism, capitalism and individualism, the group tested the idea of collective work and the true meaning of collectivism. They explored these issues by bringing hundreds of volunteers together in Times Square to take mops and buckets of water in hand to clean pedestrian plazas during a busy Monday lunch-hour. An earlier iteration of the project was staged in Guangzhou, China, in which one hundred people cleaned a bus.
By staging the performance in two very different social contexts, the project tests whether collectivism is a real social need or just a false form.
Polit-Sheer-Form is currently based in Beijing.