Prefab77 is a group of artists who create unusually elegant street art and prints, but their approach is never simple and superficial. Beauty itself is not their final destination – behind their carefully executed and always profoundly beautiful artworks, there is always some political or anti-establishment notion. Prefab77 consider themselves storytellers and whatever they have learned about fashion, politics, music and history, they try to incorporate in their prints or murals. They are recognizable for their common motifs of beautiful female faces combined with various symbols resembling vitrages in church windows.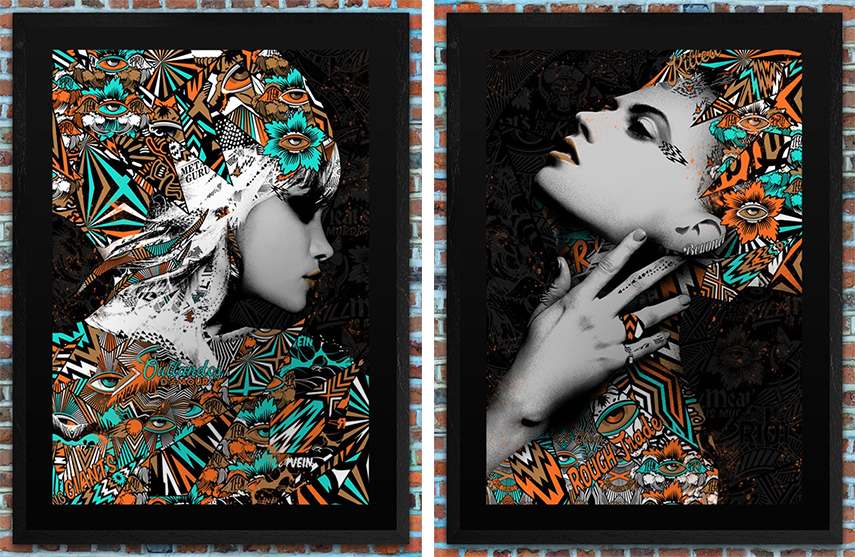 Our Culture Found or Stolen
Prefab77 artists have different origins, which are northern England, California and New York. However, what is common for them is that they've grown up in major urban areas and they were influenced by similar names and events of the global pop culture. Number 77 in their name is directly referring to the year of '77, which was a very successful year for British celebrities if we look at the history of rock and roll and music charts. In the same way, Prefab77 became very successful both in the UK and the US. The artists are isolating the most attractive parts of the popular culture and combining them with vintage headlines and articles from the newspapers while preserving a certain glam rock aesthetics. All of that is united through a unique technical approach, similar to window vitrages found in Christian iconography. Even though Prefab77's references are pop culture personalities, the way they are depicted has a sacral aura to it, making pop icons resemble their older, more traditional cousins – Christian icons. When asked to describe their work, Prefab77 say it is dark, funny, beautiful, part fantasy part social comment, fading institutions and emerging futures icons. The way they compose their art is not overly dependent on any routine procedure. They shoot or find photos and consequently draw and paint additional layers on them, using media such as acrylic colors, spraypaint, wheatpaste and different varnishes. They are familiar with both screen-print and hand-painting, playfully combining digital and analog techniques.
Prefab77 say their work is dark, funny, beautiful, part fantasy part social comment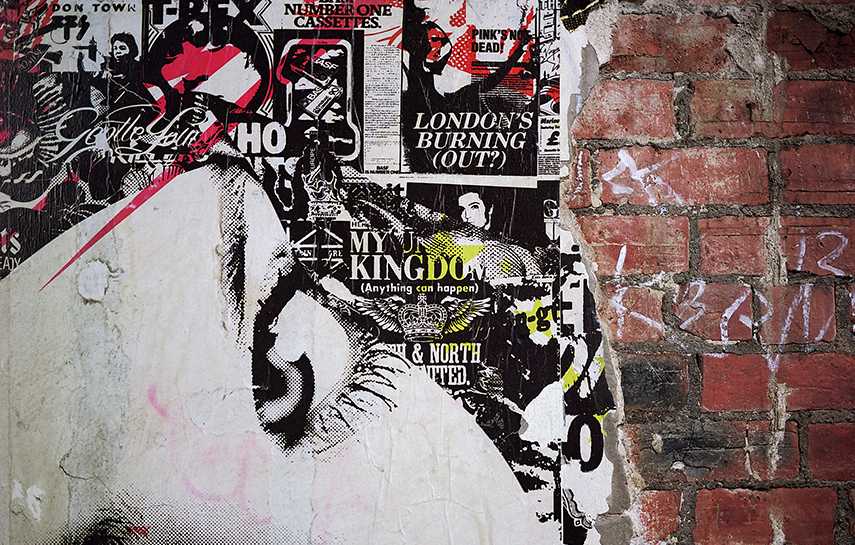 Exhibitors and Gallery Owners
Prefab77 are very active artists who are living extremely busy life in between the UK and the States. In 2015, Inner State Gallery from Detroit, MI asked them to stay there for 2 weeks for the artist residence and during that time, Prefab77 have created a whole array of new hand-painted prints and woodcuts, exhibited in the same gallery after their residence was completed. Two years ago, they have participated in another outstanding exhibition, called The Outsiders, in Newcastle . This was a quite different experience for Prefab77 since they had a chance to experiment with the use of light and the photo sensitive film called Oralite, which is normally used for road signs and police cars. Oralite strongly reflects light and it gave a lot of unexpected and almost haunting glow to their artworks, something they have never seen before. At the moment, Prefab 77 own their own gallery, Electric Sheep, where they exhibit their own work as well as the work of other renown British artists.
Prefab77 converted United Britain to Untied Britain in a smooth and delicious way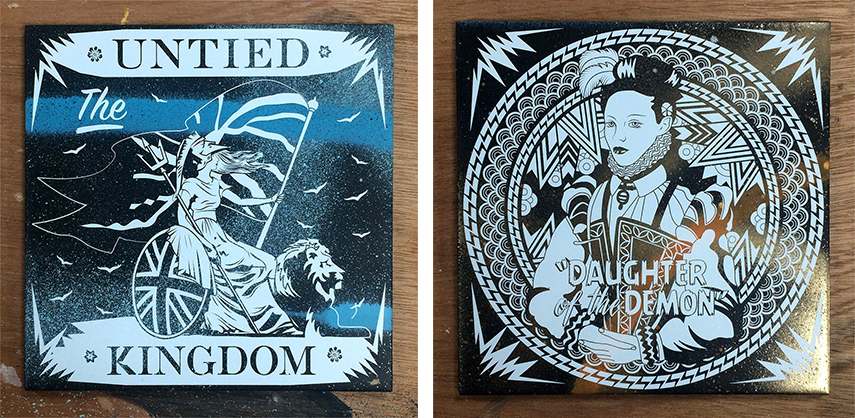 Luxurious Mix of Music and Fashion
Prefab77's work is the personification of various values found in the global pop culture. It doesn't matter if the artists are talking about fashion, music or politics – there is always a visible hint of luxury and elitism mixed with rebellious or vane headlines glued over their prints or murals. But only after they seduce us with their colorful and glamorous imagery, they serve us the main dish, which is their message. United Britain became Untied Britain in their hands in a smooth and delicious way.
Prefab77 live and work in the North East of England.
Featured image: Prefab77 at work in Detroit, MI
All images courtesy of the artists.