Ralph Steadman is a British artist and cartoonist whose style is defined by energetic ink splatters and grotesque, natty figures, known for his collaboration with American author and journalist Hunter S. Thompson. Steadman works with pen and brush in ink, also using acrylic and oil paint, etching, silk screen, and collage. Distinctive visual language along with his political and social caricatures, cartoons and picture books made Steadman one of the most popular artists of the 20th century.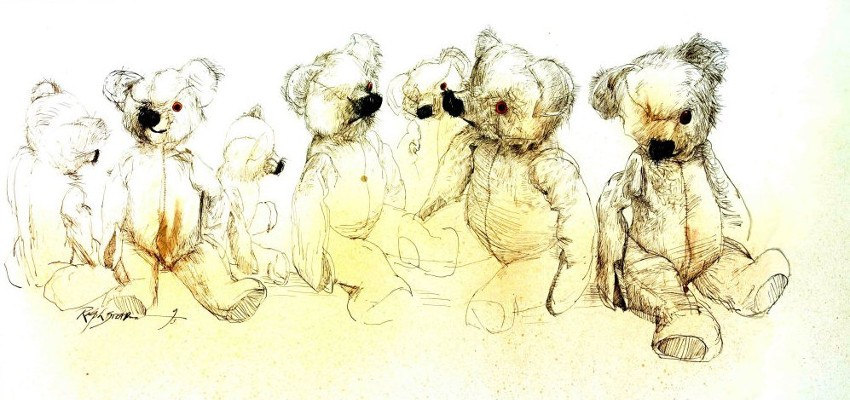 School and National Service
Born in 1936 in Wallesey, Liverpool, Ralph Steadman was educated at Abergele Grammar School, but left in 1952, at the age of sixteen, unable to bear the strict authority of the headmaster. One of Ralph's first jobs was at the De Havilland Aircraft Company Chester in Broughton, Cheshire, where he worked as an Apprentice Aircraft Engineer. The factory life simply wasn't something that Steadman could settle to. His cousin then found him a job at the Woolworths in Colwyn Bay where he was stocking shelves for about six months before ending up as tee-boy at McConnells Advertising. From 1954 to 1956 Steadman was serving in the Royal Air Force. It was here that he learned technical drawing, took a correspondence drawing course, and made many efforts to sell his works to newspapers.
He learned technical drawing while serving in the Royal Air Force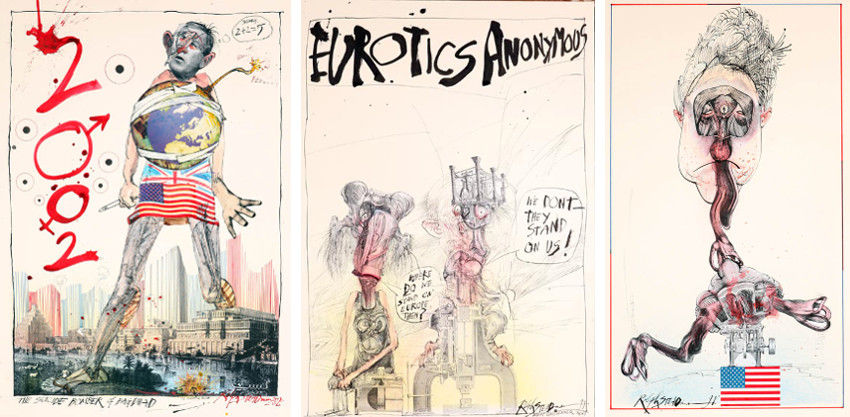 Punch Magazine and College Time
Ralph Steadman sold his first cartoon to the Manchester Evening Chronicle in 1956. Discharged from the National Service, he moved to London where he intended to make a living as an artist. Steadman worked as a cartoonist for the Kemsley Newspaper Group from 1959 to 1961. At that time, Ralph's dream was to see his work published in a British weekly magazine of humor and satire, Punch. The dream became true in 1961. After rejecting him many times, the magazine accepted one of his drawings and even featured it on the cover. In the 1960s, Ralph simultaneously attended East Ham Technical College and the London College of Printing where he met his mentor Leslie Richardson who was teaching life drawing. Leslie liked Ralph's work so he took him under his wing, and the two men have been friends since then. Throughout the 1960s, Ralph Steadman was doing freelance work for various publications including the mentioned Punch, Private Eye, The Daily Telegraph, The New York Times and Rolling Stone. Taking inspiration from George Grosz and John Heartfield, Steadman has developed his own unique style of direct and impulsive drawing which brought a new level of savagery to British political cartooning in the 1960s, and has continued to have a large impact during his influential and extensive career.
Throughout the 1960s, Steadman was doing freelance work for various publications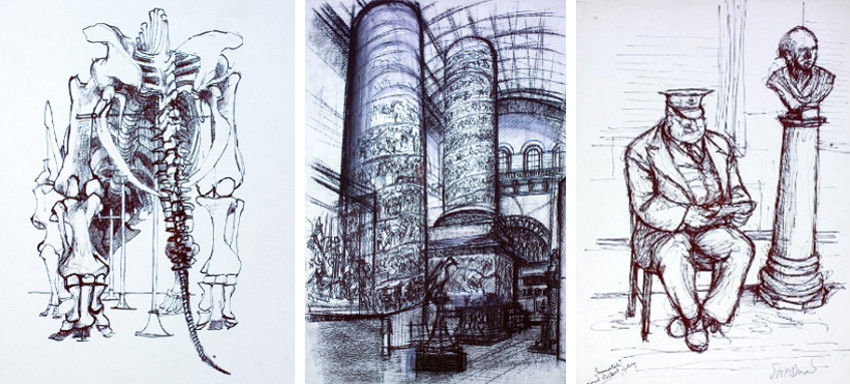 Friendship with Hunter S. Thompson and Gonzo Journalism
Ralph Steadman is best known for his long-term partnership with an American journalist and author Hunter S. Thompson, with whom he first collaborated during a trip to the Kentucky Derby in 1969. The art is a lone business, and these collaborations, most notably with Thompson, were an attempt to alleviate that loneliness. The duo worked so well together because Steadman's drawing added a significant value to Thompson's writing. There were some things the writer was trying to say that couldn't be done in any other way but through pictures. ''You can say much more, so much more subtly or more interestingly. Because you try to explain something in words and it just doesn't work, you can't quite put into words some of the weird things that you might possibly think of. You let things happen in pictures.'' The two men formed one of the most acclaimed artistic collaborations of the 20th century. From this first encounter between them, Gonzo journalism was born. Gonzo journalism is a style of journalism that is written without claims of objectivity, a form of highly personal reportage, often including the reporter as part of the story via a first-person narrative.
Steadman's drawing added a significant value to Thompson's writing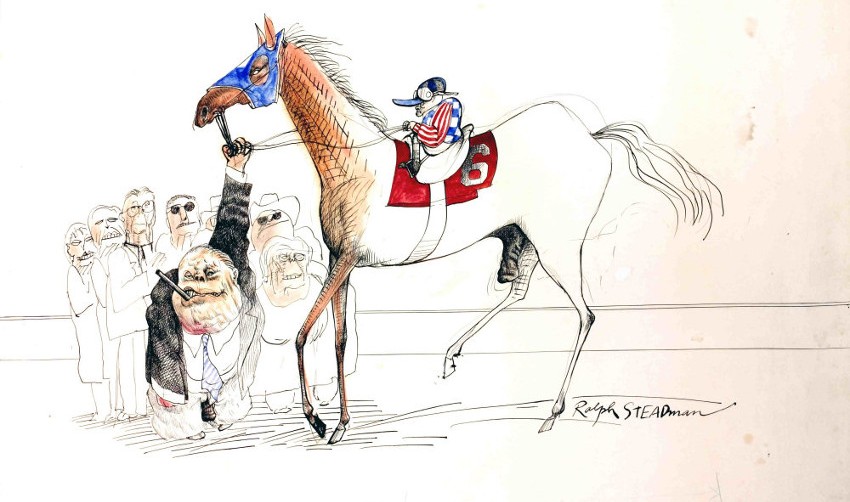 Fear and Loathing in Las Vegas
In 1972, Steadman illustrated Thompson's best-known work, Fear and Loathing in Las Vegas, a story based on Thompson's drug-induced experiences traveling across America to Las Vegas with his attorney in the 1960s, which became a contemporary classic. Steadman's illustrations and imagery were adapted for a 1998 film of the same name, starring Johnny Depp. Ralph and Hunter's four decade long friendship also included collaborations on The Curse of Lono, coverage of the Watergate Scandals and countless articles in Rolling Stone magazine for which Steadman still holds the position of Gardening Correspondent.
Fear and Loathing in Las Vegas, along with its illustrations, became a contemporary classic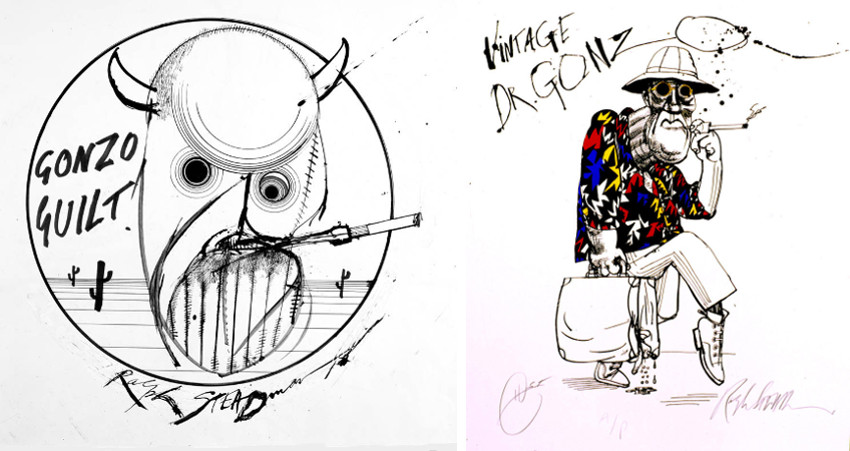 Books
Aside from Fear and Loathing in Las Vegas, Steadman has illustrated many books, including the fiftieth-anniversary edition of George Orwell's Animal Farm, editions of Alice in Wonderland, Treasure Island, the English translation of Flann O'Brien's Gaelic-language classic The Poor Mouth, and Fahrenheit 451. Steadman has worked with writers such as Ted Hughes, Adrian Mitchell, and Brian Patten. In 1978 he collaborated with his friend, Bernard Stone, with whom he created the classic children's books Emergency Mouse in 1978, Inspector Mouse in 1980, and last part, Quasimodo Mouse in 1985. His books Fly Away Peter and The Big Red Squirrel and the Little Rhinoceros have recently been reprinted by Pavilion books. Ralph Steadman is the author of many books, including Sigmund Freud (1979), I, Leonardo (1983), The Grapes of Ralph: Wine According to Ralph Steadman (1992), a book about strange world of wine and winemaking, for which he won a Glenfiddich Food & Drink Award, and Still Life with Bottle: Whiskey According to Ralph Steadman (1997), among others. The book Extinct Birds, created in collaboration with Ceri Levy, was published in 2012, and in 2015, again collaborating with Levy, Steadman published Nextinction, where his focus was not on the birds that are gone, but rather on the ones that could yet be saved. The masterpiece included 192 critically endangered birds on the IUCN Red List, featuring the Sumatran Ground-cuckoo, Giant Ibis, Spoon-billed Sandpiper, Kakapo, and much more.
Whatever the binding, hardcover or paperback, it's not a problem – all of his books are well received and favored by readers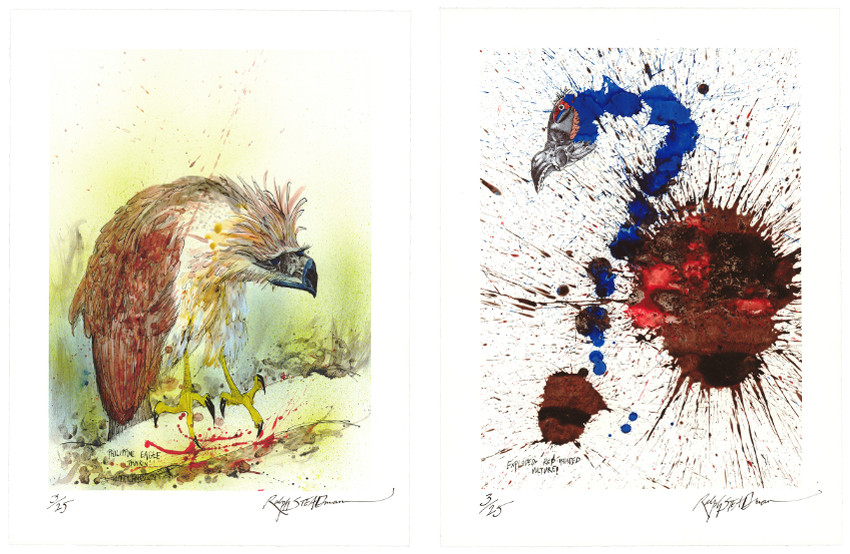 Ralph Steadman and the Art of Paranoids
In 1986 on holiday in Turkey, Steadman found out the malleability of the polaroid before it set and consequently began distorting and remolding the faces of the rich and famous, among them the British Royal Family, Ronald Reagan, Margaret Thatcher, the stars of Dynasty and Dallas, artists, politicians, and writers. It was a new form of caricature and one that forced a momentary reaction from the artist without much time to consider the ultimate image before it irretrievably set under its plastic barrier. Based on a new photographic technique he has developed, Ralph Steadman released the Paranoids, a series of Polaroid caricatures of many prominent people.
Sorry unknown people, but the caricatures of the famous people are just too funny to watch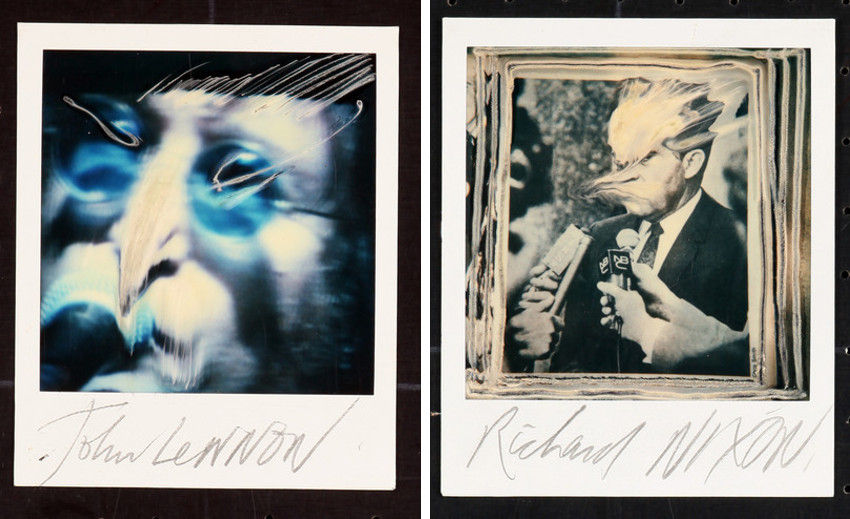 Plague and the Moonflower
In 1989, Steadman wrote the libretto for an eco-oratorio called Plague and the Moonflower. Exploring the pollution of the planet through the allegorical love story of the plague demon and the moonflower, Plague and the Moonflower has been performed in many cathedrals in the UK and was the subject of a BBC 2 film in 1994. In 1999 Steadman was approached by The Royal Opera House to design their new ballet based on Arthur Miller's The Crucible.
In 1989, Steadman wrote the libretto for an eco-oratorio called Plague and the Moonflower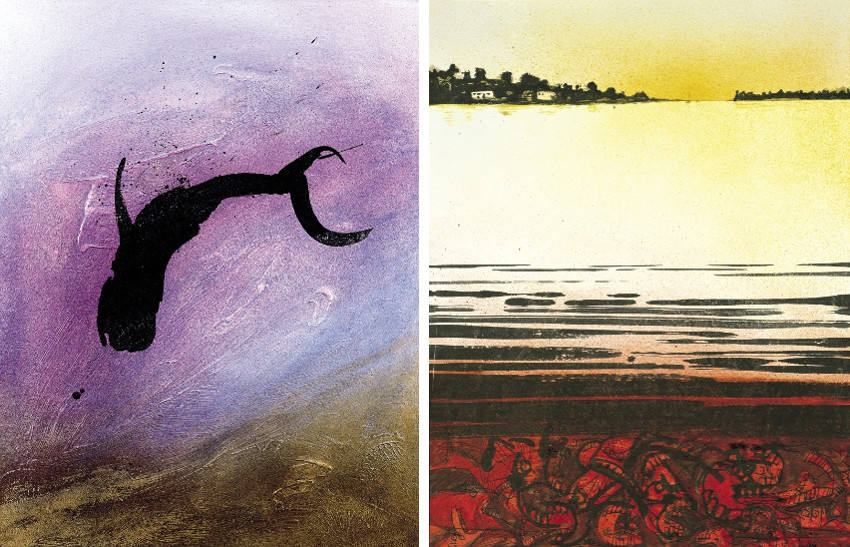 Awards
During his career, Ralph Steadman received many awards including the Francis Williams Book Illustration Award for Alice in Wonderland, the American Society of Illustrators' Certificate of Merit, the W H Smith Illustration Award for I Leonardo, the Dutch Silver Paintbrush Award for Inspector Mouse, the Italian Critica in Erba Prize for That's My Dad, the BBC Design Award for postage stamps, the Black Humor Award in France, and many Designers and Art Directors Association Awards. He was voted Illustrator of the Year by the American Institute of Graphic Arts in 1979.
The artist received the Francis Williams Book Illustration Award for his work on the Alice in Wonderland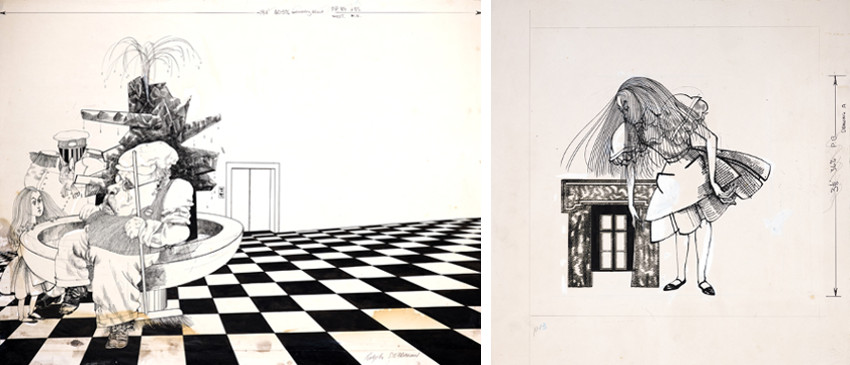 For No Good Reason
For No Good Reason is a documentary detailing Steadman's life, directed by Charlie Paul. The film, reportedly 15 years in the making, was premiered at the 2012 London Film Festival and was released in 2014 in the USA. For No Good Reason was in competition for the Grierson Award for Best Documentary at the 2012 BFI London Film Festival. It started as a question from Charlie – he was interested in placing a camera above Steadman's desk with the ultimate goal of making a film about the artist's life and work. Steadman agreed and the director soon realized that he was capturing an essence of a genius and his magnificent process of creation. Johnny Depp came on board and provided a narrative for the entire thing. The movie was produced by Charlie's wife, Lucy Paul.
Johnny Depp was excited to be a part of this project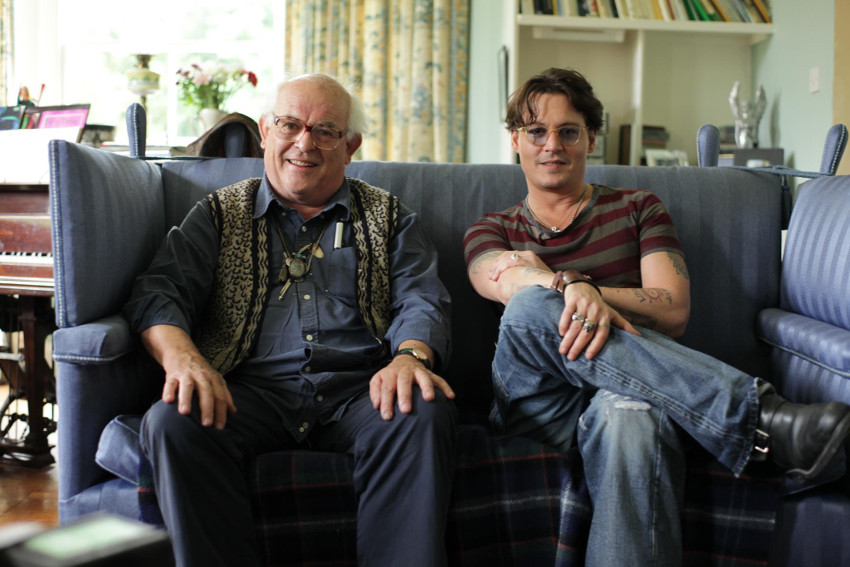 Breaking Bad Character Portraits
For one of his latest projects, Steadman has joined up with Vince Gilligan to create limited edition Blu-ray cases for all five seasons of Breaking Bad. Walter, Jesse, Gus, Mike, Hank and Saul have all been given the ink-splattered treatment. The Blu-ray illustrations were on display in London in February 2015, as part of an exhibition called Breaking Bad Character Portraits by Ralph Steadman at the 71a gallery in East London. The exhibit also featured a selection of original Breaking Bad-inspired artwork created by UK rising talent and chosen by Steadman.
All of the characters were given the ink-splattered treatment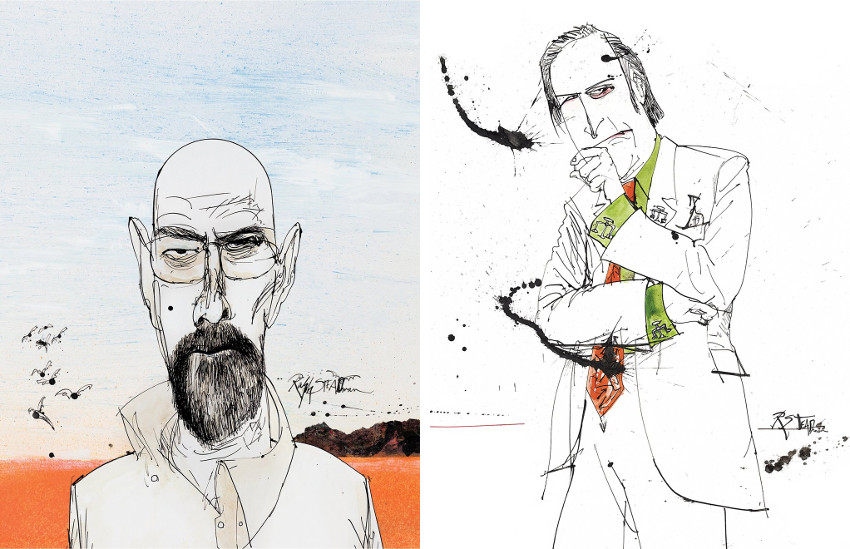 Never Giving Up On Art
The British artist has participated in many exhibitions in galleries and museums including the Festival Hall, Tate Britain and the Boston Art Institute. His show entitled Printin' Backwuds, was on view at Lazarides Editions, London until August 13th 2015. Steadman has drawn covers for the Who, Frank Zappa and Ambrosia, among others. His work has appeared in publications such as The New Yorker, The New York Times, The Independent, The Guardian, and The Observer. During his entire artistic career, he hasn't thrown away a single paper. If the piece is not working, he'll put it aside, but eventually, come back to it and do something else on it, reusing the original artwork, giving it a whole new meaning and look.
Ralph Steadman lives and works in the UK.
Featured image: Ralph Steadman – portrait, image via WireImage
All other images copyright of the artist