Architecture is all around us. Wherever we look, we can see something that we created, some kind of construction, be it the lone house in the hills, or majestic cities made out of thousands of objects. But don't forget the bigger picture. Don't forget the landscapes, which seem to be powerful enough to swallow anything man-made. Welcome to the world of Ramon Enrich and his unique conversations between architecture and landscapes. The artist creates his mysterious world using the personal language of shapes and symbols rather than simply accepting the already existing forms and rules.
The artist uses a personal language of shapes and symbols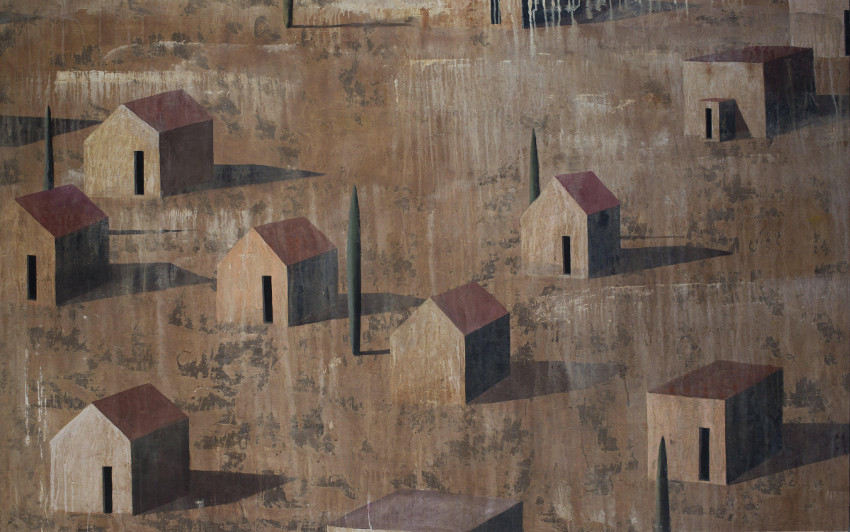 Archetectural Painting
His style could be described as architectural painting. Dipping his toes in abstraction, Enrich constructs his own reality, both inspired and limited by geometry. Light is intensely oblique, and the paintings, devoid of any human presence, have an atmosphere that is enigmatic and intriguing. The theatrical design is loaded with irony, as the artist tries to bring to light what is hidden and to enable making connections without explaining anything. Ramon's most recent work brings an increase in precision and strictness, inspired, without a doubt, with Mediterranean. The starting point of his work is a sketch, which is then worked on. Mistakes are a part of the process, but the artist hates them. However, when one does occur, he will simply paint over it. And many times, this painting-under-a-painting works really well, because it gives the piece a kind of pre-life, an energy which bursts out and enriches the work.
The atmosphere in paintings is enigmatic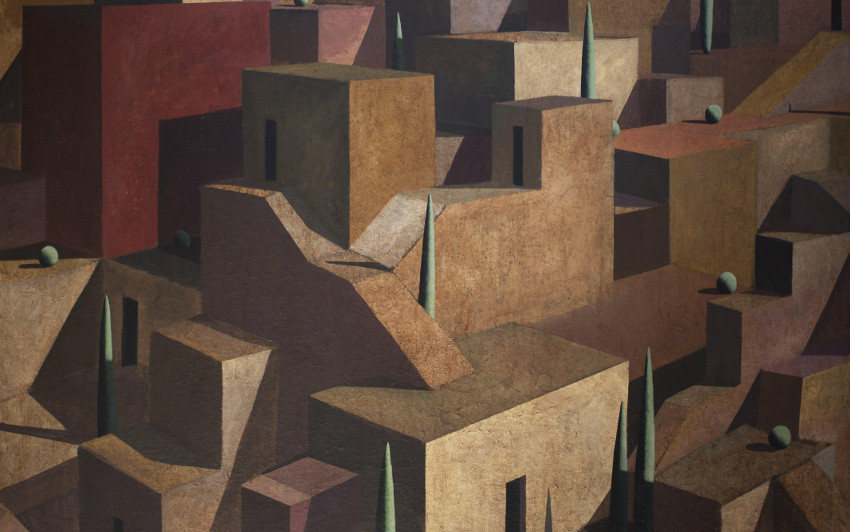 Reconstructing the Reality
Enrich was born in Igualada, a town near Barcelona. After his studies of Fine Arts in Barcelona, he decided to travel and try to see some references to art and to painting. Grants he received at the time helped him significantly. The main idea behind visiting artists like Donald Judd and David Hockney, beside from learning about the art from them, was to see how they organized their lives as artists. He belongs to a generation which reconsiders reality, based on constructed and a pinch of metaphysical figuration limited by the rules of geometry. Since 1990, he has exhibited both as a solo artist and in group shows. His artworks are included in public and private collections in Spain, USA, Germany, Japan and France.
Reality is based on the costructed and a bit of metaphysical figuration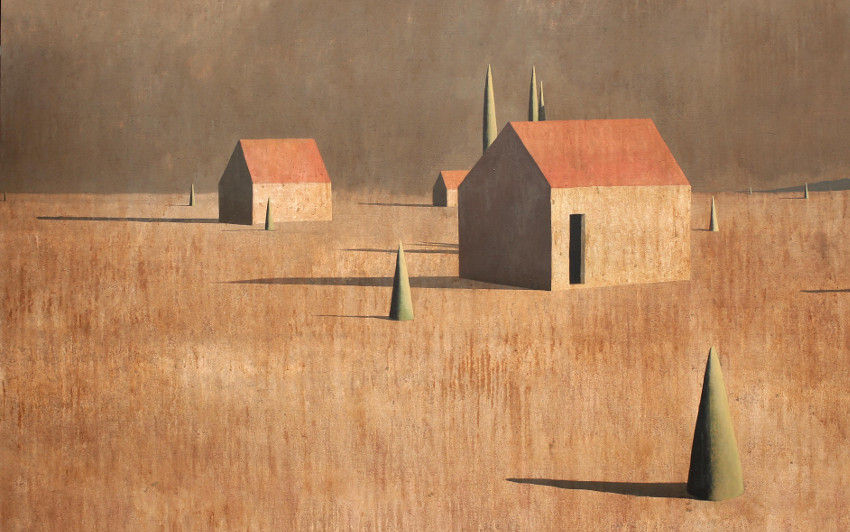 The Stage Is Set
The paintings of Ramon Enrich look like stages prepared for the plays. And that is their beautiful aspect because the viewers are allowed to be the directors and imagine and stage the plays and stories they like. Everything is provided, starting with a rich chromatic register, ironic use of architectural structures and a strong sense of perspective. Every single one of Enrich's artworks invites the viewers to fill its endless landscape with the story they find most appropriate. It is quite rare for the viewers to be the finishing touch themselves in a wonderful process of painting.
He is represented by the Artistics, an online gallery based in Paris.
Ramon Enrich live and works in Igualada, Spain.
All images, including the featured – courtesy of Artistics.
| Year | Exhibition Title | Gallery/Museum | Solo/Group |
| --- | --- | --- | --- |
| 2015 | Ramon Enrich | Espai Volart, fundación Vila Casas, Barcelona | Solo |
| 2014 | Ramon Enrich | Design Academy, Berlin | Solo |
| 2014 | Ramon Enrich | Galerie Sylt, Alemania | Solo |
| 2014 | Ramon Enrich | Art Geneve. Suissa | Solo |
| 2014 | Unknown | MAK Austrian Museum of Applied Arts, Can Palauet, Mataró | Group |
| 2014 | Unknown | Club Montecarlo, Dubai | Group |
| 2013 | Ramon Enrich | Paper World, Frankfurt am Main | Solo |
| 2013 | Ramon Enrich | Galerie Donath, Troisdorf, Alemania | Solo |
| 2013 | Ramon Enrich | Kd Kunst, Desden, Alemania | Solo |
| 2013 | Ramon Enrich | Robert&Tilton, L.A , USA | Solo |
| 2013 | Unknown | Sant Pol Sur Mer, Sant Pol de Mar | Group |
| 2013 | Expander | Royal Academy, London | Group |
| 2013 | Unknown | Galeria Camila Regent, Saignon, France | Group |
| 2012 | Ramon Enrich | Al Bahu Space, Abu Dabhi | Solo |
| 2012 | Ramon Enrich | Club Montecarlo, Dubai | Solo |
| 2012 | Ramon Enrich | Melbourne Art Trade | Solo |
| 2012 | Ramon Enrich | Galerie Kamila Regent, Saignon, França | Solo |
| 2012 | Unknown | The Center of Contemporary Arts, Glasgow | Group |
| 2012 | Unknown | CCA Wattis Institute for Contemporary Art,San Francisco, USA | Group |
| 2011 | Ramon Enrich | Design Academy, Berlin | Solo |
| 2011 | Ramon Enrich | Galerie Sylt, Alemania | Solo |
| 2011 | Ramon Enrich | Art Geneve. Suissa | Solo |
| 2011 | Expander | Royal Academy, London | Group |
| 2011 | Unknown | Galeria Camila Regent, Saignon, France | Group |
| 2010 | Ramon Enrich | Museu Llavaneres | Solo |
| 2010 | Ramon Enrich | Art-kunts wien. Austria | Solo |
| 2010 | Ramon Enrich | Peter Meier, Soloturn, Suissa | Solo |
| 2010 | Ramon Enrich | Art Rótterdam, Holanda | Solo |
| 2010 | Art Exchange Project | Arena Events. N.Y, USA | Group |
| 2009 | Ramon Enrich | Galeria Maria José Castellví, Barcelona | Solo |
| 2009 | Ramon Enrich | Galerie Sylt, Alemania | Solo |
| 2009 | Ramon Enrich | Art Geneve. Suissa | Solo |
| 2009 | Unknown | Art Gallry Solothurn, Switzerland | Group |
| 2008 | Ramon Enrich | Museu Llavaneres | Solo |
| 2008 | Ramon Enrich | Art-kunts wien. Austria | Solo |
| 2008 | Ramon Enrich | Peter Meier, Solothurn, Suissa | Solo |
| 2008 | Ramon Enrich | Art Rótterdam, Holanda | Solo |
| 2008 | Unknown | Baltazar, Brussels. | Group |
| 2007 | Ramon Enrich | DesignRaum Bonn Alemanya | Solo |
| 2007 | Ramon Enrich | Galeria Carmen Terreros, Zaragoza | Solo |
| 2007 | Ramon Enrich | Galeria Baltazar, Brusel.les, Bèlgica | Solo |
| 2007 | Ramon Enrich | Art International Zurich | Solo |
| 2007 | Ramon Enrich | Tinta Invisible, Barcelona | Solo |
| 2007 | Tipografies | Galeria Miquel Alzueta, Barcelona | Solo |
| 2007 | Unknown | Baltazar, Brussels. | Group |
| 2007 | Unknown | Art Rotterdam, Holland. | Group |
| 2006 | Ramon Enrich | Galerie Hof&Huyser, Àmsterdam | Solo |
| 2006 | Ramon Enrich | Galería Il Polittico, Roma | Solo |
| 2006 | Biennal Europea del Paisatge | Barcelona. | Group |
| 2006 | Biennale of Contemporary Art | Moscow | Group |
| 2006 | Animals | Galeria Miquel Alzueta. Barcelona. | Group |
| 2006 | Landscape Sculpture | d.e.n Contemporary Art, Culver City, California | Group |
| 2006 | Unknown | Art Rotterdam. Galerie Hof&Huyser. | Group |
| 2005 | Ramon Enrich | Galería Jorge Alcolea, Madrid | Solo |
| 2005 | Ramon Enrich | Saignon en Luberon, França | Solo |
| 2005 | Ramon Enrich | Galeria Carmen Terreros, Saragossa | Solo |
| 2005 | Ramon Enrich | Maison Kregg, Brussel·les | Solo |
| 2005 | Ramon Enrich | Sala Parés, Barcelona | Solo |
| 2005 | Ramon Enrich | Galeria 22, Igualada | Solo |
| 2004 | Ramon Enrich | Galeria Baltazar, Brussel·les | Solo |
| 2004 | Ramon Enrich | Galería Jorge Alcolea, Madrid | Solo |
| 2004 | Ramon Enrich | Galerie Art Sud, Tolosa | Solo |
| 2004 | Unknown | Galerie Anatom, París. | Group |
| 2004 | Unknown | Galeria 3 punts. Barcelona. | Group |
| 2004 | Unknown | Galeria Jordi Bernades, Barcelona. | Group |
| 2003 | Ramon Enrich | Galerie Arcturus, París | Solo |
| 2003 | Ramon Enrich | Hof & Huyser, Àmsterdam, Holanda | Solo |
| 2003 | Ramon Enrich | Marie du Tarascon, Tarascón, França | Solo |
| 2003 | Ramon Enrich | Galeria María Llanos, Lisboa | Solo |
| 2003 | Ramon Enrich | Espai 21, Cambrils, Girona | Solo |
| 2003 | Unknown | Espai 1919, Barcelona. | Group |
| 2003 | Unknown | Galería Jorge Alcolea, Madrid. | Group |
| 2003 | St'Art 2004 | Estrasburg. | Group |
| 2003 | Unknown | Galeria Kroma, St. Feliu, Girona. | Group |
| 2003 | Unknown | Galeria Anquins, Reus, Tarragona. | Group |
| 2003 | Feria de Santander | Galería María Llanos, | Group |
| 2003 | Unknown | Jorge Alcolea, Madrid. | Group |
| 2002 | Ramon Enrich | Altes Mülher, Bad Simbel, Alemanya | Solo |
| 2002 | Ramon Enrich | Michael Dunev, Torroella de Montgrí, Girona | Solo |
| 2002 | Ramon Enrich | Hof & Huyser, Àmsterdam, Holanda | Solo |
| 2002 | Ramon Enrich | Galería María Llanos, Càceres | Solo |
| 2002 | Unknown | Galerie Arcturus, París. | Group |
| 2002 | Unknown | Galería María Llanos, Càceres. | Group |
| 2002 | Unknown | Galeria L'Arcada, Blanes, Girona. | Group |
| 2002 | Unknown | Jorge Albero, Madrid. | Group |
| 2002 | Unknown | Ignacio de Lassaletta, Barcelona. | Group |
| 2002 | Unknown | Jorge Albero, Madrid. | Group |
| 2002 | Unknown | Galeria Llucià Homs, Barcelona. | Group |
| 2001 | Ramon Enrich | Kroma, Sant Feliu de Guíxols, Girona | Solo |
| 2001 | Ramon Enrich | Galeria Llucià Homs, Barcelona | Solo |
| 2001 | Ramon Enrich | Ignacio de Lassaletta, Barcelona | Solo |
| 2001 | Ramon Enrich | Jorge Albero, Madrid | Solo |
| 2001 | Ramon Enrich | Le Tour des Cardinaux, Marsella, França | Solo |
| 2000 | Ramon Enrich | Zeitz Museum, Zeitz, Alemanya | Solo |
| 2000 | Ramon Enrich | Galeria Serrahima, Barcelona | Solo |
| 2000 | Ramon Enrich | Galerie Martini, Hong Kong, Xina | Solo |
| 2000 | Ramon Enrich | Maison de la Catalogne, París | Solo |
| 2000 | Ramon Enrich | Galerie Donath, Trisdorf, Alemanya | Solo |
| 2000 | Ramon Enrich | Baltazar, Brussel·les, Bèlgica | Solo |
| 2000 | Ramon Enrich | Galerie Von Lintel und Nusser, Munic, Alemanya | Solo |
| 2000 | Unknown | Galeria Serrahima, Barcelona. | Group |
| 2000 | Unknown | NH stock, Itinerant per Espanya. | Group |
| 2000 | Unknown | Galeria Segovia Isaacs, Barcelona. | Group |
| 2000 | Arco 2000 | Galería Spectrum, Madrid. | Group |
| 2000 | Unknown | Galeria Serrahima, Barcelona. | Group |
| 1999 | Ramon Enrich | Rare Art Properties, Nova York, USA | Solo |
| 1999 | Ramon Enrich | Kölmann Gallery,Wiesbaden, Alemanya | Solo |
| 1999 | Ramon Enrich | Baltazar, Brussel·les, Bèlgica | Solo |
| 1999 | Ramon Enrich | Galerie Pfundt, Berlín, Alemanya | Solo |
| 1998 | Ramon Enrich | Nord LB Bank, Schwerin, Alemanya | Solo |
| 1998 | Ramon Enrich | Gallery Mason, San Antonio, USA | Solo |
| 1998 | Ramon Enrich | Museum Für Moderne Kunst, Mittelhof, Alemanya | Solo |
| 1998 | Art Múltiple | Düsseldorf, Alemanya. | Group |
| 1998 | Unknown | Donald Judd Foundation, Texas, USA. | Group |
| 1998 | Unknown | Marburger Kunsverein, Alemanya. | Group |
| 1997 | Ramon Enrich | Galerie Donath, Troisdorf, Alemanya | Solo |
| 1997 | Ramon Enrich | Kunsthandlung am Frankfurter Hof, Alemanya | Solo |
| 1997 | Artfrankfurt 97 | Frankfurt, Alemanya. | Group |
| 1997 | Unknown | Centre Cultural Caixa de Terrassa, Barcelona. | Group |
| 1996 | Ramon Enrich | Art Frankfurt 96, Alemanya | Solo |
| 1996 | Ramon Enrich | Museum Guissen, Alemanya | Solo |
| 1996 | Ramon Enrich | Mousonturm, Frankfurt, Alemanya | Solo |
| 1996 | Ramon Enrich | Marburger Kabinett, Marburg, Alemanya | Solo |
| 1996 | Unknown | Galeria 22, Igualada, Barcelona. | Group |
| 1995 | Ramon Enrich | Galería Trece, Ventalló, Girona | Solo |
| 1995 | Ramon Enrich | Galerie Art Sud, Tolosa, França | Solo |
| 1995 | Ramon Enrich | Ikeda Gallery, Nova York, USA | Solo |
| 1994 | Ramon Enrich | Art Frankfurt, Alemanya | Solo |
| 1994 | Ramon Enrich | Mousonturm, Frankfurt, Alemanya | Solo |
| 1994 | Ramon Enrich | Rathaus Kiel, Alemanya | Solo |
| 1994 | Unknown | Kuntslerhaus Frankfurt, Alemanya. | Group |
| 1994 | Unknown | Galería Guardi, Milà, Itàlia. | Group |
| 1994 | Unknown | Heller Gallery, Nova York, USA. | Group |
| 1993 | Ramon Enrich | Marburg Museum, Marburg, Alemanya | Solo |
| 1993 | Ramon Enrich | Galerie Art Sud, Tolosa, França | Solo |
| 1993 | Unknown | Spazio Losseti, Milà, Itàlia. | Group |
| 1993 | Unknown | Istalación Hausen, Alemanya. | Group |
| 1992 | Ramon Enrich | Galeria 22, Igualada | Solo |
| 1992 | Ramon Enrich | Sala Patronat Municipal, Mataró | Solo |
| 1992 | Unknown | Galeria Carla Führ, Berlín, Alemanya. | Group |
| 1992 | Unknown | Saló del Tinell, Barcelona. | Group |
| 1992 | Unknown | Galeria Anna Benach, Barcelona. | Group |
| 1991 | Unknown | Sala Plana de l'Om, Manresa, Barcelona. | Group |
| 1991 | Unknown | Premi Ricard Camí, Terrassa, Barcelona. | Group |
| 1991 | Unknown | Phillips Museum, Frankfurt, Alemanya. | Group |
| 1990 | Unknown | Obres del Patrimoni Artístic de la UB, Barcelona. | Group |
| 1990 | Unknown | Universitat Autònoma de Barcelona. | Group |
| 1990 | Unknown | Galeria Municipal, Lecco, Itàlia. | Group |
| 1990 | Unknown | Galeria Àmbit, Barcelona. | Group |