Ramon Maiden is a Spanish-born artist, whose works pay tribute to forgotten members of society – criminals, women, people of the underworld. He re-appropriates vintage illustrations from postcards, calendars, and various prints to transform them into fully tattooed characters and subjects with a mere ball-point pen. By painting over these old images, the artist offers a glimpse into the power of the invisible, using everything from Vargas pin-ups to religious prints depicting Saints and other holy characters to create his detailed pieces dawning full body tattoos.
Ramon Maiden – an Artist on His Own
Maiden was born in 1972 and raised in Roquetas – the Bronx of Barcelona – a working class neighborhood located on the edge of the city's limits. Throughout the 80's and 90's it was known for its high levels of crime and nonconformity. Being an entirely self-taught artist, Ramon never felt bound anywhere and he traveled extensively – he lived in several countries and he considers New York as his second city. As well as his place of residence, his training, ideas, sources of inspirations are all dynamic and changing – and so are the techniques and methods he employs.
Transforming the History – Ramon Maiden's Style of Work
Ramon Maiden updates and modernizes historical figures, tattooing them on paper in order to give them relevance in today's ever-changing society. Interested in history, the ancient religions, and politics, Maiden's art is imbued with all of that elements. He is an artist who creates work that not only looks aesthetically pleasing, but also delivers an underlying message and purpose to its viewer. Each photograph or image Maiden collects is transformed for a reason – sometimes his reasoning has social, political or religious influence, yet at other times it is solely to reference Maiden's own opinions of society drawn from his childhood.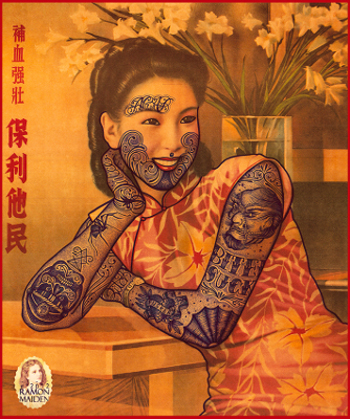 Depicting the Elegance of the Forgotten Ones
As the artist himself states "I don't care about the good manners of high-lineage. What attracts me most are similarly humble and loyal people who can stand and fight their ground in the same way as I did. People like my grandmother – she had nothing, she was born a 'delinquent' in a hostile territory, unable to read, yet managed to self-educate and, in turn, raise her entire family. With my art I want to show the beautiful side of my childhood 'Robin Hoods'. The elegance of those who were forgotten."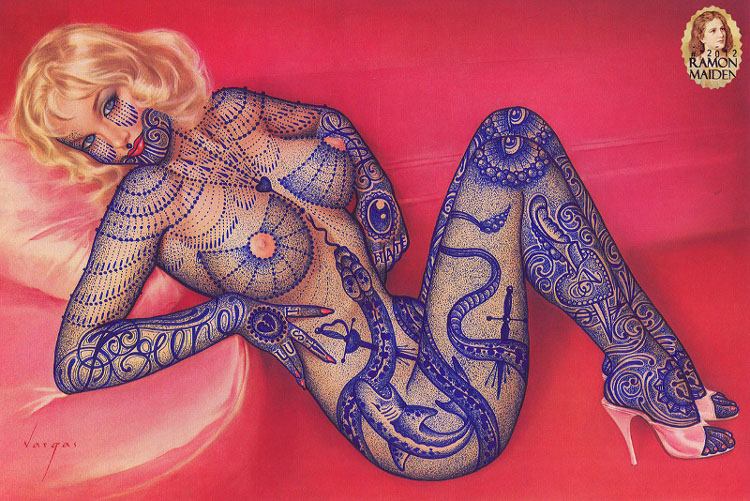 Maiden's Influences – Tattoo as a Way of Self-Expression
Maiden perceives the tattoo as a form of artistic expression. Many of the artists he follows and is inspired by not only deal with tattoos, but are also very good at other types of art. Those artist are Lola Garcia, Seth Wood, Dr. Lakra, Annie Frenzel, Sebastian Domasche, Matthias Boechtter, Ryan Mason and Amina Charai – all of them are excellent tattooists, great artists, influences and friends of Ramon Maiden.
Ramon Maiden is living between Barcelona and NYC.