One of the crucial persons for the re-establishment of luxury after the World War II, René Gruau was a creator of timeless expression of style, elegance, and sophistication, illustrations that were a favorite of the haute couture world through the second half of the 20th century. Probably best known for his advertisements for Miss Dior perfume and for Rouge Baiser lipstick, the artist worked with all prominent magazines and most recognized designers of that time, giving them radiance and sublimity that the fashion industry previously lacked. There were only a few artists who have had a career long and prolific as René Gruau who, from his beginnings during the 1920's until death in 2004, never stopped to create, leaving an oeuvre of posters encompassing the most prominent fashion advertisements. Inspired by the work of Henri de Toulouse-Lautrec and the aesthetic of Art Nouveau, his illustrations reflected the expressive line and controlled color of his predecessors. His coverage of the latest trends in clothing, accessories and perfumery induced an awareness of French fashion after the World War II, when the industry need a support to recover.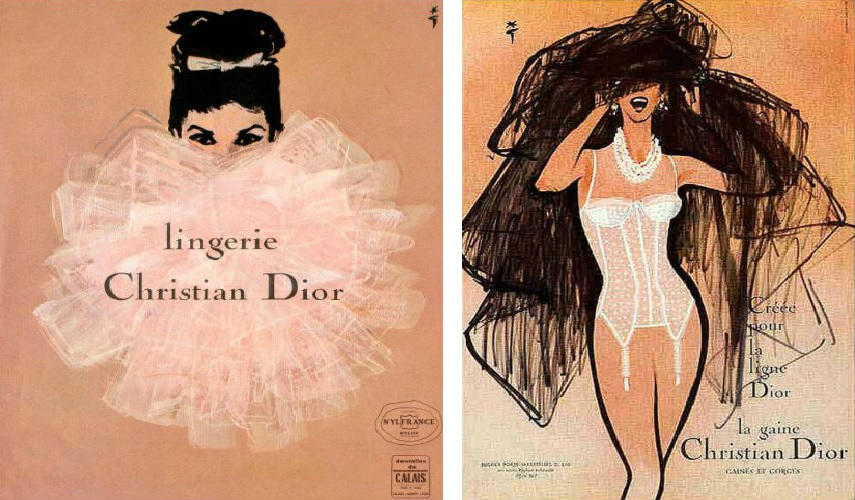 Early life and First Illustrations
Born Count Renato Zavagli Ricciardelli delle Caminate in Rimini, Italy in 1909, he was a son of the Italian father and French mother, both aristocrats who separated when he was three when he moved to Paris with her mother, later adopting her last name, erasing Italian royal connections. He was very early determined to reject the job of royal military commander and instead follow his passion for arts, profiling himself as the refined illustrator of fashion. Thanks to his mother, passionate traveler and fashionista who introduced him to painters and magazine editors who encouraged him to pursue his craft, at the age of 14, Gruau started to sell his drawings to the Milanese fashion journal Lidel and then to work for magazines such as Femina, Marie Claire, and Vogue. After some difficulties and lack of work due to the war, Gruau finally got a job at new small designer studio of Christian Dior. In 1947 he officially became his artistic director for advertising, helping the creation of the "New Look" and accomplishing friendship and very successful collaboration that Gruau is mostly remembered for. His most famous project for him, the Miss Dior, the house's first branded perfume launched in 1949, remained recognizable until today for his swan with the pearl necklace. Aimed at a new generation, swan as the reminiscent of the décor of 18th century France was a symbol of renewal. Also hired by major designers of that time, such as Pierre Balmain, Jacques Fath, Balenciaga, Elsa Schiaparelli, Rochas, Lanvin, Elizabeth Arden, and Hubert de Givenchy, Gruau was credited for expanding their popularity with his eye-catchy illustrations. His images are recognizable for his characteristic signature that evolved from his full name to cipher of capital G and a starlike shape said to have originated in a blob of ink.
Rene Gruau created poster for Dior's first branded perfume launched in 1949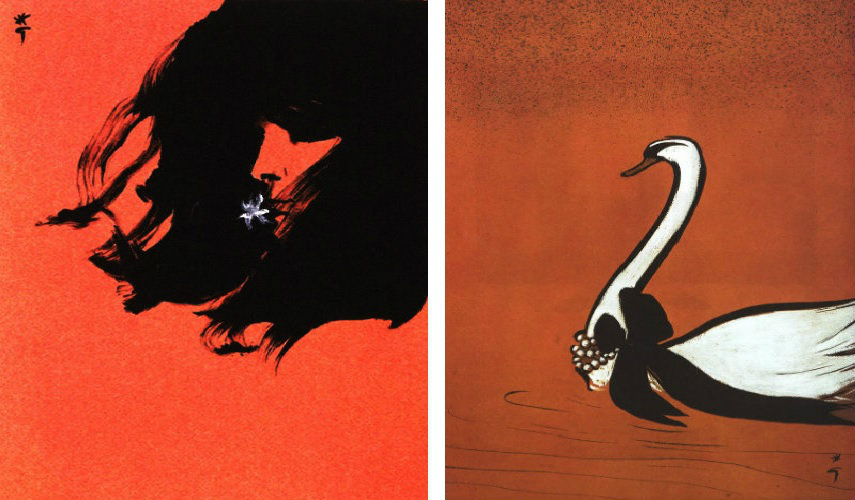 From Fashion Illustration to Creation of Posters
His flair and unique approach, with his trademark use of his powerful minimal line, Gruau's style combined seductive sophistication with classic beauty, grace, and sensual elegance. His posters often echoed both classical Japanese drawings and Toulouse-Lautrec's sketches of Paris nightlife. During the 1940's and 1950's, Gruau became a favorite of the high fashion world, working with Femina, L'Officiel, L'Album Du Figaro, and other high-style magazines. In 1948, he moved to the United States to create illustrations for Harper's Bazaar and Vogue, later becoming the exclusive artist for Flair, but rejecting Hollywood invitation to design costumes and posters. It soon became obvious that Gruau is a man of many talents and skills – an illustrator and poster maker, painter and designer of costumes and stage sets, and even created his own collection of clothing in 1948-49. Still, all of his various works are recognizable for his style, strongly determined at the time when photography threatened the poster art. Gruau's art is marked with his fluid, expressive and seemingly simple and easy lines and ability to decompose his subjects to their essence, accomplishing the maximum effect – a face, mouth, hairstyle, gesture and the structure of the clothes, everything was described in detail, but deprived of needless and reduced to graceful economy of means. Still, simple lines and broad brush strokes were not only the characteristic of his style but also the way for easier reproduction of his posters.
Throughout his career, Gruau always insisted on the clear point of working with models that he chose very carefully. Refusing to create pure paper images, he demanded the strong personality, basing a lot on their movements, expressions, and attitudes, choosing some of the most elegant women to pose, such as Nitzah Bricard, Dior's muse or the famous model Bettina Graziani. Another important quality of his work was his proficiency to use the right perspective, experimenting with high and low angles and negative spaces, Gruau managed to make images that naturally attract the human eye. His distinctive style was determined by use of mostly three colors: black, white, and red. This characteristic that became his trademark is actually the consequence of his previous work of an illustrator, considering the fact that most of his drawings for newspapers and magazines implied drawing in black on the white surface of the paper with the use of one color, in his case red. As the color he personally liked the most, red is also the most perceivable and such as, the most appropriate for advertisement. One of his most influential works is his cinema poster for Fellini's La Dolce Vita (1959) – much 1960's cinema artwork derives from it, but no less important are the campaigns for names such as Dior, Air France, Martini and Omega watches.
His art war marked by use of black, white and red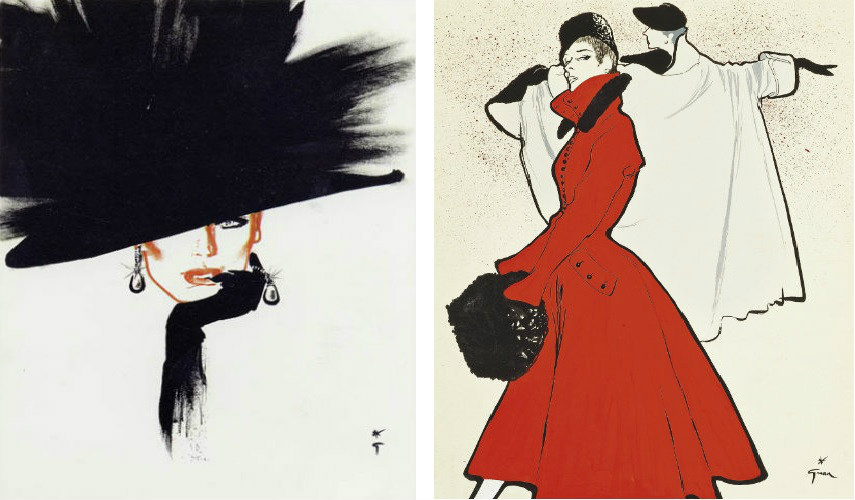 René Gruau: One of the Greatest Fashion Illustrators
His absolute mastery of graphic art is reflected in his unique way of expression conjoined with an innate appreciation of the magical elements that make fashion and glamour so wanted. With their lasting ability to seduce and inspire, his images manage to survive so many decades remaining fresh and contemporary. His campaigns for Moulin Rouge and Lido de Paris evoked the old aesthetic of traditional poster art of Toulouse-Lautrec, Bonnard, and other 19th century Parisian painters. Doubtless one of the most important fashion illustrators that have ever lived, René Gruau's works are today collected and exhibited all over the world, including Louvre in Paris. From the early beginnings of the fashion industry, until his death in 2004, at the age of 95, Gruau worked with the same enthusiasm and devotion, creating historical examples of advertising.
Featured image: René Gruau – Untitled – Image via theartoffashionbychristina.wordpress.com
| Year | Exhibition title | Gallery/Museum | Group/Solo |
| --- | --- | --- | --- |
| 2011 | Dior Illustrated: René Gruau and the Line of Beauty | Embankment Galleries, Somerset House, London, England | Solo |
| 2010 | René Gruau (1909-2004): Cover Art, International Textiles Magazine | Fashion Illustration Gallery, London, England | Solo |
| 2012 | Rene Gruau - The Gruau Man | FIG (Fashion Illustration Gallery), London | Solo |
| 2010 | Rene Gruau – Cover Art | FIG (Fashion Illustration Gallery), London | Solo |
| 1972 | Modetekeningen van René Gruau - tekeningen, gouaches en Ontwerpen 1945 - 1972 | Gemeentemuseum Den Haag, The Hague | Solo |
| 2001 | Acchrochage | Galerie Bartsch & Chariau, Munich | Group |
| 2003 | "Kunst-Mode" | Galerie Karl Pfefferle, Munich | Group |
| 2005 | Art in Fashion: Zahm Collection | Daelim Contemporary Art Museum, Seoul | Group |
| 2007 | 100 Years of Fashion Illustration | FIG (Fashion Illustration Gallery), London | Group |