Creating traditional images inwrought with the touch of romantic Impressionism, Richard Zu Ming Ho strives to bring spiritual quality through the intimacy of his sophisticated characters. His lyrical style paints poems and divine stories on the canvases, deeply influenced by French masters like Edgar Degas, Edouard Manet and Pierre-Auguste Renoir, as well as American painters John Singer Sargent and James Whistler. His propensity towards western visual language brought him unwanted attention of the Mao's Communist Party that tried to break his spirit by forcing him to hard labor in camp.
Life in Labor Camp and Realization of the Artistic Dream
Zu Ming Ho was born in 1949, in a family that had already produced several well-known artists. His earliest artistic affinities were satisfied by taking classes in drawing, watercolor, calligraphy and figurative painting in "Western style" with the wide range of themes and motifs. As a member of the famous Yunnan School, his aim was to educate the Chinese people about western innovations through traditional themes. But his wishes were thwarted when the communist regime sent him to do forced labor where lived for a ten years keeping his artistic dream alive by memorizing images and patiently waiting for the moment of liberation. With the end of Cultural Revolution, the artist finally graduated from the Shanghai Drama Institute of Fine Arts, majoring in oil painting. He started to exhibit his work throughout his country and in 1987 he had a chance to immigrate to the United Stated following an acceptance to study at an American university. His first international exhibition was held in Los Angeles.
Ho tended to create paintings in Western style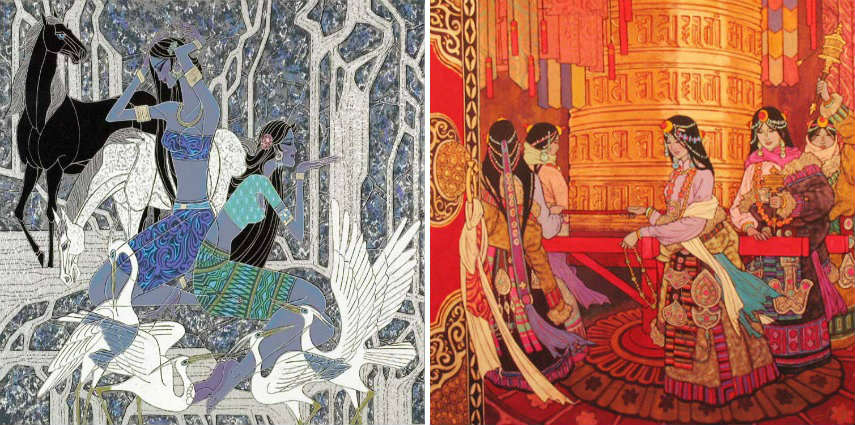 Zu Ming Ho's Art – Mixture of East and West
Finally freeing his talent, Ho's paintings became more opulent with meaning and elegance. Combining sophisticated approach with the vivid colors, his works glorify the beauty of the human body and the intimate relationship with nature and the universe. The artist conveys the essence of the Chinese tradition using the intertwined lines, delicate tones of colors, rich textures, and elongated figures of his characters. The importance of his contribution to the Chinese contemporary art is confirmed by his numerous recognitions. The artist was honored as a member of the Chinese Art Association and was named vice chancellor of National Jia Zhou Institute of painting.
Richard Zu Ming Ho lives in China where he works as a professor of art.
Featured image: Richard Zu Ming Ho – All Honor To Buddha (detail), 2007, Image courtesy of Addicted Art Gallery