The art of Romisa Sakaki can be interpreted as a way in which she deals with her own personal fears and concerns. This may come as a surprise after looking at her paintings for the very first time, but her comfortably light approach is nothing more than a deceiving irony. Using apparent happiness, Sakaki channels things that frighten her the most – loneliness, abandonment, isolation. She depicts everyday things, moments of leisure and random scenarios pulled from ordinary life, all the while leaving little clues for us that are actually metaphors for what she dreads. Through a very effective visual language, she questions life at its core and makes us uncertain of who to trust and keep close.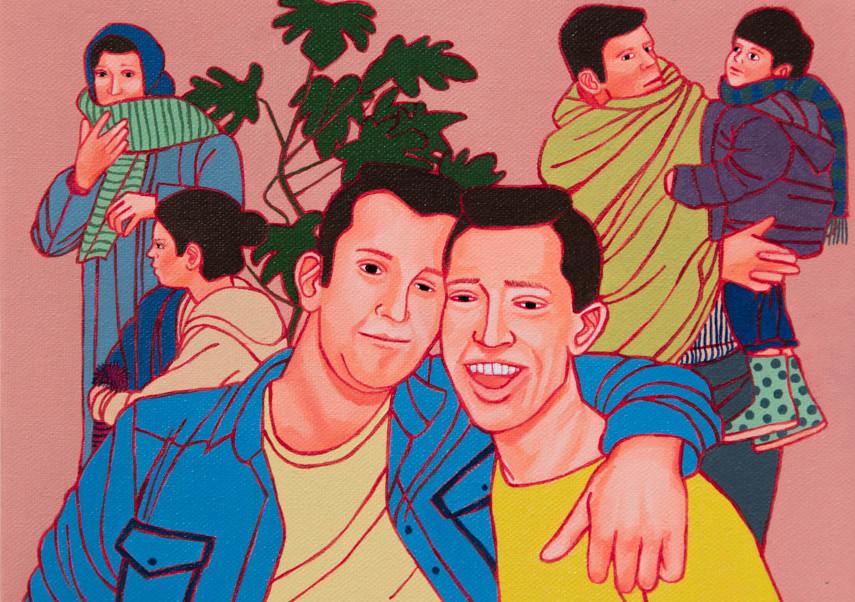 Developing Her Own Style
Much of Sakaki's work can be connected to her passion for impressionism and the power of coloration this art movement managed to develop. She can actually be called an impressionist buff, as she appears to know every little thing about its artists, Parisian salons where they displayed their work or in which parks they preferred painting plain air pieces. Some interesting parallels can be drawn between her style and that of George Seurat – especially his famed Sunday in the park. This can probably be identified as Romisa's career's starting point because she wanted to create art that could stand shoulder to shoulder with the 19th century works that defined arguably the first avant-garde movement. But she knew that the only way to achieve this was to start small, with pieces she was sure could be pulled off. In 2011, Sakaki painted an untitled series of portraits, depicting scenes like usual birthday parties of a loved one, couples, dear friends etc. Soon, she made a bold choice not to put too much detail in her work as that seemed like nothing more then clogging the painting and preventing its point from coming out in the open. For that reason, her pieces can be described as splendidly clean. Her earlier works (mostly those from 2009) focused on things that deeply disturbed her, such as war migrations or confrontations with police caused by the post-election civil uprising in her home country. Somehow, she succeeded to depict such a messy historical event into fresh beautiful artwork titled Find Answers on the Street. Recently we've seen her turn towards happier themes such as happiness, friends, picnics and the urban outdoors. However, these pieces are not what they seem to be, as you will find out soon enough.
In her earlier works, Sakaki was strongly influenced by the uprisings in Iran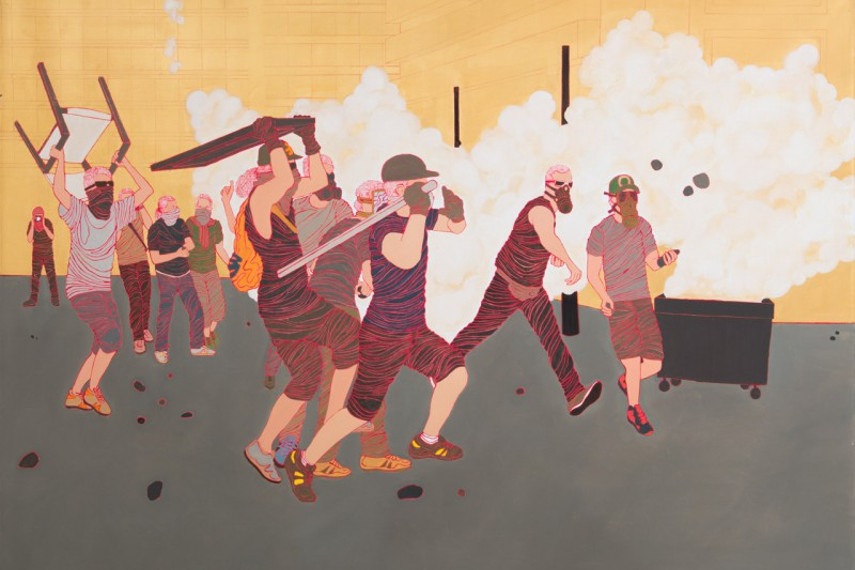 Don't Trust Everything You See Around You
The works of Romisa Sakaki revolve around concepts of alienation within societies. She covers themes such as anxiety, insecurity and liminality – all the reasons we chose to isolate ourselves from other people. What makes her paintings so interesting – or terrifying – is the fact they are not geographically or regionally limited, so it's easy to envision yourself as belonging inside one of them. Sakaki does not focus on the physicality of her subjects, but rather chooses to create a strong psychological focus inside the faces of her compositions. Almost all figures she depicts via her paintings are placed inside groups of people, made to interact with each other. By her own admission, Sakaki draws inspiration from observing crowds and trying to figure out just how little sincerity is in these kinds of situations. Technically speaking, Sakaki is known for her masterful usage of diverse and vibrant colors that really carry the piece from within. She intentionally makes her paintings seemingly simple so that we may concentrate on the real themes she covers – the solitude and estrangement in places you will never think them present. Yet another characteristic in Romisa's work is the decisive lack of backgrounds. Obviously, she made a choice not to depict what goes on in the back so we could concentrate on what's in front of us – this way she achieves to additionally put accent upon the feelings of isolation that bother people she paints.
The truth behind Sakaki's paintings reveals itself only after you start analyzing her work in detail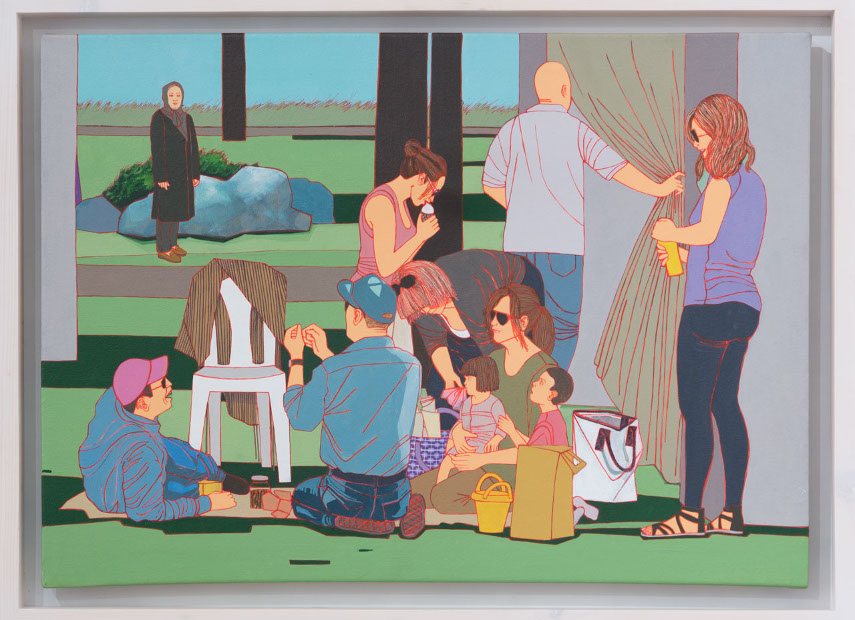 The Harsh life Lesson By Romisa Sakaki
Simply put, Romisa Sakaki uses her art to raise questions about human existence, be they virtual, concrete or imagined. Surely enough, if you are not that ready to dig deeper for meaning, you can simply view her paintings without thinking too much and they will seem like some sort of Pop art inspired work without any point whatsoever. But if you feel brave enough, risk it and start analyzing. If that is your final choice, a little warning is in order – you might get quite paranoid about your friends, loved ones, smiling neighbours and strangers. You may start trusting no one. Ultimately, what Sakaki is trying to tell us is that there really ain't that much we can learn from people's faces and the way they act around us. Everybody has some sort of inner motivations or desires they keep for themselves and that makes them not fit for trust. So stay vigilant and don't believe everyone you meet – or just try not to panic too much.
The artist is represented by Open Walls Gallery in Berlin, Germany.
Romisa Sakaki lives and works in Tehran, Iran.
Featured Image: Romisa Sakaki – Persian art selfies 4, 2015 – Photo Credits Romisa Sakaki
All Images Photo Credits Romisa Sakaki
| Year | Exhibition Title | Gallery/Museum | Solo/Group |
| --- | --- | --- | --- |
| 2016 | Romisa Sakaki | Openwalls Gallery, Berlin (Germany) | Solo |
| 2015 | Romisa Sakaki | Aran Art Gallery, Tehran (Iran) | Solo |
| 2015 | Unknown | #YPA Young Persian Artists, Berlin (Germany) | Group |
| 2015 | Romisa Sakaki | Niavaran Cultural Centre, Tehran (Iran) | Solo |
| 2014 | Unknown | Shirin Art Gallery, Tehran (Iran) | Group |
| 2012 | Unknown | Mohsen Art Gallery, Tehran (Iran) | Group |
| 2011 | Unknown | Mohsen Art Gallery, Tehran (Iran) | Group |
| 2011 | Unknown | Azad Art Gallery, Tehran (Iran) | Group |
| 2010 | Romisa Sakaki | Vienna Art Week, Vienna (Austria) | Solo |
| 2010 | Unknown | Dar-al-fonoon Art Gallery, Kuwait (Kuwait) | Group |
| 2010 | Unknown | Azad Art Gallery, Tehran (Iran) | Group |
| 2010 | Romisa Sakaki | Mohsen Art Gallery, Tehran (Iran) | Solo |