Sally Paxton is an Australian contemporary artist currently living in Sunshine Coast. She is best known for her nature inspired artworks, with emphasis on birds.
Art by Sally Paxton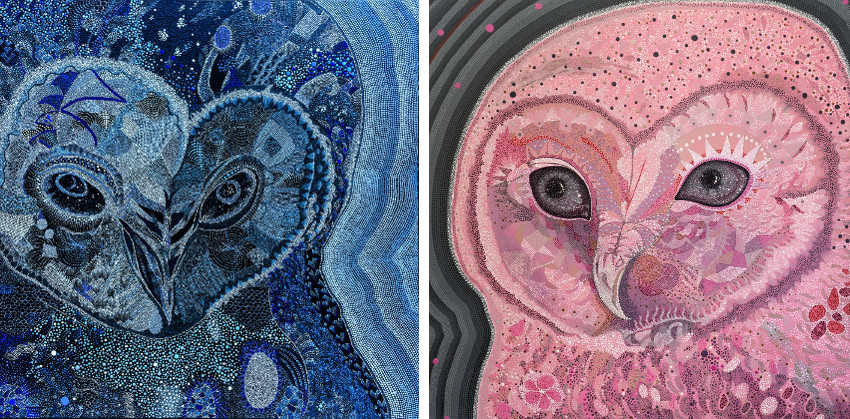 She received her Certificate 4 Visual Arts from Tewantin TAFE, Queensland, in 2013, her Diploma in Visual Arts from the same institution in 2014, and her Advanced Diploma in Visual Arts from Nambour TAFE, Queensland, in 2014. Inspiration comes from life in wilderness, with birds being the favorite. Dots are dominant in Paxton's work, as well as repetition of patterns and shapes. She has an obsession with dots, and sees them everywhere. The work is about the connecting the artist with the world she inhabits. In the same time, it is her vision of reality and her imagination in action.
Art by Sally Paxton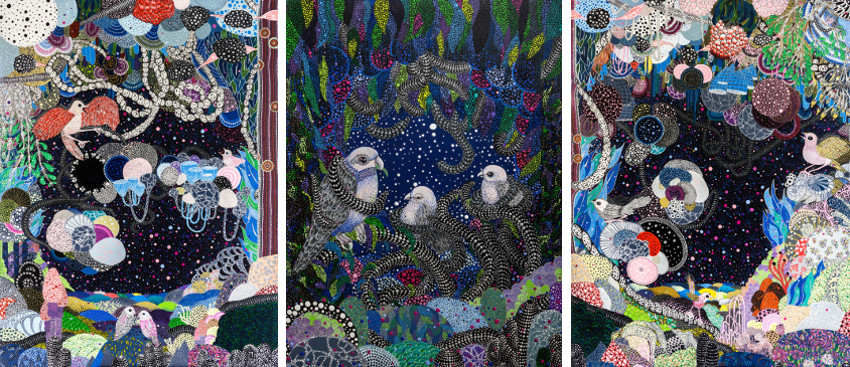 Paxton grew up on the Murray River in Mildura, Victoria. Those early days, full of exploration of the banks of the river birthed her adoration for nature. Animals in their natural surroundings were the original inspiration, and still are dominant theme in her artworks. She didn't start painting until destiny interfered and she moved to Yaroomba Beach, where she finally had enough time to paint. Like with all true artists, first stroke of the brush awakes obsession, and every single piece of Paxton's work have a part of her embedded deeply inside.
Art by Sally Paxton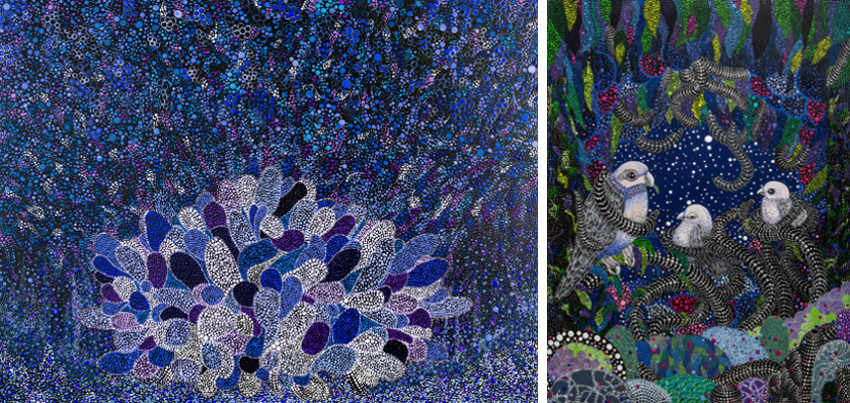 She is represented by 19 Karen Contemporary Artspace in Mermaid Beach, Australia.
Sally Paxton lives and works in Sunshine Coast, Queensland, Australia.
All images courtesy of the artist.
| Year | Exhibition Title | Gallery/Museum | Solo/Group |
| --- | --- | --- | --- |
| 2014 | emergencE | gallery one Nambour, Qld | Group |
| 2014 | Migration | gallery space Tafe Tewantin, Qld | Group |
| 2014 | Match Box | gallery space Tafe Tewantin, Qld | Group |
| 2014 | Deconstruction | gallery space Tafe Tewantin, Qld | Group |
| 2013 | Cert 4 final year exhibition | gallery space Tafe Tewantin, Qld | Group |
| 2013 | SCAP T3 | Butter Factory Cooroy, Qld | Group |
| 2013 | Essence of the coast | Eumundi markets, Eumundi, Qld | Group |
| 2013 | Unknown | Nambour public library, Nambour, Qld | Group |
| 2013 | Body art exhibition | Eumundi, Qld | Group |