There is almost no artist that haven't been thinking about how it would be if one of the old masters reappears and start painting in the old manner, but influenced by all the things that happened in his absence. American artist Scott Fraser was always drawn to the old styles and many different traditions – but he never wanted to avoid the mark that modern time left on art. The result is seen in his work that combines the traditional with the contemporary, sometimes slipping quirky juxtapositions and dark humor. Let's dive into the world of an artist who divides art on before and after 1913 Armory show, one of the most influential events in the history of American art.
Fraser is master of combining traditional with contemporary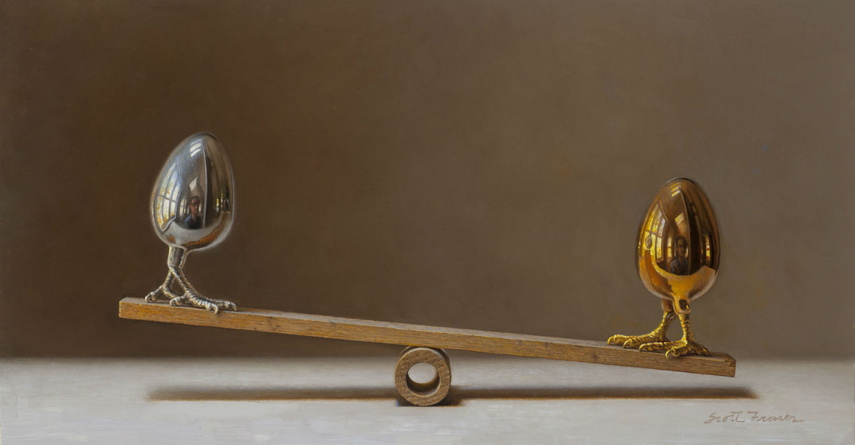 Drinking from the Old Masters' Well
Many frequent trips to the Art Institute of Chicago, where the boy enjoyed the works of many artists, especially those of Picasso, resulted in his increasing interest in art. Determined to pursue the artistic career, he attended the Kansas City Art Institute. Upon graduation and a somewhat slow start, Fraser finally sold some of his paintings. That was a turning point in his life, as he came to know the feeling of self-confidence and a pleasure of living from the art, and not just living for it. At the age of 27 he traveled to Europe and viewed in person the works he always admired from afar. When he saw Vermeer's Woman Pouring Milk live – Fraser was completely captivated. Being a realist painter, this artist's style flourished with the newly found Flemish art influence. Works like Van Eyck's alter piece in Ghent or Gerard ter Borch's Conversation made Fraser experiment, so he stirred from the figuration and landscape art to the still life form. In his early work, Scott Fraser has been influenced by many different artists and genres and he was fascinated by both historical and modern works of art. His artistic language was visibly marked by the strong impact that Lucian Freud, Joseph Cornell, Paul Klee and Frank Auerbach had on him, together with the underlying influence of the School of London (a group of postwar artists who rejected the current Minimalist and Conceptual avant-garde, painting in figurative styles) and Spanish realists (Lopez Garcia and Isabella Quintanilla) visibly marked his artistic language.
This artist often feels like an outsider amongst the realists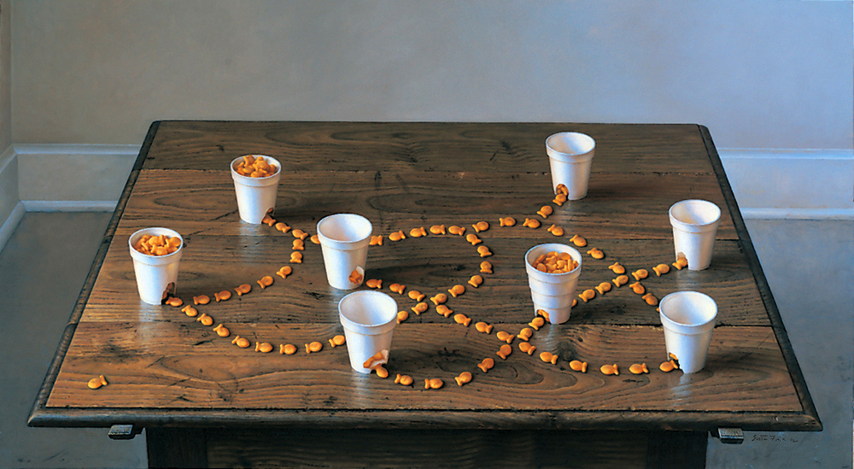 Fraser's Remarkable Precision
As for his technique, Fraser starts most of his paintings as a small thumbnail sketch, the method he established in order to see will the concept he had in mind work at all. Another important, and somewhat old-fashioned element in his work are drawings used as pre-studies for paintings. In figuring line, volume, and perspective, he makes a lot of adjustments in the last stage, just before transferring the drawing to a panel for painting. Besides canvas, this artist also paints on copper plates, because he noticed that the combination of oil paint on copper is pretty stable and long lasting, holding all the important characteristics of preservation. Fraser also uses a magnifying glass for both subject and painting – and that comes really helpful when working with such small details this work requires.
Scott Fraiser is the painter of the Golden Mean and other methods, almost fogotten today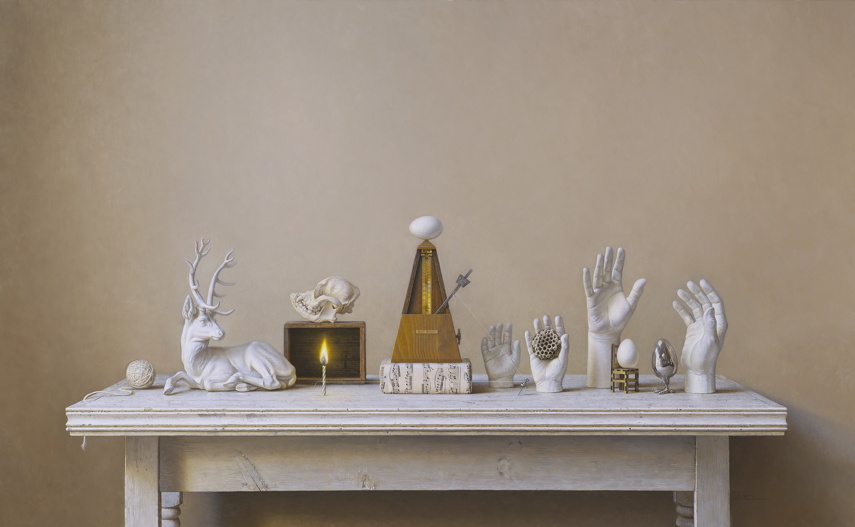 Contemporary Artist and the Need to Think Outside the Box
According to Scott Fraser, one shouldn't get too comfortable in the world of contemporary art. As for himself, he is constantly seeking to broaden his knowledge and experience, always experimenting with imagery and thinking outside the box. Fraser once said that he often feels like an outsider amongst the realists and that he thinks it was a conscious choice.
Apart from being influenced by his teachers and art history, Fraser follows more than one particular style school. But, this artist also admits that his friends and family play a big part in the evolution of his inspiration. Especially his children, Fraser says. His works often evolve from previous paintings thus forming a series of cycles like the case with the Icon Series from 2007 – where a plaster cast of the artist's own hand is placed in a central position on each painting. All works are the same size for he insists on consistency and even though every artist he referred to in these artworks, formed a group with similar ones, all of them together resonated in a special way – thanks to Fraser's deep understanding of the art history development.
Erasing the borders between old and new school. this artist takes the viewer on an exciting journey where tradition is intertwined with new tendencies, taking the best from both of them.
He is represented by Gallery 1261 in Denver, Colorado, USA.
Scott Fraser lives in Longmont, Colorado.
Featured image: studio shot and all artworks images © MUSEUM