Sergio Garcia is a Cuban-American artist, a sculptor and a painter who uses art as a mean for exploring his personal identity, both past and present within the context of the ever present human condition and the socio-political environment.
Sergio Garcia and The Leopards
Garcia was born in Havana, Cuba in 1969. When he was only two years old, he immigrated with his family to United States. They first settled in New Jersey but after eight years, the whole family moved to Miami, Florida where he grew up.
Ever since Garcia can remember, he was in love with anything that has to do with art. His first box of Crayolas, a gift from his mother, is one of his most cherished memories from childhood. He said "after drawing all over the walls and on coloring books" he knew he was destined for a lifelong relationship with art.
Sergio was granted a full scholarship to study art, but very soon he became disenchanted with academia and dropped out in 1979. His first project after dropping was Miami's first Punk band called The Leopards. The band endured for whole nine years, even playing at the famous Agora Ballroom Club, where Iggy Pop, U2, B 52′s, Blondie, The Ramones and other legends used to perform. When Sergio got tired of crazy sex and drugs and r'n'r life, he got back with his first love – art, by taking art course for about six months in Miami-Dade Community College.
"I didn't learn a thing, I thought I was wasting my time over there, I dropped out and dedicated myself completely to painting when I was 28 years old."
Moon – Flower series: Sergio Garcia at Straight 8's
In 2010, at Straight 8's, a place for underground music and the arts in Miami, Garcia exhibited two unusual paintings, the only two pieces he created with metallic spray colors, light greens from Moon – Flower series. Garcia said he was inspired by Iggy Pop, the godfather of Punk Rock whose song texts are covering the canvases, the segments of his songs, but also some of Garcia's lyrics too.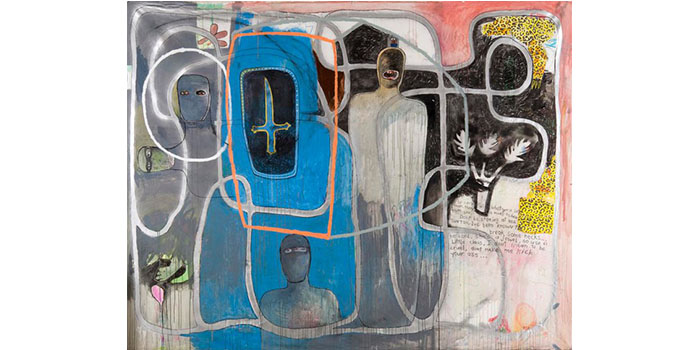 "I mixed the heads with eroticism and sexuality, the same issues I identify with Iggy Pop, all the sexual obsessions and the like."
Garcia has exhibited at countless galleries and fairs, including the SCOPE ART Fair, 941 Geary, Hal Sampes Gallery, and Gallery Lombardi. His work is in museums, galleries, corporate and private collection in the U.S. and abroad. Garcia received several awards and honors and has been the subject of numerous articles and major publications.
Airing Out My Dirty Laundry
In 2013, Sergio Garcia teamed up with Beyond Arts Gallery for a series titled Airing Out My Dirty Laundry in Harlingen. This project is his contribution in finding out "what we're doing wrong – after that, we have the key to change". Majority of artworks from the Airing Out My Dirty Laundry collection contain keys, symbolizing that we all do have the key within ourselves to change.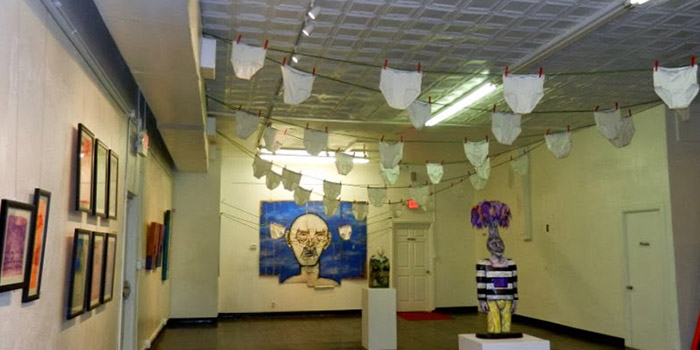 This essentially self-taught artist embraces painting as his preferred medium of expression. However, if Garcia would have to choose only one medium to focus on, it would be ceramics!
"I enjoy the smell of the clay. The clay, it's cold. [When I work with it], I take control of the clay with my hands."
Garcia is constantly struggling with issues coming from social and political landscapes, portraying human condition and personal identity. He does that by challenging his own passions, and obsessions, his anxieties and fears, and confrontation of bi-cultural dualities and realities.
Infinite Chapters
Sergio once said that his art comes to life neither to be self-satisfactory, nor to play a role in the arts. He simply plunges into the unknown.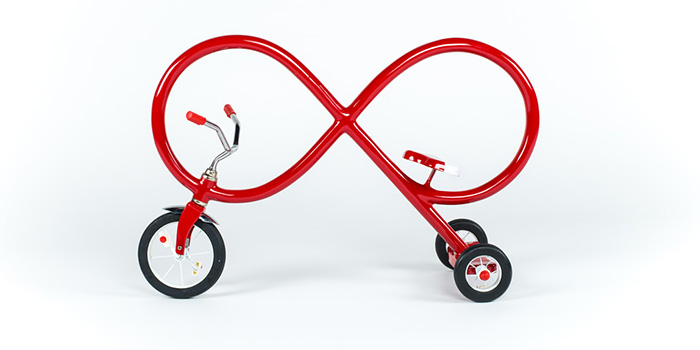 This artist uses the unconventional as a theme for his work, while embracing painting as a platform to express himself – Garcia, at the same time, explores the contemporary socio-political climate. Sergio's sculptures depicting tricycles are created to manipulate viewers' traditional expectations of his familiar, childhood toy, based on memory and nostalgia.
"I enjoy creating art that people can relate to and that stimulates the creative subconscious. Not only to create an emotional relationship between art and viewer, but to conjure up questions of how and why."
His delightfully distorted tricycles, figures, and other objects are presented at the exhibition titled Infinite Chapters, his solo show at White Walls gallery at San Francisco in 2014.
Sergio Garcia lives and works in Miami.
All images copyright © the artist