Hong Kong based, but claims to be 100% Chinese, Sinic is definitely an artist to keep an eye on. He mainly paints graffiti, combining western and Chinese calligraphy as a new type of fusion art form. Sinic is putting a big effort in keeping street art alive in China, battling with stereotypes that graffiti artists are thugs and nobodies. He is also an organizer for Urban street culture events, such as Wall Lords, the biggest, annual graffiti event in all Asia, hosted in 9 countries. Throughout the years, graffiti scene has taken over all regions of Asia, and especially in the last few years, it constitutes the urban, street culture in Asia, slowly but surely changing its history. Festivals such as WL are organized as entertaining events, to help gather the most prominent graffiti artists in the region, to interact and exchange skills through competition, creating a free environment for expression.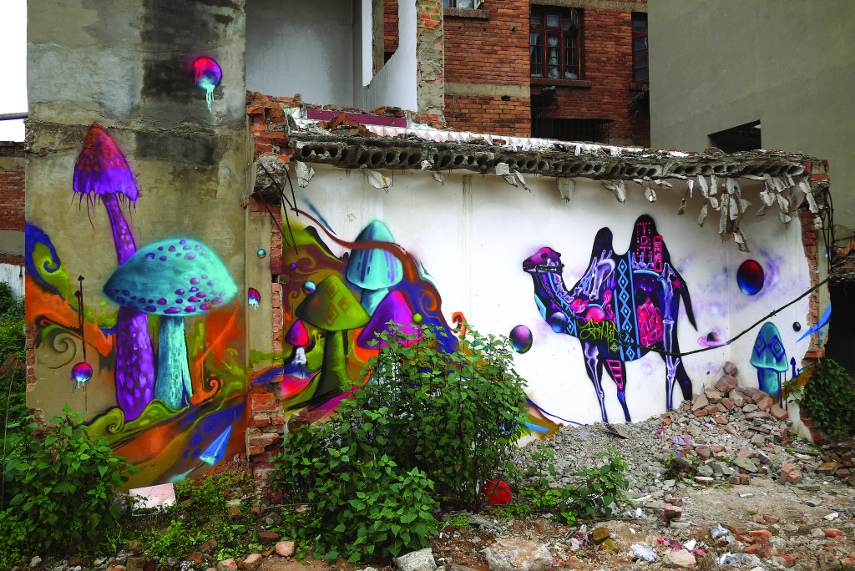 Hooked on Art
Growing up in a neighborhood resembling a ghetto, Sinic found his way out through drawing, from an early age, expressing his emotions onto a canvas. At the time, street style culture was blooming in Hong Kong. As he was a big fan of Hip Hop, and graffiti being a part of it, all that Sinic knew about this kind of art was through the music he enjoyed. It was only natural that he starts making graffiti himself, though at the beginning his style was wild, raw, untamed, lacking structure. All this changed after a famous graffiti artist, Neck (CNS) visited Hong Kong. Seeing his work changed Sinic's perception and his painting took a different turn. He found two main motifs – animal and calligraphy. Using the latter to merge Chinese and Western culture, traditional and modern, with walls as his canvas.
Sinic often collaborates with other street artists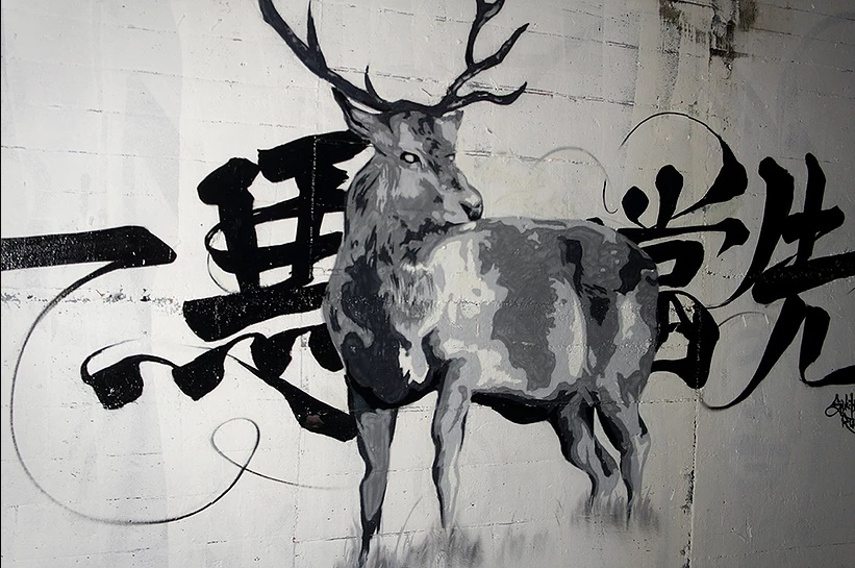 On the Road
Sinic is not only an artist, he is an active organizer for several projects related to graffiti and street art culture in China. He is a co-founder of INVASIAN graffiti magazine and 1AGN sub culture guide book. In the recent years, his work was widely praised by galleries and global artist networks, thus giving him more opportunities to showcase his work in different countries. Sinic works mostly with IDT crew based in South China as well as the KB crew from Hong Kong. In 2012, a movie On the Road was launched, showing three artist – Sinic, Yyy and Nim, the IDT crew. They took on a journey to Tibet, filming their experience and art. The movie got worldwide recognition and became the first of its kind, documentation of street art culture in China. In 2014, the group released a sequel
Sinic lives and works in Hong Kong.
Featured photo: Sinic – Shangri-la, On the Road project, photo via flickr.com