Sonia Falcone unites social and artistic. Her vision of art is healing, helping and meaningful. Working with different mediums, mostly painting, and installation, this artist emphasizes the spiritual aspect of creativity. Artists should express themselves and at the same time use the creative flow of energy to construct the bridge that would transfer the same energy to the audience. From artist to actual work, and then to the viewer, the constant stream of spiritual energy should be maintained and everyone included in the process should feel the benefit. Art is what makes people think, what makes people feel, and what people should turn to in both good and bad times.
The artist uses color to induce feelings of hope and happiness in the viewers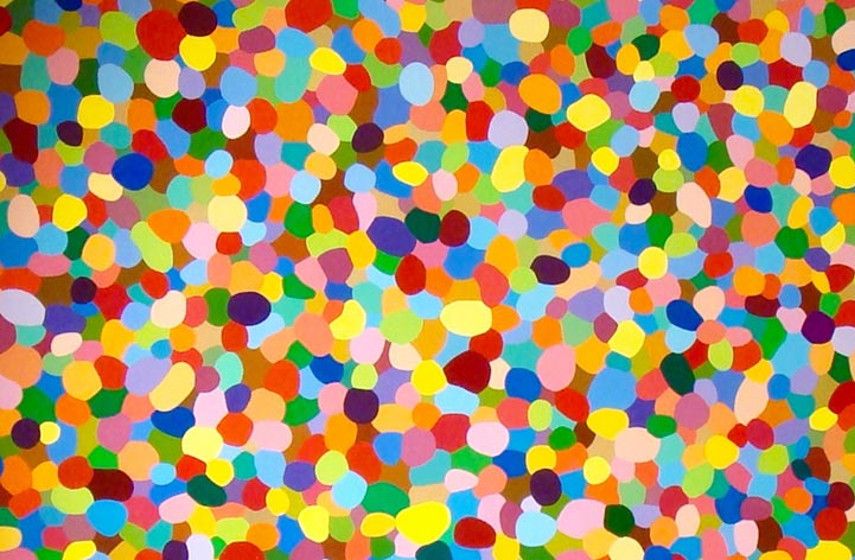 Dedication to Spirituality
Sonia Falcone was born in Santa Cruz, Bolivia. At an early age, she felt her purpose was to help other people. She wanted to become a dentist and she went to nursing school. She studied the history of art in California and continued her education in fields of psychology and art. The artist received an honorary doctorate from Trinity College of Graduate Studies in Pshychology and Spirituality. Falcone dedicated her whole career to art and spirituality, and under the holistic approach, she unites everything that she does under the idea that art can move, help and inspire. Using her own experience as an inexhaustible source of inspiration she moved from figurative painting to abstract art to installations.
Field of Color installation was made out of 88 bowls of spices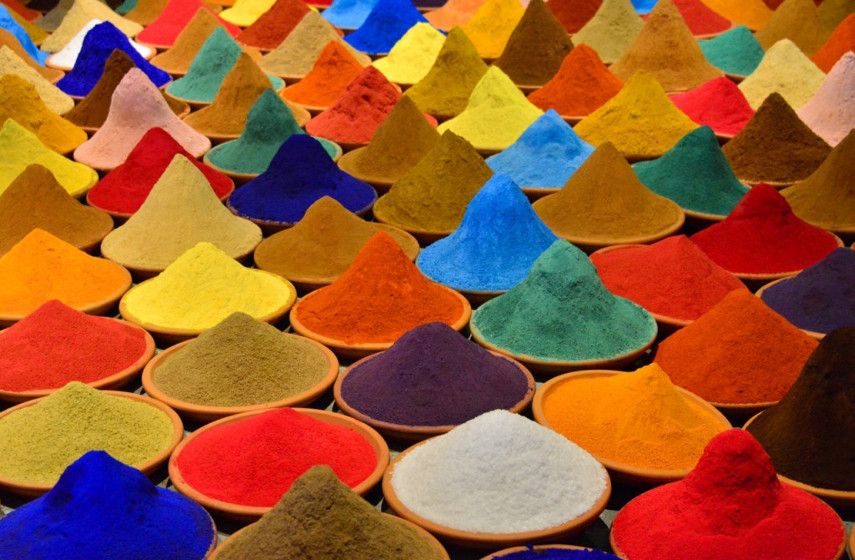 Field of Color and Power of Spices
Falcone gained worldwide recognition for her Field of Color (Campo de Color) installation that she presented at the Biennial of Venice in 2013. The installation consisted of clay bowls with spices from all around the world, that were positioned in a repetitive manner in order to form a harmonic and colorful foundation. The symbolic power of spices that she had chosen to use instead of paint pigment, empowers the installation with historical heritage, that in this case overwhelms the minimalistic concept. The artist chose spices from both East and West, Old and New World, as a representation of a powerful fact that people managed to overcome some major historical battles and spices opened up the roads for many travelers. Exploration brought colonization, but in unity two worlds were bonded and the people started living as one.
The artist works under the idea of uniting cultural difference for the cause of spirituality and hope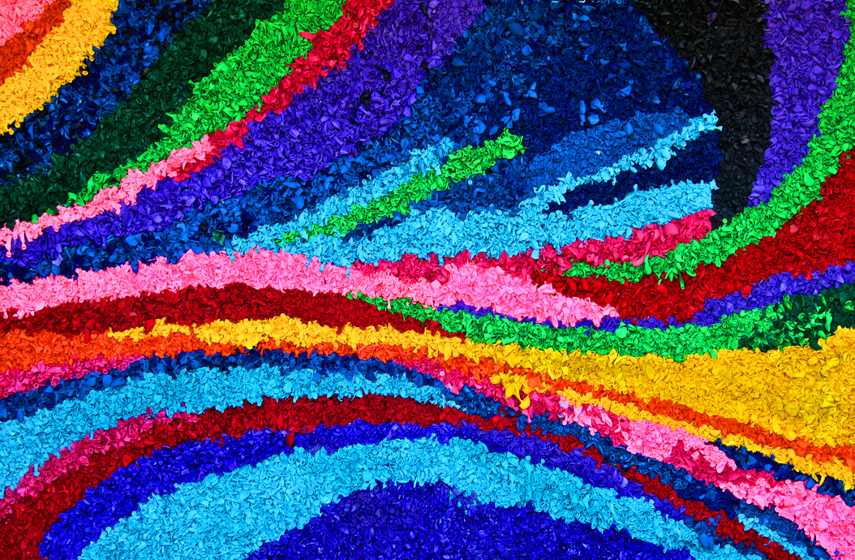 Cultural Diversity as a Source of Inspiration
In the fields of color, or in this case, clay bowls of chocolate, chili, curry, thyme, oregano and many others, the artist saw a potential of sending a message to the audience, but also to the universe that underneath the power bigger than us, we are united as one. Her idea is to explore the concept of human spirituality and to enjoy the differences we have in out cultures, rather than to perceive them as obstacles. The differences are bringing diversity that enriches the lives, not diminishes them with negation or contraries. Her aesthetic pleasantness of 88 clay bowls shows not only the unity of culture, it also shows the wealth of culinary world, that aims to induce a feeling of humbleness in the viewer. The need for gratitude has been subtly present in Falcone's work.
Falcone's installation was made out of thin, vertical blocks that were spread around six meters
Windows of the Soul and Message of Hope
In Windows of the Soul installation, Sonia Falcone used her spirituality as a central theme and presented it at the XVII Bienal de Arte de Santa Cruz de la Sierra, in 2010. The video installation was made out of thin, vertical blocks that were spread around six meters and aligned in an uneven manner. On the blocks, she projected video made of short and colorful components that were each representing one part of her personal life. She mixed artificial and natural scenery to stress out the unity and importance of both in human existence, and the message she wanted to send is that living is beautiful, from the moment of conception throughout everything man does and feels in his lifetime. Her mission was to send hope and to signify that there is promise for the better future.
The artist is represented by Fabien Castanier Gallery.
Sonia Falcone lives and works in United States.
All images used for illustrative purpose only © Sonia Falcone
Featured image Sonia Falcone – The artist with her Campi di colore installation (detail), 2013, photo credits Artibune
| Year | Exhibition Title | Gallery/Muesm | Solo/Group |
| --- | --- | --- | --- |
| 2011 | Pinta London | Salar Gallery, Earls Court Exhibition Centre, London UK | Group |
| 2011 | Art Palm Beach | Palm Beach County Convention Center, Palm Beach, FL, USA | Group |
| 2011 | Sonia Falcone at Miami International Art Fair | Salar Gallery, Miami Beach Convention Center, FL. USA | Group |
| 2010 | Sonia Falcone at Pinta New York Art Fair | Salar Gallery, New York City, USA | Group |
| 2010 | Sonia Falcone participating at Santa Cruz International Biennale | Casa de la Cultura, Santa Cruz, Bolivia | Group |
| 2010 | Sonia Falcone Exhibition | Galeria Lorca, Santa Cruz Bolivia | Solo |
| 2010 | Sonia Falcone at group exhibiton | Galeria Nota, La Paz Bolivia | Group |
| 2007 | Sonia Falcone Exhibition | Calvin Charles Gallery, AZ, USA | Solo |
| 2006 | Collective exhibition | Phoenix City Government Convention Center, Civic Plaza, National Hispanic Woman Corporation | Group |
| 2006 | Collective exhibition | Museum of Phoenix | Group |