Finding his father's sealed box with art supplies was the crucial and most important discovery for a young boy who just started to do some sketches. Stefan Golz began to draw using China ink and remained true to himself until today. Besides his artistic work, Golz is co-founder and creative director of the fashion brand Wemoto. As a designer, he inherited his drawing style – minimalistic and simple black lines which create one complex expression. His drawings are detailed, rarely colored, depicting the themes taken from the pop culture. Celebrities and cartoon characters are taken out of their familiar environment and complemented by unusual accessories.
Cartoon characters are taken out of their familiar environment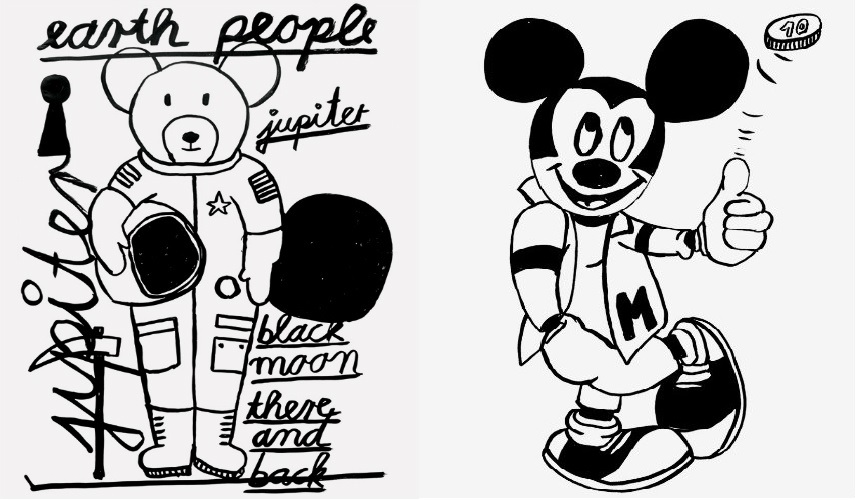 From T-shirts to Gallery Exhibition
Although he can be placed within the frame of urban arts, Stefan Golz does not consider himself as one of these. His only influence on the public environment is by printing T-shirts and skateboards, which encouraged him to find his inner child and draw again as he did a long time ago. He pulls characters like Mickey Mouse or E.T. out from the place where they usually are, sometimes complementing them with funny slogans. His technique was developed when he was a teenager who was cutting models from his older sister fashion magazine, recombining different elements and parts. Later he tried other approaches, as silkscreen or computer programs, but remained dedicated to China ink.
Golz likes simplicity. He sometimes draws colored works but thinks that his main expression lies in the black-and-white. He chooses themes and exponents of the pop culture because of their universal meaning. On the exhibition All Ghosts in gallery Neuheisel, the audience, mostly Wemoto fans, could see his drawings with familiar themes. T-shirts with the same images represent the useful piece of art that could be taken home.
China ink is Golz's favourite technique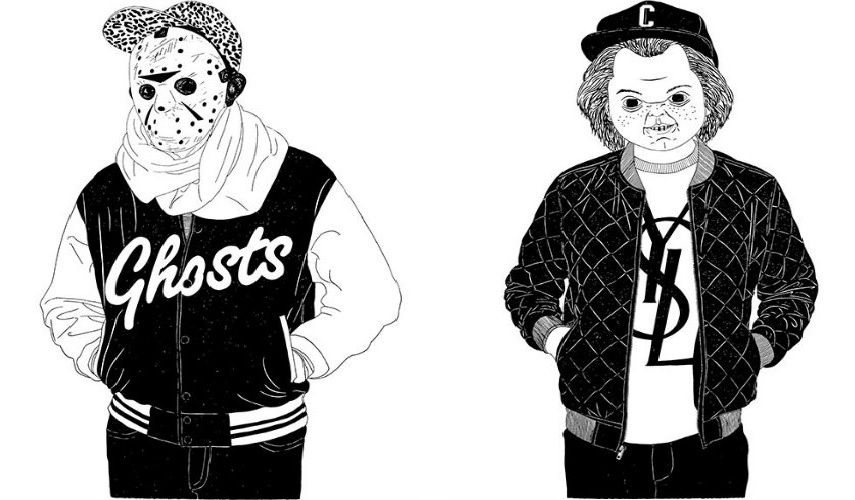 Music as the Main Inspiration
The skateboards and T-shirts were the first product with images from Golz's drawings. Inspired by skateboard designers Sean Cliver and Marc McKee, designing the bottoms of these urban accessories marked his early career. Albert Einstein, Charlie Chaplin, Morrisey and Tupac are only some of iconic figures portrayed in his work. Golz finds his inspiration in everyday life, his friends, travel, books, and especially in music. Some of his inscriptions which are incorporated in his drawings are actually verses from music songs. The main characteristic of his work is the ability to transform pop culture to the present times of postmodernism but with special sensitiveness.
Stefan Golz is represented by Galerie Neuheisel.
Slefan Golz lives and works in Wiesbaden, Germany.
Featured image: artist's portrait, 2013, photo via placeskateboarding.de
All images used for ilustrative purpose only