A notable member of the American Abstract Artists, Stephen Maine is an abstract painter, writer, curator and teacher. Among all of his cultural activities, the way his paintings engage and extend contemporary ideas about color, composition, surface and process makes them the definite highlight of Maine's creative career. Besides the aforementioned experimentations with the medium of painting, Stephen also investigates the potentials and limitations of both the surface of the piece and the process of making it.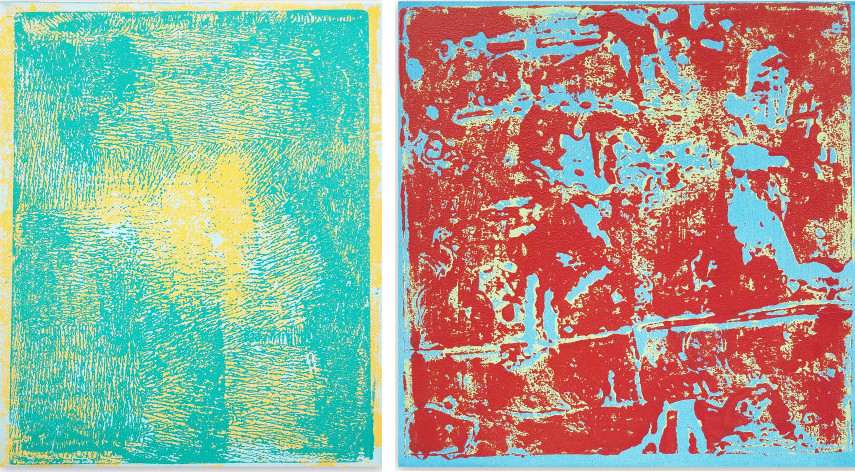 A Unique Process
In order to achieve such an impressive control over abstract art that he possesses today, Stephen Maine attended numerous schools and faculties. He attended classes at Rhode Island School of Design, Hartford Art School, the University of Connecticut School of Fine Arts and the Yale Summer School of Music and Art. His BFA of Painting was achieved at Indiana University, Bloomington, in the year of 1982, whilst Stephen's 2014 MFA is from the Vermont College of Fine Arts. During the course of all those years studying, Maine was developing his incredible visual vocabulary. His paintings are akin to relief printmaking as far as their making process goes. Stephen uses textured surfaces to apply fluid acrylic paint indirectly to a prepared long canvas. Besides the colors, his other common materials are plywood, extruded foam, plastic and glue. Maine has a practice of rolling and brushing wet paint over the plate before pressing it into the canvas using custom-built contraptions to ensure alignment of successive applications. What is integral to his creative process is the idea that the entire surface is treated with paint at the same moment. This sort of technique not only allows a strong visual result but it also prevents the author from interfering too much and compromising the artworks' character. In most cases, however, multiple layers and more complex interactions of hues are called for in order to complete an image. Paint itself, both as color and material, is the primary subject of Stephen's studio activity. He also finds motivation in the aleatoric elements of his process, which allows his materials and surfaces to collude in the artistic act rather than be scrutinized and dominated by him.
Stephen Maine has a characteristic process of making his paintings that demands that the entire surface of the canvas is treated with paint at the exact same moment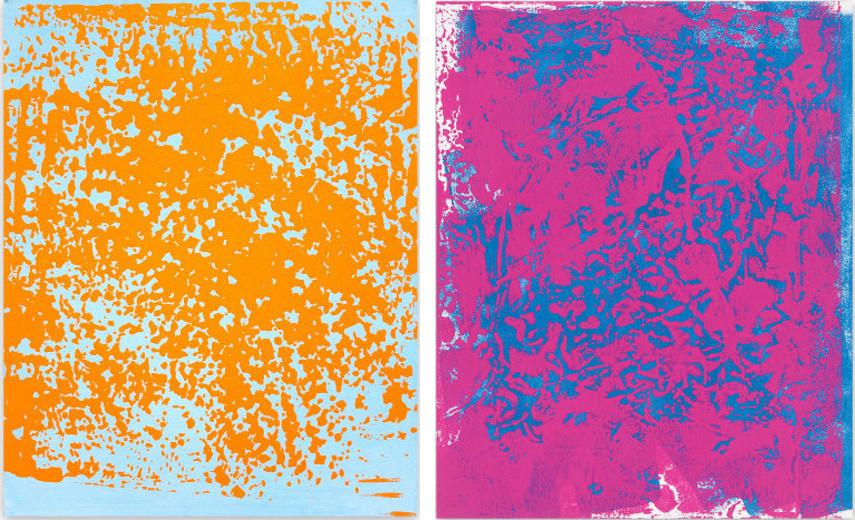 All of Stephen Maine's Contributions
As it was said earlier, Stephen Maine dedicates a lot of his time to various cultural activities. Besides painting and writing, he is also a teacher, currently working at the Parsons School of Design and at the State University of New York at Purchase. It is incredible how Maine is capable of dedicating so much attention to various fields which all require commitment and are time-consuming. Yet, Maine is more than competent of not only balancing his cultural and creative activities but also to be a remarkable asset to all of his chosen professions.
This artist is represented by Ideel Art.
Stephen Maine lives and works in New York City, United States.
Featured image: Stephen Maine – Book 14-0103 in progress – Image via studiocritical.blogspot.rs
All images courtesy of Ideel Art.
| Year | Exhibition Title | Gallery/Museum | Solo/Group |
| --- | --- | --- | --- |
| 2016 | Chromatic Space | Fiterman Art Center, BMCC, New York | Group |
| 2016 | Visible Histories | Morris-Warren Gallery, NY | Group |
| 2016 | The Onward of Art | 1285 Avenue of the Americas Gallery (UBS Gallery), New York | Group |
| 2015 | Stephen Maine: Residue | National Arts Club, New York | Solo |
| 2015 | Stephen Maine: New Paintings | Hionas Gallery, New York | Solo |
| 2015 | Endless, Entire | Five Myles, Brooklyn, NY | Group |
| 2015 | Diphthong | Fiterman Art Center, Borough of Manhattan Community College, NY | Group |
| 2015 | Stack-File | Kentler International Drawing Space, Brooklyn NY | Group |
| 2014 | Stephen Maine: Paintings | Melville House, Brooklyn NY | Solo |
| 2014 | Stephen Maine: Halftone Paintings | 490 Atlantic Gallery, Brooklyn, NY | Solo |
| 2014 | Doppler Shift | Visual Arts Center of New Jersey, Summit NJ | Group |
| 2014 | Sensory Impact | Morgan Stanley World Headquarters, Purchase NY | Group |
| 2014 | Paperazzi 3 | Janet Kurnatowski Gallery, Brooklyn, NY | Group |
| 2014 | For Leo: American Abstract Artists Tribute Exhibition | Sideshow, Brooklyn, NY | Group |
| 2013 | Physical Property | Brian Morris Gallery, New York NY | Group |
| 2013 | Doppler | Parallel Art Space, Bushwick | Group |
| 2013 | Dynamic Invention: American Abstract Artists at 75 | Brattleboro Museum and Art Center, Brattleboro VT | Group |
| 2013 | Paperazzi 2 | Janet Kurnatowski Gallery, Brooklyn, NY | Group |
| 2013 | CONstruct-conSTRUCT: The Organizing Principle | Schiltkamp Gallery, Clark University, Worcester MA | Group |
| 2013 | Paperazzi 2 | Janet Kurnatowski Gallery, Brooklyn, NY | Group |
| 2012 | Uncovered: Prints. Selections for the Kentler Flatfiles | Kentler International Drawing Space, Brooklyn, NY | Group |
| 2012 | Minus Space en Oaxaca | Instituto de Artes Graficas de Oaxaca, Mexico | Group |
| 2012 | Beauty Debate: Detroiter's First Annual Invitational | Art Effect Gallery, Detroit | Group |
| 2012 | Mic: check (occupy) | Sideshow Gallery, Brooklyn, NY | Group |
| 2012 | Paperazzi | Janet Kurnatowski Gallery, Brooklyn, NY | Group |
| 2012 | American Abstract Artists International | Paris Concret | Group |
| 2012 | Textility | Visual Arts Center of New Jersey, Summit, NJ | Group |
| 2011 | Chain Letter | Samson Projects, Boston | Group |
| 2011 | Flag Day | Islip Art Museum, Islip, New York | Group |
| 2011 | Abstraction [to the power of infinity] | Ice Box Project Space, Crane Arts, Philadelphia, PA | Group |
| 2011 | American Abstract Artists International | Deutscher Künstlerbund Projektraum, Berlin | Group |
| 2011 | American Abstract Artists 75th Anniversary Exhibition | OK Harris Works of Art, NY | Group |
| 2011 | Paper A-Z | Sue Scott Gallery, NY | Group |
| 2011 | Splendor of Dynamic Structure: Celebrating 75 Years of the American Abstract Artists | Herbert F. Johnson Museum of Art, Cornell University, Ithaca, NY | Group |
| 2011 | Paper 2011 | Janet Kurnatowski Gallery, Brooklyn, NY | Group |
| 2011 | It's All Good (apocalypse now) | Sideshow Gallery, Brooklyn, NY | Group |
| 2011 | Social Photography | Carriage Trade, NY | Group |
| 2010 | Group Show | Sideshow Gallery, Brooklyn, NY | Group |
| 2009 | It's a Wonderful 10th | Sideshow Gallery, Brooklyn, NY | Group |
| 2009 | Paper Work | anet Kurnatowski Gallery, Brooklyn, NY | Group |
| 2009 | Urban-Suburban | Kansas City Jewish Museum, Overland Park, KS | Group |
| 2009 | Partners+Life | Brooklyn Public Library, Brooklyn, NY | Group |
| 2009 | It's a Wonderful Life | Sideshow Gallery, Brooklyn, NY | Group |
| 2008 | Peace | Sideshow Gallery, Brooklyn NY | Group |
| 2008 | Painting's Edge 2008 | Idyllwild Art Center, Idyllwild, CA | Group |
| 2008 | American Abstract Artists: Tribute to Esphyr Slobodkina | The Painting Center, New York, NY | Group |
| 2007 | Material Matter | Sideshow Gallery, Brooklyn, NY | Group |
| 2007 | Lineage 7 | M3 Gallery, Piermont, NY | Group |
| 2007 | Radius | Metaphor Contemporary Art, Brooklyn, NY | Group |
| 2007 | Continuum: Small Works by AAA Members | Saint Peter's College, Jersey City, NJ | Group |
| 2007 | 100 Works on Paper | Kentler International Drawing Space, Brooklyn, NY | Group |
| 2007 | War is Over (Again) | Sideshow Gallery, Brooklyn, NY | Group |
| 2006 | Design-Build | Metaphor Contemporary Art, Brooklyn, NY | Group |
| 2006 | 100 Works on Paper | Kentler International Drawing Space, Brooklyn, NY | Group |
| 2006 | War is Over | Sideshow Gallery, Brooklyn, NY | Group |
| 2005 | 100 Works on Paper | Kentler International Drawing Space, Brooklyn, NY | Group |
| 2004 | Gyrations: Selections From the Flat Files | Kentler International Drawing Space, Brooklyn, NY | Group |
| 2004 | Merry-Peace | Sideshow Gallery, Brooklyn, NY | Group |
| 2004 | Breathing Space | Metaphor Contemporary Art, Brooklyn, NY | Group |
| 2004 | Balancing Act | Abrons Art Center, Henry Street Settlement, New York | Group |
| 2004 | 100 Works on Paper | Kentler International Drawing Space, Brooklyn, NY | Group |
| 2004 | Annual Exhibition and Auction for Women's Cancers | Sideshow Gallery, Brooklyn, NY | Group |
| 2003 | The Big Abstract Show, | The Painting Center, New York | Group |
| 2002 | Stephen Maine: New Paintings | 354 Exhibition, Brooklyn, NY | Solo |
| 2002 | Print 2002: Contemporary American Printmaking | 354 Exhibitions, Brooklyn, NY | Group |
| 2002 | 25th Anniversary Benefit Exhibition | The Drawing Center, New York | Group |
| 2001 | Group show | 354 Exhibitions, Brooklyn, NY | Group |
| 2001 | Works on Paper | 354 Exhibitions, Brooklyn, NY | Group |
| 2001 | Buying Time: Nourishing Excellence | Sotheby's, New York (NYFA) | Group |
| 2001 | Benefit 2001 | Momenta Art, Brooklyn, NY | Group |
| 2000 | The Brooklyn Project | Semi-Public Gallery, Brooklyn, NY | Group |
| 1997 | #2: New Work and Invited Guests | Toil Studio, Brooklyn, NY | Group |
| 1993 | New Members Show Part Two | City Without Walls Gallery, Newark, NJ | Group |
| 1993 | Abstraction and Reality | Montgomery Space, Jersey City, NJ | Group |
| 1993 | For Art's Sake | Jersey City Museum, Jersey City, NJ | Group |
| 1991 | Five Painters | Momenta Art, Philadelphia, PA | Group |
| 1991 | Visions of Hartford | Old State House, Hartford, CT | Group |
| 1990 | New Jersey Painting Today | Fairleigh Dickinson University, Madison, NJ | Group |
| 1990 | Four By Five | Jersey City Museum, Jersey City, NJ | Group |
| 1988 | The Drawing Show | Massachusetts College of Art, Boston MA | Group |
| 1987 | Dewitt Godfrey and Stephen Maine | R C Erpf Gallery, New York | Group |
| 1986 | Selections 33 | The Drawing Center, New York | Group |