Definitely one of the most technologically advanced examples emerging from the art scene, teamLab is an interdisciplinary association of talented ultra-technologists whose collaborative practice seeks to navigate the convergence of visual art, technology, design and the nature around us. This creative group brings together experts from various fields of practice, including artists, programmers, engineers, CG animators, mathematicians, architects, web and print graphic designers and editors. Such a wide range of professions is the exact reason why teamLab's members call themselves ultratechnologists. They are primarily known for their complex installation pieces that only an impressive and awe-inspiring sight to behold – such artworks also force the viewers to participate with the pieces, placing the audience amidst a whole new world for them to explore. By doing so, teamLab's installations are investigating human behavior in the chaotic information era and are proposing innovative models for societal development.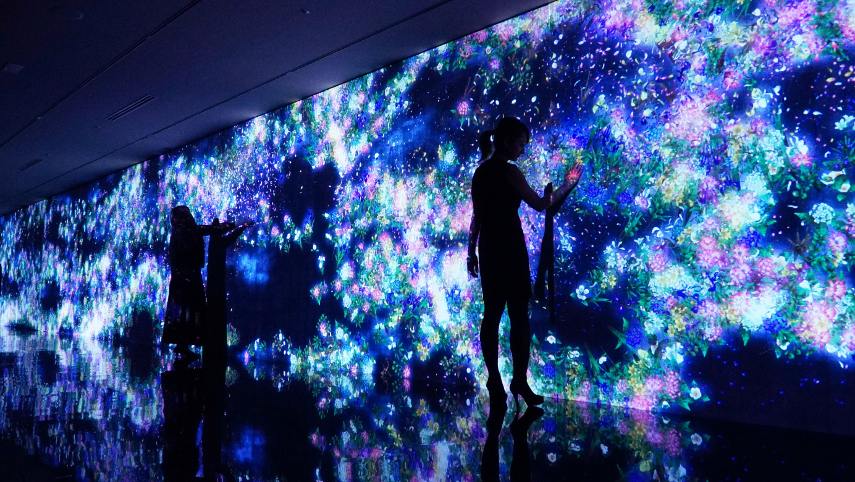 Understanding and Experiencing the Work of teamLab
Before we begin, it should be noted that the teamLab collaboration counts over four hundred individuals, all of which have their own roles and purposes within the organization. The group's founder is Toshiyuki Inoko. Heavily rooted in the tradition of ancient Japanese art and contemporary forms of the anime phenomenon[1], the practitioners behind teamLab make work that can be considered a true crown of the contemporary scene and its advancements. When observed from a more overall perspective, before people started accepting the concept of digital technology, artistic information had to be embodied in some physical form for it to exist. Creative expression has existed through countless static mediums for millenniums, often mediated by the use of physical objects such as canvas and paint. The arrival of digital technology allowed human expression to become free from all these physical constraints and boundaries, enabling it to exist independently, change freely and explore new creative grounds. The work of teamLab is the true crown of these new artistic possibilities which were enabled by technology and were literally unthinkable to any older generations of artists. Once one enters any assembled installation of teamLab, he or she instantly become a segment of the new universe of colors and shapes that is unlike anything the viewer ever saw before[2]. Such a feeling is virtually indescribable as one needs to experience it in order to grasp it. There is literally not a way of putting it into words that does justice to the way one feels when experiencing teamLab's pieces.
There are no words that are capable of describing how one feels when he or she enters the installations of teamLab – the only way of understanding it is experiencing it first-hand
TeamLab and Their Approach to Art
The self-proclaimed ultratechnologists explain the conceptual basis of their complex pieces with the following statement: Digital technology releases expression from substance and creates an existence with the possibility of transformation. As such, teamLab's installations are far from a conventional piece of art that should be viewed hanging on a wall. teamLab offers the audience an opportunity to participate in the artwork and become a part of it. Also, their artworks do not function on a one-to-one basis as with a conventional piece of art – teamLab wants viewers to collectively experience their works, believing that the effects are much more impressive if the pieces are experienced in such a fashion. As for the reasons why this is so, teamLab explain it best themselves: If you compare it with some old artworks, our artwork is light and our canvas is everything. This basically means that although teamLab uses advanced technology, their way of making art starts out as any other artwork – first there's a concept and then the means to the end are planned out. TeamLab only uses technology instead of more traditional materials.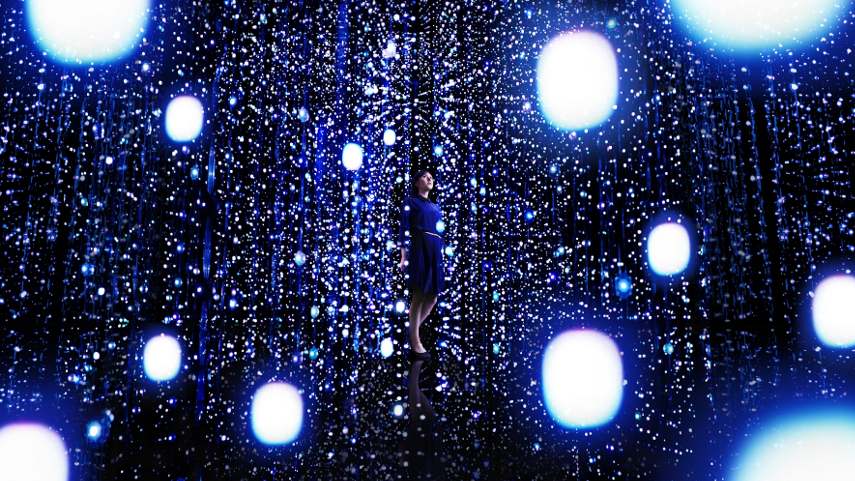 Positive Impact and Recognitions
One of the main concepts of teamLab is actually not directly connected to using technology as a means of art at all. The group is very interested in causing positive changes within their viewers and their society. This is best explained by the collaboration's members themselves: By connecting digital technology and art, I think it's possible to make other people's existence more positive. Technology is humanitarian. The concept of the digital is to expand the expression of humanity. If that means believing in changing the value system, then maybe it is a form of faith. Considering the sheer spectacularity and overall quality of their work, it comes as no surprise that the art pieces of teamLab found their way into some of the most permanent collections of the contemporary scene. Their technological installations are a part of art sets in the Borusan Contemporary of Istanbul, The Asian Art Museum of San Francisco, The Asia Society Museum in New York City, The Art Gallery of South Australia in Adelaide and The Art Gallery of New South Wales in Sydney. Considering the fact that every single installation teamLab assembles demands a large amount of space and care, it speaks volumes about their work that such incredibly prestigious institutions are willing to devote a big percentage of their areas in order to fit the art of teamLab.
We are proud to announce that teamLab is planning to reveal the new interactive art installation in Tokyo during the summer of 2017. This shall be an updated version of a similar project completed in the winter of 2016. The new installation will be composed of two main elements – one will be the sculpture of light lines and other shall be the visitors' perception. The idea is to create a piece that allows the viewers to actually make music by touching the light line, making them feel as if they are inside of a musical instrument. This installation will also feature an interactive bar, as well as the ability to change colors when different visitors' cocktails appear inside it.
Besides providing us with the perfect relationship between technology and art, teamLab also aims to cause positive changes within all of their viewers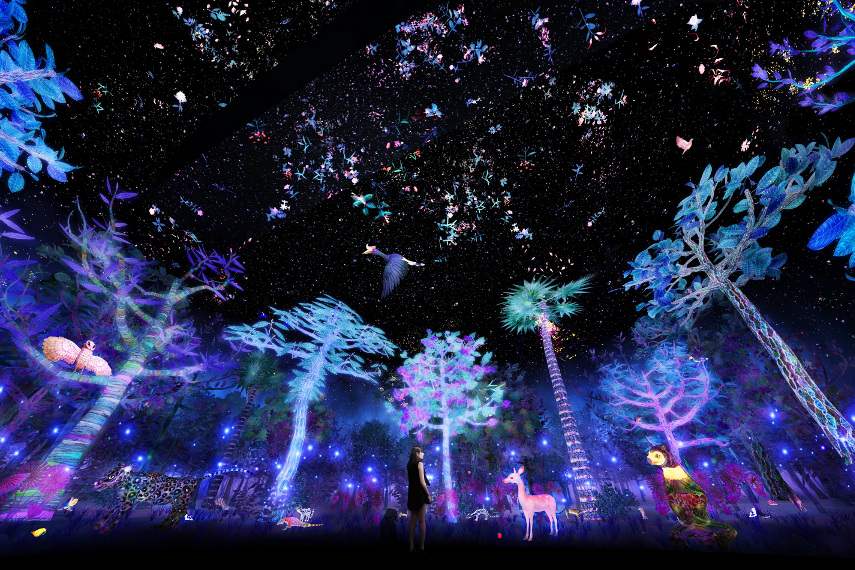 Essential Chapters of Future Art History?
Ultimately, the main goal of the teamLab is to achieve a perfect balance between art, science, technology and creativity. Not only do they manage to pull that off, but they are able to do so with spectacular effect, proving themselves to be one of the greatest contemporary collaborations in the art universe. For them, the technology is only a tool or a material – a feature that opens up what may very well be one of the most important future chapters of art history. Just the very concept of using technology in such a fashion is impressive in its own right, but this group is also able to reach the maximum that technology is currently able to provide. This speaks volumes about the talent and effort of teamLab as we see them becoming iconic practitioners of contemporary art – if they are not at that point already.
Members of the teamLab live and work in Tokyo, Japan.
References:
Anonymous, About teamLab, Tokyo-based digital artist collaborative, Digital Meets Culture, 2016
Baumgardner, J., A Very Different Kind of Immersive Art Installation, The New York Times, Feb 4, 2016
Featured image: teamLab – Flower and Corpse, 2016 – Image via vice.com
All images used for illustrative purposes only.