Hailing from Cagliari, the capital of Italy's island of Sardinia, Tellas is a highly talented contemporary artist best known for his amazing murals representing abstract nature. Born Fabio Schirru in 1985, he graduated from the Academy of Fine Arts of Bologna (Accademia di Belle Arti di Bologna). Grown up in Sardinian's wild and harsh lands, Tellas' research is based on a non-urban aesthetics, his oeuvre illustrates the most organic, personal and intimate visions of the elements of natural landscapes. The artist's large body of work is characterized by a meditative process that mixes space and shape.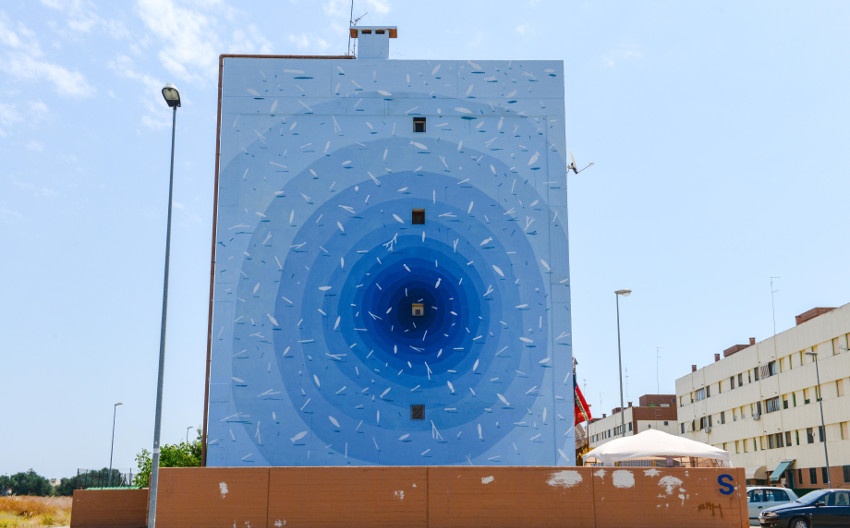 The 25 Most Interesting Street Artists of 2014
Tellas' works can be seen as studies performed on a wide array of "supports", from a big wall, a piece of paper or a canvas to an installation like the one created for the project Spettro. Listed as one of the 25 most interesting street artists worldwide by the prestigious Huffington Post US in 2014, Tellas' work represents the abstracted concept of nature that he expresses through the use of different techniques such are mural painting, illustration, various painting techniques, audio-video productions, and installation art. Exploring the complex combination of form and space, he investigates the untouched landscapes of which he derives abstracted motifs.
Tellas explores the untouched landscapes of which he derives abstracted motifs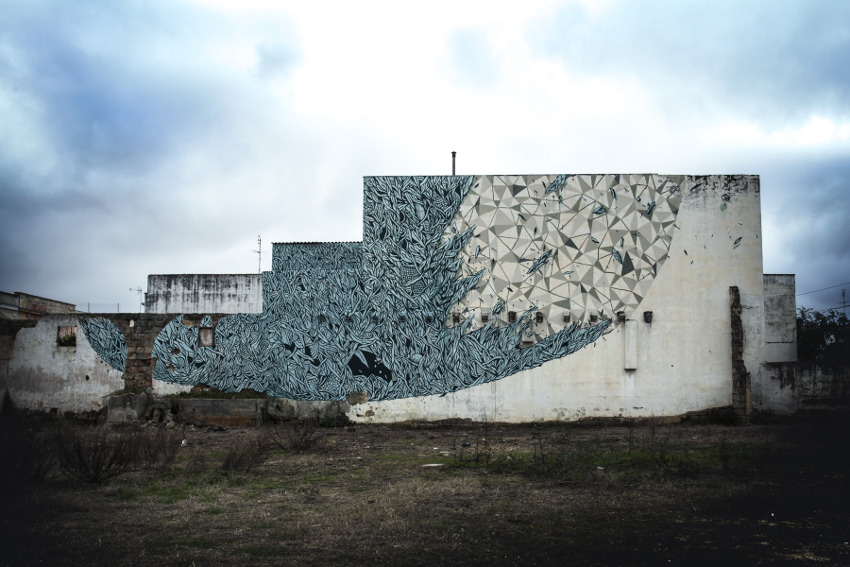 Asylum – Collaboration with Martina Merlini and Enrico Gabrielli
In 2010, Tellas joined forces with the illustrator Martina Merlini and created Asylum, a work in progress that explores the bird microcosm through different exhibitions. Asylum is also a complex installation project, it starts from the abstract drawings of Tellas, then it goes to several bird-illustrated tables by Martina Merlini and it ends with sound walls generated by multi-instrumentalist Enrico Gabrielli. The intricate and stunningly eye-catching installation was exhibitied in such cities as Bologna, Milan, and Palermo.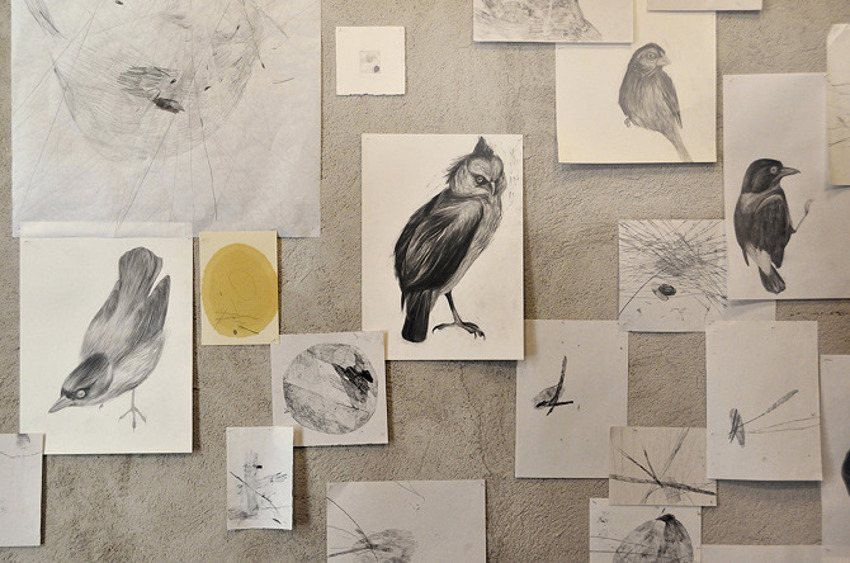 On Marni – Video Art by Tellas
Tellas' participation to international festivals and collaborations with international contemporary artists are numerous. In 2011, he collaborated with the fashion label MARNI which leads to the production of On Marni, an animated video, followed by the exhibition Welcomes You to the World of Tellas in occasion of Art Basel in Miami, Florida. The same year, he held the workshop The Shape and the Space at the K.I.R. in Stavanger, Norway during NUART, the International Festival of Urban and Contemporary Art.
On Marni is an animated video by Tellas
Exhibitions and Festivals
In 2012, Tellas was invited at Le 4 Mur Festival in Niort, France, where he had the chance to showcase his personal exhibition called Parasitism. Two years later, he was once again in France exhibiting his works at Bien Urbain festival in Besançon. His works are exposed in several projects and exhibitions both on national and international ground. Among these, La Tour Paris 13 Project is considered as one of the most innovative contemporary art projects. In 2014, Tellas' exhibitions took place at the Mini Galerie with Apertura, followed by his participation to Artmossphere, the first Street Art Biennale in Moscow, along with more than 70 artists from all over the world, including Okuda, SatOne, and Nelio. In May 2015, Tellas had a solo exhibition at the Mini Galerie in Amsterdam, Netherlands, entitled "This Quiet, Harsh Land".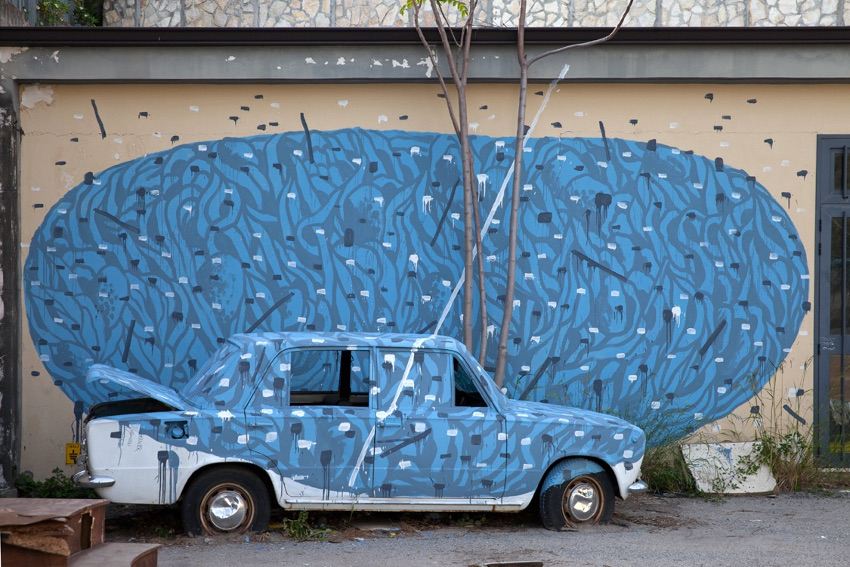 Detailed Minimalism
Tellas' pieces are often done solely in black and white or in different tones of a single color. His delicate nature-inspired line-works go into great detail to portray the chosen motifs. He repeats those details endlessly in order to fill the surfaces on which he works. Through his oeuvre, Tellas introduces a new type of street artist, the poetic one who is not striving to convey strong political messages but rather create the outstanding, meditative artworks that make observers feel good.
The artist is represented by Wunderkammern Gallery and MAGMA Gallery.
Tellas currently lives and works in Rome, Italy.
Featured image: Tellas – portrait, photo by Ralph Roelse
All images courtesy of the artist
| Year | Name of the exhibtion | Museum/Gallery | Solo/Group |
| --- | --- | --- | --- |
| 2016 | 4 Urban Tales | Magma Gallery, Bologna, Italy | Group |
| 2015 | This Quiet, Harsh Land | Mini Galerie, Amsterdam, NL | Solo |
| 2014 | Apertura | Mini Galerie, Amsterdam, NL | Group |
| 2014 | Urban Legends | Museo MACRO, Roma, IT | Group |
| 2014 | Artmossphere, Streetart Biennale | Artplay Design Center, Moscow, RU | Group |
| 2013 | Paragone, with Moneyless, Agostino Iacurci, Pane | Galerie LJ, Paris, FR | Group |
| 2013 | Italian DIY | Galeria Miasta Ogrodow, Katowice, PL | Group |
| 2012 | Paesaggi, with Pierpaolo Febbo | Galleria Comunale Portogruaro, IT | Group |
| 2012 | Parasitism | Niort, FR | Solo |
| 2012 | I Grandi Assenti | Galleria Comunale d'Arte, Cagliari, IT | Group |
| 2011 | Asylum Project, with Martina Merlini, Enrico Gabrielli | Palermo, IT | Group |
| 2011 | Equilibrium, with 108 | Lodi, IT | Group |
| 2011 | Welcomes You to the World of Tellas | Miami Art Basel, Miami, USA | Solo |
| 2010 | Sweet Sheets 1 | Palermo, IT | Group |
| 2010 | Asylum Project, with Martina Merlini, Enrico Gabrielli | Milano, IT | Group |
| 2010 | Asylum project, with Martina Merlini, Enrico Gabrielli | Bologna, IT | Group |
| 2007 | Illegal World Art | Genova, IT | Group |
| 2006 | In the Street, Street Art | Milano, IT | Group |